When Emmy award-winning journalist Lisa Benson took the local NBC affiliate in town to task for alleged racial discrimination and retaliation, the St. Louis native knew she'd have an uphill battle.
Benson recently released her first book Anchored in Bias, Fired Over White Tears, detailing her time on KSHB's airwaves and what led to her lawsuit. We caught up with the newly minted author, real estate investor, and entrepreneur to get the story behind the story.

What was the genesis of your book?
"I've always considered myself a storyteller. I wrote for my high school newspaper before pursuing my journalism degree at Clark Atlanta University and starting my career as a television news reporter/anchor. The book came to be because I had so many unanswered questions after being fired for sharing an article on 'white tears.'" [On social media.]
"I found those answers in anti-racism workshops/seminars, a number of books, documentaries, and while pursuing my diversity and inclusion certification from Cornell University. Once I obtained an understanding of systemic racism, internalized racial superiority, white privilege, white tears, and racial hierarchies—I wanted to share the knowledge and my story with others."

Your trial was lengthy and unfolded very publicly. How did that affect you?
"The trial itself was a much welcomed culmination and ending to a conversation I had been trying to have with my former employer KSHB-TV for many years. Why not me? Why the differential treatment? Why am I good enough to work here, but not good enough to grow here? My unexpected suspension and termination in 2018 just added more unanswered questions.
So forcing my former news managers and employer of more than 14 years to listen to my voice and respond to my allegations against them was empowering."
Talk to me about the court of public opinion. Was it advantageous at all to you/your case?
"Honestly, I didn't even think about public opinion in my pursuit of opportunity at KSHB-TV. When I filed my complaint in 2015—which led to the lawsuit in 2016—I wanted to be heard by my employer and I wanted the same opportunities for growth at the station that were available to my white colleagues.
As far as the 'white tears' article, when I was fired in 2018 there were no Amy Cooper incidents airing on national news. My former white female co-workers believed—and the station agreed—I should have known better than to share an article that showed white women in a less than favorable light. Period.
One of my co-workers told the GM that she didn't want to continue working with me. The other said it was a 'fireable offense.'
And indeed, according to KSHB-TV, it was."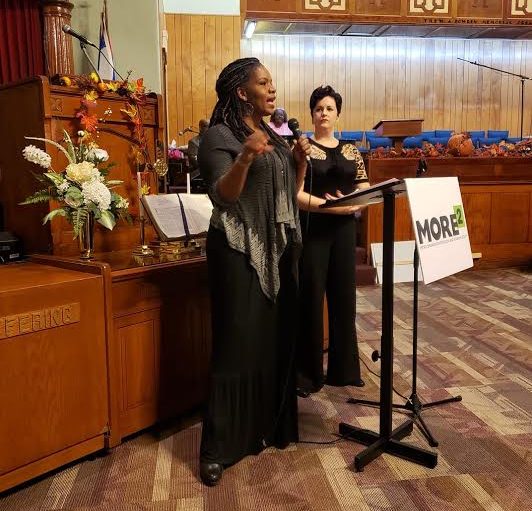 Anyone who follows you on social media knows you speak your mind—and then some. What has feedback been?
"Race is a polarizing topic, due in part to the fact that as a nation we are socialized and expected not to talk about it. When the topic of race is brought up, many escape into the "I'm colorblind" paradigm that protects racial ignorance.
With that being said, people who follow me on social media are aware of my lawsuit against KSHB-TV and the work I am now doing as a diversity, inclusion, and anti-racism consultant. I believe the people who follow me are encouraged and empowered by my transparency in sharing the details of an ordeal that is now a permanent part of my life's journey.
It took a minute for me to redefine and relearn myself outside of TV news. But I did it!"

What's next for you?
"Keep moving, growing, and learning. I am unapologetically a student of life. I started a consulting firm, Winning Truths International, LLC. We specialize in diversity, equity, inclusion, and anti-racism training and education. We also create video content for social justice organizations.
I truly believe the anti-racism work my colleagues across the nation and I are doing— coupled with the public movement we're seeing to name, understand, and dismantle institutionalized racism—will change the world. A world that could and should be a safer and more equitable place for people of color—including my two black sons.
And that, too, is a fight I am willing to wage."