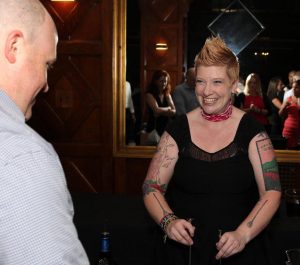 Jenn Tosatto is the mohawked-maven of margaritas at Mission Taco Joint. And thanks to her mad-crazy craft cocktail creations, the tattooed trailblazer has become Kansas City's go-to bartender extraordinaire. We sat down with Tosatto in the Crossroads to get her 411 on everything. Dare we say, it's all the booze that's fit to print.
Number of years you've been bartending: 16 wonderful years
Current number of drinks you can make from memory: 119. I memorized Shakespeare plays. Drinks are a breeze after that! 
Cocktail at Mission Taco Joint with the most ingredients: 10. The Zombie. Tiki, of course! The ingredients are dark rum, light rum, overproof rum, velvet falernum, lime, grapefruit, cinnamon syrup, grenadine and angostura bitters. Whew!
Hours of sleep you'd prefer to get each night: 8. That would be beautiful. 
Hours of sleep you actually get each night: Between 5 and 6. 
How many people were in The Jackson Five: Only one that mattered. Unless you count Ben. He's got a friend in me!
Wine openers you've lost: The wine opener gnomes have stolen at least 20. 
Number of tattoos you're sporting: 17
Number of times you've served famous people: Too many to count! Jason Sudeikis, Gogol Bordello, George Brett, Mayor Sly, Jesse James Dupree, Travis Kelce and Giada De Laurentiis to name a few. My most recent and giddy-inducing encounter? Jason Kander! I try really hard to not fangirl out, but it's really hard sometimes!
Bars you've worked in throughout the KC Metro: 8—starting with Bar Natasha and ending with Mission Taco Joint—with some ups and downs in between. 
Number of margaritas featured at Mission Taco Joint : 5. But we have endless ways we can customize them for you! 
Number of times you've broken a glass: Um. My very first shift behind a bar I broke a FULL bottle of whiskey. You can probably deduce from that …
Price of most expensive cocktail you've ever served: Somewhere around $120. Pappy Van Winkle Mint Julep. It was delicious!
Number of drinks you sling on an average Saturday at Mission Taco Joint: 870. 580 were margaritas of some sort.