We've run out of adjectives and swear words for 2020. And while we lost our minds along with a few favorite businesses, we saw others zig and zag to remain open and relevant.
But when the clock strikes midnight on December 31, it's time to stop pivoting and plant our feet firmly in the brave new world of 2021.
So what will Kansas City look like while the pandemic still grips our nation? The answer is: better than most cities our size. That prediction comes from strong leadership and a history of making it through tough times with our famous Midwestern mix of grit and grace.
The Man with the Plan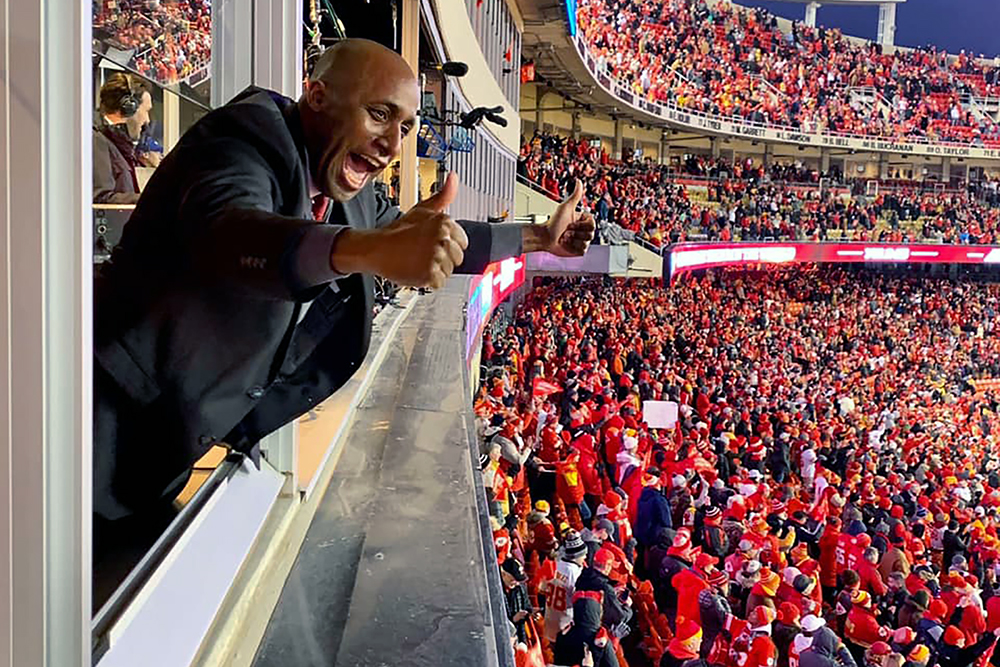 Followers of Quinton Lucas chuckled at the mayor's tweet on election night that he hoped 2020 was just a dream and Bobby Ewing would emerge from the shower. Everything post-Super Bowl parade seems like a blur.
So what's on His Honor's new year's resolution? Learn yoga? Take up painting? No, with the weight of the city on his shoulders, he's more sacrosanct. "We have to get beyond Covid-19," he says, "so we can get back out there, build on our strengths, and continue to create unity."
Winning Super Bowl 2021 would go a long way to reviving the city's enthusiasm and pride we felt last year says this rabid Kansas City Chiefs fan. But he's not holding out for that gift basket the San Francisco 49ers promised last January. "It doesn't matter," he muses. "We have better chocolatiers in Kansas City."
On the Home Front
The shelter-in-place mandate forced us to reevaluate the address we call home. It became more than just a place to change clothes on our way to another event or grab a quick meal. It was our refuge, classroom, office, gym, and local restaurant.
Homeowners began to evaluate what was needed to make their lives easier or more joyful, whether a kitchen update, spa-like master bath, inviting outdoor space, or a closet makeover. One stylish friend finally added electric window shades in his apartment, a splurge he likens to the cost of a new car. "But since I haven't had to buy as many new clothes this year," he says, "it was an easy decision."
Architect Matthew Hufft has always embraced large windows and sliding doors to bring the outside in as a way to boost mental and physical wellness. Residences he and his team have designed offer views of woods or water or at least a restful garden. And he notes that entryways, mudrooms, and foyers aren't just a space between the outside world and the house; they must now serve as buffer zones as we're tasked with keeping family and visitors safe. "The awkward request for a guest to remove shoes will no longer be awkward," he writes in a blog, "it will be the accepted norm. So a bench and storage will be necessary in these spaces." Could a sink for hand washing be far behind?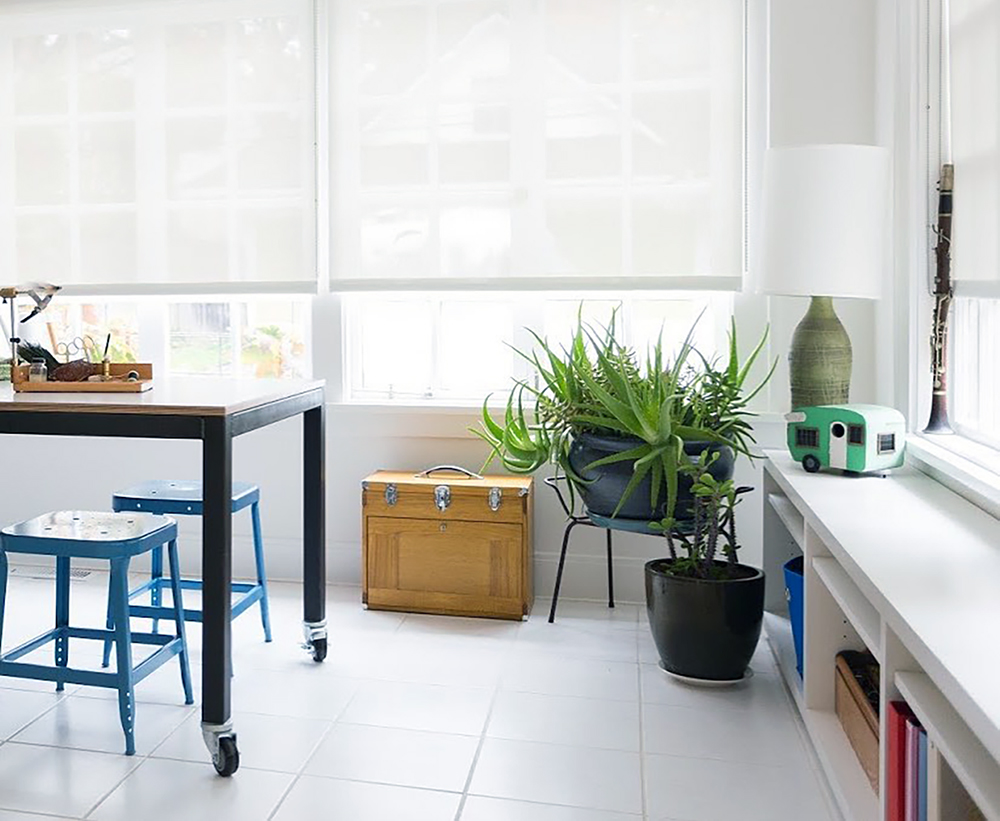 Interior designer Lisa Schmitz made the most of staying home by turning a sunroom into a crafts catchall for herself and teenaged son and daughter.
While there's a cabinet to store the sewing machine, it went unused; Avery, a Loyola student currently schooling from home, works in textiles. If you're a fan of those fabulous chicken footstools at George in the Crestwood Shops, you can credit this young woman for the "feathers."
Lisa also uses this room for Zoom meetings because it's filled with natural light and "because my bedroom, while it's lovely, seemed too personal for business," she says.
The designer made changes to the living room as well during this time. "I'm known for using neutrals, but I brought in some brighter colors recently," she says. "But now I crave more soothing tones. I switched a vibrant rug to a tone-on-tone one and added pillows from local designer Chanee Vijay." These hand-painted hemp pillows and throws are available in restful colors like mocha, ochre, charcoal, and surf.
She also added a game table to the living room, the spot where Avery can work on puzzles or challenge brother Grady to a board game. That is, when he's not working on his fly-tying skills in the craft room.
Interior designer John Rufenacht is famous for a style that exudes luxury. And going into 2021, his clients are asking for cushy textures and soothing hues. A project in Houston imparts what he calls "gentle comfort and security."
One room features a taupe suede sofa, matching club chairs upholstered in a linear pattern and poofs covered in what looks like a chunky knit sweater. Even the chandelier over the dining room table eschews hard lines for a swirly, swoopy shape.
Stay-Cations with a Side of History
You've canceled that cruise to Greece and hit pause on the trip to Palm Springs. And it looks like we'll be staying at home for a good part of 2021 too. But when cabin fever overtakes you in a month or so, consider becoming a tourist in your own town. Three options—two of them new—offer first-class lodging with walkabout finds.
Independence, Missouri, may be Harry Truman's town, but Independence Square is all Cindy McClain. Her artistic taste touches every shop, art gallery, and dining room in this vibrant destination, starting with Ophelia's restaurant and the inn upstairs that shares its name.
Guest rooms here are tastefully done, and just as tasty is anything prepared by Ophelia's chef, Bobby Stearns, downstairs. Other restaurants, including Café Verona, are within walking distance, as well as home décor magnet Be Here Now and kitchen emporium Gilbert Whitney & Co. A spa, yoga studio, bowling alley, and movie theater make this a vacation spot close to home.
Also imbued in local history, Hotel Kansas City opened its doors in late 2020, just when we were eager to venture out again. The 144-room hotel, part of the Unbound Collection by Hyatt, took over the iconic Kansas City Club downtown. Nothing "business stuffy" here; the remodel is stunning, starting with the lobby's chandelier. The hotel retained reminders of the building's past including stained glass, ornate plaster reliefs, and hand-hewn walnut paneling.
Locals will recognize two names on the hotel's four restaurants and bars roster: chef Patrick Ryan and Scott Tipton, the director of restaurants, bars and events. The Town Company, helmed by the executive chef, Johnny Leach, features an open hearth.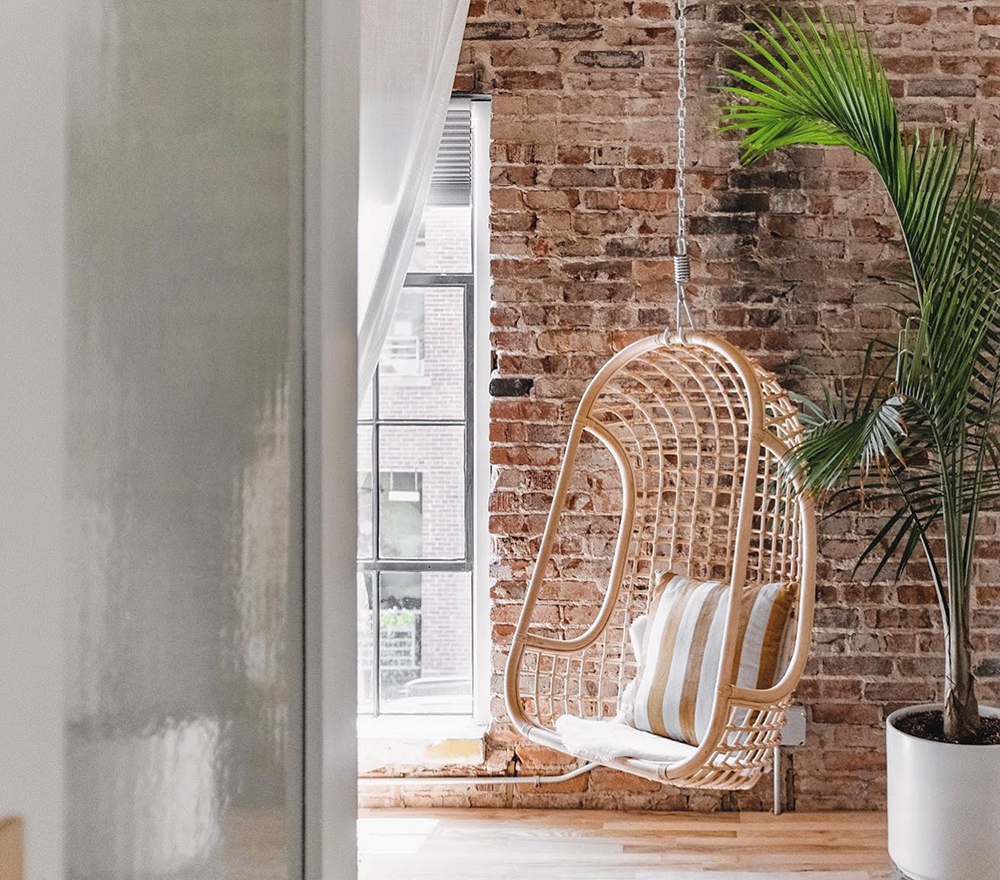 In the Crossroads, side-by-side signs declaring No Vacancy and Stay Here (there should be exclamation marks) add an Alice in Wonderland vibe to the No Vacancy guesthouse at 1717 Wyandotte. Newly minted hotelier Spencer Sight furnished each of the eight unique rooms with finds from estate sales and commissions from local artists.
Eclectic elements like a hanging wicker seat, claw-foot tub, dreamy four-poster bed, and exposed brick walls make each guest room feel like a personal loft. Three have kitchenettes and all but Studio Four (with its courtyard view) look over the Crossroads Arts District.
The streets and alleyways offer art galleries, exceptional dining, and fun shopping options, including Gallup Maps and Birdie's, home to exquisite lingerie. Or  you can hop on the streetcar to explore downtown. By the time you can book a room or buy out the entire place for up to 17 guests (Domino magazine is way ahead of you), there will be a new gourmet food, wine, and cheese retailer on the block.
Take it Outside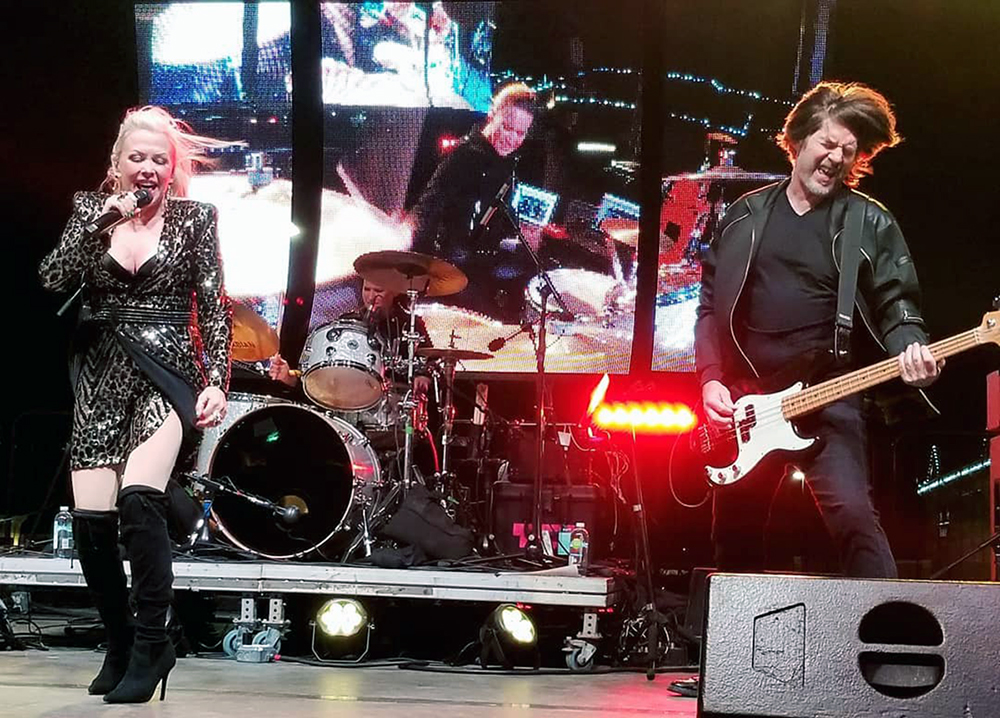 Those needing retail respite from the pandemic found it at Town Center Plaza when general manager Jacqueline Shrum shifted its Sunset Music Fest series from lawn chairs to drive-in concerts. LED screens draped across big stages and FM transmitters allowed folks to enjoy the evening in vehicles. "These were so popular we're continuing them through 2021," Jacqueline says, "with an emphasis on local rather than national talent."
The Leawood shopping, dining, and entertainment destination, which includes Town Center Crossing across the street, will host other events in the new year, including a fitness challenge and Hometown Heroes, featuring the local community engagement officers with the Leawood Police Department.
Reimagining Performances
While some stages may remain dark, at least in the first few months of the year, arts groups will continue to collaborate with area green spaces. Powell Gardens made the most of its lush acres for the holiday Festival of Lights with performances by Kansas City Ballet and the Lyric Opera of Kansas City. Other events, including outdoor visiting chef dinners, are on its 2021 calendar.
The Kansas City Repertory Theatre reimagined its 2020-2021 season to fall in line with pandemic guidance. According to a joint statement from Stuart Carden, the artistic director, and executive director Angela Gieras, "…all of us at KCRep are creating a new season that is an inventive, revelatory, and entertaining mix of small-scale live performance, outdoor family-friendly events, and digital theatre experiences."
Reinventing Museums
The Nelson-Atkins Museum of Art extended the exhibit of Muhammad Ali photographs by Gordon Parks until April. 4, 2021.
Museums find it a bit easier to plan for 2021. According to Kathleen Leighton, the manager of media relations at the Nelson-Atkins Museum of Art,  "We put the health and safety of our staff, volunteers, and guests first, so as we enter 2021, free, timed tickets will still be necessary to promote social distancing and limit the number of guests in the museum at any one time. At this time [mid-November], we have further reduced ticket inventories, so the museum is well below the 50 percent capacity mandate. There is much for guests to experience, including Gordon Parks x Muhammad Ali: The Image of a Champion, 1966/70, which has been extended through April 4, 2021."
Many of KC's museums, including the Nelson, are offering virtual tours, which are gaining in popularity with both students and adults. Check websites before attending in person, as changing regulations will affect accessibility.
Dining Out, Finally
With restaurants closed for much of 2020, people resorted to carryout and making do with provisions from the fridge and freezer. Right now, it looks like for at least the first few months of 2021 mean more of the same.
Shannon Bowman, the founder of Dining Savvy KC and Hardcore KC Foodie social media sites, definitely has a following. When asked for her list of places to try in 2021, she says she's eager to support Black- and minority-owned enterprises.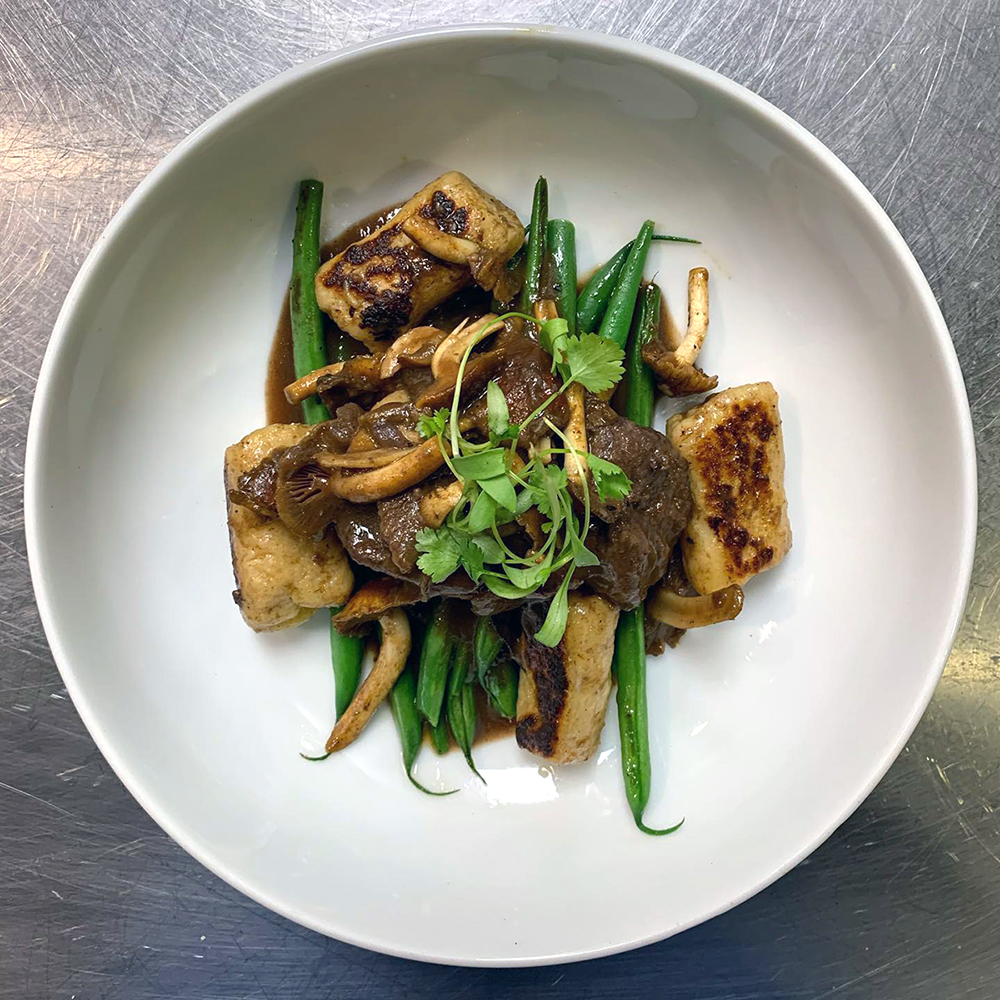 One is Urban Café, an organic restaurant and food truck owned by husband and wife Justin and Rashaun Clark. Serving brunch, lunch, and dinner in their renovated space at 5500 Troost, the menu lists a pork belly sandwich, crabmeat omelet, and the Urban Bowl with grains and veggies.
Bowman gives high marks to Wings Café with locations in Gladstone and Westport. "They serve my favorite wings and fried fish in town," she says, "and that's no small claim. And don't miss the mac 'n cheese."
If "eat healthy" tops your new year's resolutions, two places opened recently that won't make you feel deprived. Billie's Grocery, in the renovated space designed by Kansas City architect Nelle Peters on Gillham Plaza, offers gluten-free goodies like bacon banana waffles and a dairy-free charcuterie board. Robin Krause, who also owns Unbakery and Juicery, puts the hallelujah in healthy food like balsamic mushrooms on sourdough bread and miso wild-caught salmon. She also offers cooking classes in the space.
In south Overland Park, influencer and photographer Kasim Hardaway opened Cultivare, serving flavor-packed combinations like his Southwestern Bowl filled with roasted vegetables and grains and topped with a charred jalapeño pepper.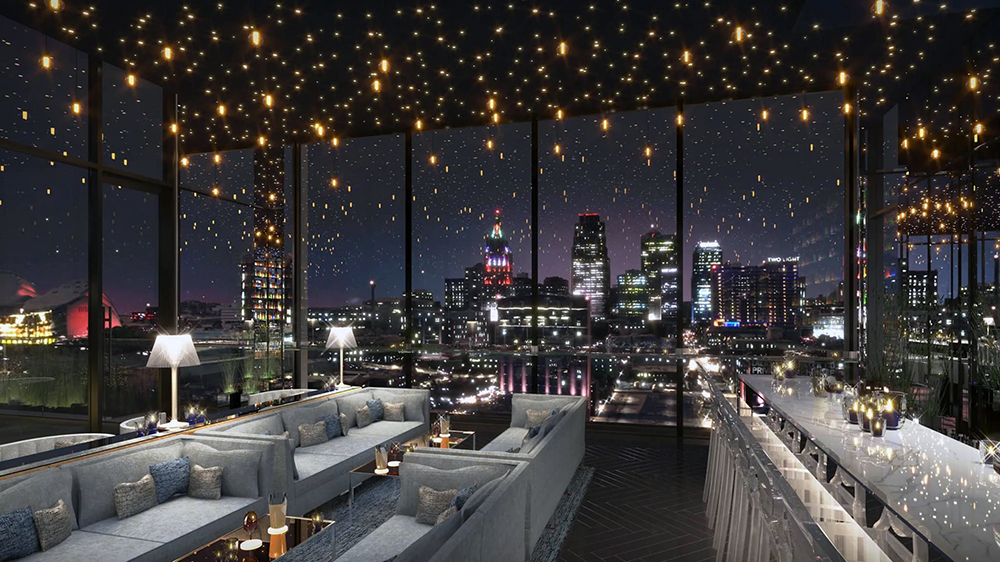 The pandemic has not stopped several exciting bars that recently opened, just in time to toast 2021. The talented team behind The Monarch on the Plaza ventured south to launch Verdigris in Leawood's Park Place. The third under architect David Manica's aesthetic is a jewelry box in the sky, The Mercury Room, at the top floor of Reverb Apartments in the Crossroads. The ceiling lights and gorgeous downtown views are reflected in walls of mirrors in this intimate and sophisticated space.
Goat & Rabbit opened in the lovely Volker neighborhood, its name a reference to the rivaling factions during Pendergast's days. That's about all the political talk we can endure right now, but just ten bucks for a Bee's Knees cocktail gets our vote.
And Canary, the latest from the owners of Julep, is opening soon in the historic Netherland at 38th and Main. A rooftop bar provides a glorious view of our town.
Open for Business
Things are looking up for the business side of KC as well in 2021, according to the local boosters at Kansas City Area Development Council. Angela Kennedy, heading up the marketing team and investor relations for KCADC, is putting out the welcome mat for Pretzels, Inc.—good news for anyone addicted to Dot's Homestyle Pretzels—and Chewy, Inc. for four-legged pals. Lifestyle brand Urban Outfitters is opening a distribution center as well. Stay on top of more good news at thinkkc.com.
Mayor Lucas was on hand to herald the Blue River Commerce Center that will eventually add 2.5 million square feet of industrial buildings to South Kansas City, resulting in 1,500-3,000 jobs as well as a robust need for more housing and services.
But it's not just bricks and mortar putting a shine on the new year. Tristan Mace—representative of the batch of energetic young entrepreneurs locating in Kansas City—recently launched Parkermace, a network of executives, venture capitalists, and other investors to allocate funds and resources here for startups. He says Kansas City is right on the cusp of becoming a "new major tech ecosystem."
Ribbon cuttings and "We're Open!" signs give us hope that the dreary days are almost over. Perhaps as Mayor Lucas opined, we'll wake up to find a 2021 that's shiny and new.