Sponsored content:
Peek inside Hufft's fabrication shop, where innovative residential and commercial architecture comes to life
What do these spaces have in common? Corvino Supper Club's sleekly sparse interior. Parlor Food Hall's inviting industrial aesthetic. Woodside Health & Tennis Club's colorful, communal warmth.
Each space reflects the mission of the design and fabrication studio, Hufft: to create meaningful spaces and objects inspired by people and places.
That focus on creating comes to life inside Hufft's fabrication studio, a buzzing hive of activity where talented craftspeople make everything from custom furniture pieces to sculptural accents that add depth and style to boutiques, offices, and homes alike.

"The perception is that our shop and what we create are only for fancy folk," says Scott Beattie, the director of fabrication. "We do make lots of fancy stuff, but we also do nuts and bolts projects. And we make things for existing home owners, designers, other fabricators and cabinet shops."
To the Hufft team, collaboration is key, whether they're working with each other, outside designers or other vendors. A focus on teamwork infuses everything Hufft makes, and it starts Monday morning with a weekly huddle.
"Each week, we go through all of our projects and discuss updates, opportunities for fabrication and other information," Beattie says. "I share lots of pictures so that designers can watch their projects go through the workshop from raw materials to the finished product."
Normally, that would be a process that designers and even passers-by could step in and watch. Hufft's fabrication shop, framed by the treed backdrop of Roanoke Park, is more than a workshop. It's a place to learn, to discover, to dream.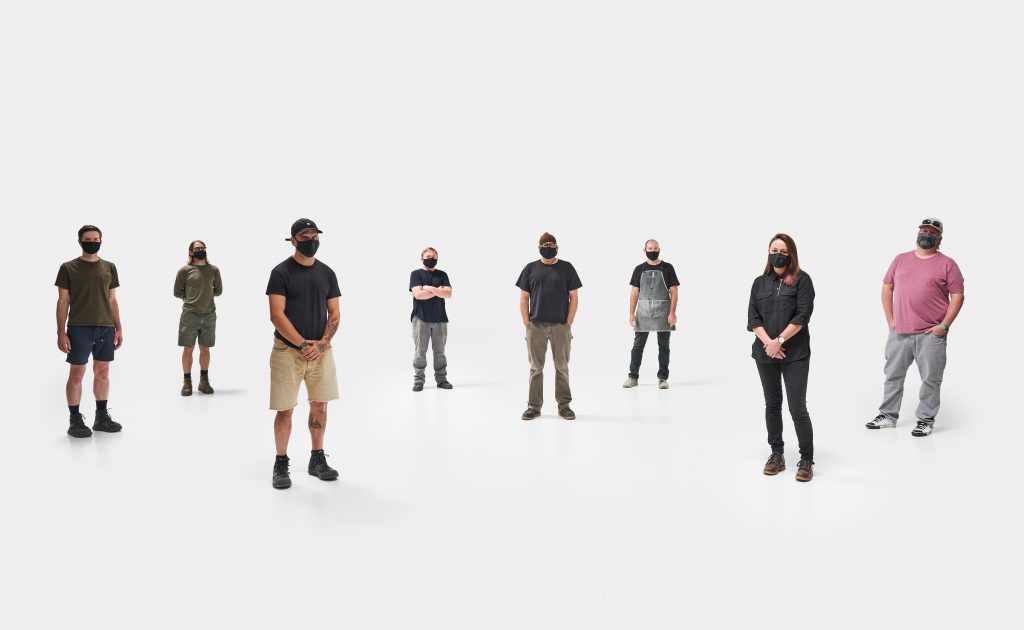 In light of pandemic-related restrictions, Beattie and his team have closed access to the workshop, keeping the staff as small as possible. Everyone works in masks, and cleaning crews stop by multiple times a week.
"It's been a huge struggle for us to not share in the same way that we're used to," Beattie says.
Yet the work itself continues uninterrupted, a welcome distraction for the fabrication team in the shop, thanks to a classification as an essential business. Hufft office employees work from home, prompting more of the conversation and collaboration to happen virtually or over the phone.
And as current conditions change the way we live and work, Hufft is ready to meet the need for both residential and commercial customers.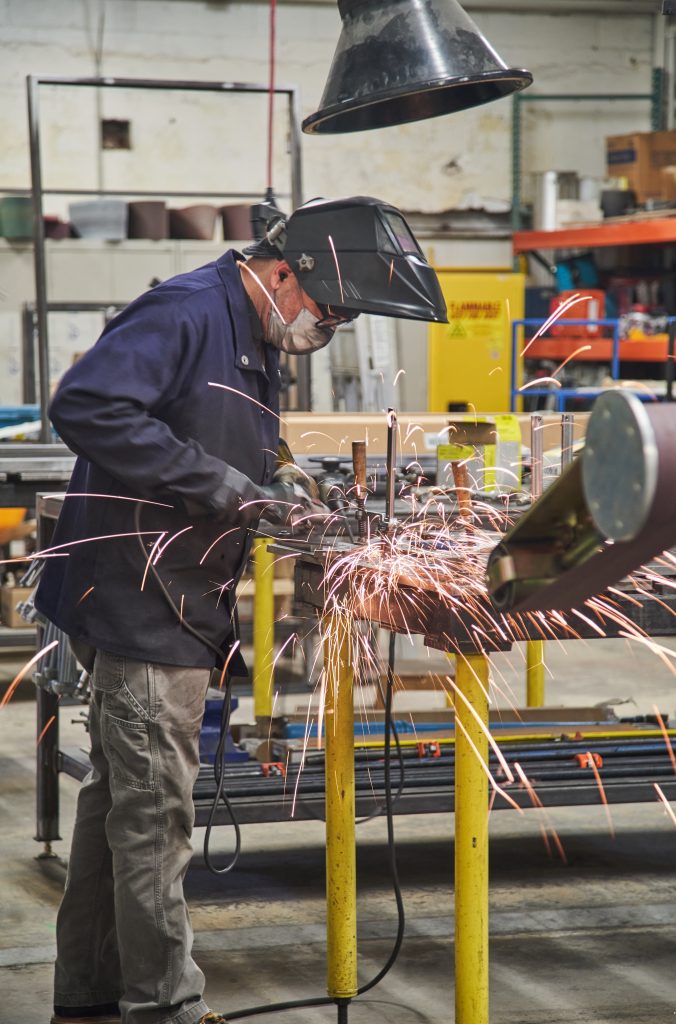 "We've seen an uptick in making things that are specific to pandemic concerns—screens and dividers, for example," Beattie says. "And we're seeing influences on design, like more home mudrooms to help with cleanliness."
With a project portfolio that includes high-profile clients like The Roasterie, 21c Museum Hotel, Nickel & Suede, Auburn University and the Kansas City Art Institute, it's easy to overlook what Hufft can offer individual customers. Whether clients are interested in redesigning an interior space, a whole house, or looking for a piece of custom furniture, the Hufft team is always eager to explore what's possible.
"I refer to our fabrication shop as the coolest hot rod in Kansas City that no one's ever seen," Beattie says. "There's so much ground we have yet to cover in terms of the things we can make together."
One of Beattie's dreams? A line of Hufft products and furnishings created by Hufft designers and made in the fabrication shop. "We should be that go-to furniture source, right here in Kansas City," he says.

That's a goal that's already underway. Hufft fabricators are especially accomplished at creating custom cabinetry, a popular request. Or imagine gathering family and friends around a custom dining room table, locally designed and made. The Hufft info line, info@hufft.com, is always open for prospective customers to ask questions and explore their options.
For Beattie and the fabrication team, any project is a chance to savor the process of creating, watching pieces carefully take shape before their eyes.
"We're all incredibly fortunate to be talking about making and designing stuff every day with cool people who care," he says. "At the end of the day, we are extremely fortunate and grateful for the opportunity to be designing and making great stuff with cool people who care."