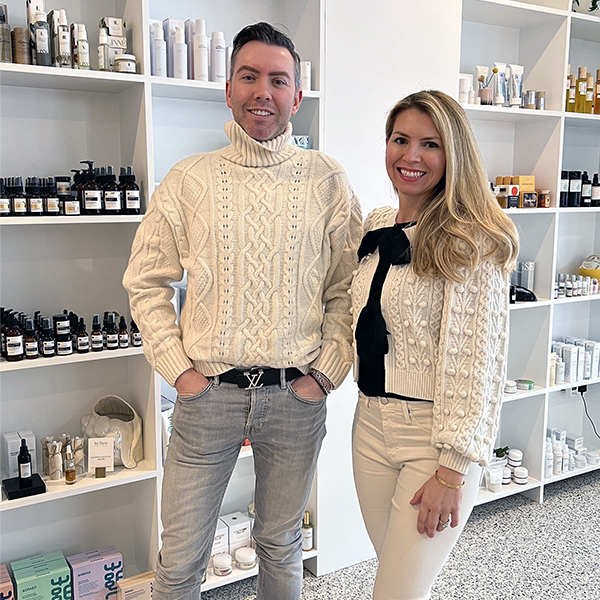 A Very PV Snow Day
It would have been incredibly easy to remain in bed—curtains wide open, resting in a sea of down, and watching gusts of snow swirl around buildings and blanket the streets of downtown. But, alas, I'd made a full day of plans with my sister, and I intended to keep them.
We met at RSVP in the Village. Becci Meissner's shop is always chock-full of charming gifts, but on this occasion, we were both there for their custom paper goods. As the sample books burst open, memories rushed back of the hours upon hours spent at the store designing the invitations and printed materials for both of my sisters' weddings. No wedding invitations this trip.
Having both somewhat recently settled into new homes, we were each wanting custom stationery. Mine was a tweaked reorder, with updated address, of the stationary I designed at RSVP years ago: a white, cotton-y Crane & Co. notecard with black hand-painted edges, my name embossed in a black Chevalier font at the top and a white envelope with a black-embossed address on the back flap in a simple, contrasting sans-serif font.
So simple it doesn't sound like me? You're right. The real magic happens inside the envelope. Envelope linings are sort of like wallpaper for a small powder room. You can have a ton of fun going extra bold, in a way you might not swash across the rest of your home. One of the best things about designing custom stationery is that you're only limited by your imagination and creativity.
Hot Gossip: Who just (remotely) bought a stack of vintage Louis Vuitton trunks—and sent the husband to retrieve them?
A pro tip: go simple on the card/envelope and get an assortment of liners that will suit multiple occasions and moods. I now have four. The first is a classic, nearly solid black with slender white vertical pinstripes—perfect for more serious correspondence. The other three are fun and whimsical: an oversized camouflage print inspired by a Marc Jacobs stationary lining I fell for at his West Village shop more than a decade ago (and have long-since depleted); the perfect leopard print, which is much harder to come by than you'd think—it's too common for leopard to translate as cheesy or cheap; and my newest addition, a startling assemblage of bright green, yellow, and red snakes against a glossy black background, inspired by a favorite boutique wallpaper design.
My sister—more traditional than I—went for a similar white notecard from the Vera Wang stationary collection. Hers will feature embossing in navy blue with envelopes sporting two liner options: a solid, matte cornflower blue and a lush floral pattern. No poisonous snakes—where's the fun in that?
But seriously, if you've never ordered custom stationery, I highly recommend. Not just because I think the world could use more note writing, but because the design process—from choosing your paper, ink/embossing color, fonts, monogram, and embellishments like painted or printed borders and envelope liners—is just about the most creative fun a grownup can have. And what you'll get in return is something that no one else has. When I write a note, I want it to be not only a reflection of my sentiments, but of my sensibilities, tastes, and personality. And you can't find that on a shelf.
Design work is hard, and we were hungry. We left our ideas in the capable hands of the RSVP staff and walked around the corner to French Market. Despite their incredible, prepared grab-and-go entrées and sides, freshly baked bread, artisanal cheese and charcuterie, imported specialty foods, linens, and cookbooks, we were there for lunch. A popular spot—I separately ran into Denise Delcore and Lisa Hardy while waiting at the counter to order.
The Apple Brussels Salad my sister ordered sounded like what I should be eating, but I was in the mood for something heartier. So, the Croque Monsieur it was. And we shared an order of the seasoned Hannah Fries. The sandwich was classically terrific, but the standout was a small-but-mighty fleur de sel chocolate caramel tart. The perfect combination of firm and gooey—sooo good. On the way out, at my mother's recommendation, I grabbed some cookies to go. She insisted that the chocolate chip cookies are second to none. As usual, she turned out to be correct.
Overheard: "I don't binge drink. I drink constantly."
Still within The Shops of Prairie Village, I spied the new outpost of The Little House, which recently relocated from Fairway. Having never been—but familiar with via my mom friends—I wanted a peek. My sister was a regular, and so we went about choosing a couple of gifts for our 3-week-old nephew, Lair. Great name, no?
A plush dragon sporting a backpack caught my eye. Useful—no. Adorable—yes. I'll take it. We also found a delightful little white onesie with powder-blue handstitching along the Peter Pan collar and cuffs. It was the perfect sort of elevated sophistication you'd like to see in a onesie that will be worn exactly twice. Beyond baby items, there is of course a wide range of clothing, shoes, and gifts for bigger kids. I got baby Lair's big sister, Lucy, a rainbow beaded heart bracelet—the perfect accessory for Valentine's Day. While gift wrapping ensued, we, yet again, bounced around the corner.
At Welwythn, you'll find a tightly and thoughtfully assembled array of clean beauty products encapsulated in an equally clean, Hufft Architects-designed shop. It's a fresh white canvas interspersed with lush plants, crystals, and interesting vintage lighting pieces, including the Instagram-famous, curvaceous Ultrafragola mirror by Ettore Sottsass. A labor of love by proprietor, Gina Holmberg, it was the perfect shelter from the cold on this particular day.
Also—the perfect spot for some skin hydration. My sister cozied up with the expert on duty for a mini-makeup consultation, color matching her for the cult-favorite line of makeup, Ilia, and its tinted serum with SPF 40 that "sells itself."
Hot Gossip: Who was using some fuzzy quarantine math in order to hit a NYE party?
While they were occupied, I was left to wander—which I absolutely love to do in cosmetics shops. Already a fan of Penny Frances Apothecary's Ibiza Balm, my attention quickly focused on their broader line of products. I snapped up the Rose Geranium & Hibiscus Botanical Face Mist. (I always have a face mist on my desk for when I need a splash of moisture or quick mid-day energy reset.) Trust me—you need one, too. I also picked up Penny's Cucumber & Rose Eye Serum. In a rollerball bottle, it'll be perfect for a quick swipe before my morning eye cream. No stranger to local Alexia Wambua's cosmetic brand, Native Atlas, I spotted something I hadn't seen before. It was an activating gel (exclusive to Welwythn) that can be used with the NuFace microcurrent device I just happened to acquire a few months back. (And, yes, I can attest that it actually works.)
I also swooned over two fragrances: Sigil's Solutio and Liis's Rose Struck. With the makeup matching complete, I asked what else I should add to my bag and was pointed to the Agent Nateur holi (bright) Resurface Glass Face Mask and was told that it would leave my face pulled tight like cellophane. To which I said—yes, please. Tight on time as well, we checked out and headed for our final stop.
I'd heard about and been wanting to try an infrared sauna someday. So, when the brand-new CYL Sauna Studio reached out to me on Instagram (hey, it worked!), I jumped at the opportunity for a first-hand experience. CYL (acronym for Change Your Life) opened in the also-new Corinth Quarter (immediately south of Corinth Square) and is the first of its kind in Kansas City.
The serene space says "spa" the minute you open the door. Each guest is provided with a private room to relax inside a solo-system sauna pod that will have you wondering if you're being cryogenically frozen and shipped to a galaxy light years away to save the human race. Far from frozen—the pod will deeply heat your body via infrared light through your core (vs. traditional saunas that transfer heat radiantly through warm air). Sessions are 30 minutes. First-time guests typically start at 130° but can increase up to 150°.
Overheard: "Sounds like they took the same 'Press Briefings for Dumb Dumbs' course."
So, what are some benefits you might expect from your scheduled sweat? Well, one—as my sister most enjoyed—30 minutes of peace and kid-free quiet! It was, indeed, a relaxing spa experience. I also quite enjoyed my cocoon of warmth, inside a dark room, on a day when my fingers and toes were cold to the bone. I also felt energized and clear-headed, like I'd just had a long, rejuvenating slumber. Speaking of sleep, many people report having the absolute best night of sleep, post-sweat. I don't struggle with sleep issues, but I'd agree that my sleep that night was rock solid. There's also the obvious detoxification—pouring out any residue the body would like to get rid of. And who can't use a little extra help there? I love how a good sweat really clears out and refreshes my skin. You can burn up to 600 calories—win. There are also plenty of studies pointing to workout recovery, pain relief, stress reduction, improved circulation, cellulite reduction, lower blood pressure, and wound healing over time. So, get your sweat on!
---
Lord of the Drinks
We entered through a giant, round, distinctively green door. For those familiar with J.R.R. Tolkien's The Lord of the Rings, we were clearly in the Shire at Bilbo Baggins's Hobbit hole. With us was Gandalf the Grey, waiting quietly in his horse-drawn carriage. Thus began our passage to Middle Earth.
More specifically, we were in North Kansas City at Vignettes Bar, which was winding down its latest popup transformation. An Elvish woman greeted us and offered recommendations for libations that would rejuvenate us from the long journey. I started with the most unusual Bomba-Dill, a concoction of whiskey, lime juice, and pickle brine, topped with pickle chips. I love pickles, so it was a sippable hit. My friend went with the Mirkwood Martini, a mix of Tom's Town gin, lemon juice, and lavender syrup, garnished with lavender buds. We reluctantly passed on Smeagol's Shots but ordered a bite from the snack menu (pastries prepared by nearby Donut King). The selection was nearly sufficient for us humans but would have left an Orc quite hungry. Unfazed by Gollum lurking in the corner, we raised our glasses to the new year.
''It's a dangerous business, Frodo, going out your door. You step onto the road, and if you don't keep your feet, there's no knowing where you might be swept off to."

—Bilbo Baggins in The Fellowship of the Ring
As we chatted, we were simultaneously entertained by "Trimble the Troubadour." Trimble had jokes, recited poems, and performed various original songs. Coincidently, due to a successful Kickstarter campaign, Trimble has set forth recording a standalone album—Live from Middle Earth. Whether his parodied Backstreet Boys rendition will be included remains a mystery of Mordor. What's popping up next? Get ready to spend an evening with Michael, Dwight and Pam at The Office.
---
So, KC—where do you want to go? XO
email: dlair@inkansascity.com  | Instagram: @damianlair #OurManINKC