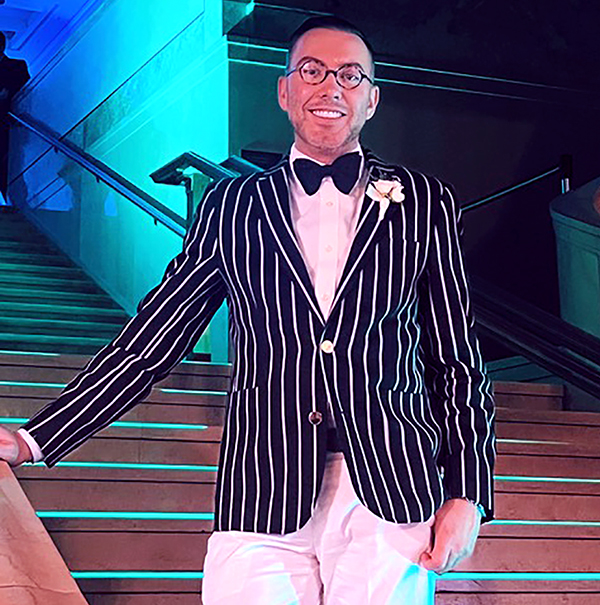 Dazzling Deco
With the last Party Arty held in early 2020, fans of the event were ready for a return. During that two-and-a-half year span, the event, like membership councils at the Nelson-Atkins Museum of Art, underwent some realignment. Past iterations of Party Arty were organized by the now-defunct Young Friends of Art Council. Which, in my experience co-chairing the event, had the subtle effect of suggesting an age limit on arty-partying. Rest assured—now, middle-aged, and even old Friends of Art (myself included), can feel at ease at this less raucous new chapter of Party Arty.
This year's theme was Vitality and Vice, a nod to the recently opened exhibition: American Art Deco: Designing for the People, 1918-1939. People love a good Roaring 20s jazz-age party. It's an accessible theme, attire-wise, and there's a smack of Westworld voyeurism where people can get a jolt of surreptitiously sipping forbidden cocktails in a basement speakeasy. Yes, a little overplayed, but popular, nonetheless. 
We were welcomed with an Electric Deco coupe cocktail that looked like absinthe, but for all our sakes, was green-apple infused Tom's Town vodka with green tea and lemon juice. A perfect choice, considering that Tom's Town's deco bottles are, in my opinion, just about the most attractive thing you'll find at any liquor store. They even lent their vintage roadster for a prime photo op outside.
Scattered performances caught people's attention throughout the evening, including those by Jeff Freling on guitar and Quixotic. Otherwise, guests were happily congregated in Rozelle Court, nibbling on Rozelle-prepared antipasti light bites. I especially enjoyed a run-in with Michael Toombs, who was busy at work on a stunning live mural painting. The artist experience featured members of the African American Artists Collective, whose works were also the basis of Testimony, the incredible recent exhibit glowingly covered in a previous column. Painting alongside Michael were Jason Wilcox, Michelle Beasley, and Stasi Bobo-Ligon, with poet Glenn North narrating. 
I had just missed opening night for the new Art Deco exhibit, so I popped in for a peek. For me, Art Deco brings three things to mind: the Chrysler Building, Gatsby, and South Beach. What I didn't realize was that, like most good things, it all started in Paris. A fun little fact: the 1925 Exposition Internationale des Arts Décoratifs et Industriels Modernes (mouthful—hence the reduction to "Art Deco") was a post-WWI sign of European recovery and strength. Held in Paris, the participating designers introduced a distinct departure from the prewar past with a clean-lined, geometric, groundbreaking modern design. Wealthy Americans hauled these latest objects and fashions back to the U.S., and the rest is, well, history. The exhibit traces these influences through art, clothing, automobiles, architecture, and even trickle-down everyday objects like depression-era glass. A particularly fitting inclusion is a strikingly simple white satin evening gown, worn by Betty Drage Harvey to an opening celebration for what is now named the Nelson-Atkins Museum of Art. The dress was so notable at the time that it was illustrated in regional newspapers—graphics of which are also on display. A full-circle moment.
Back at the party, Shake Shack was preparing late-night snacks for hungry guests as the night was winding down. We grabbed one of those truly tasty burgers on our way out, and 100 years instantly elapsed as we walked through the doors to the present.
Spotted: Peregrine Honig, Anna Marie Tutera, Janeane Thompson, Lee Page, Sarah Page, Stuart Hanson, Elizabeth Napier, Jason Landrum-Vetter
Carnivàle!
You surely had your share of chance run-ins with a few of the 156 five-foot fiberglass hearts scattered far and wide across Kansas City during the three-month Parade of Hearts. Or, perhaps you embarked upon an exhaustive hunt to see each one. Falling in the former camp, I relished every spontaneous spotting while out and about in the city. 
Parade of Hearts was imagined as a public arts experience that could unite the city and serve as a fundraising vehicle for organizations especially affected by the pandemic. Five areas in need were identified, with a grantee designated for each: Health and Wellness (The University of Kansas Health System), Education (Mid-America Regional Council), Small/Minority Owned Businesses (AltCap), Hospitality and Tourism (Visit KC Foundation), and Arts and Culture (stipends for each heart's local artist).
Once the public display concluded, the majority of the original heart artworks were auctioned online. Twelve particularly special hearts, however, were reserved for a live auction and celebration: Heartland Carnivàle—an event for reveling in the success of this inaugural event. And I was delighted to be invited. Borrowing from Rio de Janeiro's Carnivàle—the largest party on Earth—the halls of the Midland Theater were alive with feathered samba dancers, colorful florals, entertainers, and an abundance of heart.
Lon Lane's Inspired Occasions served up a food bar of East and West Asian and Latin fusion flavors, including adobo steak sliders and firecracker shrimp. And across the way, another menu—an homage to KC's food history—with classic barbecue and Italian dishes. Holladay Distillery's Carnivàle-inspired cocktails were concocted with cherry limeade and huckleberry vodkas.
The real buzz, though, was who (and for how much) would be taking home the 12 hearts lined up across the stage. Interspersed between performances by Lost Wax Collective, the Pythons Drill Team, and Mark Lowrey Ensemble, auctioneer Dirk Soulis stirred the audience into a frenzy—bidding tens of thousands for the artworks. Among them were the Community Bookshelf  heart inspired by the Central Library parking garage ensconced in giant volumes and KC Hearts the Plaza! featuring the Nelson-Akins Museum, shuttlecocks, and familiar Plaza architecture. Sports fans had their choice among the crown-topped baseball Officially Kansas City Royals, the splatter-painted National Champs commemorating The University of Kansas's 2022 NCAA National Championship victory, and of course—the loveable 3-D, curly-topped Ma'Homes Town.
Gigantic congratulations are due to the organizers and volunteers who put this entire project together. I've organized and worked on various city-wide arts experiences and know first-hand what a massive undertaking it was to pull this off in the seamless, thoughtful way that this group did. KC hearts you!
Spotted: George Guastello, Erin & Will Gregory, Amber Botros, Angie Jeffries, Heidi Markle, Matt Schulte, Alan Carr, Mark Allen Alford, Jr.
BBQ & Bourbon
Buck Tui BBQ had been on my to-try list for several months. So, when I heard they were hosting a very special chef's tasting menu, I booked my ticket immediately. Buck Tui opened this past February in Overland Park. The restaurant is a unique marriage of the perhaps surprisingly complementary flavors of Northeastern Thai and Kansas City barbecue cuisines. Buck Tui places a heavy emphasis on locally sourced ingredients and utilizes traditional Thai techniques to achieve the familiar smokey-salty-sweet barbecue that KC loves. The use of palm sugar, Thai smoking methods, and authentic sauces require the type of precision that the co-executive chef and pit-master, Ted Liberda, is known for. And speaking of Ted, he's also the inspiration for both the restaurant's name and logo. Buck Tui is a Thai term of endearment—a particularly fond way of calling to an adorable young chubby boy. It's been Ted's nickname among friends and family since he was a child.
But, back to the tasting. We were greeted with—never a bad idea—cocktails. And wow—an incredibly unique and memorable cocktail—Let the Beet Drop. My dinner companion for the evening, Sarah Strnad, crowed just as much as I did. It was an amalgamation of Old Forester 86 bourbon (Old Forester supplied all the bourbon for the event), raspberries, cold-pressed beets, cardamom, pink peppercorn, lemon balm, citric acid, Fee Foam, and the glass rim was coated in freeze-dried raspberry powder. Without a doubt, one of the best cocktails I've ever had. And I hardly need to note my credentials. We were also served crispy brisket rangoon for a savory accessory. Off to quite a start, I must say.
The six-course meal officially kicked off with amuse-bouche from the legendary Pam Liberda of Waldo Thai (also wife to Ted and the co-executive chef at Buck Tui). With her humor and smile, Pam treated us to a trio of steamed beef-sausage dumpling, wrapped and fried shrimp, and Miang Pla—smoked salmon with ginger, lime, peanut, and toasted coconut on a delicate lettuce leaf.
Tyler Harp of Harp BBQ next took an interesting barbecue tack with a pesto-stuffed turkey roulade with grilled asparagus and white barbecue sauce. Am I the only one who's never had/heard of white barbecue sauce?? Mind blown. For course three, Andrew Longres of Acre Restaurant in Parkville whipped up a large slab of grilled pork belly with pickled mushrooms from KC Mushroom Culture (truly incredible), charred summer berries, and mustard. 
The Town Company's chef Johnny Leach (of famed New York's Del Posto, Town, and Momofuku) presented a halibut collar with kohlrabi, salsa verde, and tortillas from Yoli Tortilleria. Not your typical barbecue fare. And for the final entrée, Ted presented a beef short rib with shrimp shiitake ginger rice all tucked and beautifully folded into a banana leaf pillow accented with an orchid. Truly sublime. For dessert, Helen Jo Leach from The Town Company and Kelsey Earl with Little Butter Bakery teamed up on a corn cake served with bourbon-soaked stone fruit and buttermilk miso ice cream. It must have been the buttermilk, because the ice cream was especially decadent. Throughout, we sampled a different batch of Old Forester bourbon with each course, expertly paired for complementary notes.
The camaraderie and excitement of these local culinary talents joining together was palpable—a manifestation of what's so wonderful about this city. We're stronger when we come together. Oh, and barbecue.