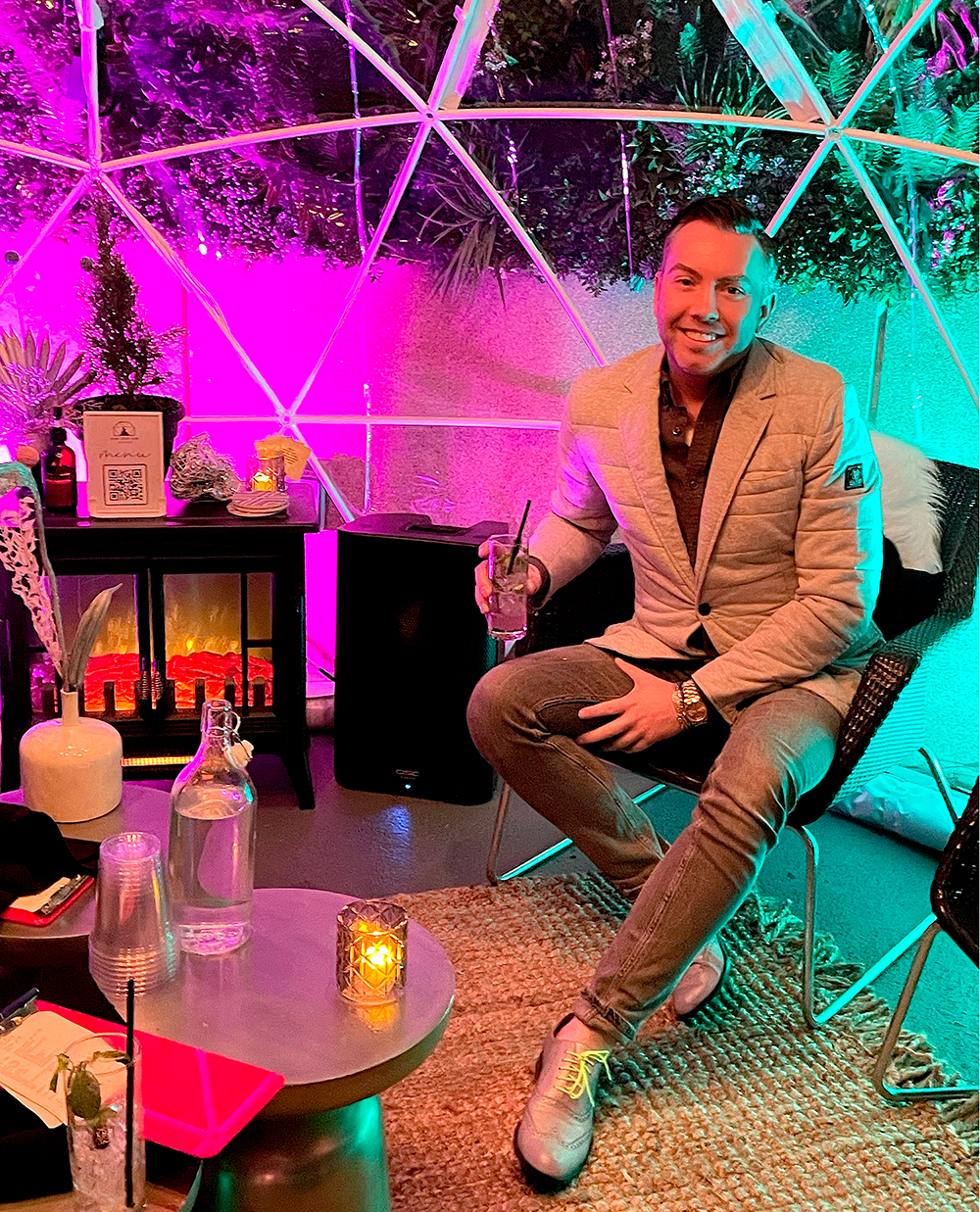 An Igloo for You. An Igloo for Me.
Imagine that you're The Fontaine hotel on the Country Club Plaza. You're wanting a creative way to utilize your gorgeous rooftop pool area during the colder months. You ring Josh Dampf Events for some guidance and a scintillating concept. Josh proposes private, clear igloo-like domes scattered across the patio. It's late 2019. Bizarrely, the word "pandemic" exists primarily in history books and obscure government planning documents. Even Josh himself is modest about how eerily prescient this vision turned out to be, with similar structures now blanketing the streets of posh major cities. So, as bars and restaurants across the world scrambled to concoct plans for expanding their available real estate in safe but chic ways, The Fontaine already had a plan. And thus, as the 2020 winter crept in, the hotel unveiled Nine Zero One Igloo Bar, a rooftop pop-up experience, worthy of permanence. Josh, a master storyteller, deftly assembled a motley group of pandemic-displaced artists and creatives eager to create a magical winter escape. An escape from reality, from stress and situations, from the city, and even from the very ground.
Hot Gossip: What local designer was recently ranked #1 in views on a global dating app?
Artist Boi Boy was instrumental in transforming what was the hotel bar into an icy tundra. He used, among other materials, miles and miles of crumpled, reflective mylar and the scent of palo santo. He was inspired by the translucent, shifting Aurora Borealis lights near the Arctic. The patio outside, where I've often lounged poolside, was cleared of summertime cabanas and deck chairs and scattered with clear igloo pods. With their interior lights sparkling against the still pool water, each igloo comes with its own unique interior design, referencing the ice lands of Scandinavia. Florals by Colleen Monroe of Floraloom offer a distinct Alpine charm. Individual fireplaces, sheepskin throws, and piles of fresh blankets await to keep you and your domed guests warm and toasty. And of course, no personal fireplace is complete without a cocktail in hand, right? Fortunately, they've got you covered. Whether it's peppermint or smoky whisky, thanks to mixologist Adam Chase, your wintertime beverage fantasy is just a QR code away. Need a nosh? The tapas menu assembled by chef Michael Olson is sure to delight. After all, I insisted on our group ordering one of everything. My favorite was the pork rinds topped with crème fraiche and salmon roe. Unexpected, crispy/salty, and high-low divine. There's also a vegetarian "carpaccio" which will have you scratching your head as to how it's meat-free. Unlike the plethora of Christmas-themed pop ups (which I've also enjoyed this season), Nine Zero One was devised with a bit more seasonal longevity in mind. Fortunately, that means that after reading this, you'll still have ample time to enjoy. Final call at this icescape is February 15. P.S., I also hear that a special Valentine's "silent disco" is in the works for the 14th. Book now as space is, of course, extremely distanced and limited.
Overheard: "By the time you get out of this driveway, the bar will be closed."
---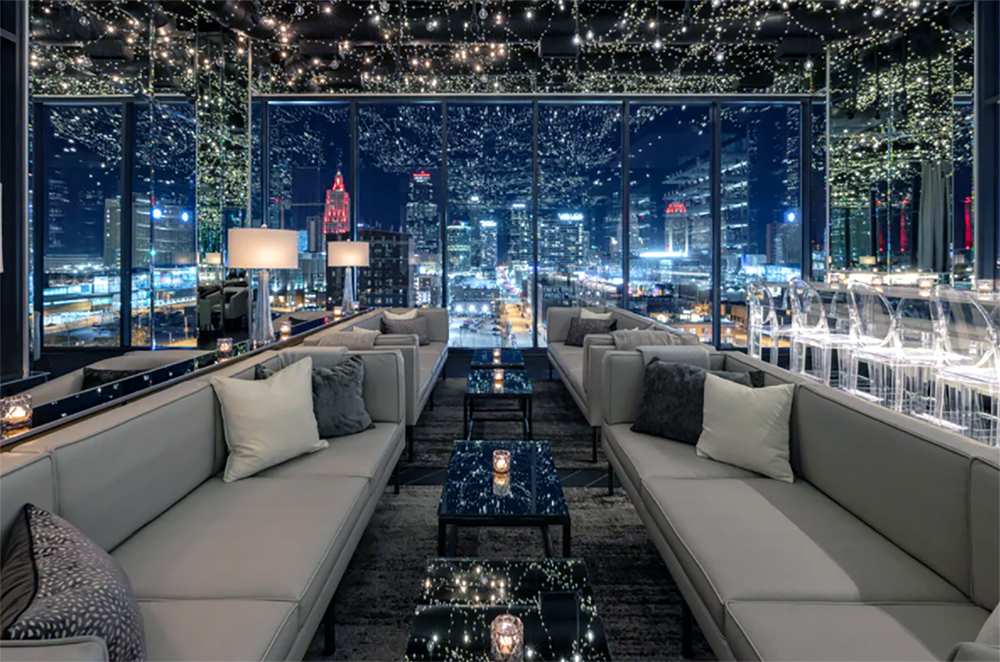 Mercury Rising
If you're on Instagram (and somehow not busy following my dizzying adventures) you've surely noticed the photos, practically designed to induce jealousy if you're not there. The there I'm referring to is The Mercury Room. Perched on the top floor of the new and distinctly recognizable REVERB apartment building in the Crossroads, the Mercury Room is truly its own spectacular little planet. How spectacular? Let me count the ways. First, there's the view: the downtown skyline, front and center, from a nice aerial vantage. Next, there's the constellation of lights, liberally strewn across the ceiling. All 9,000 or so of them, packed into roughly 800 square feet. It feels like you're floating in outer space. And did I mention that the skyline/lights combination practically cries out for selfie-taking? Your friends will also weep—at least mine did. My inbox filled with KC and coastal friends alike, all dropping DM's in unison: "Where are you?" And what little slivers of enclosure that aren't floor-to-ceiling expanses of glass are mirrored. All the better to reflect the city, the lights, or both. It's a weird Pandora's box of other-worldly cool.
Overheard: "Is that a chandelier or a tree topper?"
Beyond the sumptuous ambience and the magnetic chic factor are the cocktails. You may have heard: the $30 cocktails. Yes, I know it seems extravagant. But, tax/gratuity is included, and you're not here to drink until you forget your name. The objective is savoring quality, not sloshing quantities. Pace yourself, and your capped two-hour visit might very well cost less than a long night at your favorite, less refined, watering hole, and the experience will be far more memorable. On my preview visit, I opted for the Astarium (Swedish vodka, yuzu sake, nonino moscato grappa, quenepas and champagne acid) and the Impasto (scotch whisky, hay smoke, herbs de Provence-preserved lemon, and black-garlic yogurt). And as if the exotic ingredients weren't enough, they had me at the ice. Yes, you may be unaware, but I am something of an ice connoisseur. There is just nothing better than beautiful, crystal clear, barely there ice. Shape and size are (almost) just as important as clarity. Typically, this sort of custom ice is produced in massive blocks and then hand cut into just-shy-of-mass-mechanical-perfection cubes. At Mercury, in many cases, the ice is further hand-carved at the bar to fit specific cocktail vessels, which I was able to witness and marvel at firsthand from my bar seat.
Overheard: "You smell like Macy's."
It's completely unnecessary, which is what makes it so decadently wonderful. While the cocktail concoctions are the inspiration of Brock Schulte and Dominic Petrucci, the space and concept are the primary brainchild of David Manica, who's also graced our city with equally indulgent nightlife spots, The Monarch Bar and Verdigris. In addition to your cocktails and the overall experience—which is absolutely is a complete experience—you'll get to enjoy the occasional non-alcoholic aperitif and tiny bites imagined by nearby (and personal favorite) Corvino Supper Club & Tasting Room. Sound interesting? Well, book now. Before even opening to the public, the list to make a reservation was tipping near 2,000 when I visited. And with precious little space for 14 sublimely fortunate guests (will accommodate 28 when our universe returns to pre-pandemic social intimacy), it's bound to stay the hot ticket for some time to come.
Hot Gossip: Who held an ambitious series of holiday parties, reserved only for Covid-recovered and immune friends?
---
Light up the Park
Lights, lights, everywhere lights! With more than half a million flashing, twinkling and beaming lights and 175 animated displays, the hard-working team at Jackson County Parks + Rec clearly outdid themselves this year on their annual Jackson County Christmas in the Park. While a great way to spend the holidays any year, this drive-through event seemed particularly well-considered during a season when relatively few holiday events could be enjoyed from the comfort and safety of one's vehicle. Designed and constructed entirely in-house, the Parks team begins planning nearly a year in advance to contemplate new displays and layouts for the forthcoming season.
Though my first time, it's been a holiday family tradition for many (over three million have made the drive through!)—for a whopping 33 years. The experience begins with a 100-foot lighted tunnel programmed to a sequence of dazzling colors and effects. Along the route, little ones can download scavenger hunt pages to check off the various displays bingo style. You can also cue up the perfect holiday music playlist by texting SANTA to 40157. A few more pro tips: the event is quite popular, and lines can be long, so bring a few snacks. Better yet, opt for a weekday vs. weekend evening. And for bonus points, make plans to dine in or take out food at one of the numerous nearby restaurants. The event is free, but donations are welcomed and are spread among 39 local charitable organizations—with over $1.2 million distributed to date. The display is located near the Frank White, Jr. Softball Complex at Longview Lake in Lee's Summit. If you didn't make it for year #33, there's always #34. Mark your calendar next year for Thanksgiving to New Year's, and add it to your holiday tradition.
---
So, KC—where do you want to go? XO
email: dlair@inkansascity.com  | Instagram: @damianlair #OurManINKC