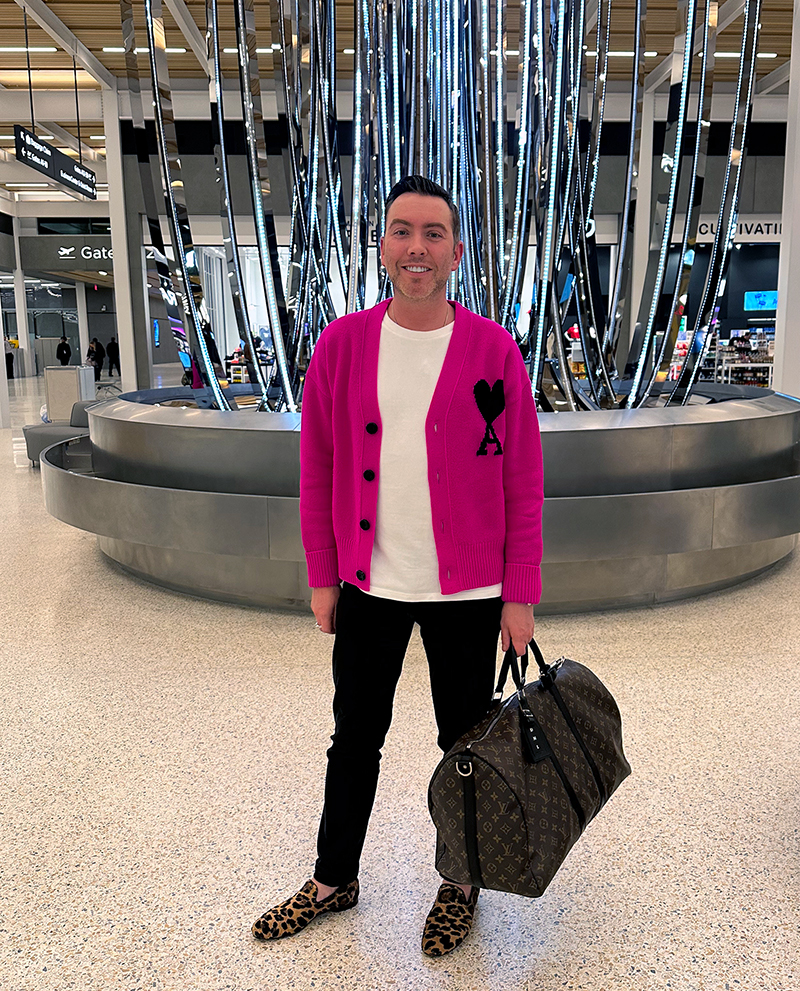 Ready for Takeoff!
When the opportunity presented itself for me to be on the very first flight out of the new, single-terminal Kansas City International Airport, I immediately rearranged my schedule. Some folks adorably dithered in nostalgia to catch the final flight out of that unadaptable concrete brutalist labyrinth, built for an unrecognizable, bygone era of security-free travel. I, on the other hand, was looking forward. Gimme that new-new. Southwest flight #904; 5:00 a.m. to Chicago. All aboard!
I left home early enough that my car notably greeted me with a "Good Evening" message. Driving past John's Big Deck, I could tell they'd just hollered for last call. Patrons were trickling out the door. I was up extra early, because not only was I catching a flight, I wanted ample exploring time during this first opportunity to experience the fully operational airport. Day one. 
Much had changed since my well-documented hard-hat tour roughly a year prior. New, modernized signage greeted me as I approached. Almost immediately upon coasting up the departures ramp, a gentle suggestion: Valet? Well, sure—why not. Seamless, simple—even, sophisticated. Also worth noting, parking-wise, are the electric vehicle charging stations and smart parking features that intuitively guide you to open spaces (of which there are 1,000 more than were previously available). Where not to park—in the lanes of traffic at arrivals. Like virtually every city airport in the country, you park in the neighboring cell phone lot until your arriving traveler is ready, with bags in hand, to be picked up. Evidently, this experience is foreign to some, gumming up traffic at arrivals until we all get the hang of this commonplace system. Faith and patience . . .
At more than one million square feet, the new $1.5 billion terminal is the largest infrastructure project in the city's history. With fewer than one percent of infrastructure projects costing more than $1B delivering on time and on budget, its (early) completion is a monumental achievement. The single-terminal design (Bless!) hosts 39 gates—expandable to 50—when future demand eventually requires. I'm lookin' at you, direct-to-Europe flights. In the meantime, the new direct international flights to Mexico and Jamaica will suffice. 
The terminal was designed by Skidmore Owings & Merrill, whose notable works include Chicago's John Hancock building and Willis (née Sears) Tower, NYC's One World Trade Center, and Dubai's iconic (and world's tallest) skyscraper, the Burj Khalifa. Not bad company. The building feels airy and solid at the same time. Grounded by creamy terrazzo floors (dotted with the occasional salvaged mosaic medallion from demolished terminal A), gray Missouri-quarried limestone, and warm hemlock-lined ceilings, it's brightened by more than 900 windows—many of which are floor-to-ceiling.
Have you ever landed at the former triple-horseshoe KCI and thought you may have somehow been rerouted to Beirut? Stepping over travelers sprawled on the floor, with no available seating; people crouched in corners around one overworked, sparking outlet? Well, no more! There's ample, lush leather seating, replete with AC outlets and USB charging ports at every seat. Perched at one of the bar-height workstations? Wireless chargers are built into the tabletops. Somehow, it feels like a leap into the modern age. 
Overheard "I'm telling you—the airport lounge is a game changer. I've reached the point where if I have to wait with the masses, it throws my whole trip off."
Another seemingly mundane highlight—the restroom facilities. For starters, there are more, and they're where travelers actually need them. In fact, there are three times as many post-security restrooms as the previous terminals. The addition of all-gender restroom options (along with gender-specific) is another nod to modern inclusivity. Dynamic exterior signage indicates how many stalls are unoccupied, and if full, the direction and distance to the nearest facility is provided. Red-green motion-detecting occupancy indicators at each stall makes bending to look for feet or tugging on doors followed by a midwestern "Oops-sorry!" remnant of the past. And can I just say—bathroom doors that open outwards, making it possible to enter and exit with bags on each arm. It's life-altering. And finally, perhaps the most overlooked advancement—hooks! Sturdy hooks. In multiples! No more painful, silent cringing as you quickly reassess whether resting your designer bags on the floor is still marginally better than wetting your pants. If this is the future, I'm so glad I've made it.
Speaking of sweet relief, pets now have three dedicated areas for just that. Family-friendly accommodations abound as well, including ten infant-feeding rooms, an inclusive children's play area, travel experience simulations, quiet and sensory rooms, and moving walkways. If flying the friendly skies is friendlier with a buffer from the crowds, there's the gorgeous new Delta Sky Club. It's a positively stunning addition to the bursting menu of airport amenities. The two outdoor sky decks with views of the airfield are a thrilling touch and rare among airline lounges. Chefs Michael and Christina Corvino were also on hand creating spectacular sky-club bites on opening day. 
Admittedly, I often dart for an airport lounge to grab some respectable food, but here, I can't imagine why you'd ever need to. We've somehow been jolted from one Starbucks and a cooler of soggy sandwiches to 50 concessions options—80 percent of which are based locally. Much has been written about this new smorgasbord, so I'll note a few standouts. We now have two solid barbecue options: Meat Mitch and The BBQ Experience, which is operated by the Kansas City BBQ Society and will feature the winner of an annual barbecue competition. (Currently, it's Smoke n' Magic.) Because barbecue at 4 a.m. seemed, well, like a bad idea, I tried The BBQ Experience upon my KC return, days later. The food was of the quality I'd expect at any established restaurant, but it seemed to have (hopefully temporarily) succumbed to its own popularity. Only two items remained available on the menu. One of which, the pulled pork sandwich, was what I serendipitously wanted. I would have it again and again. They also have a BBQ To Go window. But a friendly PSA: this "to-go" order better be headed home with you. We all love KC barbecue, but no one wants to sit next to you on a plane, tearing into a stack of ribs. So, save that takeout order for arrival. It will give you something to look forward to. 
Hot Gossip: Who turned into the human form of a puddle at the birthday party?
With food options aplenty, the majority are bundled into either City Market Food Hall or the Made of Kansas City Food Hall. Some familiar names you'll find there include Bo Lings, Taste of Brazil, Buffalo State Pizza Co., Bloom Baking Co., Poíō, and The Hungry Hatch. I'm also looking forward to trying Shaquille O'Neal's famed Big Chicken. (If the line is any indication, it's good—even at 4 a.m.) Safi Fresh has organic salads, wraps, and bowls—the perfect stop en route to a swimsuit-required destination. The downside of so many options? Even with a robust travel schedule, I calculate it will take me well over a year to dutifully try each one.
The airport is also the largest application of the city's One Percent for Art program, featuring $5.65 million in commissioned artwork. More than 1,800 artists competed, and 28—19 of whom have local ties—were ultimately selected. The largest in scale is Nick Cave's The Air Up There, a spinning mobile installation that spans the entirety of the departures check-in hall. It was the work I was most excited about, and while completely notable, it left me somewhat underwhelmed, like it was more the phoned-in handiwork of assistants. By and large, though, the artwork across the airport is sensational. One can tell the project was conceived with artwork at the forefront, not as an afterthought. For that, I am incredibly happy and grateful. Favorites include: the iridescent glass Molten Swing sculpture by Soo Sunny Park, suspended above the escalators that descend to the baggage claim and arrivals floor; Leo Villareal's steel and monochromatic LED Fountain (KCI); and SOFTlab's Cloud Gazing, a series of ten 10-foot "clouds" with rainbow-like backgrounds and hanging nylon straps that give a billowing, three-dimensional quality. At moments I forgot I was in an airport, not a contemporary art museum.
Ultimately, though, I had a flight to catch. To mark the historic occasion, Southwest Airlines sent in Missouri One, their custom plane honoring the state of Missouri with its massive seal emblazoned across the exterior. Viewing the plane through the all-glass, climate-controlled jet bridges (we're the largest U.S. airport to have them exclusively) was extra special.
Looking back on that flight—and actually, several since—what continues to strike me are the expressions on people's faces. People are excited to be at the airport. There's a look of joy and child-like wonder in travelers' eyes. For Kansas Citians, it's as if their smiles are saying—we deserved this. We are proud of our city, and we are proud to (finally) have an airport commensurate with that greatness. It eloquently reflects everything special about our city—food, art, music, history, and diversity—that we hold dear. And I can't stop smiling either. Because I feel the pride, too.
Spotted: Sly James, Brian Platt, Justin Meyer, Katy Schamberger, Terri Goddard, Chad Eikermann, Jake Jacobson, Dan Walsh
Overheard "So, I've gotta tell you about these new pills I'm on."
---

Red Door Special
Opening day —you already know I love them! So, when a friend from a lifetime ago, Jesse Borjon, opened the Red Door Home Store, I naturally had to be there. After a series of successful pop-ups, and a location in Topeka since 2015, Jesse jumped at the opportunity to take over a large two-story space at the Ranch Mart Shopping Center. At Red Door, you'll find no shortage of home furnishing items, seasonal décor accessories, wall hangings, antique items, and design inspiration. In addition to retail, they also offer seasonal decorating services, in-home design consultations, custom faux florals, and front porch designs. While browsing, I filled my arms (several times) with a number of Easter décor items that should make my parents' table extra special for the family holiday gathering. And for myself, several of my favorite Mixture candles and some of their new shower bombs in a sampling of scents. Because there's no place like home. 
Hot Gossip: What group of 16 glamping girls got trapped inside a Plaza elevator?
---
Revisit: Conductor Club
It had been nearly two years since I visited the "secret" bar inside Union Station. The Conductor Club is located on the second floor, accessible only by a special elevator you've probably never noticed. The bar features rotating, pop-up style themes that are not casually thrown together. I was there due to a friend's particular excitement about the just-opened Emerald City iteration. Greeted by a rendering of Dorothy, we were seated amidst a papier mâché forest, underneath a ceiling version of the yellow brick road that wove its way throughout the cozy space. At the club, they go all in on the themed cocktails, which was the primary reason for our trip. I first opted for the Over the Rainbow lemon drop martini with Grey Goose strawberry-lemongrass vodka, limoncello, Italicus (Italian liqueur—Google it; the bottle is gorgeous), lemon, egg whites, and a wavy rainbow sour-gummy ribbon resting on the rim. While there, I also sprung for the Emerald City Spritz with Tanqueray gin, chartreuse, Midori, lime, and prosecco, topped with fresh mint and a glowing, rainbow-shaped glow stick. We also snacked on the lobster mac n' cheese, crab cakes, and crispy Brussels sprouts. Emerald City will be clicking its heels through April 22. Reservations available via OpenTable.
---
So, KC—where do you want to go? XO
email: dlair@inkansascity.com  | Instagram: @damianlair #OurManINKC