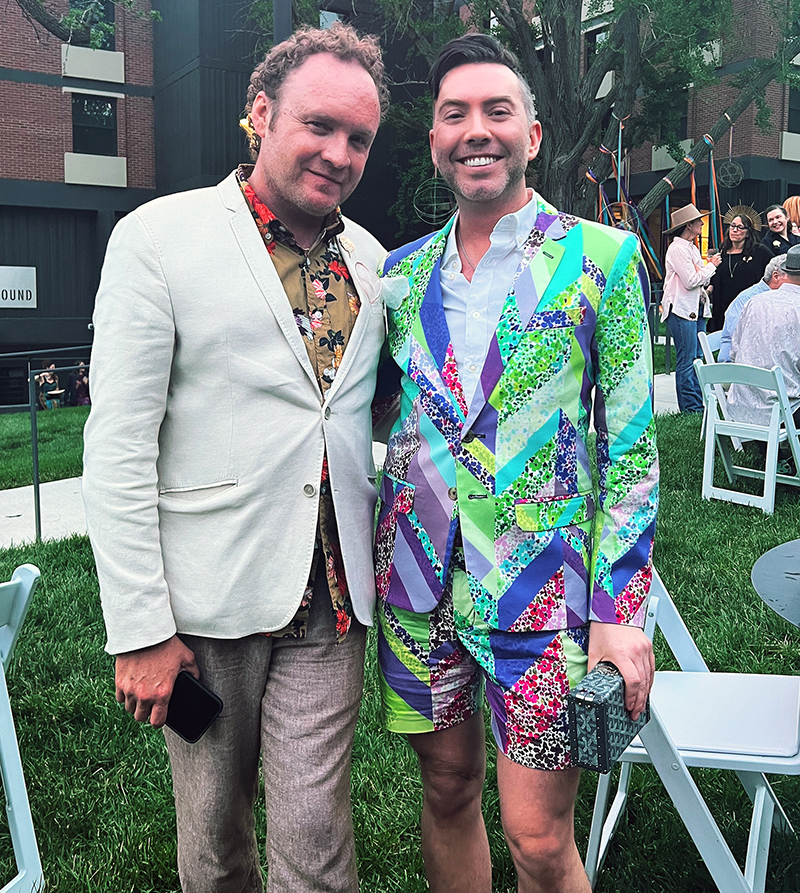 Paddles Up
Retiring president of the Kansas City Art Institute, Tony Jones, welcomed friends of KCAI to their first major in-person event in three years—their much-anticipated Art & Design Auction. Given that the event takes place only every other year, it's something that many Kansas Citians—myself included—look very forward to. In fact, I have several pieces adding life to my home and office that were purchased at this event.
It was a pre-heat-wave outdoor event, hosted primarily on the lush campus courtyard lawn. Guests were greeted by the lively Sass-A-Brass—a femme-fronted, queer, and nonbinary-inclusive street-parade band—with Kadesh Flow. Roaming models and performers on stilts interspersed with patrons. Tents sheltered bites by Lon Lane's Inspired Occasions (the quinoa was perfection), and the Marcus Lewis Big Band performed from a central stage. There were also scattered cocktail stations keeping everyone in good spirits with Tom's Town gin, Mean Mule agave spirits, Vine Street Brewing Co. beer, and whiskey from West Bottoms Whiskey Co. KCAI evidently wanted everyone feeling sauced and generous for the outdoor live auction, which included a handful of particularly special pieces, such as a bronze sculpture by the legendary Nick Cave ('82 Fiber) and two massive, brilliant paintings by Harold Smith and Lester Goldman.
Inside the new KCAI Gallery, more than 200 artworks were on display for purchase via silent auction throughout the night. I had my eye on a four-foot by five-foot painting, Birds of Paradise, Exploding by Christopher Beer and Natalie Beer ('03 Painting). I maintained my lead for virtually the entire evening—until the last 30 seconds, when I was stealthily outbid by someone who deserves kudos for sidelining an expert online-bidding ninja. Two weeks later, I am still sick about the loss. I suppose the bright spot is that I still have one large remaining chunk of wall space for which I can keep hunting. And for me, that may be better and more joy-infusing than the actual painting could have ever been. At least, that's the story I'm sticking with.
Spotted: Sue & Lewis Nerman, Mindy & Meyer Sosland, Jeanne & Charlie Sosland, Nancy Lee & Jonathan Kemper, Sharon Hoffman, Maurice Watson, Michael & Ellen Merriman, Ellen & Jamie Copaken, Joan & Jerry Riffel, Kathy Kelly & Bryan Folk, Kristin Goodman & Marty Peterson, Kim Klein, Linda Lighton, Tom Corbin, Tom Styrkowicz, Kurt Knapstein, David Wiley, Missy Guastello, Taylor Gozia, Kellen Whaley, Taylor Smith, Kenny Johnson, Jeff Beeson, Jeffrey Brentano
Overheard: "It's his birthday. Feliz Navidad!"
Bottled in Bond
It's been nearly 103 years since prohibition began and halted (legal) booze manufacturing in America. Amazingly, it's been roughly that long since the founded-in-1887 J. Rieger & Co. (and the city of Kansas City, for that matter) last produced a bottle of bourbon. Did you know that 95 percent of the world's bourbon is produced in Kentucky?
Bourbon is a type of American whiskey that has been aged in charred, new oak barrels. Aging takes time. As a young, revived distiller, Rieger began putting away just a couple barrels a month for this aspirational purpose. Aging and other requirements for bourbon vary, and Rieger was shooting for the strictest category—"Bottled in Bond." This distinction requires the whiskey to be the product of one distillation season, by one distiller, at one distillery, aged at least four years, and bottled at 100 proof. Rieger allowed theirs to age for a full six years before bottling—amounting to just 27 barrels for this very special inaugural release. (Today, they're putting away hundreds of barrels a month for aging, so there will be Rieger's bourbon for many years to come.)
With a century-long leadup, I was very excited to be invited to the official release and uncorking of the first bourbon bottles at J. Rieger's massive, iconic distillery in the historic Electric Park neighborhood of the East Bottoms district. I enjoyed the bourbon "neat" so that I could have the purest appreciation of its flavors. In terms of tasting notes (my less sophisticated bourbon palate needed some guidance), upfront aromas are of tart fruits—lemon, apple pie, clove, and hints of maple, followed by sweet fruits, including dark cherry and plum. A rich and buttery texture, with flavors of cigar smoke, cornbread, and cotton candy, is also present. The finish is loaded with complex flavors of honey-cinnamon, dark-roast coffee, vanilla, caramel, and sea salt. And there's a malty, lingering effect that is reminiscent of a stout beer. As they say—it really is "O! So good!"
Hot Gossip: Who lost, not money, but their marbles at the casino?
Support for This Station Comes From…
KCUR 89.3 reporter Peggy Lowe has a quote by Ida B. Wells on her desk. It reads: "The way to right wrongs is to turn the light of truth upon them." It was the annual RadioActive fundraiser for KCUR. I was sitting at my ballroom table, decked out in "summer garden party" finery, slicing my (entirely overcooked, even for me) steak, and thought about these words as Peggy mentioned them during the event program. They reminded me of a maxim taught in my undergraduate freedom of speech course: more speech is the antidote to bad speech. Simple. But those were simpler times. Then, the nightly news was presented matter-of-factly via the likes of a stoic Brian Williams—not as a pick-your-favorite-narrative, offered up amidst a game show of sensationalist talking heads duking it out over two exaggerated, polarized versions of a milder reality. Facebook was a year old, and Twitter didn't yet exist. I'm dating myself—I know—but news and facts weren't something that seemed to require deep analysis or contemplation. They just… were.
So, is it still accurate that revealing truths can right societal wrongs? And is it still possible to drown out bad (inaccurate) speech with good speech? It may feel less true today, but the answer must be yes. And so, breaking myself free of this lofty contemplation, it felt good to be supporting—in person, for the first time in three years—a community news organization that, I believe, works hard every day to stick to facts and get those facts right.
The evening began with a fun and impromptu performance by the newly formed "KCUR RadioActive Band." David Fulk, Laurie Arbore, and Lisa Rodriguez put their day jobs aside to dazzle us with vocals, backed by nearly a dozen colleagues on instruments ranging from drums to trombone. I have a feeling their co-workers are happy that the studio practice sessions have ended. We heard from the community advisory board chair, Pat Macdonald, and the station general manager, Sara Morris, as well as event co-chairs Julie Nelson Meers and Sam Meers. Takeaway: the state of KCUR is strong. This past year, the station added more listeners, readers, and subscribers than any year in its history.
Interspersed throughout the evening were enlightening table conversations with two KCUR reporter seatmates—Laura Spencer and Frank Morris. The evening's programming also included a panel conversation among reporters Steve Kraske, Lisa Rodriguez, Nomin Ujiyediin, and Reginald Davis. In revealing unknown facts about himself, Steve confessed to loving turkey and rice soup and Andy Griffith. Who knew? Steve also, more seriously, talked about what a privilege it has been to tell these Kansas City stories for more than two decades on his show, Up to Date. Finally, we collectively raised money for the station's paid internship program—named in honor of former colleague and intern Aviva Okeson-Haberman. Paying interns creates more opportunities for achieving a newsroom of diverse talent and has been an important piece of the station's success. The evening together was a great way to both kick off the summer weekend and show support for a service I consume and enjoy every day.
Spotted: Jason Kander, Heather Paxton, Joe Vaughan, Dr. Regina Nouhan & John Eck, Jan Kyle & Dr. Wayne Hunthausen, Katherine Holland, Angie Jeffries, Matthew Schulte, Laura Ziegler, Brian Williams, Rick Truman, Jennifer & Steve Bedell, Martha Lally, Alison & Bill Paterson, Dr. Justin & Crissy Dastrup, Loretta & Tom Mentzer
Overheard: "You know… there's really just nothing worse than a Hawaiian shirt."
Fashion Jam
To refer to the West 18th Street Fashion Show as just a fashion show really shortchanges the experience—in my overflowing opinion. It's more of a runway concert—this year, musically stitched together by the event's musical director, Calvin Arsenia. Beyond imagining and assembling, though, Calvin also graced the audience with his powerful vocals, harp-strumming, and an eccentric, tulle fashion creation. Mike Dillion stole the show on more than one occasion with his drums and percussion solos. So much energy and intensity.
This year, we were all so looking forward to being back on 18th Street, with the 100-foot runway, after taking a pandemic detour to a drive-through theater and fashion installation pods—both interesting and every bit enjoyable. The weather, however, had other plans. So, for only the third time in the show's 22-year history, the event was moved indoors to The Bauer event space. No matter. After the upended last few years, this surely seemed like an easy pivot, comparatively. With the band front and center and a runway snaking through a sea of chairs, we watched. And listened. With eight designers (four returning from last year), it was a packed evening—but not too packed. Each designer had five looks, which turned out to be the perfect number. No matter how much fun you're having, no one wants these things to drag on for hours.
Craig Rohner commenced the show. Men with colorful brocade tailcoats were ready for the court of Louis XVI, and a Grecian dress with green-on-white toile-like fabric resembling patterns on U.S. currency was a showstopper. Another crossover and favorite from last year, Minc Mason with 3Minc, had a gold, chain-like gown complemented with a blue leather-formed breastplate that was the standout. Return designer Renee LaRouge showcased loads of beading, sequins, and mesh for an otherworldly genie-in-a-bottle x Beyoncé vibe. I absolutely loved the vintage Turkish textiles used in Nidalu Handmade's collection. Red Hair Leather featured leather gladiator tops, collars, cuffs, and harnesses—upscale 50 Shades of Gray. 2S Design House modeled their incredible jewelry and large accessories, like metal headpieces and bodices. Zaid Farouki, based in Dubai, used silk with precision, but the metal cage corset sculpture, inspired by Arabic geometric patterns, was bound to be the piece everyone talked about. In a recent issue of Harper's Bazaar, you can see Zaid's designs on Iris Apfel (cover photo) and Pharrell Williams. Finally, Birdies closed out the show with ethereal lingerie pieces from their delicate collection.
Also closing out was the 22-year chapter of Peregrine Honig as senior artistic director of the 18th Street Fashion Show. In an emotional farewell, she passed the torch to her handpicked successor, Missy IsaMoore. It's been a wild ride, and I can't wait to see how Missy imprints her own stamp on the event. And—I can't wait to be back on that street.
Spotted: Helen & Frank Wewers, Ken Petti, Arlen Wickstrum, Hartzell Gray, Tony Glamcevski, Samir Patel, Sarah Nelson, Luis Mortera, Andersen Ritsch, Stephonne Singleton