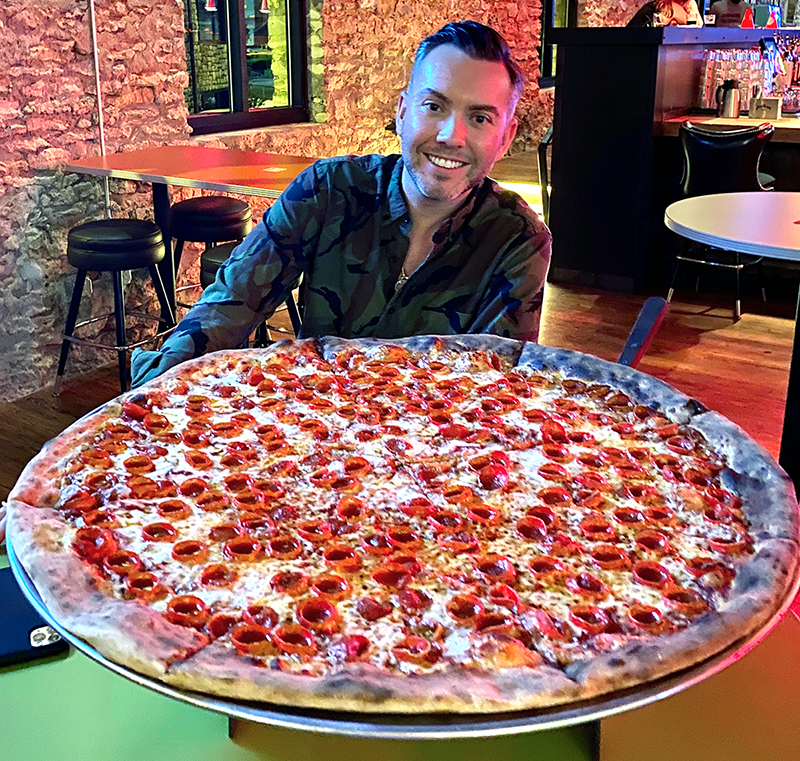 An Atomic Opening
Perhaps you've been to the 6,000+ square-foot former ice manufacturing plant in the heart of Westport—now a four-concepts-under-one-roof mecca, comprised of the Denver Biscuit Company, Fat Sully's Pizza, Atomic Cowboy, and Frozen Gold. After all, it's been open for roughly a year. But, due to—you know—it just finally got a proper opening celebration. In fact, I'm pretty sure it's the first combined opening/one year anniversary party I've been to. But the wait made this night all the more sweet—and savory.
While this eatery and drinkery managed a successful opening amidst the pandemic, they prudently decided that a celebration would have to wait. And so, I grabbed my neighbor BFF, and we settled in for an evening of mass stuffing and sampling. First up were fan favorites from Denver Biscuit Company. The name gives away the star of the show on this menu—freshly baked buttermilk biscuits. 
One of my favorite food groups, a biscuit can serve as quite the versatile medium for menu creativity. Among their two top sellers are The Franklin and The Lola. Franklin is a fried chicken biscuit sandwich with bacon and cheddar cheese, smothered in sausage gravy or a vegetarian mushroom gravy. (We got to try both, and the mushroom option was surprisingly delightful.) Lola is another biscuit sandwich with fried chicken but covered in an octopus of bacon strips and honey butter, resting in a wading pool of syrup. A sweeter option that can be made even sweeter by subbing the biscuits for French toast. 
Besides fried chicken on your fluffy biscuits, options abound—including sausage patties, eggs, pork belly barbecue, and even fried catfish. For next time, I already have my eyes on the biscuit potpie and the strawberry shortcake (made the proper way—with biscuits). 
Hot Gossip: Whose new outdoor seating takes "street side" to a whole new level?  (Watch your arms!)
Next up on our tour de cuisine was an unexpected cheeseburger from Fat Sully's Pizza. The Lights Out Burger is a double smashed burger (think: Town Topic thin) with aged American cheese, house-made pickles, onions, and Big Mac-like sauce, all sandwiched inside a garlic butter toasted brioche bun. It was one of the best burgers I've had in KC. And I don't say that lightly. 
What's a burger without fries, you might ask? Sully's (loaded) fries came in tow—waffle fries covered in that same sausage or veg gravy, pimento cheese, bacon bits, and green onions. 
And last but not least, from Sully's menu was, of course, pizza. Not just any pizza. A whopping 26-inch gleaming pie of perfection: known aptly as the "big ass pizza." If you don't need to feed a small village, one can also order more modest sizes. Or, out late in Westport and need a quick snack? You can also pick up this heavenly pizza, by the slice, via their walk-up window until midnight on weekends. Ours was a classic pepperoni (my fave), and it was stupendous—instantly tying my other favorite pizza joint in town, which was, in my mind, an impossible feat.
Thankfully, I have enough leftovers for 17 weeks. As we ate our way through the menu, those behind the Atomic Cowboy bar kept us in good spirits. I could not resist the strawberry rhubarb mule (made with a super tart strawberry rhubarb jam), and later switched to the breakfast sangria, which turned out to be just as perfect at an evening hour. 
Finally, after treating us with the Sully's dessert knots (fried pillowy blobs of their pizza dough, tossed in Oreo crumbles and icing—genius), they guided us to Frozen Gold for our choice of ice cream. Practically immobile at this point, I went for something simple. The Fair Grounds featured their vanilla soft serve, Pop Rocks, Kool-Aid candied popcorn, and a cotton-candy halo encircling the cone. Next on my wish list? The You're So Cheesy with Cheetos, Cheez-its, Cheddar Goldfish, and salted caramel. And that's how you throw an opening/anniversary party! 
---
Happy 200th Birthday, MO!
On a particularly balmy Saturday morning, I was up early to celebrate the 200th anniversary of Missouri's becoming the 24th U.S. state. The François Chouteau & Native American Heritage Fountain was the perfect backdrop for this special celebration. 
If you've not been (I hadn't), the Northland fountain features three heroic bronze sculptures (French trader François Chouteau and two representations of Native Americans, who founded our city when they built a trading post here in 1821). A fourth sculpture of a native Kansa hunter stalking a beaver was ceremoniously unveiled amidst the day's activities. The fountain's next phase includes building additional bluffs and adding a water feature. 
The day's activities began with Beyond the Circle, Native American dancers from Springfield. The group represents the Navajo, Ottawa, Ojibwe, Zuni, and Apache tribes and have performed and powwowed all over the U.S. 
Dennis Stroughmatt played French Creole fiddle, and playwright Philip blue owl Hooser debuted a performance of Tartuffenthrope!, a play tying together our city's French origins on the Native American land at the mouth of the "Canses" River with French cultural heritage brought by François Chouteau. 
Overheard: "He is a magical soul."
There were also horse-drawn wagon rides, food trucks, fur trapping reenactors, chalk art, and puppet shows. Plein air painters were busy throughout the day capturing the beauty of the surroundings, as well as all the happenings. Major celebration snaps to friend Heidi Markle with KC Parks & Recreation, to whom much of this event's array of planning can be attributed, which aptly told a story of Missouri's diverse people, history, commerce, and culture. 
Spotted: Rep. Emanuel Cleaver II, Mayor Quinton Lucas, Rep. Emily Weber, Councilman Dan Fowler, Councilman Kevin O'Neil, Councilwoman Heather Hall, Brian Platt, Angie Jeffries, Lee Page
---
Pulsating Meditation
Jumping at the chance to get back to the Kemper Museum of Contemporary Art to see Rafael Lozano-Hemmer's Pulse Topology again, I signed up for a meditation event hosted amidst the galactic exhibit. If you've not yet experienced it, the work is an immersive light installation featuring an upside-down canopy of mountains and valleys made from thousands of suspended light bulbs. It's a massive site-specific exhibit (his largest of this kind) that also pulsates based on recorded heartbeats of current and past visitors. The most otherworldly environment to meditate, no? And it was. 
Hot Gossip: What bartender quit twice in the same week?
Sat Inder Khalsa of KC Kundalini Yoga guided a small group of us through meditation, qigong, breathing instruction, and sound healing. She explained (and I'd never really thought of it this way) that we should think of meditation as preparation and prevention, rather than recovery. Put another way: It's a flu shot or vitamins—not a sick trip to the doctor. And when you frame it that way, you realize it's not a form of relaxation that's an indulgent reward for hard work, time for which you need permission. Instead, it's the self-care that will allow you to work your hardest and perform your best. What an incredible rearrangement of thinking. 
Also incredible was the absence of any other distractions. Just me beneath an undulating cascade of beating lights. Like an ocean wave of gentle warmth that stops just short of crashing into you. Like glittering gold raindrops that never quite reach your face. It was a beautiful, sublime experience. The exhibit will be on view through January 2, and more meditation events have been added to the calendar (check the website). Go, not because you deserve it; go because you need it.
Overheard: Uber driver: "You want a Jell-O shot?"
---

Dragons Love Tacos
When my now 5-year-old godson was just a wee one, I found the most adorable felted wool baby taco shoes that were an instant buy. And because I love bundling gifts together in a theme, I paired the little tacos with a beautiful, embroidered guayabera shirt I found in Mexico as well as an apparently popular (#1 New York Times bestseller) children's book I stumbled upon online: Dragons Love Tacos.  
So, naturally, when I saw that The Coterie Theatre was performing a play based on the beloved book, I knew it would make a great summertime date with my favorite (and only) two little nephews. 
Overheard: "Even my refrigerator has a dimmer."
We met up at Crown Center for pre-theater dinner at Spin! Pizza. I got my usual custom creation: pepperoni with pesto and candied pecans. (Try it!) And despite the free gelato for kids, we made sure to save room for dessert #2 at the Kona Ice truck outside. 
The performance took place outdoors under the Entertainment Pavilion, i.e., the wintertime ice-skating rink. There, we were taken on an hour-long journey of Dragonology. News that dragons love tacos inspires a boy and his dog to throw a raucous taco party for dragons while mom is away. Spoiler alert: the party ends in fiery disaster. (It turns out that dragons do not like spicy salsa.) Not exactly a night at Hamilton, though neither was it trying to be. The sold-out crowd—filled with kids—loved it, and I loved that my two companions were having a blast, soaking up the fading days of summer before school started anew. Their enthusiastic review: A must-see.
---
So, KC—where do you want to go? XO
email: dlair@inkansascity.com  | Instagram: @damianlair #OurManINKC