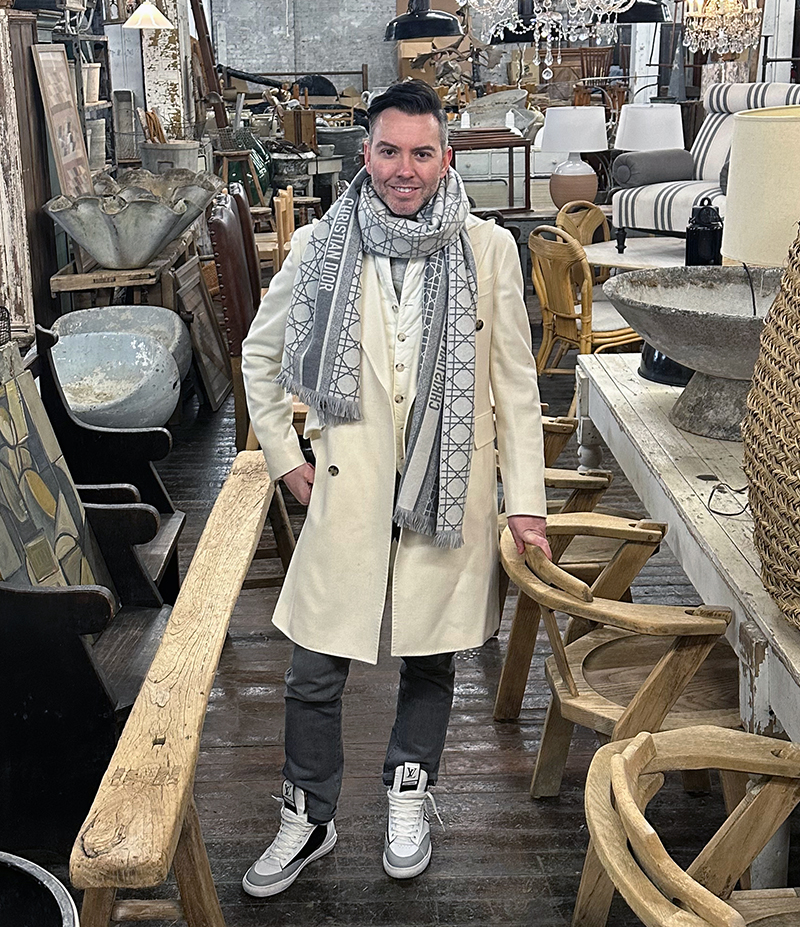 Grand Prize
For a recent, somewhat lazy Saturday outing, I met up with a couple of friends at the just-opened and relocated District Biskuits on Armour Road in North Kansas City. Post-holiday diet? Must postpone. 
District Biskuits was humbly born as a pop-up in 2017 at Lutfi's Fried Fish. Later, it moved to a permanent spot at the Adams Mark Hotel, near the Chiefs and Royals stadium complex. The hotel, however, became a casualty of the Covid pandemic. But as they say, one door closes. . .
Hakim Khalifah, aka chef Guroux, founder of District Biskuits, is a Kansas City native who trained at Le Cordon Bleu in Atlanta. He returned to KC with the inspiration to create a fast-casual space that could celebrate food, drink, and each other. Or, as Guroux puts it—a food experience that is "crafted for the culture."
My time there felt very much like being inside an NYC silver chromium diner where there's both a sense of anonymity but also a constant churn of diverse, seemingly familiar faces at the counter. I not only crossed paths with my friend Amber Botros (we roughly plotted out my increased facial regimen goals for 2023), but also local developer Dawn Lynne, known as Ilan Salzberg, who happens to be primarily responsible for this charming new standalone location. Despite the recent opening, word of the new spot seemed to have traveled quickly. Most seats were occupied, and there was a steady line of take-out customers.
Overheard: "He's lost his mind. Also his hair."
Because I had amenable friends in tow, I made everyone order something different from this biscuit-based menu. For research. I had the Royal—a fried chicken filet with fried egg, American cheese, bacon, and chives, sandwiched between a split biscuit. So, so good. The biscuits were perfectly imperfect, layered with flakiness, but with just the right amount of heft and density to hold up as the bookends of a substantial sandwich.
Via my friends, I was also able to try the Crown—two smash burger beef patties, American cheese, grilled onions, pickles, and special sauce—but of course, with biscuits. Have you ever had a biscuit-based burger? I hadn't. But now it's all I can think about. Finally, the Charlie Hustle—a Nashville hot fried-chicken filet with creamy coleslaw, pickles, and hot honey. Though all were excellent, this was probably my favorite, and what I really wanted to order for myself in the first place. But, somehow since I was suited up in an outfit of all white, I determined that'd be a huge mistake. Not exactly drippy hot sauce friendly. 
With warmer weather in sight, District Biskuits is also pulling together a nice outdoor patio space that will undoubtedly be poppin' as soon as spring hits. And if you want to make it a boozy brunch, well, they've got brews and the fixings for that, too. Plus, with all the action happening in North Kansas City, you could drop in for breakfast and spend the whole day walking from spot to spot. I've done it, but not today.
Hot Gossip:  Who was so enamored by the hot, house-party bartender that they left a $100 tip?
Well-fed, we were off to Prize Home + Garden. Currently located on the 4th floor of the Bottoms Up Antique Market, this truly special shop has moved around town a few times, having been both on the Plaza and most recently on Southwest Boulevard. To call it a "shop," though, feels like an understatement. It encompasses the entire floor of a massive warehouse building occupying most of a city block. Despite its vastness, no space is spared. For a proper assessment, I would budget one to two hours. 
Far more impressive than the sheer quantity of products is the—and I loathe this word—curation of its contents. The owner, Steve Rogers, has masterfully pulled together a menagerie of beautiful, foreign, found treasures. Steve travels to Europe multiple times per year, particularly France, to fill cargo container after container with furnishings you simply cannot find here—in Kansas City or the U.S. His wares are so sought after—with multiple clients whose names you'd easily recognize—that his space is seldom open to the public. Dealers have pieces reserved for clients before they've even made it off the ship. So, when I saw on Prize's Instagram page that they'd be open on Saturday, I of course marked my calendar.
What will you find at Prize, you may be wondering? Well, "shabby-chic," this is not. Nor is it some icky, overly Frenched, Americanized idea of "French country." If you're pining for something in sanded-down turquoise or cornflower blue, you should look elsewhere. In fact, if you want color at all, this is not your place. It's a sophisticated mix of worn woods, refined leathers, honed marble, and patinaed metal. Nothing is new. There is a healthy mix of French contemporary, Dutch brutalist, Danish modern—finds from Belgium, Spain, and Italy. Amongst the cavernous collection, you may even discover some vintage designer pieces from the likes of Lignet Roset, Roche Bobois, or Le Corbusier. 
I became acquainted with Prize this past autumn when I was overseeing a renovation of my parents' residence in Vail. With most furniture already purchased, I was looking for odds and ends that would be the perfect beige-y icing on this mountainside Bavarian-modern retreat. Chalet chic. So, a day before heading out to the mountains, I booked a private appointment with Steve. He let me wander at my own pace for hours, creating piles of things as I went. I found oak benches and frames, wooden and marble bowls, candlestick holders, clay pottery, trays, baskets, sculptural pieces, mirrors, lamps, all with the refined but relaxed European austerity I was looking for. When finished, we filled the freight elevator and loaded my SUV to the ceiling. I had everything I needed—and beyond. Sadly, with that project now fulfilled, and my own home in a happy state of completion, I found myself on this most recent Prize trip yearning for a new creative project. Somehow, I imagine it will find me sooner than I'd prefer.
Often, when an antique store has this much product, it can feel like a giant hodgepodge of old, not particularly interesting, stuff that's there just to fill the space. What I find astounding is that, despite the vast inventory, Steve has managed to pull it all together with an unwavering, discerning, singular point of view. You could pluck any two of the thousands of items from the store, sit them next to each other at home, and they would complement each other perfectly. Which is a true feat. Prize is indeed a prized collection.
Overheard:
"I'm currently dealing with the realization that I must either pack boring travel outfits or put my life in real jeopardy. Which is not my sweet spot."
Zero Zero Update
Back in September, I wrote about the grand opening of Zero Zero, the precious handmade pasta shop on the Westside. The update? They're now offering after-hours pasta-making classes inside the shop. I just attended one with friend (and new Leawood Chamber of Commerce CEO) Stephanie Meyer, and we had a total blast. If learning how to make fresh pasta is on your 2023 bingo card—I highly encourage you to check it out!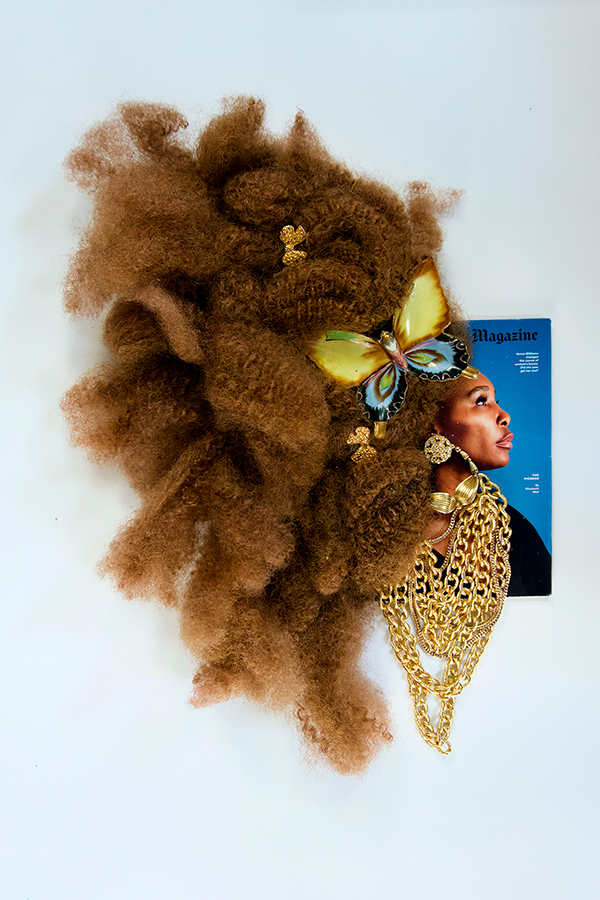 Adorned
There's never really a bad time for a museum visit. Somehow, though, I find the dead of winter to be my personal favorite. After all, what better place to spend an afternoon than a comfortably toasty gallery, surrounded by articles of interest and/or beauty? 
Beauty was particularly on the agenda as I dropped in to the Nerman Museum of Contemporary Art, located on the Johnson County Community College campus. On this snow flurry-filled day, I was visiting to see Adorned, an exhibition exploring what it means to be one's true self through the act of adornment. The collection, comprised of pieces by more than 70 artists, covers a lot of territory in terms of the many forms this very personal and intimate act can take. Often influenced by one's culture, there are an array of examples spanning from an elaborate compilation of 50 Native American bolo ties to gold grills in a piece by Hank Willis Thomas. The exhibition features a significant number of artworks on loan from Christy and Bill Gautreaux's impressive collection. Throughout, there are also several fashion vignette installations, envisioned by Boi Boy, incorporating garments belonging to the fashion collection at JCCC. 
A few favorites pieces: the massive Ebony Patterson beaded and extensively embellished tapestry, titled …Still…for those who bear/bare witness; a mind-blowing, seemingly simple bonnet by Angela Ellsworth, Seer Bonnet XXVIII (Rhoda), constructed with 19,136 unassuming pearl corsage pins; and a mixed-media collage by Vanessa German, Venus as an Around Away Girl, formed around a cover of The New York Times Magazine. Finally, I'm transfixed by any and every Nick Cave artwork, and fortunately, there were two of his iconic Soundsuits (the very definition of adornment), as well as a digital video piece. To say that I cannot wait to see our new Nick Cave-adorned airport entry ceiling would be a colossal understatement. The March opening cannot come soon enough!
Hot Gossip:
Who took her shoes off at a party (gasp) only to reveal mismatched socks (double gasp)?
---
So, KC—where do you want to go? XO
email: dlair@inkansascity.com  | Instagram: @damianlair #OurManINKC