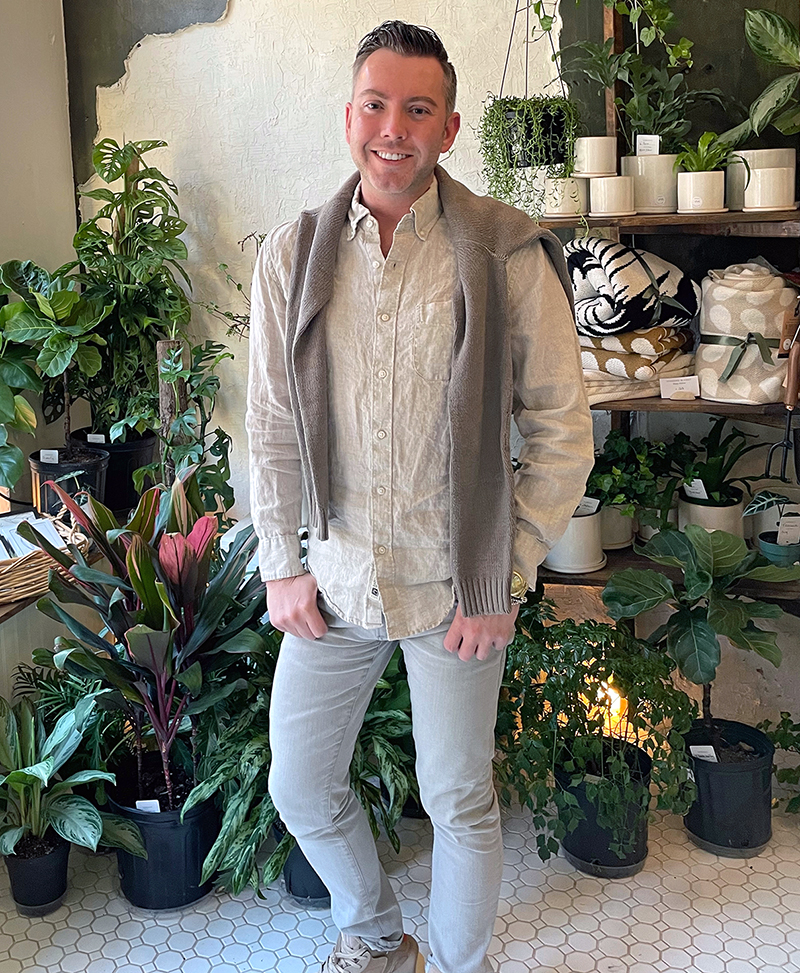 Since I moved here roughly a decade ago, I've had a recurring appointment on my calendar for the first Friday of every month—simply: First Fridays. Particularly in the spring through autumn months, I couldn't wait to get off work, throw on a cute ensemble, and meet a group of friends for gallery hopping, food trucks, people watching, and all the "happenings" that make a city—a city. All the things that, coincidentally, you take for granted until one's city shutters for a year. So, with the absolutely gorgeous springtime weather, the palpable air of optimism and reemergence, and a pop-up calendar 'ding,' I texted several friends to meet me in the Crossroads Arts District for a reacquaintance with First Fridays.
Before even beginning, I'll note that my experience was not at all reminiscent of the First Fridays of yore. Long gone are the days of galleries luring prospective patrons inside with free wine. Remember that? In more recent years, the crowds became so unwieldy that, for safety's sake, food trucks were relegated to the district outskirts. Art galleries not only plugged the wine spigot, but more than a couple closed to the public—opting for more intimate private events and showings. Enter the pandemic—and unless you arrive on the much earlier side, as I did, you're likely to find many businesses already closed for the day. No crowds; no food trucks. It doesn't feel like a street carnival. There are still people, but it's different. In many ways, it was a refreshing "correction."
Overheard: "The one bad thing about these glasses is that I can't really see out of them."
My first stop was a shop I'd been eagerly awaiting to open. Then the world shut down and the anticipation gradually drifted from my mind. The store, which opened late last year, is Verdant. Like its name, the little shop is a lush, green paradise. If you're familiar with West 18th Street, you may remember its predecessor, YJ's Snack Bar. Once inside though, memories of those late-night bites fade into the jungle-like atmosphere. Milky white walls and hexagonal tiled floors are the perfect backdrop for everything—verdant. Needing a houseplant, which has lately risen to newfound hip status? You'll have ample choices. Are you looking for something low maintenance? (Raises hand.) Go for the bowstring hemp snake plant. I can attest that even weeks away on vacation won't phase this hearty one. Or, perhaps, you're looking for something with air-purifying properties, as many of us now think more carefully about the air around us. They might recommend a samurai sansevieria or perhaps a purplish dracaena dragon tree. Maybe you have a pet that likes to nibble on the plant children? Try a rubber tree or bird's nest fern. And for those with a very green thumb and ready for the famously persnickety fiddle-leaf fig, they've got those too. Owner Chentell Shannon might just be there to share her personalized knowledge with you, as she did for me. Chentell is also the founder of Convivial Production, which designs and manufacturers handmade ceramic wares in the historic West Bottoms. Coincidentally (or not), these simple but stylish ceramic containers make just the perfect vessel for any of the plants they sell. How smart. What else might you drop into one of their planters? How about a designer bouquet? There's a cooler full of ready-made bunches, assembled by their in-house floral designer. Or you might prefer just a stem or two, which can be purchased individually. You can also point around at what you like, and they'll whip together something truly special, on the spot. While you're waiting, you may as well smell their Convivial soy candle line. The container is—you guessed it—one of their minimal, handmade ceramics. And even better, the candles are poured right here in Kansas City by my all-time favorite—Mixture. Naturally, with spring in the air, I wanted something that could wrap me in the season. Anjou Pear did the trick. Oh, and return your empty container (unless you decide to reuse for flowers at home) and get roughly half off your next candle. Also, don't miss their selection of custom greeting cards. These ecru, letter-press beauties look torn from a botanical encyclopedia. They're available exclusively at Verdant and illustrated by Cooper Malin, based in Montana. A prolific note-writer—I grabbed an entire stack. Upon checkout, you'll note the almost obsessive attention to detail. From the tissue-wrapping for the cards, to the errant plant sprig carefully taped (with beautiful, custom-logoed tape) to the bag's exterior, complete with verbal instructions for how to pot at home. It's the most happy and thoughtful space. Drop in, and I guarantee you'll smile.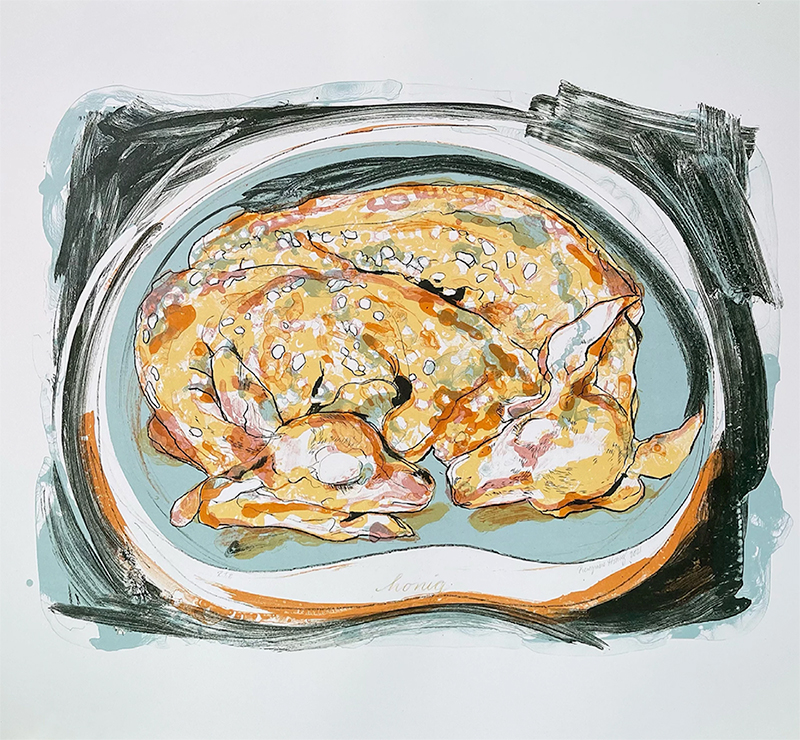 Upon leaving Verdant, I ran into my friend Peregrine Honig, proprietor of the shop next door, Birdies. Peregrine was locking up for the night but had time to catch up for a bit. She updated me on her latest project, a sublime, five-color lithograph drawn from taxidermy unborn twin fawns. Rebirth is, of course, the illustrated version of The Twin Fawns artwork, in which Honig encapsulated taxidermy twin fawns inside a custom-blown glass cloche. It is mesmerizing and unforgettable, a reliquary with more questions than answers. The lithograph version is thought-provoking as well and limited to just 25. Our conversation then turned to yet another thing Peregrine is known for—the annual West 18th Street Fashion Show. If you'll recall, I wrote about the pandemic-induced transition to a film version Summer in Hindsight, which debuted at the Boulevard Drive-In Theater last autumn. Since then, the film has been showered with awards and film-festival selections, including, among others, the Venice Shorts Film Awards and the Barcelona International Film Festival. That's major. Not resting on laurels, Peregrine would rather talk about what's next. Recognizing the untimeliness of densely packing 18th Street with glistening, sun-kissed bodies this summer, the organizers are planning pedestrian-focused installation bases on portable, scattered stage sets—this year, back on 18th. The inspiration will be 1960's counterculture movements, and you can bet everything that I'll be there, and you can read about it here.
Hot Gossip: Who admired her friend's handbag and arrived to dinner the following week with the same one?
Though I could have chatted for hours, I let Peregrine get on her way, and my group rounded the corner for two more quick stops before dinner. We dropped into Biz & Weezy Confections for a sweet treat. I was in the mood for one of the bacon caramels, but I quickly filled a box with tons more pretty, bite-sized desserts. As I waited, I peeked at their cafe lunch menu, which prompted me to drop in twice the following week for both their turkey avocado wrap and their southwest salad. They're near my office, and it's a quick, easy and healthy option. Win! We then jumped across the street to Raygun. Self-described as "The Greatest Store in the Universe", it's a retail shop that's heavy on quirky, screen-printed items—everything from baby bibs to hoodies. But there's also postcards, notebooks, shot glasses, magnets, wall art, and tons of cute pins begging to adorn a weathered denim jacket. The design is very text-based, and you'll want to read everything. Prepare for some lol's. I bagged up a ton of fun gifts, but truthfully, most items were just for me.
With my friends grumbling because they were ready to eat, we hopped a couple blocks over to the eatery I'd been dying to try—Sauced. Coined an "urban lunch counter"—that's precisely what it is. A little counter, no bigger than a tool shed, that's firing up a tight menu, seemingly in the middle of nowhere. It's nestled in what's essentially an alley right behind the Corrigan Station building where Corvino Supper Club & Tasting Room occupies the first floor. It's a gated, narrow slice of downtown solitude. While still very different—and no fountain wall—it immediately conjured memories of my most favorite (I won't say secret, but it feels that way) quiet, tiny park in New York City. If you've been, Paley Park on East 53rd, between Madison and Fifth, is restrained perfection. And while not widely known, it is considered by the architecture cognoscenti to be one of the finest examples of public urban spaces. This feels like that, and I love it. But ok, enough with the Mies Van Der Rohe-sian waxing, what about the food?? Well, it's awesome. Your choices break down to burger or chicken. There's a handful of variations on the burger, but they all come with homemade condiments (the catsup is especially unique—almost Thai-like). The cheeseburger was my choice, and there were no leftovers. For chicken, there are sandwiches, which looked stunning, and also chick bites, which I nabbed for sampling purposes and finished off half of those as well. I ordered them drizzled in the "sassy sauce" because, well, why wouldn't I? While there, you may as well add on the seasoned fries because they are super. I've heard this place can get really poppin'—though we found it to be perfect level of busy. Given the tiny kitchen, orders can get stacked up. So, if you're in a rush, order online before you arrive to cut down on any wait time. Once summer is in full-swing, I just know this is going to be a full-time hotspot. A shady, breezy little alley, perfect for hiding from the heat.
Overheard: "I only drink water on weekdays."
---
Everything Old is New Again
Because it is officially patio weather, and because it happens to possibly be my favorite KC patio, and because new owners have swept in, I seized the opportunity to preview (the now refreshed) Gram & Dun. Occupying a bustling corner on the Country Club Plaza, and scattered with plush furniture, heaters and fireplaces, it's the perfect spot to settle in and enjoy bites or drinks (or both!) alfresco. On this occasion, though I have my preferred G&D dishes, I set out to try only new menu items. In that vein, I sampled the nachos (with short rib and beer cheese sauce) and the tuna tartare (teriyaki-marinated ahi tuna, avocado, wontons, and firecracker sauce) for appetizers. I had the fresco burger for my entrée—smoked gouda, arugula, pickled onion, tomato jam (the winning ingredient!) and potato bun. And, despite devouring every last bite, I still (naturally) saved room for dessert. I dug into the hot tartee (lemon honey tartlet, cinnamon whipped cream, and whiskey sauce) and the Gram & Dun bar (chocolate mousse, ganache, peanut nougat, salted caramel, pretzel, and peanut butter-cup ice cream). So, clearly, the new menu was a win for me—of which this was merely a snapshot. Two of my companions also raved about the new Wagyu ribeye. Plus, G&D now offers a high-grade sushi menu, and all their bread, buns, and pastries are made in-house by their pastry chef. And if the new food wasn't enough (but it was), everything from the drinks menu, to the private event space, to the interior fixtures and finishes have been reimagined. You'll know where you are, but it feels somehow—fresh. Still, save me a table on the patio. I plan to take up residence there this summer.
---
So, KC—where do you want to go? XO
email: dlair@inkansascity.com  | Instagram: @damianlair #OurManINKC