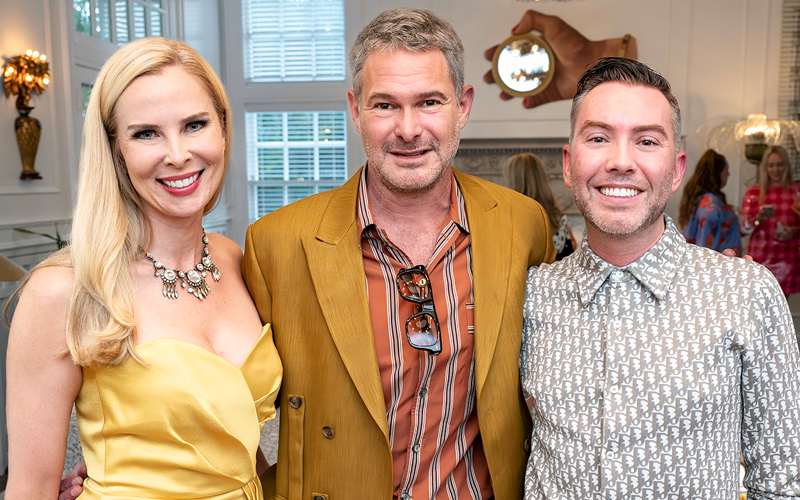 Born to Party; Forced to Work
By virtue of this column (and, I hope, my glittering and engaging personality), I am the grateful beneficiary of invitations to sparkling affairs and unique experiences spanning our fine city. One of the absolute best in recent memory was a generous invite from Heather Pluard, cochair of the Committee of 100 luncheon at the Nelson-Atkins Museum of Art. C100 (aka Committee of 100) is an auxiliary membership group that is dedicated to planning and implementing signature fundraising events that deepen engagement and further the museum's mission as a cultural anchor of Kansas City. While C100 organizes events and programming across the year, the most notable is their annual luncheon that regularly hosts who's who icons of the design world. Recent headliners include my personal favorite, Miles Redd (still honored to have been your date, Patricia O'Dell), Alexa Hampton, Charlotte Moss, Suzanne Kasler, and Bunny Williams—to name only a few.
This year's guest of honor was someone I've serendipitously followed for years—event designer extraordinaire, Bronson van Wyck. Based in New York, Bronson and his "Van Wyck Elves" have envisioned and organized imaginative parties for the likes of Presidents Clinton, Bush, and Obama, Madonna, Beyoncé, Hugh Jackman, George Clooney, Martha Stewart, and legendary brands including Chanel, Cartier, Hermès, Barneys New York (RIP), and Van Cleef & Arpels.
On the eve prior to the luncheon, we were treated to a more intimate gathering of patrons at the positively spectacular home of Stephanie and Chris Cooch. While there, I caught up with scores of old friends, noshed on the mountains of hors d'oeuvres in the home's equally substantial kitchen, admired provocative artwork, and had an intuitive reading via tarot and oracle cards. An apologetic skeptic, I was shaken by the accuracy of my reading that foresaw a vacation of quiet respite that was just days away. Remarkable.
Hot Gossip:
What new Sunset Hill residents found a still-locked safe belonging to long-ago owners?
The following afternoon I headed to the museum. It was a warm, pre-fall day—perfect for welcome cocktails and bites on the museum's north terrace overlooking the still-lush sculpture garden. After plenty of gal pal gabbing, we settled in the auditorium to hear from the man of the hour. Bronson's discussion centered around the meaning of 21st-century hospitality. He took us on a whirlwind tour of his background—from growing up in rural Arkansas to a stint with the State Department assigned to the Ambassador to France, Pamela Harriman. Routine Oscar party crashing in L.A. was followed by moving to New York, planning a presidential inauguration . . . and the rest is (a much longer, more spellbinding) history. 
Scattered about Bronson's stories were useful nuggets of wisdom, gleaned from years of planning parties and working to constantly surprise and delight people. Reassuringly, some of his tips were among my own party rules to live and die by. Here are a few: Don't skimp on the lighting budget! Bear in mind the 20-minute rule—people's attention spans are short, so keep something new happening every 20 minutes at a party. Even common, inexpensive items can look extravagant en masse or when exaggerated in size. When guests can embrace a theme, becoming a fourth dimension of an event, you can often get away with spending less on decor. And fitting for our fraught times, "the best way to break ice is to break bread." Want more tips? Buy his book!
Following the presentation, lunch commenced in Kirkwood Hall. The marble-columned heart of the museum was transformed by palms and florals fit for, well, a Bronson van Wyck. Heather (who regaled me with all the details about her next-day (!) travels to summit Mount Kilimanjaro) and her fellow cochair, Melanie Fenske, arranged for me to be seated at their table next to—whom else? 
While Bronson's metallic-gold coffee-table book, Born to Party, Forced to Work, essentially screams for attention, his private demeanor was more demure than I'd have imagined. Adorably—almost shy. It's funny how virtual mediums can form a flat version of an entire person in your mind, when the real thing is always more nuanced, and occasionally more interesting. It was enjoyable to share stories of humble, rural beginnings that somehow led to an affinity for splashy, otherworldly parties, coupled with a balancing appreciation for the bucolic. 
These conversations were made even more enjoyable by our (better than I can ever recall) meal prepared by the museum's Marcus Locke and Aubrey Wellington. Carrot apple ginger soup and Waldorf chicken salad vol a vent were deliciously rounded out by panna cotta with grilled peaches and smoked chocolate. 
In addition to being overjoyed to share a meal with Bronson, I was equally enchanted to meet new friends in my other seatmates—Dr. Phyliss Bernstein, hoorary chair of the event, along with her wonderful daughter, Susan Bernstein, who was someone I could have chatted with for hours—perhaps days. She was flawlessly outfitted in the perfect pink tweed, and overflowing with charm, spunk, and wit. It's rare for me to fall head over heels, but Susan nabbed my little heart that day.
And that's the magical thing about parties, no? They lift the curtains of possibility for what might happen, how you're made to feel, who you might meet, and what you could learn from them. A reason to celebrate, indeed.
Spotted: Tasha & Julián Zugazagoitia, Amy Thompson, Amy O'Connor, Lisa Schellhorn, Ann Baum, Ellen Merriman, Mina Steen, Kay Newell, Nicole Wang, Ursula Terrasi, Jackie Middelkamp, Susan Bubb, Megan Bubb, Christy Gautreaux, Liz Uhlmann, Carmen Sabates, Rachel Sabates, Amy Embry, Ann McCray, Amy McAnarney, Julie Anderson Clark, Barbara Spilker, Pam DiCapo, Tom Suther, Kevin Bryant, Heidi Peter, Liesl McLiney, Becky Loboda, Katherine Gregg, Kathy Bortnick, Heather Bortnick, Lisa Hardy, John Rufenacht, Jamila Weaver, Melanie Miller, Jane Ehinger, Chadwick Brooks, Chuck Matney, Courtney Bash, Margaux Blackwell, Tess Merriman, Susannah Sotos, Lacey Maughn, Courtney Sprague, Emily Eckles, Ellen Algrim, Katie Komenda, Lucy Coulson, Kristen Coulson
Overheard
"So hungover, I ordered sushi for lunch and pizza for dinner. A new low: two Uber Eats orders in one day."
Prismatic
Bright lights. Vivid colors. Unexpected angles. It was a prismatic evening at the Kemper Museum for Contemporary Art at its annual gala. If welcome handshakes from museum director Sean O'Harrow—outfitted in an inflatable unicorn costume—were any indication of the night's trajectory, then, surely, we were all in for a cosmic trip.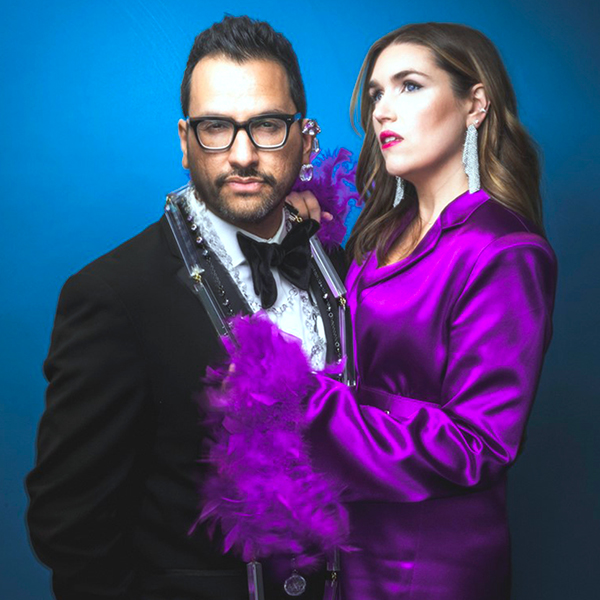 Cochairs Elizabeth Bennett and Paul Gutiérrez also welcomed guests, who were invited to party inside the museum for the first time since 2019. Cocktails were flowing, and revelers sauntered through the galleries, getting a final glimpse at the departing Women to Watch exhibition series—a recurring collaboration between the National Museum of Women Artists, featuring underrepresented, self-identifying women artists.
Dinner commenced inside a massive tent behind the museum, while Kat Dison Nechlebova provided a performance-art backdrop of "living sculptures" that was both bizarre and mesmerizing. Following dinner, gala guests returned to the museum lobby where an LED-illuminated dance floor beckoned dancers. DJ Stevie Cruz supplied gyrating beats, and late-night snacks (gourmet Jell-O shots!) were passed around. The living sculpture performers gradually migrated to the dance floor, which felt like partying inside a Nick Cave snow globe of sorts. It was all the creative energy and fantasy you could hope for at a modern-art museum soirée.
Spotted: Mayor Quinton Lucas, Lindsey Patterson Smith & Matt Smith, Liz & Greg Maday, Mary Kemper Wolf & Gary Wolf, Georgia Wolf, Linda Lighton, Karen & Jack Holland, Sharon Hoffman, Lynn & Lance Carlton, Emily Fehsenfeld, Lauren Blazer, Nick Bloch, Anna Marie Tutera, Lisa Garney, Helen & Frank Wewers, Katherine Fox, Jan Kyle & Dr. Wayne Hunthausen, Darcy Stewart, Ellen & Jamie Copaken, Dan Nilsen, Ali Nilsen, Bryan Farley, Katrina Revenaugh, Kim Klein Goldstein & Dr. Jeffrey Goldstein, Betsy Lummis, Phoebe Lummis, Scott Heidmann, Ken Petti, Kim Weinberger, Lisa Lala, Courtney González, Lucy & Fred Coulson, Megan & Dr. Jacob Miller, Kathryn & Chris Bannister, Lindsey & Greg Johnson, Amber Botros, Mark Allen Alford, Jr.
Hot Gossip:
Who e-searched a decades-old summer fling, only to learn he's since switched teams?
Shine Bright like a Diamond
No matter how wiped or oversubscribed I might feel sometimes (spoiler—it happens!), knowing that I dropped by to support a friend at their event—even just for a bit—always gives me a jolt of endorphins. Try it out, and report back! This was precisely the position I found myself in one day after work when I dropped into Sopra Salon for the launch of Mannelli Jewelers. I was dragging, but eager to learn more about a friend's long-planned new endeavor.
Mannelli Jewelers is a private jewelry brokerage, envisioned by cousins Allie Robson and Brigid Pikus. Mannelli specializes in custom fine jewelry, diamonds, and gemstones. They differentiate themselves by holding minimal inventory, which allows them to offer competitive pricing—all while maintaining a personal, luxury experience. Though they offer a range of readily available classic pieces (diamond tennis bracelets, I have my eye locked on you!), their hearts sing when a customer wishes to create something custom together.
Curious about the name? So was I. As my friend (and applied jewelry professional) Allie explained: Mannelli derives from the town Soveria Mannelli in the Calabria region of southern Italy. It is the village where Allie and Brigid's great-grandmother lived. 
The launch party featured a pop-up shop offering some of those classic pieces, and two guests (not me) were winners of a pair of diamond hoops and a 2cttw tennis bracelet. Hardly leaving empty-handed, I was glad to grab a couple of the fabled cookies baked by Allie's father, Bernard Shondell, on my way out. A holiday pop-up is also in the works. In the meantime, you can find and follow them on Instagram at @mannellijewelers. Diamonds for everyone!
Spotted: Lee Page, Jonathan Bowyer, Suzanne Limpic, Brian Courtney, Lydia Taylor, Faith Connelly, Ashle Olivas, Ross Simpson, Paige Cannady, Brooke Condie, Kara Condie, Casey Heck, Kelsey Potts
Overheard
"Show me the receipts, and I'll shut up."
---
So, KC—where do you want to go? XO
email: dlair@inkansascity.com  | Instagram: @damianlair #OurManINKC