Sponsored content: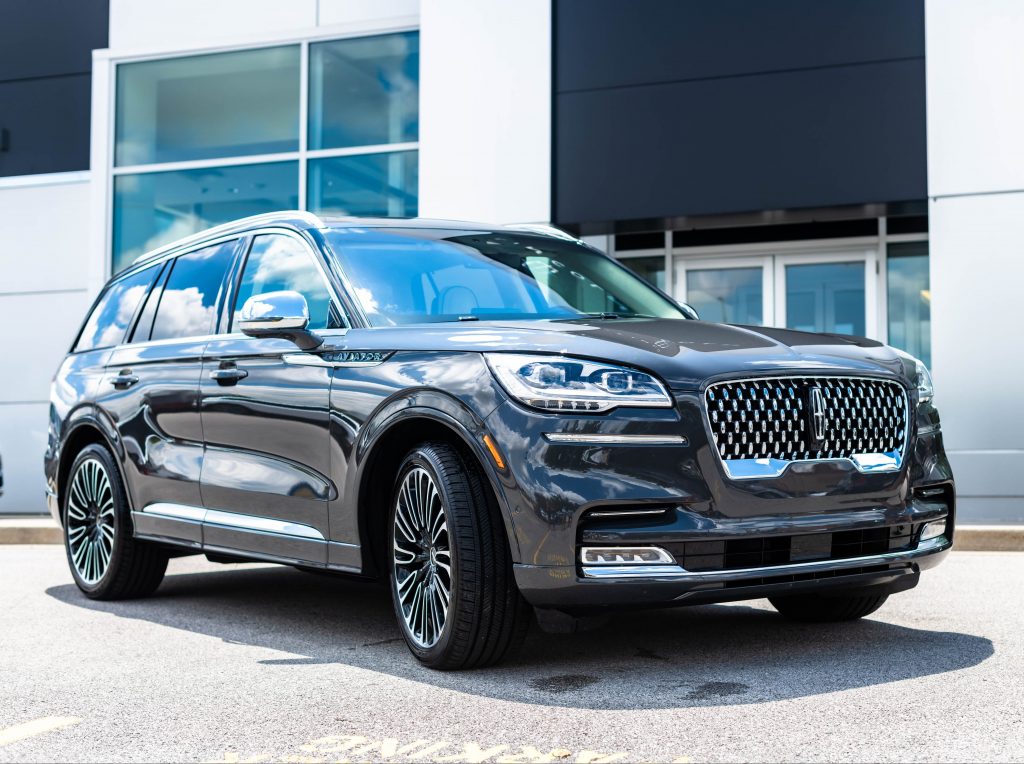 When the 2020 Lincoln Aviator made its auspicious debut at the recent Los Angeles Auto Show, it garnered rave reviews from the get-go. Motor Trend was the first to jump on the bandwagon proclaiming that the "all-wheel-drive crossover—that's also available as a plug-in hybrid—packs some serious performance numbers."
—making its return to the market later this summer—will offer its besotted customers a twin-turbocharged 3.0-liter V-6 engine coupled with an electric motor. The powertrain generates 450 horsepower and 600 pound-feet of torque and will feature Lincoln's 10-speed automatic transmission. "It will be the most powerful Lincoln we've ever built," says David Woodhouse, former Lincoln design director in a recent Motor Trend interview.
At Olathe Lincoln, the staff is eager to unveil this luxury vehicle. It's sure to create buzz once it hits the road in the metro. "There was a void in our mid-sized SUVs and now—with Lincoln's refreshed line-up—the Aviator is the cherry on top," says Corbin Haas, a Lincoln Brand Champion at Olathe Lincoln. "They've revealed some new technology, too. There's nothing really like it out there—certainly nothing we've ever had in our line-up."
At a recent unveiling, customers were clamoring to see the Aviator up close and personal. "People are really excited. We've had almost a dozen pre-orders—which is a lot," says Mario Washington, operations manager at Olathe Lincoln. "On the day we debuted, people were waiting for us to open the door."
First and foremost, the 2020 Lincoln Aviator is brimming with bells and whistles a savvy car buyer can only dream of—including Lincoln Co-Pilot360 Plus, which is designed to assist in recognizing traffic jams and potential roadwork issues to keep your journey as smooth as possible. Adaptive pixel LED headlamps contain more than 180 LED's to safely guide you after dark. "There are plenty of new features such as 'phone as key' where, basically, your phone will allow you to get into the vehicle and start it," says Washington. "Plus, it has a specifically Lincoln-designed, illuminated front end. When you walk up to the car, the lights illuminate the front end and the side puddle lamps."
It's roomy too—big enough to seat seven people comfortably. Fortunately, the car allows countless multiple second-row configurations on the off-chance you need ample space to haul items from point A to point B. "One of my favorite things? The air-glide suspension," says Haas. "When you're going at high speeds, the car will actually lower down to become more aerodynamic. It feels like you're floating on a cloud. It's the focal point of the Aviator—and a play on the vehicle's name."
The 2020 Lincoln Aviator's stellar sounds system is also noteworthy. The Revel® Ultima 3D Audio System features a whopping 28 speakers throughout the interior. You can listen to your favorite tunes or talk radio in a true 3D audio experience.
Eye-catching from grill to hatch, the Lincoln Aviator's seamless horizontal lines and sloping roof lend a streamlined feel—helping to convey a sense of power and motion. A stunning wraparound windshield appearance only adds to the car's dynamic symmetry.
We also found the Aviator's motto quite catchy—"elevate life's journey." For many clients, this updated model will be the perfect chance to see what Lincoln brings to the proverbial table. Starting at $51,000, the dealership offers a convenient pick-up and delivery option to make servicing your Aviator that much easier. When a client is due for service, instead of coming to the dealership, they come to you. At home, work, anywhere. They will drop off a loaner and take your vehicle back for service. They then return it to you serviced and cleaned—interior and exterior. At Lincoln, they know membership has its privileges and more than ever, the designers are inspired by attention to detail and love of automobiles.
Auto enthusiasts will notice a family resemblance to its big brother, the popular Navigator, but critics are saying Lincoln's reintroduction of the Aviator into the luxury market will be noteworthy. First up, it's the first vehicle with Lincoln's new rear-drive, unibody architecture—allowing various engine sizes and powertrain configurations. Even more impressive? The new vehicle can handle front-, rear- and all-wheel drive. A healthy, worry-free, four-year/50,000-mile premium maintenance plan covers all required maintenance as well.
"We wanted something larger, stylish. We have the Lincoln MKC right now, but we needed a niche size, not too big," says customer John A., who recently pre-ordered the 2020 Lincoln Aviator. "Lincoln's badge is a quality badge and we wanted something American. There are a lot of aesthetic features I liked as well. We didn't mind waiting—it's worth waiting for."
Eager to hit the ground running? Lincoln's mobile showroom comes to you—or visit Olathe Lincoln's dealership studio for a private test drive. Either way, the team at Olathe Lincoln will tailor the new 2020 Lincoln Aviator to your specifications. "We're taking orders," says Haas. "It's sophisticated, exquisite, immaculate, and sleek."