Look! Something shiny!


The folks at Union Station just announced the installation of a glistening, floating piece of artwork so large that it's the size of two basketball courts. Introducing "Reflecting Motion," an elaborate, silvery, sinuous outdoor display that is unlike anything you've ever seen. Opening on May 12th, it's the latest jaw-dropping Skynet artwork by Patrick Shearn and his Poetics Kinetics team.
The mammoth, free-flowing, oval-shaped sculpture will cascade over the new Crossroads Art District green space—Haverty Family Yards at Union Station. The unconventional installation will seem to float in midair, as if by magic, offering a spectacular shimmering display of contemporary art. Insider buzz has been steadily growing since Union Station alluded to a big upcoming announcement and finally this morning visitors got the chance to see what the piece's 12,000 square foot, perpetual ebb and flow will look like. (Dare we say, jaws dropped when it was unveiled.)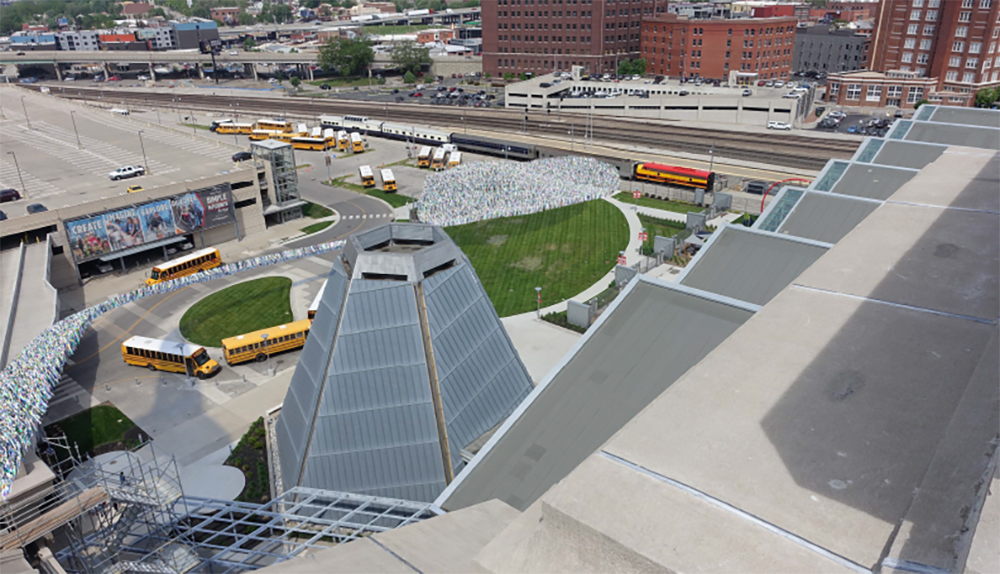 "Reflecting Motion" is the latest art from Shearn—renowned for his striking, larger-than-life, moving sculptures. His inspiration? It's designed to evoke the natural phenomena of swarming found in the synchronized movements of flocks of birds, schools of fish, or insects in nature. The technical term is murmuration. From Los Angeles to Lisbon, his designs continue to dazzle and, well, shine.
Now that the sparkly cat is out of the bag, we wanted to know how the wavy wonder is constructed. Turns out the installation is comprised of approximately 13,400 linear feet of rope, 300 hand-tied technical knots, and more than 75,000 streamers of metalized holographic PET film on a monofilament net, forming a silver, iridescent wind-wave form above the expansive lawn. (Read that: it's ultra-lightweight and will be propelled by the wind causing a cascading, never-ending, kinetic dance soaring from 18 feet off the ground 72 feet in the air. Simple, right?)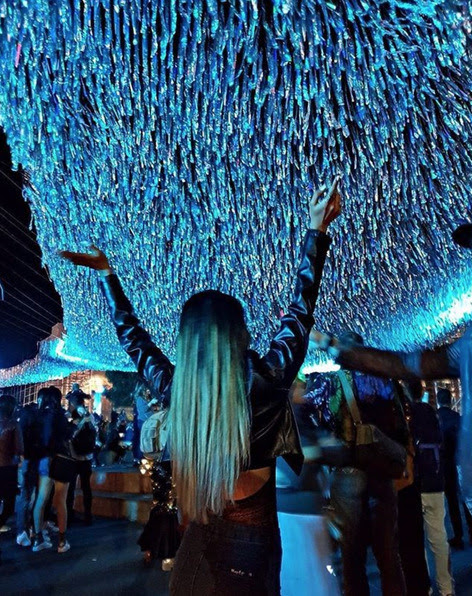 "Union Station is widely acknowledged as the place for Kansas City to gather and celebrate,"  says George Guastello, Union Station president and CEO. "And when it comes to stunning and expansive outdoor venues, we offer one of the most impressive green spaces in the downtown area. This unprecedented, contemporary outdoor art installation will bring an international focus to Kansas City and further establish Union Station as an iconic regional destination."
Quixotic Fusion will host a kickoff event beneath the Reflecting Motion artwork on May 11th.  Additional details regarding this fundraiser and tickets can be purchased at www.reflectingmotion.com. "Reflecting Motion" will officially open to the public on May 12 and remain on display thru September 2nd.  #ReflectingMotionKC