Last week during a press conference at The Kansas City Public Library all five of the Queer Eye guys were in usual form—goofily talking over each other, cracking lighthearted jokes at each other's expense and being exceptionally charming and engaging. Or as they call it—Wednesday.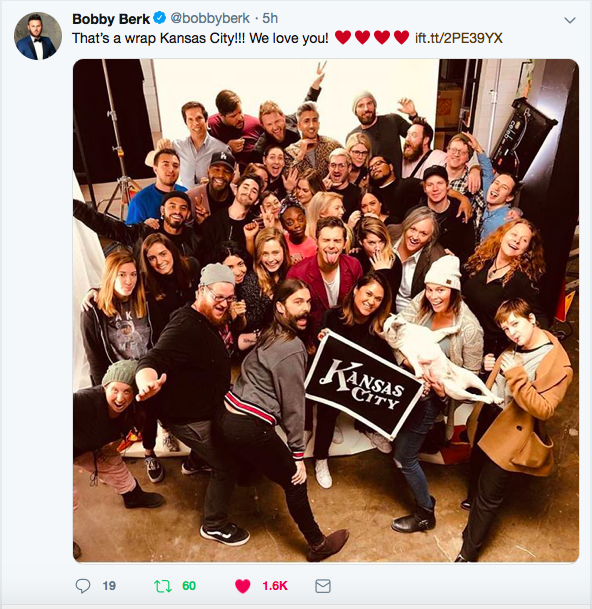 The Fab Five—Antoni Porowski, Tan France, Karamo Brown, Bobby Berk, and Jonathan Van Ness—have spent the last five months traipsing in/around/near the Kansas City metro shooting both the third and fourth season of their well-received Netflix make-over reboot, Queer Eye. The goal? Helping the show's heroes become that much more comfortable in their own skin. Now the boys are outta here, but not before a raucous wrap party over the weekend at Tom's Town Distillery.
To say the boys fell in love with our fair city would be an understatement. Besides living downtown, they immersed themselves in all things KC—and then some. They came, they saw, they, uh, ate their way through the city. For food guru Porowski, Joe's Kansas City was his fave barbecue joint in the city—because, of course, it was. "I had the full meat situation," laughs Porowski. Berk was a fan of Q39.
When we politely asked, "Which one of your skinny butts gained the most weight while you were here?", the boys burst out laughing. Seems style maestro France was the winner in that category. "I have had so many Messenger cookies and pies and everything they have. Oh, and that place called Brioche … Brioche pastries," says France. "I've put on about ten, well, nine pounds. You guys have some really good Indian food." The Wizard of Oz Dorothy T-shirt France was sporting didn't look snug to us. Maybe it was a medium?
For designer-extraordinaire Berk, coming back to Missouri was a homecoming—of sorts. Let's just say the effusive Berk didn't have the best time in the Show Me State the first time around.  "I spent 17 years trying to get the hell out of there and now I have to go back? It's much more loving, wonderful accepting place than it was when I left," says Berk. "The last time I was here was 20 years ago and it's a very different city. It's a city you can be so proud of. One hundred ninety-five countries are going to see how great Kansas City is."

Yes, that's right. Kansas City will be on full display for the next couple seasons in a whopping 195 countries. Are we ready for our close-up? The boys say a resounding yes. "The people of KC are beautiful people—serving it and giving looks," says grooming maven Jonathan Van Ness. In the middle of production, Van Ness lost his beloved 13-year old cat. After a little internet sleuthing, Van Ness stumbled across KC Pet Project and adopted two adorable kittens. "I was minding my own business one day, I Googled pet adoption and it's the first one that came up," says Van Ness. "Very thorough process," laughs France. Porowski adds: "I went with you—even though I'm deathly allergic to cats." If you've seen Van Ness' Buzzfeed interview, you know his cute Kansas City furballs are now part of the Queer Eye family.
How are the boys adjusting to superstardom? Apparently, it hasn't really affected their routine that much—save for, say, dining out. Regardless, they're certainly embracing their moment in the limelight. "It's difficult to eat out and it takes a little longer to get where you're going when you're walking," says France. "But my day to day hasn't changed that much. We're just a little more well-known now."

At the press conference, they unveiled a fab new hardcover book that takes readers a little deeper in to the show and spotlights each of their respective roles. Much of the book was shot right here in the metro. "We go into detail in each of our categories—more advice," says Karamo Brown, the show's keeper of culture. "I tell you how to break up—guilt-free—with your hairdresser," adds Van Ness. When asked about the genesis of the book, Porowski chimes in, "Also, people need to read more."
For the library, hosting the Queer Eye book launch was a huge get. "It was a big honor—our fastest-selling event ever. We knew we could host a quality event and everything went off flawlessly," says Courtney Lewis, the library's media relations coordinator. How much does KC love them some Queer Eye? "The VIP seats sold out in 2 minutes, the second tier sold out in six minutes and the general admission seats in twelve minutes," says Lewis. "Only Sandra Day O'Connor's appearance was bigger."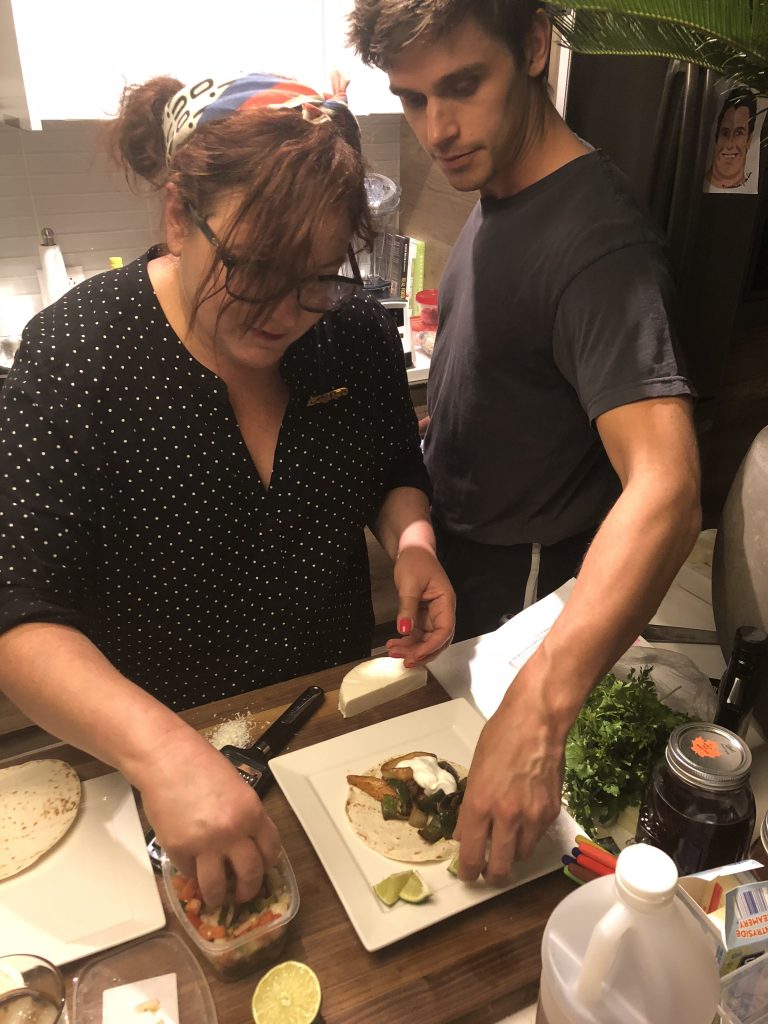 When the Queer Eye gents weren't shooting on location, they enjoyed winning friends and influencing people. For Beth Barden, owner of Succotash, she and Porowski bonded immediately—over flapjacks. "I really wanted pancakes and we became fast friends," says Porowski (who was rockin' a shaggy jacket he stumbled across in the women's section at J.Crew on the Plaza the day before). Barden ended up doing the food styling for the new book and found him to be a kindred spirit. "There was an odd feeling of seeing someone I had dearly missed and hadn't seen in a very long time. We talked about food and records and art and he made me 'pinkie promise' we would hang out," says Barden. "All of this has been a bit surreal. I mean, really, you almost couldn't write it. In a way, I have had the best makeover of all. I got to test myself in ways I hadn't in a very long time. I was surrounded by people that sought to elevate me and push me to reach for things I didn't even see as a possibility. This has been a wonderful chapter in life, but my greatest joy in all of this is Antoni."
Will the boys miss KC? Of course, however … "we all love KC, but we all have families and partners and when you're away for five months at a time, you just want to get home," says Brown. The Queer Eye-ers are leaving on a high note (and right before winter hits too—smart move). One of the final questions of the evening? "Describe your time in KC in one word:"
France: "Friendly."
Berk: "Unexpected."
Brown: "Open."
Van Ness: "Serving autumnal realness."
Porowski: "Gentle. Rebellious. Confidence."
Bless their hearts, we have three words for the boys: We'll. Miss. You.