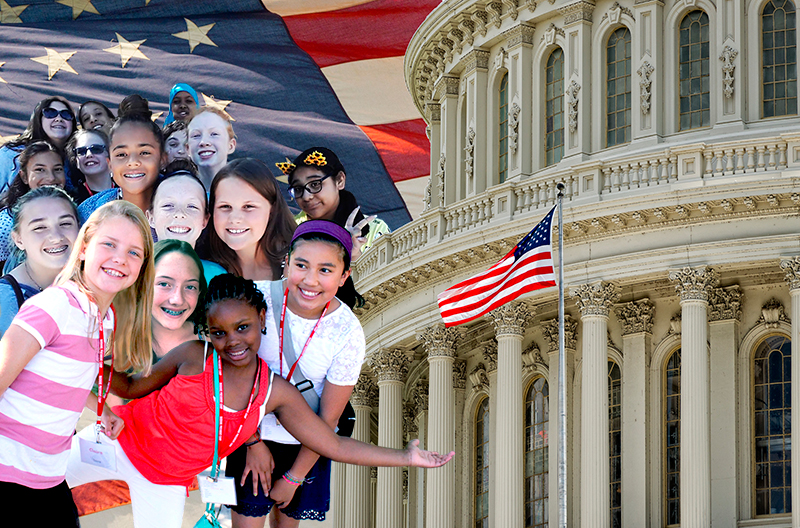 Ask a woman what she'd tell her younger self—say, at age 10 or 12—and you might hear "You're special." "Don't let anyone steal your sparkle." "Know your own worth." "You can do anything you set your mind to."
Those self-affirming credos are at the heart of Madam President Camp, a one-of-a-kind Kansas City-based organization that helps raise young girls to be leaders.
True to its name, the five-day gatherings for girls ages 10 through 13 has a focus on politics. Campers discover the history of women in government, meet civic mentors, and participate in field trips that have included Kansas City Missouri City Hall, Jefferson City, and the Harry S. Truman Presidential Library and Museum.
Not every camp graduate will set her sights on a career in legislature. But all will walk away with more confidence and self-awareness. The curriculum includes workshops on public speaking, goal setting, team building, and negotiation—tools that will serve young women throughout their lives personally, scholastically, and in the business world.
One example is a skill many adult women haven't yet mastered: an engaging elevator speech to introduce yourself or describe a project in 30 seconds or less.
Here, then is the elevator pitch for Madam President Camp: "We offer girls the opportunity to learn about their gifts and talents and to think about how they want to use their abilities to become authentic, powerful leaders in their communities and ultimately the world."
Going From Tiaras to Gavels
The spark for Madam President Camp came about when co-founder Lee Smithson-Burd, a business psychologist and senior consultant with CMA Global, watched from the audience as her daughter, foam crown on her young head, curtsied on the final day of "princess camp."
Nothing against princesses, she thought, but there has to be a more empowering message to teach girls. A few days later she reached out to Pam Kelley, a businesswoman she knew through philanthropy.
Together, they envisioned a summer camp to inspire young girls, see their value in the world and help them dream big. And could there be a bigger dream than the White House?
The co-founders turned to Dr. Julie Warm, Associate Director of University of Missouri's Institute for Human Development, to create the camp's curriculum, which includes four elements:
Identify a vision.
Break down the steps to achieve that vision. Examples include creating a political campaign poster or developing a website.
Prepare a presentation about the vision to be given in front of the group, including other campers and families
Be matched with a mentor, chosen specifically to encourage growth beyond camp.
Expanding to Meet a Growing Need
Since its launch in 2012, Madam President Camp has reached over 140 girls from a variety of backgrounds and diversity, an aspect that takes participants out of their comfort zones of school or neighborhood playmates.
The 2020 camp was canceled due to the pandemic, but this summer's plans include both in-person and virtual experiences. Camp sizes have expanded as well, growing from around 25 participants to 80. Four camps will be offered in June at the UMKC Volker Campus, Kansas City, Kansas Community College, and Johnson County Community College. Enrollment began in February.
Flipping the Numbers
While creating the camp's mission, Smithson-Burd and Kelley discovered startling data about how the lack of confidence can affect girls beginning at adolescence. Much of their research was based on The Confidence Code, a groundbreaking book by Katty Kay and Claire Shipman. The authors found that between ages 8 and 14, confidence levels drop by 30 percent, and between the tween and teen years, girls' confidence that their peers like them falls 46 percent.
Social media adds to adolescent stress as girls judge their appearance, popularity, and activities by others on social media. Girls with positive self-worth are more likely to stand up to bullying, cope better during isolation brought about by the pandemic, and even fight the depression that's increasing in our nation's teens.
It Starts with a Handshake
One of the first lessons campers learn is the simple art of introduction. "Julie calls each girl up to the front of the room with instructions to stand up straight, look her in the eyes, smile, and introduce herself with a firm handshake," Kelley says.
"These days it might be an elbow bump, but the process is the same. On the first day of camp, often girls look at the floor or mumble their names.
"By the end of day five, the transformations are remarkable. Introverted girls come out of their shells, and those who started the week with self confidence are absolutely dazzling."
Kelley recalls having goose bumps watching the metamorphosis of Alaina, a shy camper from a few years ago. "On the last day we invite family members to join us as each camper presents the project they've been working on for five weeks. When Julie asked the group 'Who wants to go first?', Alaina's hand shot up. I looked over at her mom, who had tears in her eyes."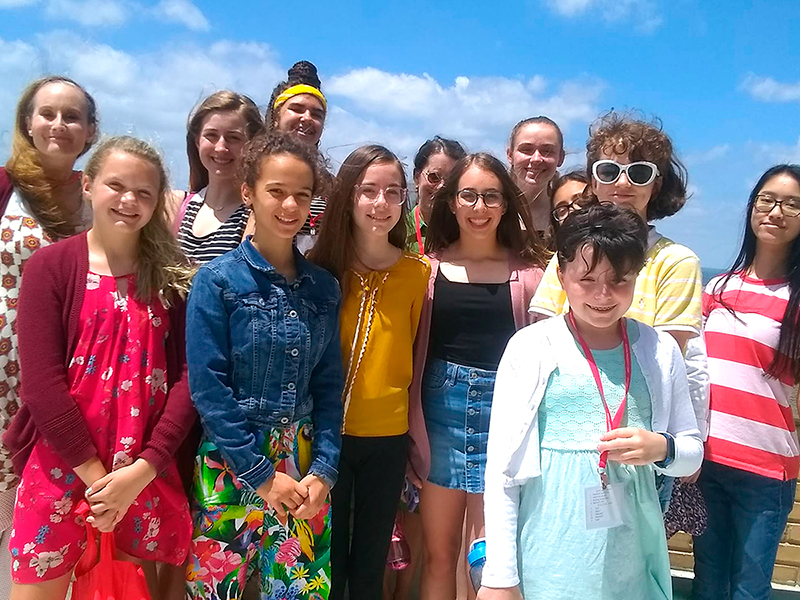 Madam Mayor
"I would have been one of those shy girls studying at my shoes," says Carol Marinovich, an MPC board member who regularly shares her story with campers. It's an impressive one: she was the first woman to serve on the Kansas City, Kansas City Council and was sworn in as mayor in 1995. Her leadership sparked a remarkable revitalization in Wyandotte County, starting with the Kansas Speedway and a thriving shopping and entertainment district.
Marinovich didn't aspire to civic duty growing up. She saw a problem in her neighborhood and sought ways to solve it. Every successful meeting and each time she heard the word "yes," built her confidence. Yet she recalls with a laugh how her knees would shake behind the podium when speaking in public.
She understands that with success comes the responsibility to become a role model, especially one that aligns with a girl's personal circumstances. Marinovich grew up with a single mom and an alcoholic father. With an eight-grade education, her mother always envisioned a better life for her daughter. "She always said, 'When you graduate from college…' It was never if, but when."
Marinovich remembers telling her personal story during a "Take Your Daughter to Work Day" as mayor. The next morning, a woman in the office told her about driving home with her 10-year-old daughter, eyes glowing with hope. "Mom," she said, "the mayor's just like me."
Acting the Part
Riley Martin, who attended MPC in 2017 when she was 11, includes Julie Warm in her list of female role models. "Dr. Warm encouraged us to bring our own ideas to the group," she says. "And we learned how important it is to listen to others' ideas and viewpoints."
Riley's favorite camp activity was during a field trip to the Truman Library where the group participated in The White House Decision Center, a recreated West Wing. Campers were given the task of deciding whether or not to use atomic weapons to end the war.
A difficult decision for anyone, and especially young girls. But in her role as the president's press secretary, Riley was pushed out of her comfort zone by speaking in public, answering questions, and explaining viewpoints.
She's certainly conquered any stage fight; Riley is enrolled in theater at Shawnee Mission South High School and is taking private acting lessons.
Making History
Maureen Mahoney apologizes for a late afternoon return call. "It's been back-to-back meetings all day," explains the chief of staff of Kansas City, Kansas, Mayor David Alvey. As she begins to talk, her voice changes from civic powerhouse to proud mom. Mahoney's daughter, Colleen, attended MPC six years ago when she was 13.
"Colleen's an only child, so I looked for ways for her to interact with other girls with similar interests but from different backgrounds," she says. "Colleen was already fairly outgoing—the marks of a single child, I guess—but the camp really brought out her maturity in dealing with her peers.
"She'd come home, excited to tell us about her day. One of her favorite experiences was role-playing at the Truman Library where the campers had to decide whether or not to desegregate the military.
"A few girls chosen to represent key characters pored over documents, worked together to form an opinion and had to report to the group. Colleen had the part of Clark Clifford, a trusted advisor to Truman at the time, and she relished the role," says Mahoney. "Thankfully, my husband (a federal judge) and I knew who Clark Clifford was!"
Growing Beyond Camp
For campers like Colleen and Riley, five days of interactive activities flew by too soon. But that's not the end of the life-changing experience. Following camp, each girl is linked to a mentor who will continue to nurture her interests in business and politics.
Campers have used their new skills to run for and win student council leadership roles and create non-profit organizations.
One graduate, Sophia Dominquez-Heithoff, parlayed her interest in political science and a commitment to justice by establishing Community and Scholars Cooperatively (CASC), an organization focused on making community service fun.
She also lobbied the Missouri General Assembly for better programs for adults with developmental disabilities. That impressive service work—along with her natural poise—helped the Parkville, Missouri, teen win the Miss Missouri Teen award when she was 17, followed by being crowned Miss Teen USA.
"We knew Sophia had something special on her first day of camp," Kelley recalls. "She definitely gives our other girls something to aspire to no matter what their interests are. Dream big, we tell them. Dream big."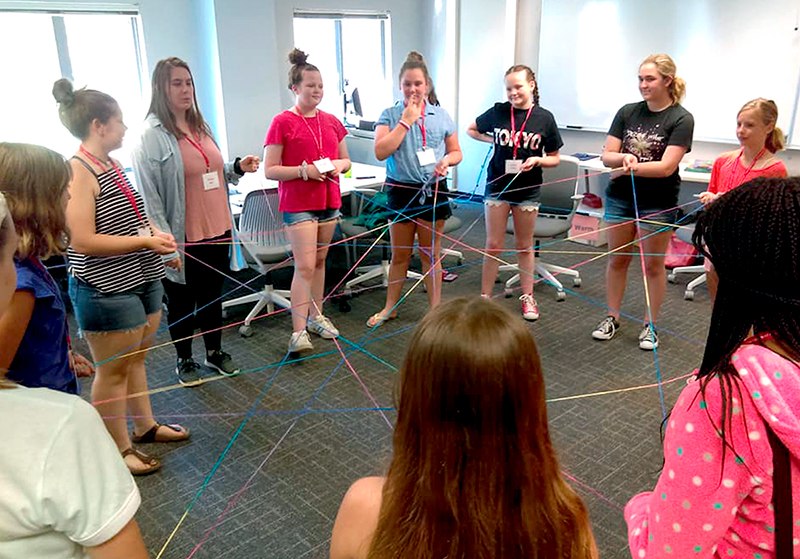 A Sisterhood of Leaders
"It's our hope that these graduates will become part of a growing network of politically savvy, empowered young women ready to take on leadership roles in their futures, whether that's at the university level, their communities, states, the country, and the world," says Kelley.
Those skills played out in the recent election. Mahoney's daughter Colleen applied her talents—and perhaps channeled Clark Clifford's influential nature—by working on a successful congressional campaign while a student at the University of Texas. "Her work was so valuable, they asked her to make calls for the senatorial race in Georgia," Mahoney says.
In the meantime, campers continue to find a wealth of women role models in the political realm, including a record number of women in the congress and senate along with our first female vice president. "And a woman of color," adds Kelley. "That's significant for little girls."
And celebrating a real-life Madam President is within reach, giving the Kansas City organization's name even more relevance.
---
How to Get Involved
Support programs that support girls, especially when organizations like Madam President Camp have lost funding during the pandemic.
Sponsor a camper through the scholarship program to cover field trips, meals, snacks, and materials.
Invest in MPC though a personal donation or business sponsorship. The organization was recently awarded a $40,000 grant from the Gould Charitable Foundation to create an innovative virtual camp experience to supplement in-person camps.
Consider becoming a mentor and collaborate one-on-one with a camper to help her expand her project or interests.
Join the advisory board to provide feedback on the curriculum, brainstorm outreach ideas, and become advocates to expand the mission.