The past 40 years have included several big ideas that have changed the face of Kansas City: the 1970s building boom that included Kansas City International Airport, the nation's first adjoining sports stadiums, and H. Roe Bartle Exposition Hall; the passing of a bistate tax to refresh and revive Union Station; construction of the Power & Light District and T-Mobile Center. 
Each of these milestones has proved transformational to Kansas City. And they each started as an idea, a vision, a spark of creativity, an answer to the question, "What if?"
The last two decades in particular have ushered in a significant flurry of economic development and other positive changes in Kansas City. And the story is far from over. A new crop of big ideas is poised to guide a new chapter in the city's story: one in which neighborhoods and people are more connected; history paves the way for exciting innovation (while still being preserved and acknowledged); and residents and visitors alike rethink how they experience Kansas City. 
Here's a glimpse at what the future holds. 
---
Big Idea 1: Rock Island Railroad Bridge
Dine, drink, explore, and more while you're 40 feet above the gently lapping waves of the Kansas River. 
It will all happen on the repurposed Rock Island Railroad Bridge, one of the more innovative examples of reuse in the Kansas City area. 
First, a bit of background. The historic bridge dates back to 1905 and was "an integral component of the Stockyards District, which, on both sides of the Kansas River, was the second-largest beef processing center in the world," according to Flying Truss LLC, project developers. "We chose this bridge and this place along the Kansas/Missouri border to at long last embrace our metro's history of railroads, big rivers, and big bridges, and to help set in motion what is becoming a vibrant riverfront district."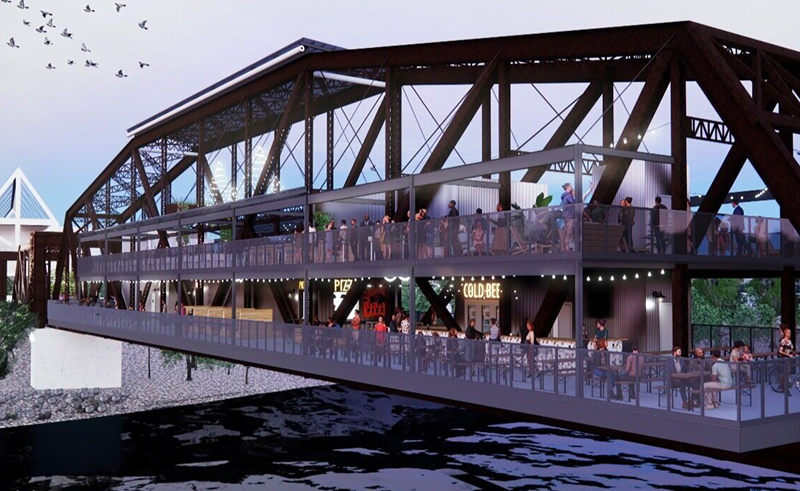 Despite not being used as a railroad crossing since the 1980s, a due diligence inspection showed that the bridge maintained "excellent" structural integrity and load capacity. 
(Fun fact: If you turned the St. Louis Arch on its side, the Rock Island Railroad Bridge is longer by more than 70 feet.)
Thanks to the involvement of several municipal, community, and industry partners, the new vision of the Rock Island Railroad Bridge continues to move forward. Construction is planned to begin this winter, with the bridge's opening expected by March 17, 2023. (Save the date!) Part entertainment destination, part trail connector, the pedestrian bridge will include a food hall, bars, coffee shops, event spaces, and room for a variety of programming, not to mention some truly spectacular views of the city from the riverfront.
The bridge is a destination in itself, but then factor in a prime location in Kansas City's flourishing West Bottoms neighborhood where restaurants, retail, residential space, and more continue to fill the historic buildings that once lined the Stockyards District. 
"Modern cities tend to offer similar amenities, but the Rock Island Railroad Bridge really is unmatched," says Matt Staub, owner/founder of Proxima and a longtime downtown advocate. "When you travel, you remember places like the old railroad bridge in Nashville. We need iconic structures like that in Kansas City, and this is a great anchor for revitalizing the West Bottoms."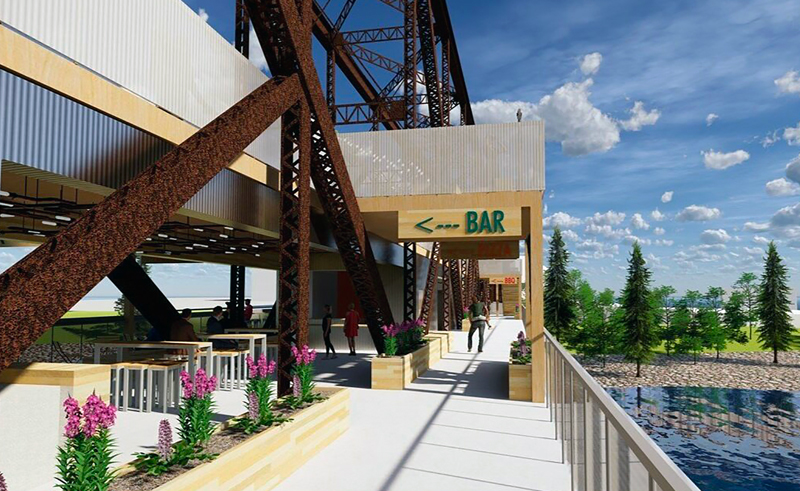 For a big idea to be truly successful, it should not only address short-term challenges and/or opportunities, but also play an integral role in long-term solutions. Mike Hurd, the director of communications and marketing at the Downtown Council, sees the Rock Island Railroad Bridge as a prime example of that sort of sustainable success.
"Since the bridge is installed as a permanent entertainment feature that spans two states, it really represents a whole new dimension," Hurd says. "It could really open new doors to more cross-state collaboration and tourism for both Kansas City, Missouri, and Kansas City, Kansas, and that's an exciting possibility."
---
Big Idea 2: KC Streetcar Extension to UMKC
All aboard, Kansas City! The KC Streetcar extension is moving full speed ahead (forgive the pun). After securing the largest federal transportation grant in Kansas City history, the KC Streetcar Authority will kick off construction of the new 3.5-mile line early next year, bringing the total streetcar route to 5.7 miles when fully complete.
"The extension of the streetcar from the downtown line all the way south to UMKC serves as the spine of our regional transit system," says Donna Mandelbaum, the communications and marketing director of the KC Streetcar Authority. "Not only will the streetcar extension connect downtown with other high-employment areas in Midtown and the Plaza, but will also connect to other transit routes that are running east, west, and south with RideKC buses."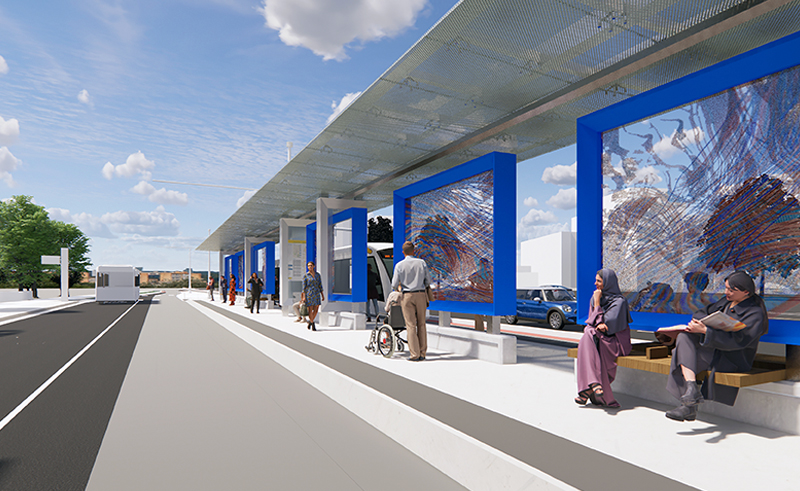 Just think: In 2025, the anticipated completion date of the streetcar extension, you'll be able to board a streetcar in the River Market and ride all the way to the UMKC campus (or vice versa). Mandelbaum says streetcar fares will remain free, maintaining wide-ranging accessibility that's a critical part of Kansas City's public transportation strategy. 
Even though work has yet to begin on the new streetcar tracks (that kicks off in February), Mandelbaum says economic development along Midtown's Main Street corridor is already booming in anticipation of the extended line. Businesses like Shop Local KC, Canary, and Pirate's Bone have either opened or plan to open locations on Main Street. PH Coffee, which quickly became a favorite gathering spot in Kansas City's historic Northeast, plans to open a second location along Main Street with a fitting new name: Transit Coffee. 
"The streetcar is a significant economic driver and we're seeing the same momentum throughout Midtown as we saw and continue to see throughout downtown Kansas City," Mandelbaum says. "Downtown development hasn't ceased; just look at the recent additions to the City Market. Plus, the streetcar extension also continues to make downtown more attractive to developers."
If the KC Streetcar is the spine of local transit, then it's no stretch to imagine downtown Kansas City as the heart of the city. And the healthier the heart is, the better the body—or in this case, all of Kansas City, Missouri, not just the areas of the city that the streetcar spans.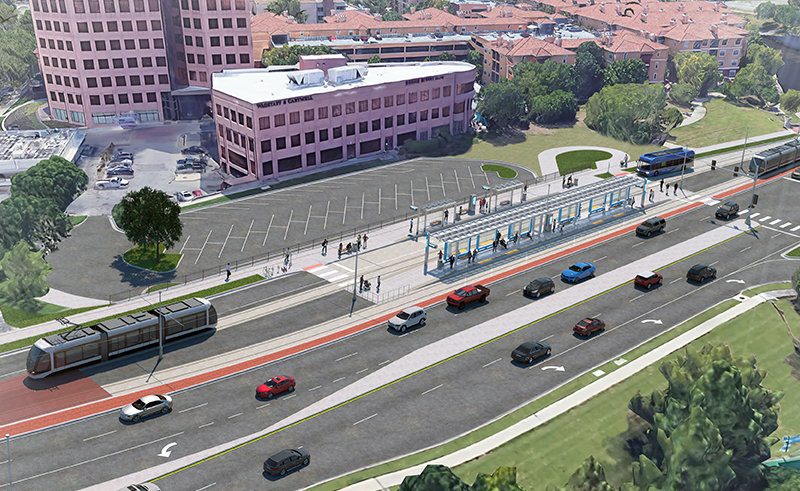 For the KC Streetcar Authority, this expansion is far from the end of the story. Just last month, the company released an RFP to study a possible North Rail extension, which would bring the KC Streetcar across the river and into North Kansas City. 
"It's important that these conversations happen now," Mandelbaum says. "We were planning for the Main Street extension the same year (2016) that we opened the downtown line."
If you find yourself getting cranky in construction-related car traffic on Main Street through Midtown, just think of what's ahead. The current utility-focused work —a precursor to track construction—means that Midtown is getting upgraded water and sewer lines, replacing infrastructure that's as much as 100 years old. 
Plus, streetcar construction will bring with it more than tracks and stops—you'll also see new streets, curbs, and sidewalks; more greenery, including trees; and ADA-compliant walkways.
"The streetcar extension is an exciting time for Kansas City," Staub says. "This is helping to usher in a new culture for our city where we think differently about our transportation, where we live, how we move differently, and how we evolve and mature as a city."
---
Big Idea 3: South Loop Link
So many big ideas are simply problem-solving in action. And the possible solution for a noisy stretch of interstate that bisects downtown's Central Business District and Crossroads neighborhoods? Put a lid on it—literally! 
The South Loop Link—also known as "the lid"—would cover the south stretch of the downtown loop. Underneath the decking, highway traffic would continue unimpeded. Yet on top of the new covering, a four-block park would welcome downtown residents and visitors alike for recreation, pop-up dining, and other events, art shows, live performances, and so much more. 
As of press time, this particular vision is not yet as solidified as the other two big ideas mentioned earlier. To help propel progress on the South Loop Link, the Downtown Council applied for a federal grant in early July. 
"Our application requests $2.4 million from the U.S. Department of Transportation," Hurd says. "If approved, we would work to match that with $600,000 in local funding to take this project to the next level of planning and development."
Each of these ideas offers plenty of advantages and opportunities for downtown Kansas City, the surrounding neighborhoods, and the larger metro area. What's particularly exciting is how they connect to each other to bring an even larger, more comprehensive vision to life: the Imagine Downtown KC plan, the brainchild of the Downtown Council. 
"The last strategic plan for downtown Kansas City was published in the early 2000s and really focused on the central corridor: the Central Business District, Crossroads, and the River Market," Hurd says. "Fast forward almost 20 years, and the core of downtown has changed and grown so much in that time. This new plan really embraces the entire footprint of the more than 15 adjacent neighborhoods that make up the greater downtown area and is all about creating more connected neighborhoods. Parks, greenspaces, the streetcar, more east-west connections—those are all part of this collective vision."
[Fun fact: the Downtown Council likely has a much larger definition of downtown than the one you know, so file this away for your next trivia outing. For this group of urban revitalization advocates, downtown Kansas City spans the West Bottoms to 18th and Vine from west to east; and the Missouri River and 31st Street from north to south.]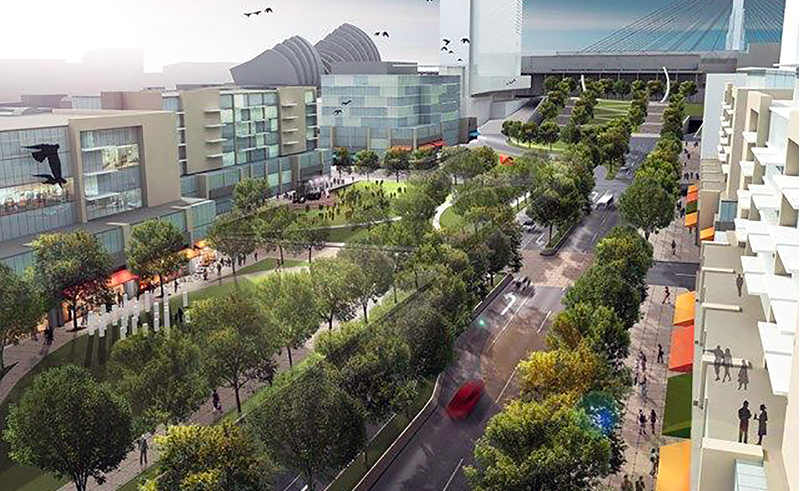 For reference, plan a visit to Klyde Warren Park the next time you're in Dallas. The 5.2-acre park in the center of downtown Dallas is meant to serve several purposes, including as a gathering-focused town square. 
"It's phenomenal to see the economic opportunities created by Klyde Warren Park," Hurd says. "It's been a game-changer for Dallas in terms of land value and the activation of public space."
And for many of Kansas City's urban revitalization advocates and stakeholders, these sorts of successful implementations can help Kansas City write its own success story. 
"We started a revitalization behind peer communities and we have to keep working to build the Kansas City we want," Staub says. "We can't be complacent, so the visionary projects mentioned—and others like them—are vital."
---
Big Ideas:

 

Your Turn
We asked each of the people featured in this story to chime in with their picks of the transformational ideas that are changing the trajectory of Kansas City. 
''The increased focus on housing for the houseless population is among the most important things happening in Kansas City right now."
— Donna Mandelbaum

''Removing downtown Kansas City's North Loop would be such a huge opportunity to right a past wrong, reconnect neighborhoods and improve a beloved part of the city."
— Matt Staub

''I might be biased, but the Imagine Downtown KC plan represents not just a significant opportunity, but also a thread that ties together all of these ideas and more with the shared goal of making downtown Kansas City even more vibrant and welcoming."
 — Mike Hurd
Now, it's your turn. Connect with us on Facebook, Instagram, and Twitter, and tell us the big idea that you think is most important to the future of Kansas City.