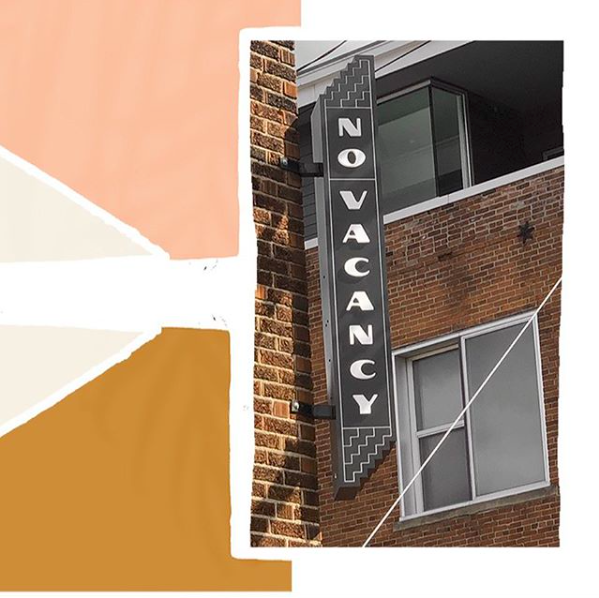 Well-built and thoughtfully designed.
That was the goal when Spencer Sight set his sights on refurbing a historic 100-year-old property in the heart of the city. The result? No Vacancy, a resplendent and distinctive eight-room mini-hotel in the Crossroads where guests can rent out one studio or book the entire eclectic space for a perfect weekend getaway/gathering.
Sight—who was raised in the metro and has been restoring houses throughout the area for a while now—says he's always treated hospitality as an extension of design, which is how No Vacancy came about. We caught up with the newly minted hotelier to find out more about his impressive new digs.
Tell me about No Vacancy. Eight unique spaces? Sounds impressive!
"Guests can book one or all eight rooms and have access to the lounge and second-floor courtyard. It's quaint enough to be furnished like a well-appointed loft, while offering the comfort and consistency of a boutique hotel. No two guestrooms are alike. Each 'studio' has a distinct personality, while a cohesive aesthetic is sustained throughout."
A complete overhaul from demo to design seems, well—a bit ambitious, yes? How did you manage?
"The building was falling apart, and simply was not a safe place to inhabit. When it went to market, it caught the eye of some huge developers. The previous owner opted to sell it to my family and me because we are local Kansas Citians, and she felt confident that we wouldn't tear it down to build a high rise or a parking garage. Instead, my dad and I set out to add another 100 years to its history and brought in Haren Companies as the contractor and Tyler Hiatt as the architect."

Opening during a pandemic also seems, well—ambitious. What was the buzz while you were working on it?
"Opening in this environment has proven the importance of adaptability. The concept pivoted as inquiries began pouring in from small groups wanting to rent out the whole place. The 'hotel buyout' allows guests to enter a clean and curated environment and trace who all comes in. It's essentially like stepping into your own personal hotel. Fortunately, the place offers ample room for distancing, a courtyard for outside hangs, keyless check-in, no shared ductwork, and operable windows."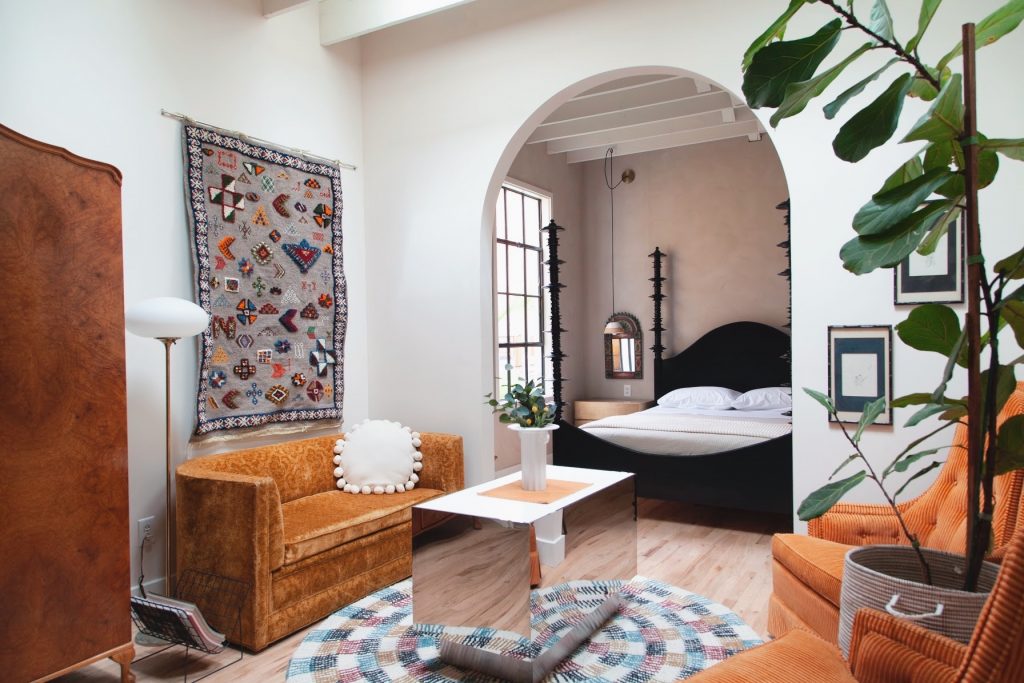 'Fess up—do you have a fave room/studio?
"The most gratifying transformation was Studio 4—because it was totally the underdog. It lost three out of four windows to the elevator shaft, had previous fire damage, and is the only courtyard-facing room. I spent a lot of time sitting in the dark and dismal room trying to reimagine it. Ultimately, I popped in three skylights, painted the ceiling white, and added a dramatic archway which shapes the most interesting bedframe on site. You can't take a bad photo in this room."
Fill in the blank: This place is ideal for _________.
"Wedding groups who had to change their plans because of the pandemic and are looking for something more intimate. You have the space to host modestly sized receptions, happy hours, brunches, photoshoots, or even small ceremonies in the courtyard. Groups can find confidence knowing that there is no risk of cancellation because hotels are deemed essential."

Why the Crossroads?
"If I were coming to Kansas City, the Crossroads is where I would want to anchor. It is centralized and dotted with some of the city's best restaurants, cafés, breweries, galleries, and shops."
And, finally, by the looks of it, you didn't miss a single aesthetic, nuanced detail. Was that by design—emphasis on design?
"The parts really do make up the whole. Each time you walk through you are bound to discover a new treasure. I took to auctions, estate sales, and Craigslist—spending the last couple of years collecting pre-loved antiques and funky décor. Dozens of local artists and artisans shared their talents in all things from hand-painted signage, graphic design, murals, interior photography, videography, photographic prints and woodwork. It was a truly collaborative project."