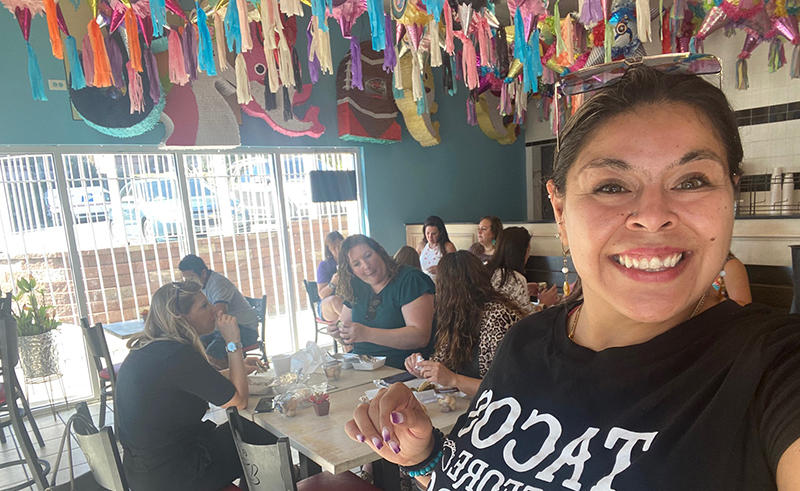 When Arlin Pacheco moved back to Kansas City in 2011, she didn't realize just how much she would fall back in love with the city where she grew up. For more than a decade, she's been sharing Kansas City's hidden gems with tourists and locals alike on tours of the city.
Pacheco began leading tours with KC Barbecue Tours in 2012, eventually taking over the business and expanding touring options to include sightseeing tours, taco and margarita tours, beer and barbecue tours, and brewing, winery, and distillery tours in partnership with Barley Bus under the new name Tour Kansas City in 2021.
From regularly scheduled tours open to the public that range from approximately 15-30 people to customized tours around the city for groups as large as a couple of hundred people, Pacheco's passion is helping people discover the best of Kansas City.
We chatted with her about what to expect when you book one of the two- to four-hour tours and what she's learned to love about Kansas City from an insider's perspective.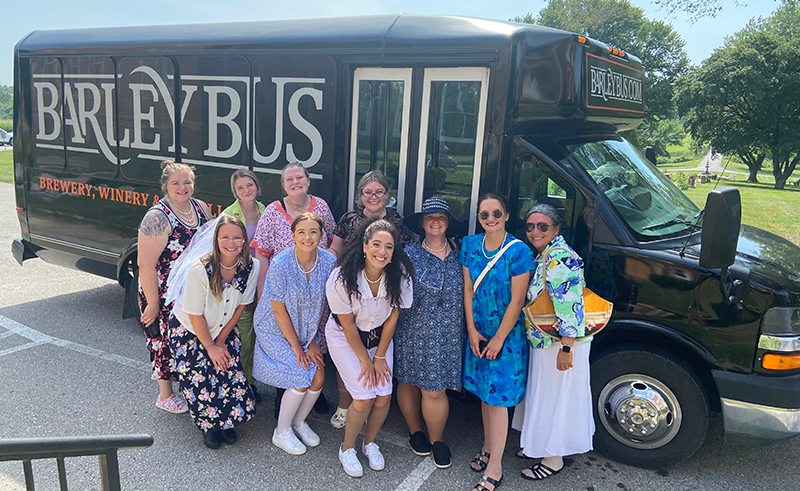 What do you appreciate about Kansas City?
I love learning the history and living in it—you find your niches, you find your groups, your people, and it grows on you. I wasn't always the biggest fan of Kansas City. It's been going through what I consider its late-teenage phase. It's been mutating for the past 20 or 30 years, and now there's a makeover glow-up, and it's reaching its full maturity as a city. I had a visitor on my tour once say, 'I've traveled all over the country, and Kansas City, it's like a hidden gem, you don't expect it to be as fun, and it's clean." People like the trees and greenness and how we've kept growing while still maintaining the classic architecture instead of tearing stuff down. It's been fun to watch. It's been fun to show off.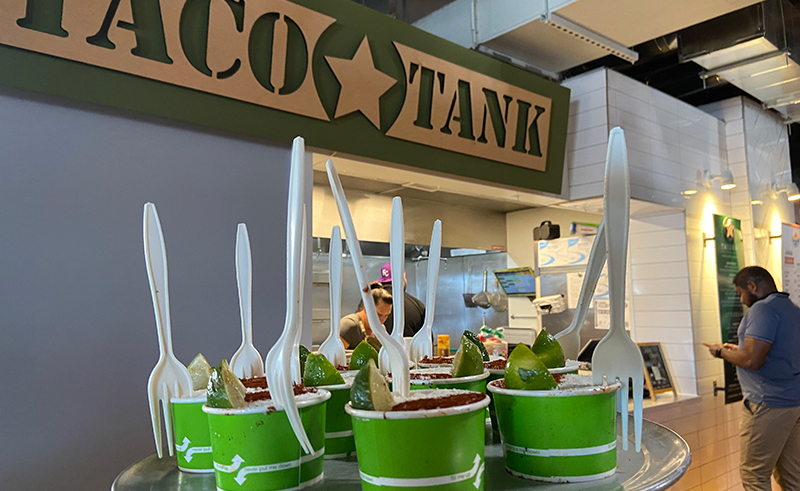 How did you get into leading tours in Kansas City?
I started with KC Barbecue Tours. The owners were a family here in Kansas City—local, and they were amazing. During Covid, things came up, and they decided to part ways, so after speaking with them, I had the honor of taking on the barbecue tour that has been around in Kansas City. I have made changes to it, and I've also worked with other companies and people in Kansas City that have allowed it to blossom into what it is now. I started Tour Kansas City about a year and a half ago. It's more of a local network, your local TripAdvisor, we've got some reviews on there, current events in a couple of different genres—a lot of nightlife, art, music, and then all our tours—we have food tours, we have the barbecue tour, the tacos and margarita tour, which is my creation from start to finish. I'm quite proud of it. It was a perfect tool to get a group of people on a bus, take them to different places, give them good food, good service, a good experience, an opportunity to make some memories, and at the end of it, it's almost like magic, everyone's friends.
It's been fun to watch the tours grow and the history grow—especially with all the current events like the Super Bowl, which flourishes in a city and brings visitors. Visitors will come back and visit us if we give them a good experience here for the first time. I also work closely with Barley Bus, so now we do the winery, brewery, and distillery tours with them. 
What's the best memory you've made from a tour?
Recently, I had a bachelorette that cried at the end of the tacos and margaritas tour, which made me happy—I've never wanted to make someone cry, but they were very happy tears because there was a lot of effort that was put into her party, and she had a great time. Then you also have exciting things like we had a tour where we had the double deckers, and we hiked them all the way out to Arrowhead, and it was a 13-hour tour. They did sightseeing, restaurants, drink stops, and the game. It was insane. Some of the tours and private parties we've come up with are very fun, interesting, creations for people.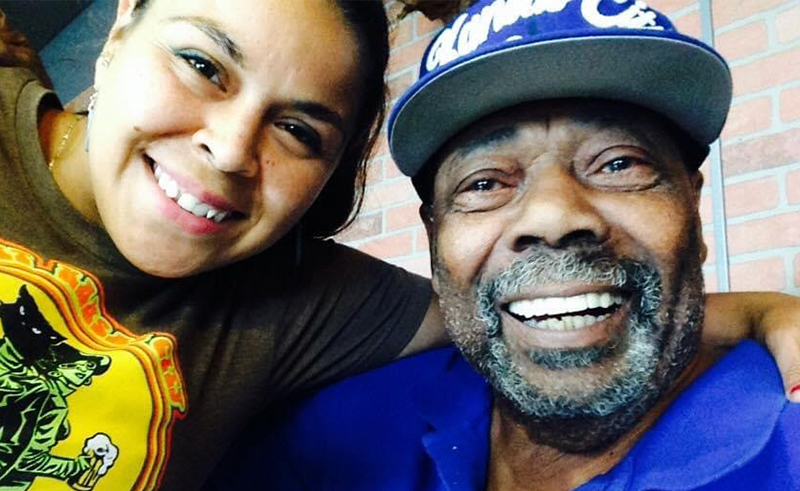 What's your favorite piece of history or KC tidbit you share on tour?
I'm going to have to say LC's Bar-B-Q. I saw a lot of Mr. LC before he passed away last year. One of his daughters lived up the street from me, another one worked with me at another location, and I knew their family well. I had a little mishap many, many years ago as a learning little tour guide where I lined up a line of plates on my arm—and Mr. LC was a very tall gentleman, and he stretched his legs—I tripped and spilled all the plates on him. I was mortified—like did I just spill a ton of barbecue on a legend, on a founding father? So, we're trying to clean everything, and he's like, 'no, no, no,' and he starts eating off of his belly, and he was happy as could be. That's a fun memory, story, and history. If I could pick one stop, that's it.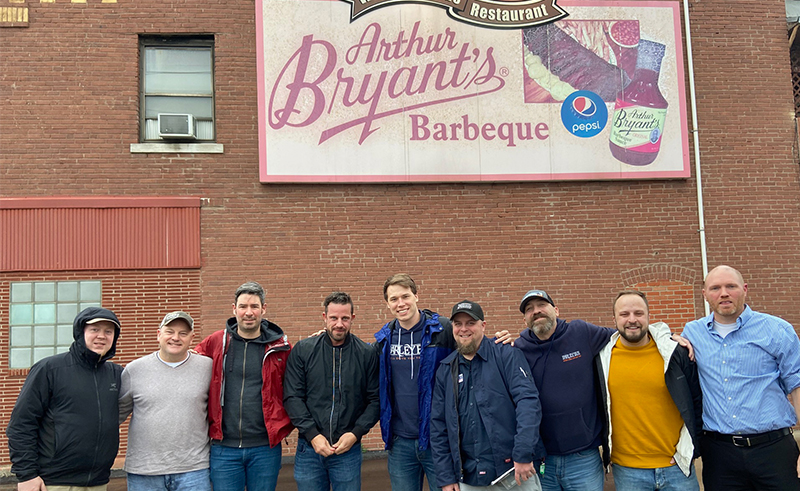 What feedback do you get from KC locals you do tours with?
We get to open their eyes a bit, and they'll be like, "I forgot that was there," or we'll take them to part of town they've never been to—which is always fun. It's fun to take people out of their element, especially when they're local and think they've seen everything. I've also learned a lot from locals too—especially if they're older. They'll have stories like, "I remember being at Arthur Bryant's when the stadium was still up the hill, and there were a couple of dogs that ran around in his restaurant." There is a rumor that Arthur Bryant had a couple of dogs that ran around his entire restaurant, but it's not documented anywhere. I've researched and gone down the rabbit hole trying to find a story about two dogs and about Arthur Bryant being a dog person. But I'll have older people come on my tour and say they remember being down there and that he had a couple of dogs—it's the same story over and over again. It's fun to see the history books you've read come alive, and to have someone tell you about them and animate them in real life because the stories are about real people.