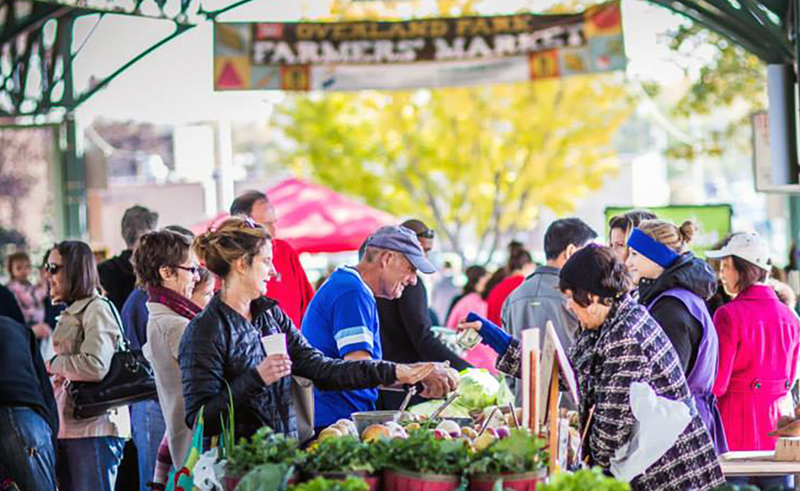 Soon you may not have to travel far to visit the best farmers market in the country. The Overland Park Farmers Market currently has the lead in a national poll asking market shoppers across the U.S. to vote for their favorite market.
With over 2,000 national farmers markets to choose from, shoppers have been casting their votes since June 20 for the 2022 America's Farmers Market Celebration. With over 3,600 votes so far, the Overland Park Farmers Market is currently one hundred votes ahead of last year's national champion, the Columbia Farmers Market in Columbia, Missouri.
"I've been a vendor at this market for a decade," says Jon U. in his review of the local market. "It is consistently improving, expanding, and meeting the needs of the community as well as the vendors. Kristina Stanley does an amazing job managing the Overland Park Farmers Market! When I only have enough staff to cover one market, this is the market I come to. It is our most profitable—not because it is the biggest market in the area, but because it has the best selection of vendors and is an integral part of the community it serves."
"I visit the farmers market in every city I travel to, and I honestly think OP is the best," Jess B, another reviewer says. "I even live downtown closer to the KC market but drive to get the wide variety of products in a comfy layout. Oh, and I can walk around with fresh juice and a vegan pastry while I shop. How can it be beat?"
When the Overland Park Farmers Market opened for its 40th season earlier this year, it introduced a larger footprint to make the market experience better for vendors and shoppers alike.
Want to keep the local market at the top of the national list? Voting is open through September 19, at markets.farmland.org/. The top market in the 14th annual "People's Choice" contest will take home a $5,000 prize to help expand the market's reach and impact, followed by $2,500 for second place, $1,500 for third, $750 for fourth, and $250 for fifth.