If you're overdue for a little R&R, but don't have the time for a lengthy getaway—may we suggest a stay at a local B&B? From an overnight respite to a long, lazy weekend, these innkeepers want to indulge you with their hospitality. Here are our choices for some B&B's you need on your radar.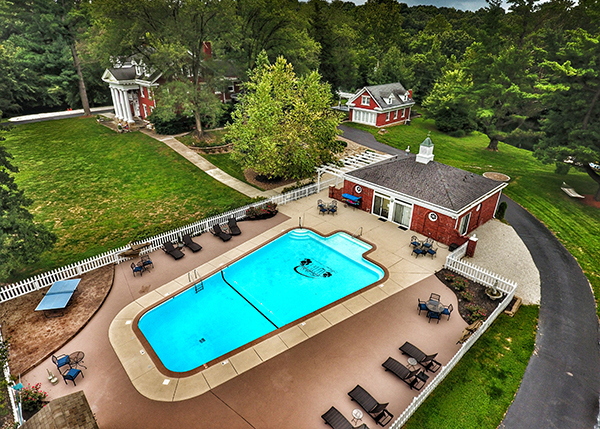 The Inn on Crescent Lake – Excelsior Springs, MO
Ditch the kids, kids! The Inn on Crescent Lake is an adults-only haven of hospitality that's celebrating its 10th anniversary. "We offer couples the opportunity to escape the pressures of everyday life and enjoy reconnecting with each other in an oasis of serenity," say owners Craig and Beverly Bohnert. "Whether they are lounging by our full-size in-ground pool, strolling our beautiful nature walk to Kissing Point, or taking one of our paddle boats for a spin on our four acres of water, couples can experience the peace and tranquility of our country estate." Looking to rekindle some romance? Want some upscale amenities? This is the spot for you. Plus, thanks to some amazing reviews, the Inn is two-time selection to Trip Advisor's Hall of Fame.

The Inn at 425 – Kansas City, MO
Homey, historic, and hospitable is how we'd describe the Inn at 425. The folks at Trip Advisor would agree. They've rated the Inn at 425 as the "number one B&B in KC for three years running," says co-innkeeper Stephan Zweifler. Over the last 18 years, he and his partner Carl Markus, Jr. have painstaking restored the house—which was built in 1888—to its glory days. They pride themselves on attention-to-detail and ensuring guests a "unique experience they will remember and recommend to other people." They've got such a good rapport with local businesses, they can often get their houseguests into packed restaurants with one quick phone call. Whew!
Jefferson House Bed & Breakfast – Kansas City, MO
Looking for something with a decidedly European flair? Look no further than Jefferson House. "We offer British hospitality and European-inspired gourmet breakfasts in an historic home decorated with art and antiques," says innkeeper Peter Robinson. Located just a hop, skip, and jump from downtown, it's situated "in an eclectic neighborhood with a number of excellent restaurants, cafes, and jazz clubs within walking distance," says Robinson. Even better? Robinson's wife, Theresa, has a pottery gallery and workshop at the house that guests can appreciate. "Private and secluded," "welcoming and engaging"—those are the two recurring themes we spied on Trip Advisor.
Hatchery House Bed & Breakfast – Weston, MO
Besides a scrumptious, seasonal breakfast, zen and relaxation are also on the menu at Hatchery House. That's especially handy if you've had a stellar day touring the shops and wineries around Weston, Missouri. "Our B&B brings the charm of yesteryear with the modern amenities of today," says owner Drew Mac. Known for their top-notch hospitality, Mac and his wife, Janelle, are also big proponents of keeping everything locally sourced—including "homemade soap from Miss Doyle's Soapery and our custom-blended coffee from The Roasterie in KC." Their mammoth house and spacious garden offer guests a quaint, charming, and rustic experience all rolled in to one.
The Historic Browning Inn — Lee's Summit, MO
Owner Liesl Hays says she's "obsessed about creating a guest experience that rivals any others." In fact, Hays and her staff go to great lengths to ensure each guests' stay is hyper-specific and unique to their needs. Her goal? To make sure her accommodations are overly accommodating. And she prides herself on sourcing all her products locally as much as possible—and that includes everything from Very Violet Boutique's whimsical décor to a signature scent from a nearby candle maker. "Many people walk into our inn and say 'I wish my house looked like this. It's straight out of a magazine.' Our inn is professionally designed seasonally, making it a space that provides boutique hotel inspiration with the comforts of home." (PS. Hays' homemade pumpkin donuts are freshly made each morning. You're welcome.)