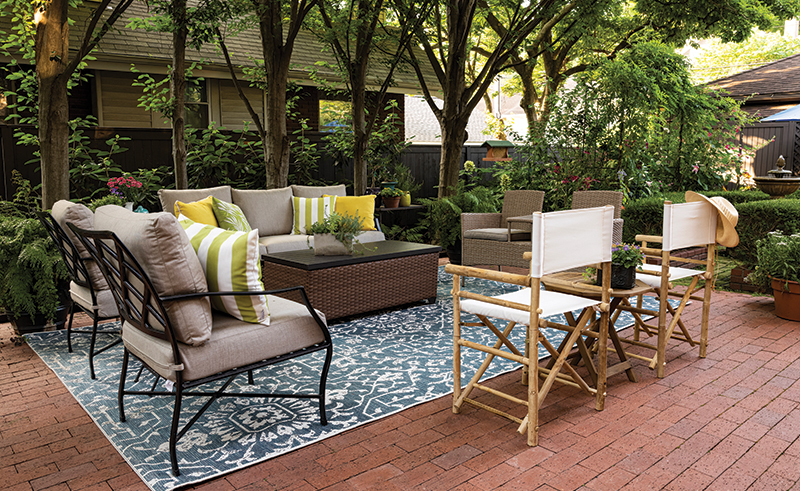 Gardeners steel themselves, or resign themselves, to the inevitable changes that weather, growth, and death bring to the garden each season. Even one shrub's exuberant success, seemingly a triumph, can overshadow—and place in peril—another's life sustaining sunbath. Undaunted, John Rufenacht and his husband, Richard Lara, have returned to a house they've owned before, to foster a historic Kansas City garden again.
"I like a garden that has a messy, carefree feel," Rufenacht says. "I prefer things to not be too manicured."
It's an interesting philosophy for a man who is resolutely unflustered and seemingly fastidious in life and in work. With an easy air of calm and confidence, Rufenacht has managed local and national projects through his design firm, John Rufenacht Associates, for over 40 years, and was an original founder of Dining by Design, which evolved into a national event that raised more than $20 million for AIDS charities. Despite his attention to detail in design, with gardens, he shrugs.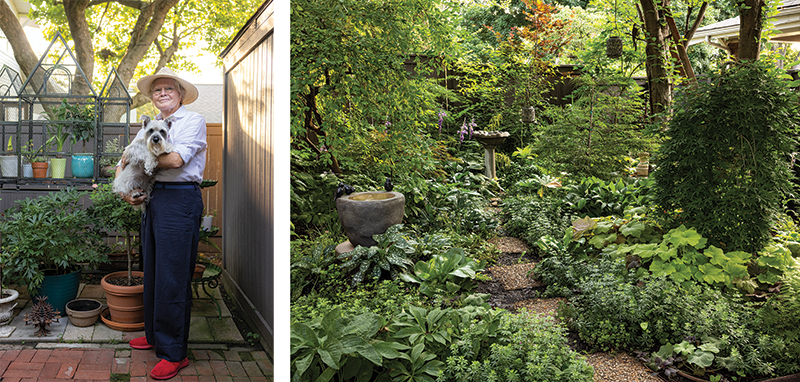 "Sometimes I buy the most distorted plant that I see," he says. "They have the most character."
Rufenacht, who serves on the development board of Powell Gardens, and Lara purchased the house the first time in 1995, but sold it when they bought and rejuvenated "Evening Place," their escape near Clinton, Missouri. 
Along with its designer, their garden has its own national acclaim as the home and project of the late Sarah and Virginia Weatherly. 
"The Weatherly sisters were very well-known and well-respected gardeners," Rufenacht says of Sarah and Virginia, who lived in the house with their mother and developed the garden over 70 years ago. "When I came to the house the first time, it was at the suggestion of Sara Morgan and Wendy Powell, who are great friends of mine, because they wanted the garden to stay intact."
While the footprint, beds, brickwork, and the boxwood are original, likely dating from the 1950s, few of the original plantings remain. Even most of the plants that Rufenacht planted on his first go-round are gone. Regardless, the garden has an established feel. The hornbeams that Rufenacht planted during his previous ownership still provide ample shade to the east side of the lot, even as they were not traditionally pruned by the previous owner.
"Oh, well," he says with a shrug.
As he's redeveloped the garden, he says he focuses on texture and leaf color as much as blooms.
"The flowers come and go so quickly," he says. 
To that end, the Weatherlys' old herb garden is home to a sentry of topiaries, cautiously guarding the hosta that surround the fountain. 
"Topiaries are such easy structure," Rufenacht notes.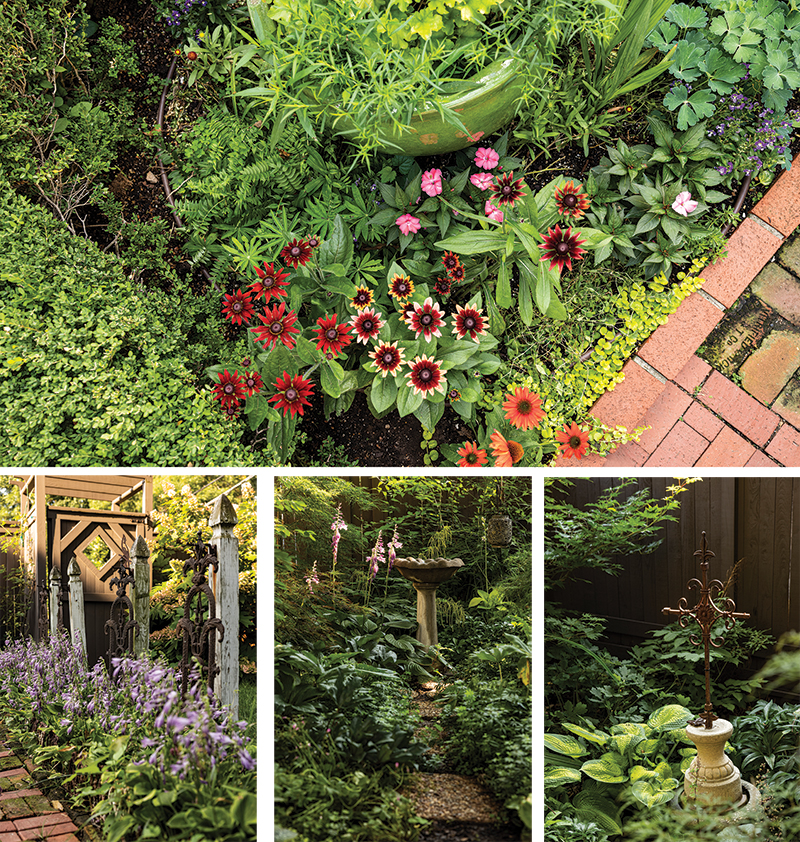 Tall stalks of downy wood mint provide purple punctuation to the knot. The hand-tied narrow bamboo trellis against the fence—that is painted a cool brown—supports the climbing plants.
On the west side of the lot a grass walk features hydrangeas and azaleas, lamb's ears and lilies, clematis and anemones. The French hollyhock is volunteer. Rufenacht says he likes to force a lot of plants into a tight space. 
"If I see dirt, it needs to be filled."
Unlike with interior design, he doesn't create a color plan outdoors. 
"I don't think in terms of palette," he says. "I'm a farm guy. Planting a garden is not new to me, but I'm a bad plantsman. I can't remember names. I just go to the nursery—maybe I have a space I'm wanting to fill, like with furniture—and I buy what I like."
One of the first additions to the garden was a trellised room that is in the spot of the old kitchen garden. Rather than the earthy brown of the fences, this trellised space is the fresh green of young moss. Vines grow up and over, spill down just in front of the door and draw darting birds and butterflies. Wicker furniture, tile tables, and ceramic garden seats fill the grotto. A ceiling fan overhead keeps away the summer heat along with flying and biting pests.
If this garden is a lesson in anything, it is the enduring quality of good structure coupled with tenacity, a willingness to work, and a pleasant disposition. 
"Gardening is an eternal project," Rufenacht says. And gardens need to be shared."
It seems certain that the Weatherly sisters would agree. 
The Weatherly Sisters
Virginia and Sarah Weatherly grew up on a farm in Hannibal, Missouri. When their father died in 1943, they moved to 57th Street in Kansas City, Missouri, with their mother. The lot was, "Mostly bottle caps and cinders," Sarah told the New York Times in 1993. Despite the challenges, the Weatherly sisters built brick paths and raised beds and planted roses, azaleas, viburnum, perennial gardens, and a small orchard of dwarf peaches and apples. 
The sisters and their garden were featured in The American Woman's Garden, by Rosemary Verey and Ellen Samuels.