Sponsored content:
Over 100 hand-picked artists will be on tap at the 63rd Annual Prairie Village Art Show coming the last weekend in May. (Fun fact: it's the metro's second longest running art show after the Plaza.) For many of the show's 10,000+ visitors, they're fans of the intimate venue, the sheer variety of art and, well, all the endless activities going on all weekend. "We're small, but mighty," says Kelsey Potts, director of marketing and events at The Shops of Prairie Village. "It's easy to navigate, walkable and very kid-friendly. Plus, there are all different aspects to our art show."
Many of the artists are returning local favorites, but there are a few newbies this year you'll need on your radar. For artist (and first-time attendee) Robin Samberg of Overland Park, she's excited to see what all the fuss is about. "I'm pretty darned excited, and happy to have been invited to participate this year," says Samberg. "I'm looking forward to meeting new people and artists. The PV show is smaller than many shows I've participated in—which is nice in that it's not as overwhelming to patrons—or artists!"
Samberg's art should catch your eye. Her neon-centric style is one-of-a-kind. "I create incredibly vibrant and colorful abstract digital artwork," says Samberg. "Other descriptions I've overheard from show patrons? 'Eye-popping', 'psychedelic', 'funky', and 'OMG, I've never seen anything like this!' Something for everyone."
This year's featured artist, meanwhile, is Seth Smith is a well-known staple throughout the local artists brigade. His work has been featured across the country, but he always likes showcasing his newest paintings practically in his own backyard. "Prairie Village was the first outdoor art show I ever did!" said Smith. His collection will include a variety of new oil paintings each with a retro-centric feel including "pools, neon signs, palm trees, diners and maybe your favorite local BBQ joint."
Smith calls the Prairie Village Art Show "truly a homefield advantage" because of all the familiar faces he sees in his booth. "I hate being away from my wife and kids when I travel. I feel like I miss much. So to be home every night throughout the weekend is incredible." This will be Smith's third appearance at the show.
Potts is particularly excited about the festivities going on in addition to the art show. Live music will be going full-tilt on both Friday and Saturday nights. Local crowd favorites Lost Wax (Friday) and The Zeros (Saturday) will be performing from 7 – 10 p.m. "Lost Wax is hands-down the most interactive band in KC. I'm a big fan," says Potts. "The Zeros are also very high-energy with a retro 80's vibe. They have a big following in KC too."
Many of the artists commented that Sunday is typically the day when true art aficionados come out to see and be seen. The Emily Dix Collective will perform jazz from 11 a.m. – 2 p.m. that day as well. "It's gonna be easy—like Sunday morning," laughs Potts. "It's a completely different vibe on Sunday. I feel like the true art lovers are coming to buy art. You can take a stroll and just enjoy yourself."
Want to nosh or imbibe along the way? Well, of course, you do. Fortunately, many of the Prairie Village's beloved eateries and restaurants will be serving up tasty offerings for hungry patrons. "Food and drink vendors will be open until 10 p.m," says Potts. "People like to make it an event in itself. Lots of things to do in the clocktower courtyard." Bring the kids while you're at it. A kid-centric play area will offer your wee-ones a chance to get their art on. "It's very kid-friendly," says Potts. "There will be face painting, balloon art and more."
There's even a convenient website handy so you can peruse some of the art (and artists) ahead of time. "With our website, you can take a sneak peek. Shop ahead of time and see artists you like," says Potts. "You can find all our events as well. It'll just be a good reference for people to use over the weekend."
Even though there's ample parking, many of the show's patrons make a day of it and mosey down from nearby 'burbs. "Sure, we have guests from Lawrence and out south, but it's our local community makes it even more of a successful art show." Even better? Select merchants will be featuring a slew of art show specials and discounts. Between perusing art, you can also do a little retail therapy. When we asked Potts if she was planning on buying any art, she laughed. "I just became an adult the last year of my life, so I have plans to get a new piece of art for my new house," says Potts. "I like paintings—water-color, bright colors." (We're betting she buys one of Samberg's uber-colorful paintings. Just sayin'.)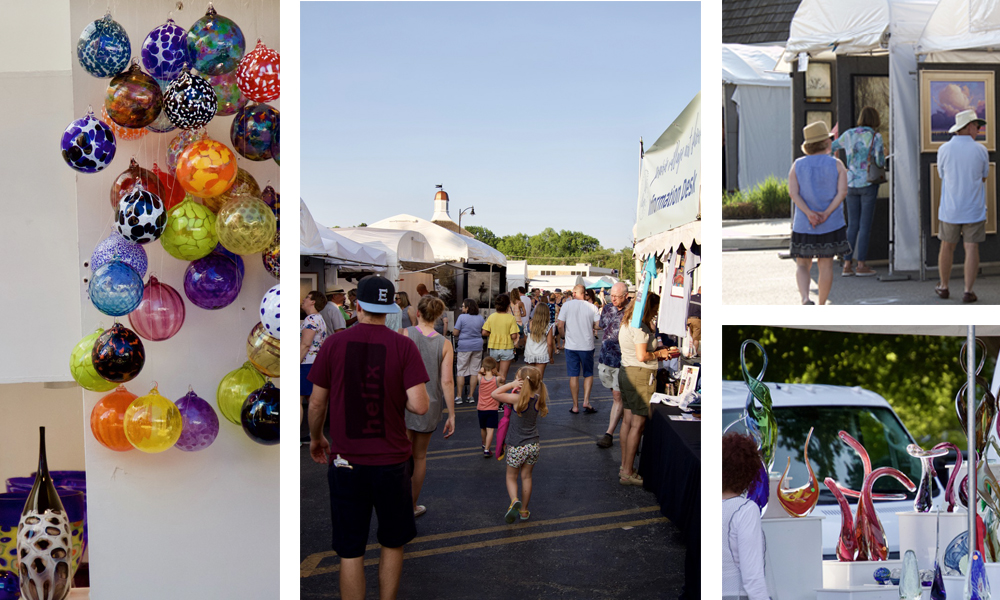 The 63rdAnnual Prairie Village Art Show—Presented By Advent Health
Friday, May 31st– 5 p.m. – 8 p.m.
Saturday, June 1st– 10 a.m – 8 p.m.
Sunday, June 2nd– 11 a.m. – 4 p.m.