With Thanksgiving and the winter holidays just around the corner, are you trained and ready for the Houseguest Marathon? It seems like an uphill struggle, but no need to break a sweat. We've got you covered, making sure you'll cross the finish line as a gold-medal host.
Host Unlike Most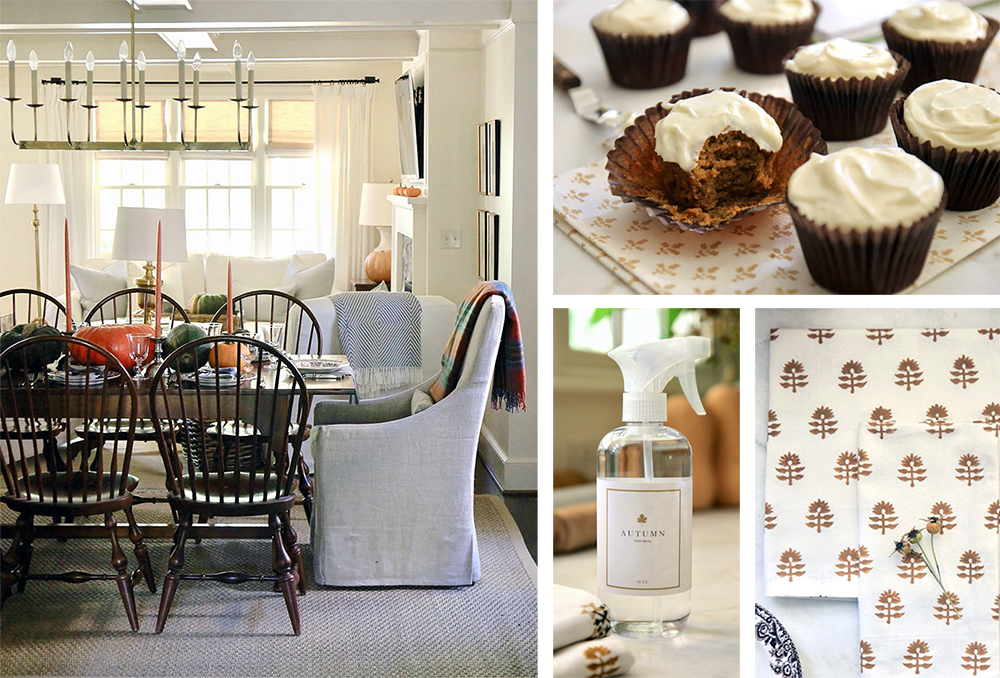 Peruse Jenny Steffens Hobick's online store, JSH by Jenny Steffens Hobick, and you can easily visualize a Thanksgiving feast on the table and heaps of houseguests in your home. That's because the Kansas City-area blogger curates a one-stop shop for easy entertaining.
Here's a small sample:
Table runners and dinner napkins in gold dahlia or natural ticking stripe
Autumn-scented spray cleaners and candles
An heirloom-pumpkin cupcake kit
Ribbon in brown, moss, and ginger
Kraft boxes for food gifts and leftovers
Even more inspiring than the items themselves is the warmth and comfort that comes through in the photographs. The images show that there's no need to go overboard when it comes to entertaining. Keeping it simple is smart.
Copper Tone
We heart copper, the marvelous metal of autumn. Its classic antique-orange patina shines whether it's new and polished or old and timeworn. Copper is Julia Child, downstairs Downton Abbey and everything right with the world. That's why you should mix a spot or two of copper into your serve ware.
Tray Chic
Add this rectangular copper tray with handles to your kitchen counter for guests to help themselves to coffee, tea, or cocktails, or to your coffee table with a candy dish (we're suckers for caramel-apple lollipops). 21 inches long, 12¼ inches wide, 3 inches deep. Be Here Now (Independence Square). $39
Wanna Cuppa?
This bakery is definitely most known for its pie—if you haven't experienced its Frank Capra-esque wrap-around-the-block line to pick up your Thanksgiving pie order, do so this year. But its shop of kitchen and home-entertaining goodies is totally charming. The gray-glass French press with a copper knob recently caught our eye. The Upper Crust (Downtown Overland Park). $85
Spice Up Your Seasoning
A trip to this half-century-old Kansas City favorite is a must stop before Thanksgiving. and then again with your guests after they arrive. So while you're grabbing a gravy boat for turkey day, check out the copper, including the salt-and-pepper shakers. Pryde's Kitchen and Necessities (Westport). $24.99
9 Guest Bedroom Essentials
We're removing the guest work with our handy list, striking just the right balance of making your guests feel like they're at home and like they're on vacation. Pamper them too much and they might never leave!
Housekeeping: List helpful details about your home including Wi-Fi passwords, handy mobile-phone numbers and any instructions/quirks about your home—yep, our furnace makes that noise, but it's all good!
Ample bedding: Two pillows per guest, soft sheets, a light blanket, and a heavy comforter. A nice extra: a throw per guest that each can cozy up in around the house.
Strategic lighting:

Put nightlights in the room, hallway, and nearby bathroom so guests can navigate your home at night with no worries.

Towels and toiletries: It's handy when hosts place a stack of towels and washcloths in the room—especially if there isn't a private
restroom. A basket with a hairdryer, shampoos, soaps, and lotions are welcoming additions.
Place for clothes: Empty a drawer or two. If you don't have a closet or wardrobe available, use back-of-the-door hooks or a portable clothes-hanging rack.
Hydration station: Have water bottles or a carafe and glasses on a nightstand.
Reading material: Don't forget a short stack of novels, Kansas City guides and magazines—including IN Kansas City of course!
Clock and chargers: Yes, it's 2019 and most people use phones as alarm clocks. But knowing the time when you travel is orienting. Also have mobile-device chargers available in case your guests need them.
Wastebasket: Make sure it's empty before your guests arrive.
Attitude of Gratitude
When you write a letter or journal by hand, it becomes more meaningful and memorable.
Noteworthy
November and Thanksgiving are good reminders to pen a note to someone you're grateful for—a teacher, mentor, college roommate. This box set of six blank-inside Thankful notecards is an apt sentiment. Hammerpress (Crossroads). $18
Noted
We're forever jotting down ideas, recommendations, quotes and observations. My grandparents tallied up the number of cardinals they saw each day from their window because they were grateful for them. The pocket size of Field Notes makes it easy. We're fans of the Autumn trilogy edition with leaves embossed and debossed on the covers. The General Store & Co. (Downtown Overland Park). $12.95