Sponsored content:
Decorative, eye-catching tilework has officially reached its zenith, says International Materials of Design co-owner Amy Sanders. And it's largely because of AKDO—an ultra-high end contemporary tile and stone manufacturer based in Connecticut. Sanders isn't just a fan, she's borderline obsessed with their eye-catching products. "Square tiles are just so square," she says with a laugh. "AKDO, on the other hand, specializes in fun, funky patterns. Our customers always notice their whimsical designs first when they step into our showroom."
Mixed, Matched and Inspired
Forget hexagon or basketweave patterns—those are so 2016. AKDO has gone far beyond the expected with inventive zigzag and honeycomb designs, just to name a few. "This company is one of the few to mix materials, like stone and metal or glass and stone," Sanders says. "This particular line—the Next line—is even more progressive with stone and terrazzo."
Terrazzo, if you're not familiar, is a classic speckled composite material typically consisting of marble, quartz, granite, or glass. "It made a comeback in the 60s. Remember those spotted floors you'd see in schools? Terrazzo!" says Sanders. "Well, recently it roared back in Europe and then New York and Los Angeles. It's a throwback that's new and different."
AKDO took the look and created tilework both edgy and refined. "It's not traditional in any sense," she says. "Innovative designers like to integrate these mosaics—especially designers who use texture and materials to layer." While not overdone on color—most are in subtle shades of gray—the hand-cut tile is built to last. "Truly, it's a timeless tile, but the designs are for people who don't want to see the same bland thing every day," Sanders adds.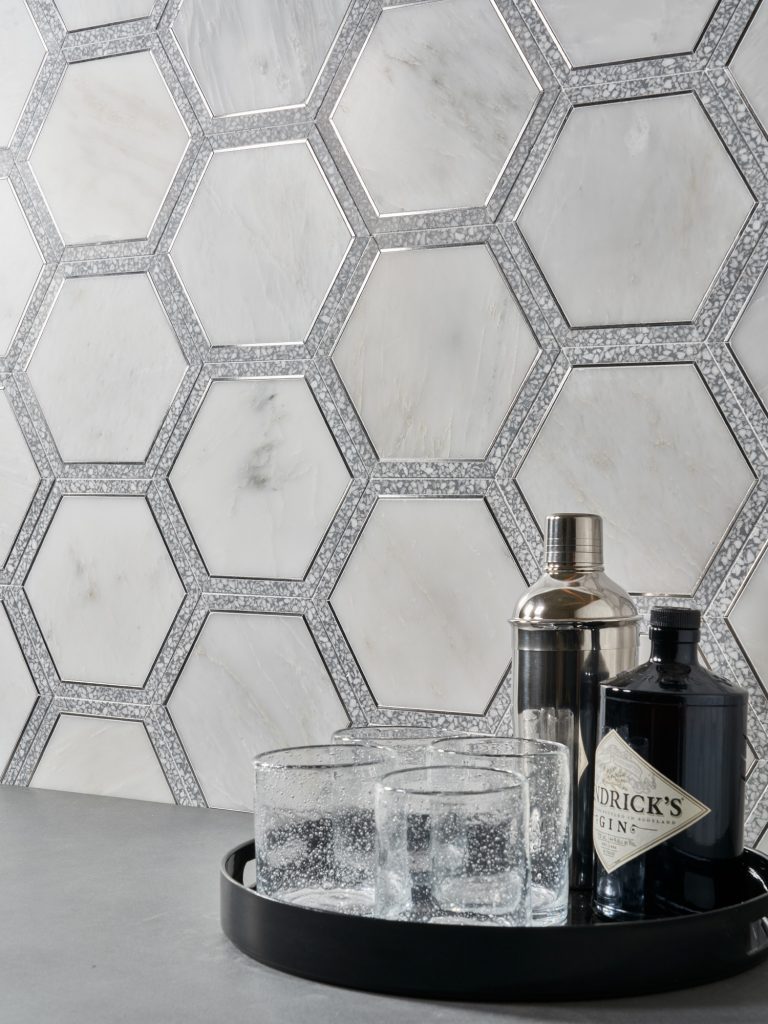 A Little Can Go a Long Way
If you've got a healthy budget, Sanders says kudos to you. But many of her customers simply want to add pizazz to a smaller space. "Even though it's a bit pricey—a little can go a long way," she says. "I have no problem finding ways to add little pops here and there—especially if you need a 'wow factor' or want to make an impact." Many clients are choosing AKDO's Next line for their home bar or to create a distinctive backsplash in, say, a powder room.
AKDO, celebrating its 30th anniversary this year, is renowned for launching multiple new lines every year. "When you want stone mixed with metal, AKDO is always front and center," says Sanders. "Customers always say, 'I've never seen anything like this before' or 'I've seen it in a photo but never in real life.' It's true—you can't help but notice their artful tile."
Celeb Worthy
All of AKDO's specialized tile is imported, hand-cut in Europe and shipped to the States. "What's great is that our vendors bring new designs to us as soon as they're released," says Sanders. "And thanks to Instagram, celebrity designers show off AKDO wares. Our savvy customers start clamoring for it soon after."
IMD Tile knows a quality product when they see it—and AKDO is no exception. "We're known for our specialized tile and custom work," says Sanders. "We've been around since the 1970s—a little shop that does big, big business. Our clients are like family. We work with the same designers and same builders time and time again. And since we specialize in upscale interior design, our showroom reflects that. It's no wonder AKDO's tile is such a perfect fit for our clientele."