Sponsored Content
With the school year in full swing and winter weather on its way, Sami Anderson, a design consultant with California Closets, spends a lot of time helping families design household spaces that can help bustling homes stay organized and clutter-free.
The most important spaces to pay attention to? Well-designed mudrooms and laundry rooms can make all the difference.
How you can upgrade your mudroom with California Closets
For families that include kids or pets, mudrooms create a necessary landing spot for all of those shoes, jackets, leashes, and harnesses. Not only does having a designated spot for those items cut down on clutter, but it also keeps your home clean and tidier—no more tracking muddy footprints through the house!
If your home doesn't already include a designated mudroom, California Closets can design a new space—either near your main entryway or where you enter your home through the garage or back door.
"What we can do is put in a bench or cabinet system near whichever entrance is used most often," Anderson says. "We can make it fit nicely in pretty much any space."
Whether you're wanting a newly designed mudroom or hoping to upgrade an existing space, California Closets can help maximize your mudroom's efficiency.
"We really like to focus on adding hooks for backpacks and jackets, a bench so you have a space to put your shoes on, and a hidden cubby where you can hide those shoes," Anderson says. "On top of that, we usually add in some upper storage where you can keep out-of-season items like hats and gloves. We really do make it specifically for the family, it's completely custom. If there's a special need that the family has, we try to accommodate that as much as we can."
Why you should consider laundry room upgrades
An efficiently organized laundry room can reduce clutter and keep things organized just as much as the mudroom can. 
"Laundry can add up so quickly," Anderson says. "When you have a beautiful space to get that job done, you're more likely to get it done. Having specific spaces for 'this is where I fold my clothes,' and 'this is where I hang my clothes to dry,' is so important for a smoothly working laundry room—that's something we really specialize in."
Gone are the days of hiding the laundry room in the back corner of the basement, and in are the days of having a visible and accessible space to take care of one of the most important household tasks.
"I'm seeing more and more that people are having their laundry rooms in the living space," Anderson says. "Oftentimes it can even be a focal point, because it's something you see right off the kitchen. We've all had to struggle carrying our laundry up from the basement, and it's so much better to have it near the living spaces or bedrooms. It helps so much in preventing laundry from collecting and makes it easier to take dirty laundry straight to the laundry room instead of it piling in the bedroom."
Make the most out of your laundry room by adding designated places for laundry-related tasks such as folding, hanging, and supply storage.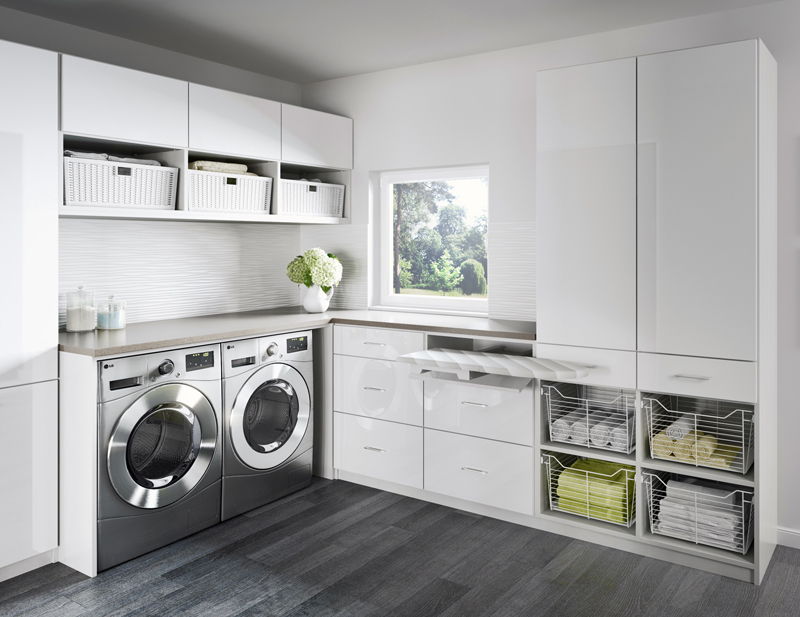 "We like to put a countertop somewhere if the space allows for it so that you have a space for folding," Anderson says. "Oftentimes, the laundry room is a multipurpose room and houses all the utility items. Having designated cabinets for all those items—a broom closet for your cleaning items, space for your laundry detergent and supplies, a place for your hamper—takes a lot of the effort out in a space where it looks like you put in a lot of effort."
Plus, upgrading your laundry room (and your mudroom, too!) is a great way to increase the value of your home.
"Laundry and mudrooms are both things people are looking for when they're buying houses," Anderson says. "If selling your home is something you're looking at doing in the future, those spots are great places to put some extra work into. They contribute so much to the cleanliness of the home and feeling organized—especially when school is starting and the holidays are coming."
California Closets is Here to Help
When you work with California Closets to organize your mudroom, laundry room, or any room in your home, the furnishings and finishes are designed to fit your needs.
After a free consultation, a designer will come and take full measurements of your space, and then California Closets will provide you with 3D modeling to show off just what your new space will look like.
To schedule your complimentary consultation, call 913-888-1199, visit CaliforniaClosets.com or visit their showrooms in Overland Park or Briarcliff Village.