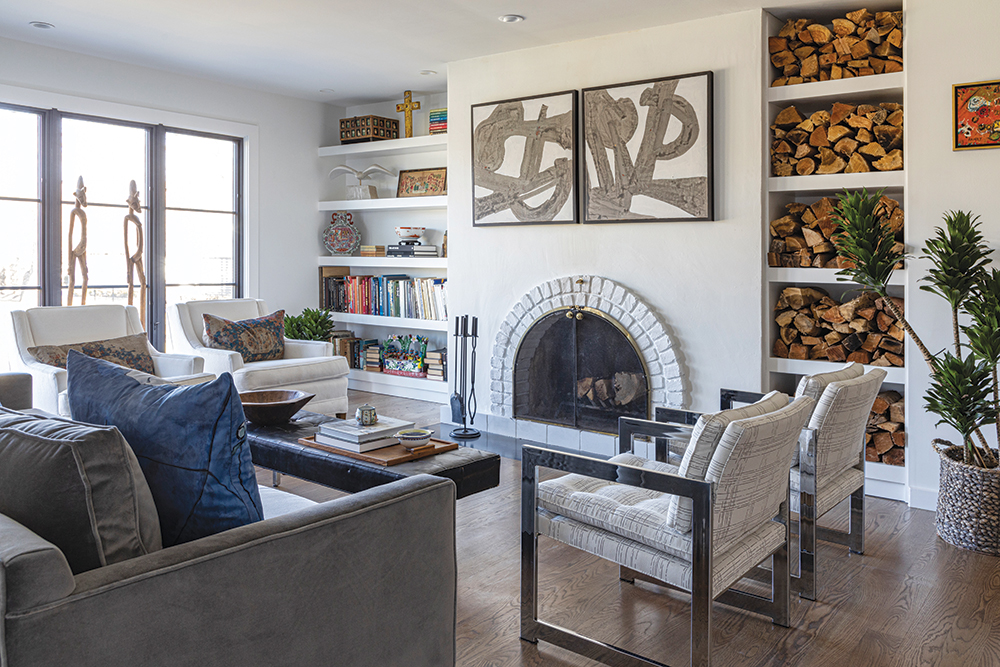 Yours, Mine, Ours
Three 11-year-olds, an 8-year-old, a real-estate developer, an abstract artist also known for hand-painted wallpaper, and a yellow lab puppy named Ranger call this place home.
Throughout the seamless flow of light and airy rooms filled with art and books, you'd think, "This seems so easy." Think again.
"We looked for a year before we found this house," says Chris Sally, known for his River Market projects. Although it was stuck in 1960s Mediterranean, "The house already offered four sets of French doors and four fairly equally sized bedrooms on the second floor for the kids," says Kelly Porter, who owns the internationally renowned wallcovering and fabric design company, Porter Teleo, with Bridgett Cochran. And, she adds, "room for an art studio."
The couple called in architect Bill Poole of Poolehaus Design Studio, who went to work creating "spatial relationships that serve their daily routines in a practical fashion," he says.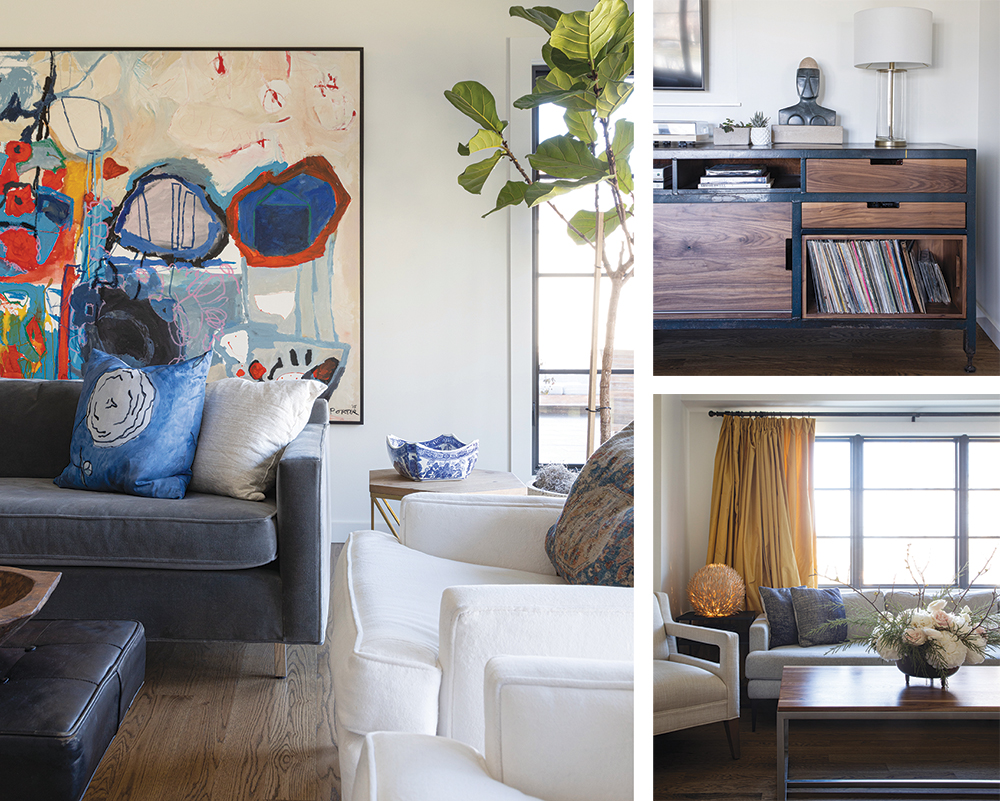 With kids and a dog, "We didn't want anything super-high-end," Porter says. The cabinetry throughout is from Lowe's, in a grayed-down stain. "Nothing irreplaceable" translates into less stress for family living.
"With such creatives joining lives, our main task was to blend their amazing collections into a beautiful, livable space fitting for kids and entertaining."

— Lisa Schmitz
With an exterior and interior palette of white and black, they also tapped interior designer Lisa Schmitz to make design sense of it all. Says Schmitz, "With such creatives joining lives, our main task was to blend their amazing collections into a beautiful, livable space fitting for kids and entertaining. The collections are sentimental, with each item having a personal story. Kelly's colorful artwork creates a lively balance to Chris's collection of African art and stone sculptures by his mother," the late Nashville artist Irene Ritter. "Furniture is neutral to let the palettes of artwork and wallpaper shine."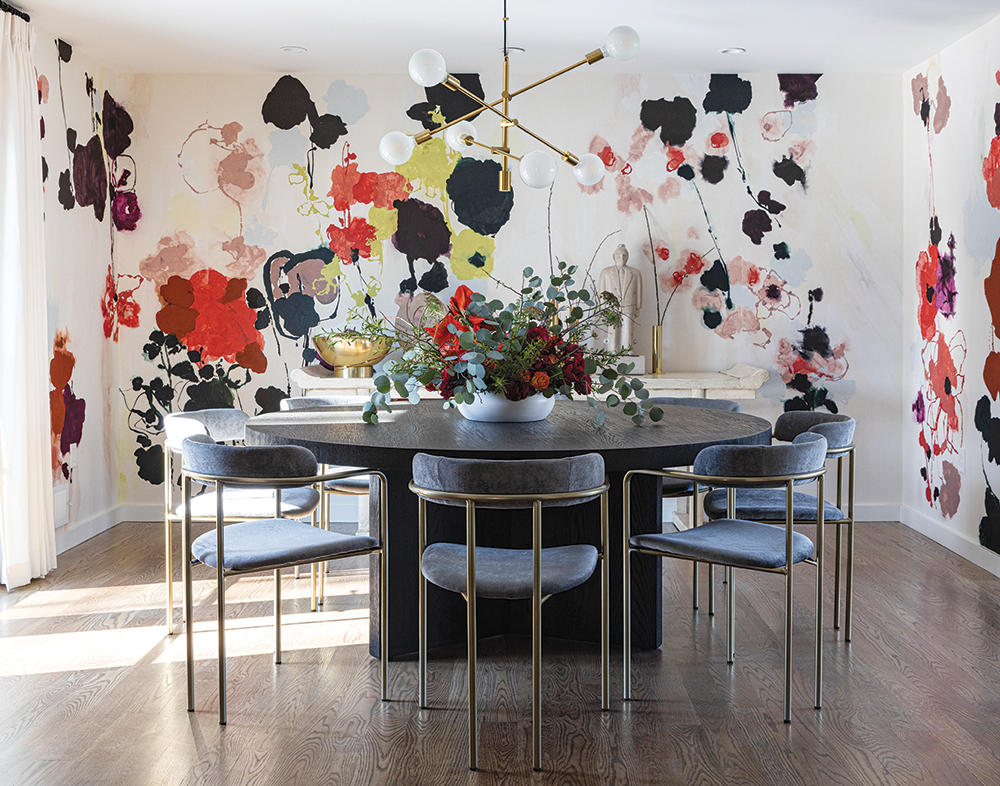 The moment you walk in the front door, you sense this relaxed interplay.
In the entry, a gallery wall shows framed art collected by the couple, including work by artist Wein Keim from the 1970s.
The dining room is wallpapered in a custom, hand-painted design using six colors, "similar to an installation that Porter Teleo did at the Palace Hotel in New York," Porter says. A Chinese altar table from Porter's parents displays two sculptures from Sally's mother; nearby sits a Chinese secretary with a black japanned finish, also from Porter's family. The table and chairs are Restoration Hardware, the chandelier from West Elm.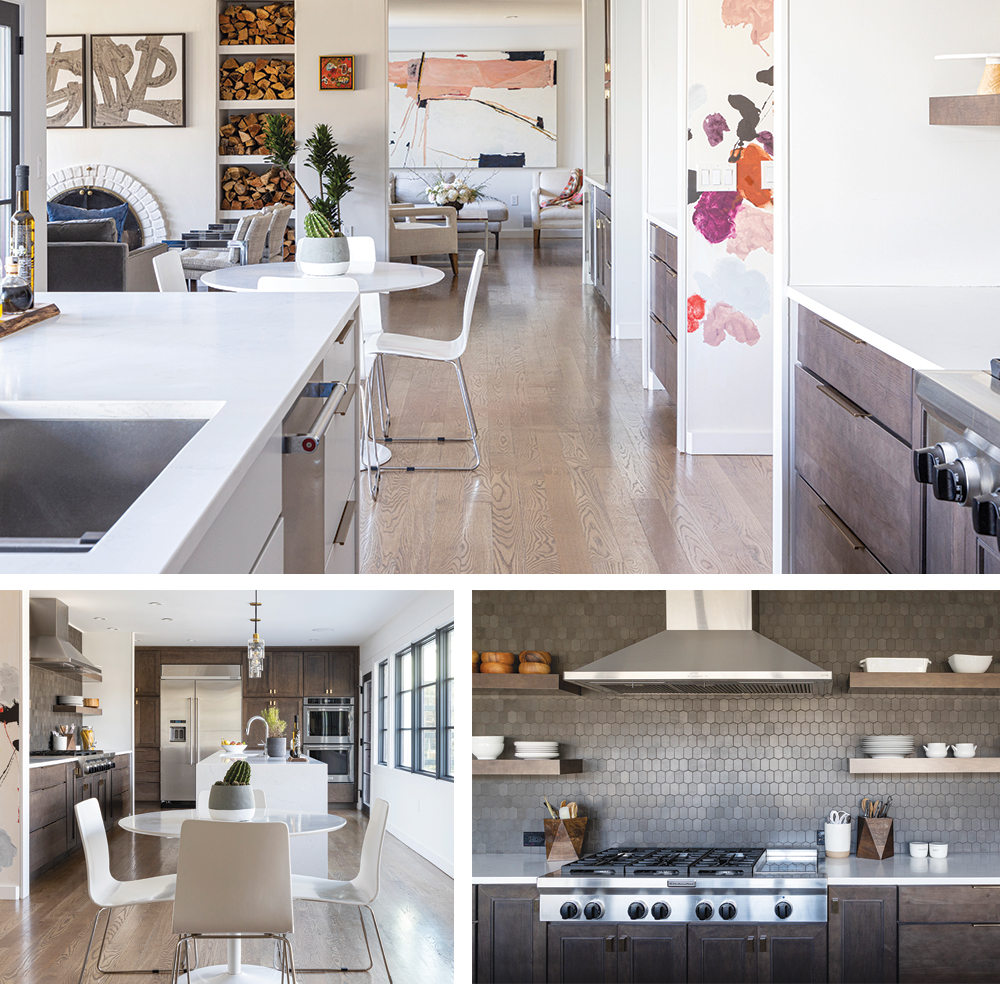 In the living room, the original Mediterranean fireplace was painted Decorator's White. Above it hangs two framed "Tangled" strike-offs from Porter Teleo Studio. On one side of the fireplace, stacks of firewood piled in cubbies add organic warmth, while books on the opposite side are grouped by color or theme. "We wanted the focus of this room to be on books and conversation, just being together," says Porter. On the far wall hangs a large, colorful canvas that Porter exhibited at Blue Gallery in 2015; Sally bought it while they were dating, and the rest is history.
Just around the corner is the family room, where a deep L-shaped sofa provides the perfect place to curl up and watch a movie, with the TV suspended over a vintage steel and wood console, which Sally had updated by RelicBuilt. A black soapstone sculpture, "Egg Head," is also by Sally's mother. The room is anchored by a large contemporary painting of Porter's and softened by silk taffeta drapery in Porter's favorite color, goldenrod.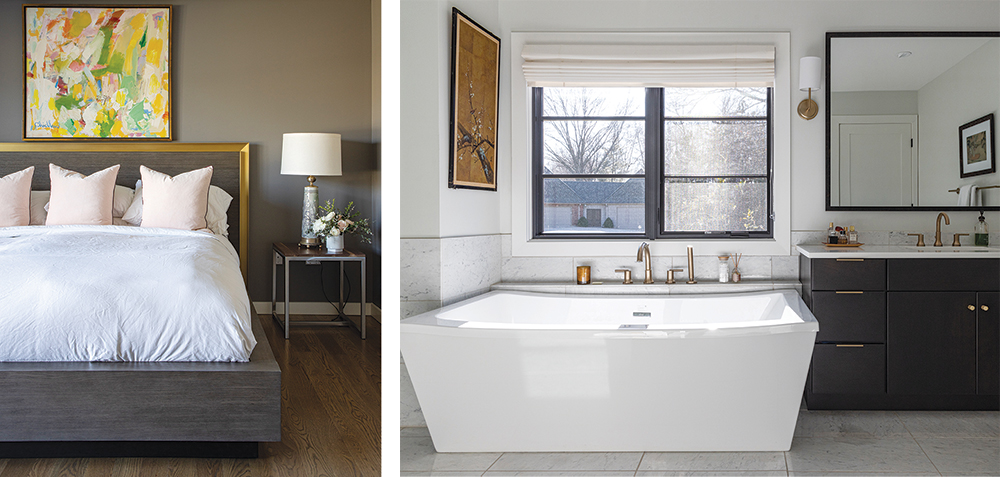 The master bedroom is purposefully restful, with a painting "we both love," says Porter, by Cincinnati artist Paul Chidlaw. The adjacent master bath features a deep soaking tub and Benjamin Moore's Paper White on the walls. "I looked at over 30 shades of white to get just the right one," Porter says. Ebonized walnut cabinetry, burnished-brass fixtures, and quartz countertops continue the streamlined look.
The kitchen is in the rear of the house, with French doors leading to the outdoor area, perfect for indoor/outdoor parties. A long island with a waterfall quartz countertop is the perfect spot for the kids to make cupcakes, lit by pendants from Mercury Row.
The powder room packs a punch with Porter Teleo's "Kintsugi" hand-painted wallcovering and aged-brass Carrico sconces by Corrigan Studio.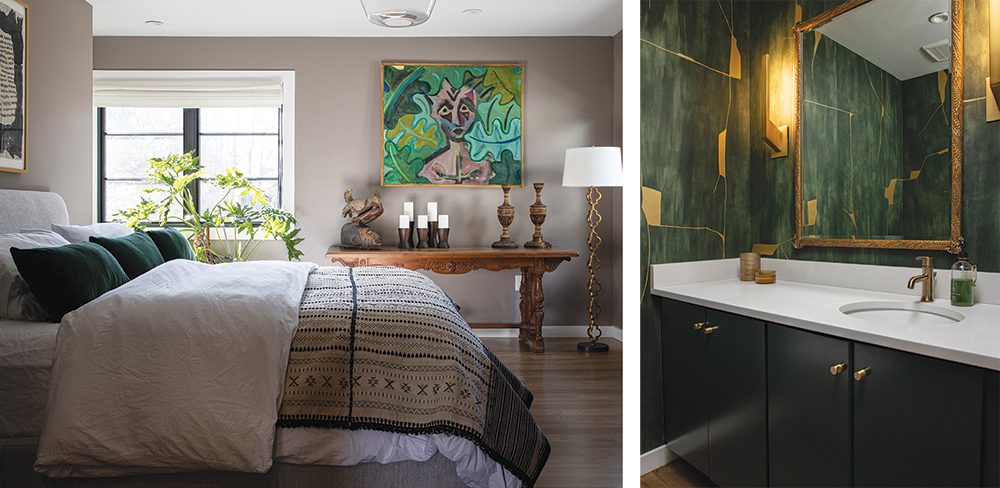 Just beyond is a quiet guestroom, the bed with a handwoven blanket from the International Folk Art Market in Santa Fe, a venture helping keep arts and crafts alive.
The studio is just beyond, where Porter can escape on Thursdays and Saturdays to follow her own artistic muse.
And it all works.
"Our house is a vessel for art and kids and family," says Sally.
And lives well lived.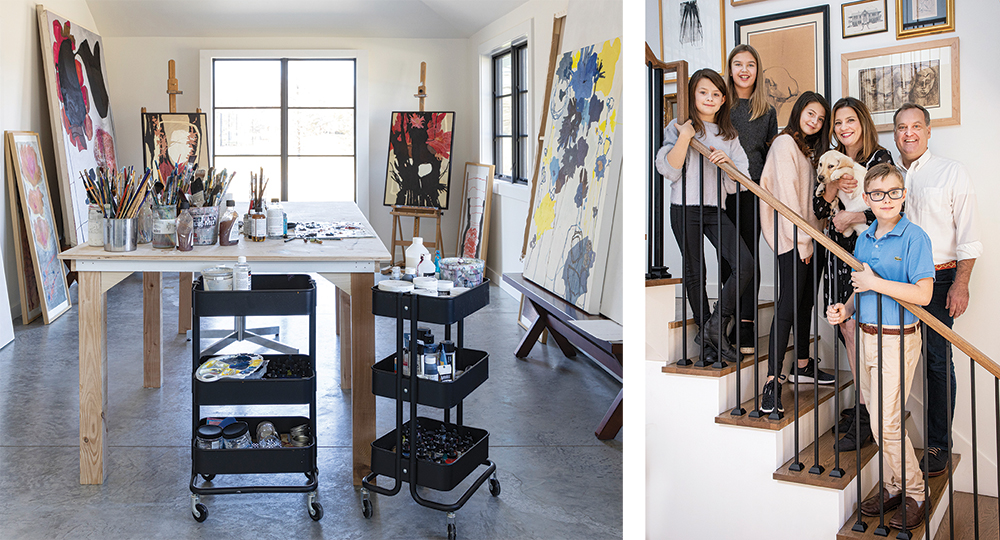 ---
The It List
Architect: Poolehaus Design Studio
Interior Design: Lisa Schmitz Interior Design
Flowers: Beco Flowers
Wallcovering: Porter Teleo