Sponsored content:
You've likely heard the saying, "Plan for success."
It's a mindset that's just as important to kitchen and bathroom remodeling projects as it is your professional trajectory. For designers like Karin Ross of Karin Ross Designs, each client provides so much more than simply an opportunity to update or refresh a space. Instead, it's about making dreams a reality.
"I promise to give you the dream kitchen or bathroom that you've always wanted," she says. "That's why I take my time. I spend hours with each client to make sure we fully understand their vision, then we bring that vision to life."
In the spirit of planning and preparation, Karin recently sat down with IN Kansas City to share tips and insight that will help prospective clients prepare for their initial consultation and the work that follows. Consider the following your Design for Success checklist.
1. Gather your inspiration in one place. If you've been considering a kitchen or bathroom remodel, chances are you've been collecting photos and even samples for a while. Bring all of those materials to your first meeting—and make sure they depict what you really want.
"There's a reason you've been saving these pictures," Ross says. "Show them to me so I can wrap my head around what you want. Then, I'll go to work."

2. Know your true budget. Ross says some clients are hesitant to disclose their budget, but it's one of the most important parts of the process—and that includes being honest about what you can or are prepared to spend. Without a financial benchmark, it's much more difficult for Ross to present a plan. Understanding what clients are prepared to spend makes it much easier for Ross to bridge the gap between the dream space that clients envision and what's actually possible.
3. And don't cut corners! Ross cautions against immediately accepting the cheapest bid for your kitchen or bathroom work.
"Make sure you get what you want and you enjoy working with your designer," she says. "Successful planning means successful installation—it's half the project."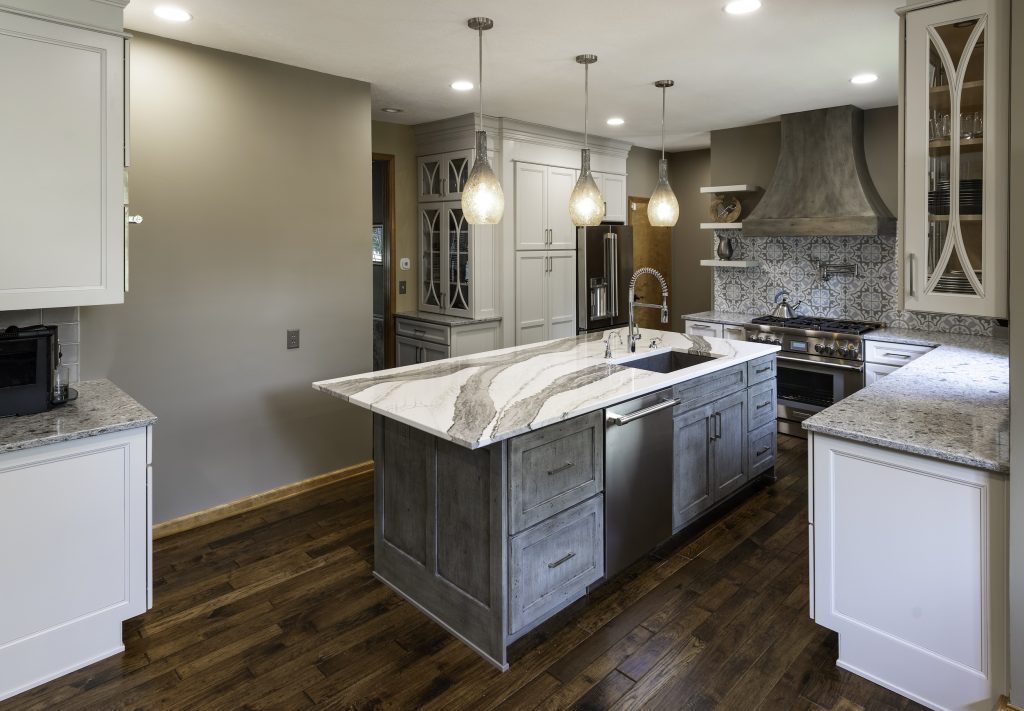 4. Consider colors. If you don't yet have an exact idea of the colors you want in your kitchen or bathroom, that's fine, but it helps to have at least a general idea. Are you a fan of warm gray? Or coveting a dramatic pop of navy?
"I want to know that you love this color," Ross says.
5. Timeless always wins over trendy. Mid-to-late fall always brings a flurry of home décor trend articles proclaiming the next year's top paint color or 5 must-have trends to incorporate right now! Karin recommends paying some attention to trends, but it's helpful to view them in the same context as you would your wardrobe. Instead of filling your closet with the latest trends, for example, invest in classic pieces and then have fun with accessories that can be more easily swapped out or replaced.
"No matter how much you pay attention to home interior trends, it's always best to stay classic," Ross says. "If you love a purple color that's advertised this year, add that through dishes or accessories—something you can quickly change without much expense."
One of the many benefits of working with a designer like Ross is that she stays immersed in the industry to make au courant suggestions to clients. And thanks to Ross's European heritage, she keeps her finger on the pulse of what's happening in home interiors in the U.S. and in Europe, so her clients are treated to Ross's sophisticated, European-inspired style.

6. Respect your designer's time. Unlike many designers, Ross doesn't charge for an initial consultation. Yet she never wants to see that distinctive perk manipulated, resulting in someone taking her design vision and sourcing it more cheaply elsewhere. That sneaky maneuver will always lead to a less satisfactory end product, both in terms of the overall aesthetic and the long-term quality.
7. Embrace the adventure. Yes, remodeling projects—especially in the kitchen—can be disruptive. Ross recommends packing up the space and shifting your mindset for a more enjoyable experience.
"Prepare your mind for camping, so to speak," she says with a laugh. "The work usually spans anywhere from four to eight weeks, and although it can be inconvenient, it's also fun! You get a front-row seat to see the kitchen or bathroom of your dreams come to life."
Now, the only question that remains is which room you'll remodel first: kitchen or bathroom?