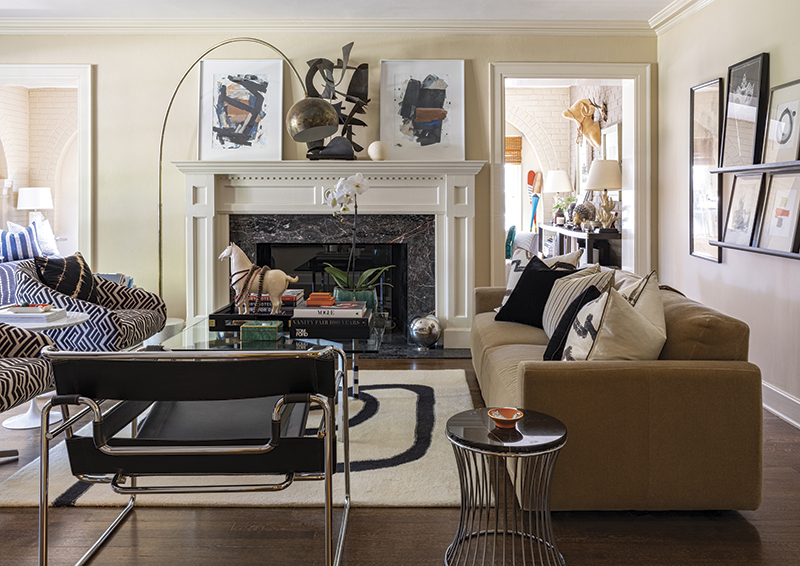 In the first chapter of Will Brown's career, he worked in the corporate sector developing home gifts and decorative accessory collections for national retailers in conjunction with other designers, including Thomas O'Brien, Nate Berkus, and John Derian. This experience offered a broad perspective on design, as well as honing his ability to bring out the best in his clients.
Brown has transitioned his career to interior design for residential clients and finds that his home, a brick duplex in Kansas City that resembles a stately private home from the street, has been a great inspiration and laboratory. The architectural detailing in this older house has helped him appreciate the craftsmanship of a well-made home.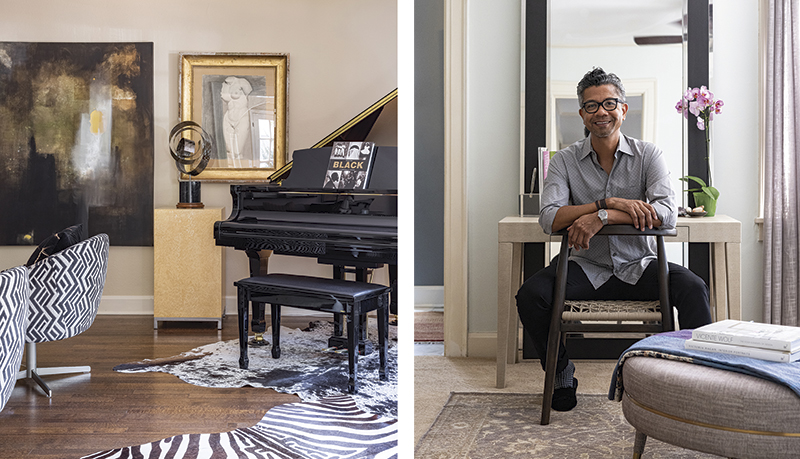 "I grew up in a military family, so I'm used to moving," he says. "Even though I have a lot of things I treasure, I don't feel bogged down by them. Living in Europe and Asia as a child has helped me appreciate different cultures and has influenced my personal style."
But before moving into the duplex, there was some work to do. Brown painted every wall. "There isn't a lot of natural light, so I was intentional in finding the right colors," he says. "It took a few tries in the living room before it felt right."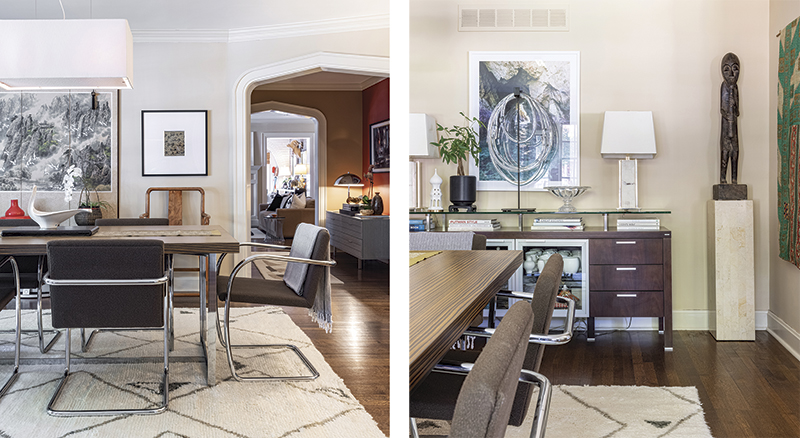 Once he had the backgrounds in place, he began to decorate. The neutral walls provided soothing backdrops for rooms rich in detail and storytelling. Brown is deft at layering, and his rooms encourage the visitor to lean closer to capture the nuance of a photograph or drawing, or take note of a book on design, photography, or fashion.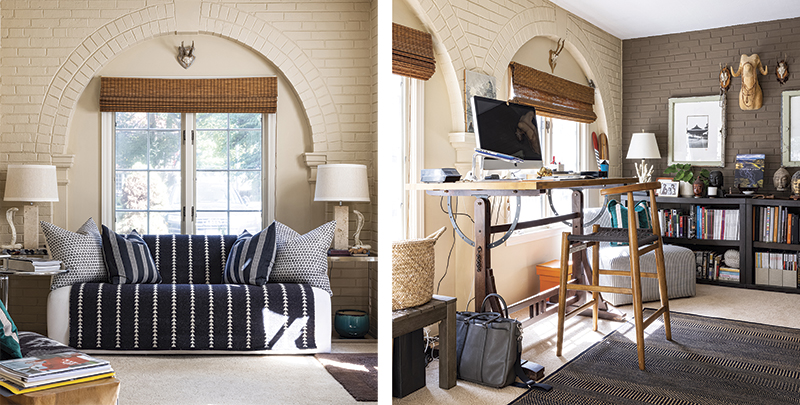 In the living room, the gleam of the piano atop graphic black-and-white hide rugs is a symphony of texture in harmonious black, white, and cream tones. The camel-colored mohair sofa and patterned swivel chairs invite lively conversation. The dining room echoes similar themes, where a Moroccan rug adds a global pattern, while Knoll Brno tubular chairs add a glint of sleek chrome for a midcentury statement.
While the public rooms of his home feature pops of red, orange, and emerald, Brown's bedroom is a soothing retreat. Shades of gray and pale blue are grounded by natural wood tones and black-and-white photography by Herb Ritts. Forgoing a television in the living room, Brown catches up on his favorite shows in the television room off the bedroom. The rich, charcoal velvet of the sofa and accents of red-patterned pillows and rug provides a cozy spot to end the day.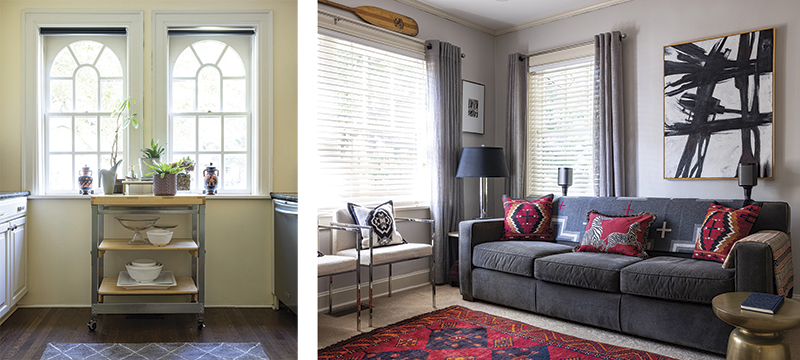 If the house has good energy, it is no accident. Brown is a certified feng shui consultant.
"I incorporate feng shui in projects organically," he says. "I came to the practice personally because I was feeling a little trapped during the pandemic. I wanted to explore the idea of energy flow in design and if I could benefit from making some adjustments, I knew I could help my clients as well. Certain colors work well in feng shui. Purple can impart abundance and red visibility. There's a great sense of satisfaction in passing this knowledge along to clients who appreciate this practice."
Brown has found that, personally and professionally, the duplex has become the best place to experiment with what he likes. "My home is constantly evolving," he says. "I like to stick with neutral basics and layer colors on top of that. I'm just back from Jackson Hole, Wyoming, and I was inspired by the handmade rugs with pattern, which I've now incorporated in the TV room. That is the kind of element that works for me."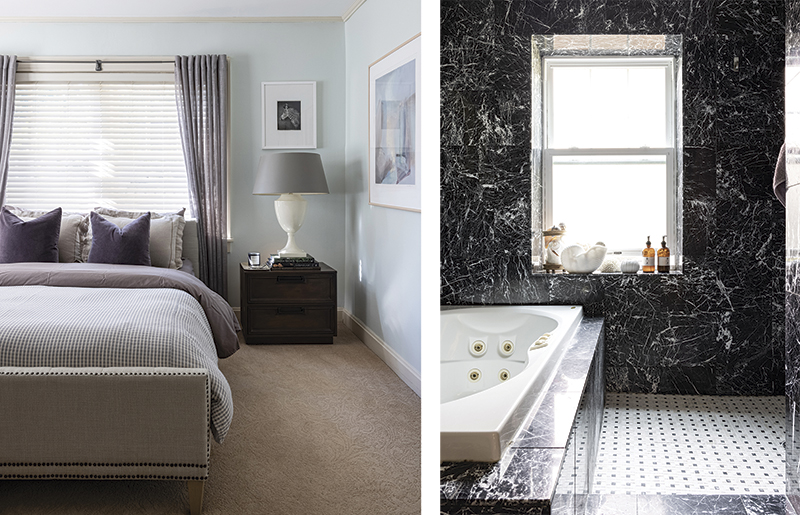 ---
Shopping Locally with Will Brown
Decorators are constantly on the lookout for fresh, inspiring ideas and products, and Will Brown is no different. Here are a few of his favorite stops for seasonal updates and client gifts.
Jorjy
I live close to Brookside and I love running into Jorjy for client "thank you" gifts or a personal pick-me-up. The owner, Pam DiCapo, has such a great eye and sense of style.
200 Main Vintage
Tobe Reed has the best finds at great prices. I make a point of stopping by her site regularly.
Nell Hill's
Nell Hill's has the best seasonal changes. They do a great job with their visual merchandising and their product is such a great fresh take on traditional. It's a great spot for me to keep my finger on the pulse of what clients want.
Main Street Swanky
Rick and Scott have decades of experience as art and antiques dealers and theirs is one of the best curated showrooms in Kansas City with unique vintage era and antique finds. Their quality is consistently high, and they also host the best monthly Swanky Happy Hours, too!
---
The It List
Interior Design
Will Brown Interiors
Rugs
The Rug Studio