Cold(er) weather is headed our way. It's time to hunker down in your abode and fight off Old Man Winter. From fuzzy throws to plush pillows to warm lighting, we've got some charming, inexpensive ways you can make your house positively nest-worthy,courtesy of our friends at (natch!) Nest Interiors in Mission. "What does nesting mean to us? Our whole mantra is being livable and approachable," says co-owner Katy Cassaw. "Oh, and durable! Things you can let your kids or dogs be on and actually use."
If you're always ice cold, Team Nest has some easy suggestions to cozy-fy your space. (Is cozy-fy a word? Well, it is now.)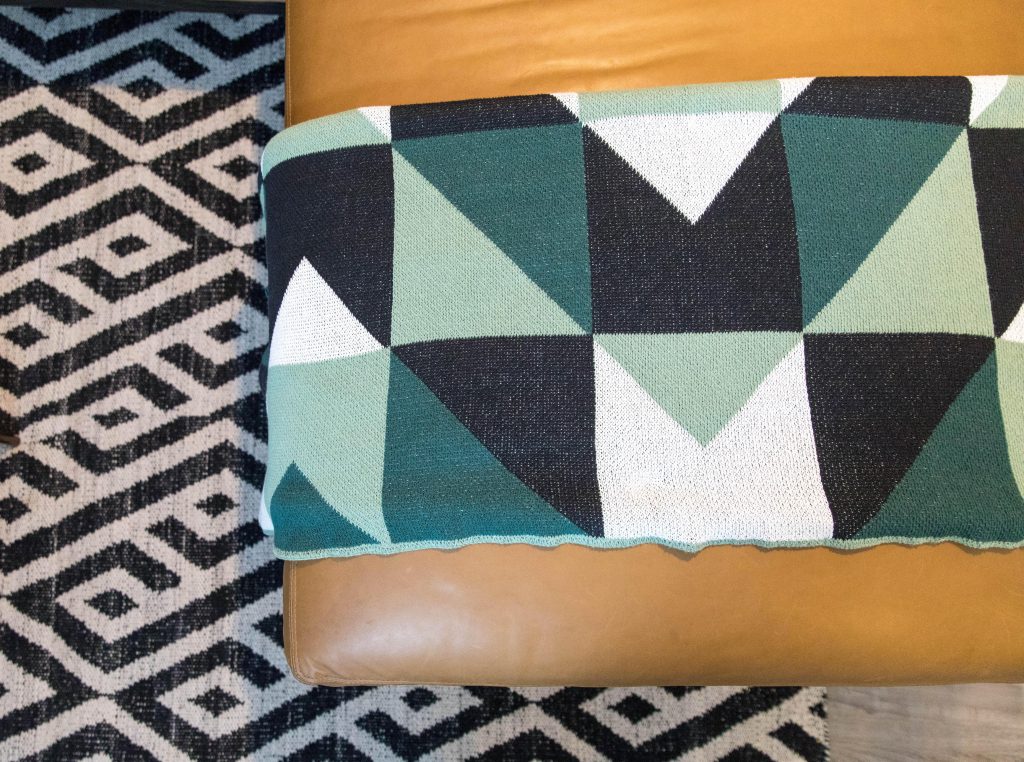 Linus Isn't The Only One Who Needs His Blanket
Look around your room. Is it devoid of blankets, throws or any item to snuggle up with? Cassaw says to invest in a Happy Habitat throw. Not only are they made from recycled fabrics and washable, they'll keep you toasty warm. "We love her and she's local," Cassaw says of Happy Habitat owner Karrie Dean. "We love the patterns too. They really add to a room."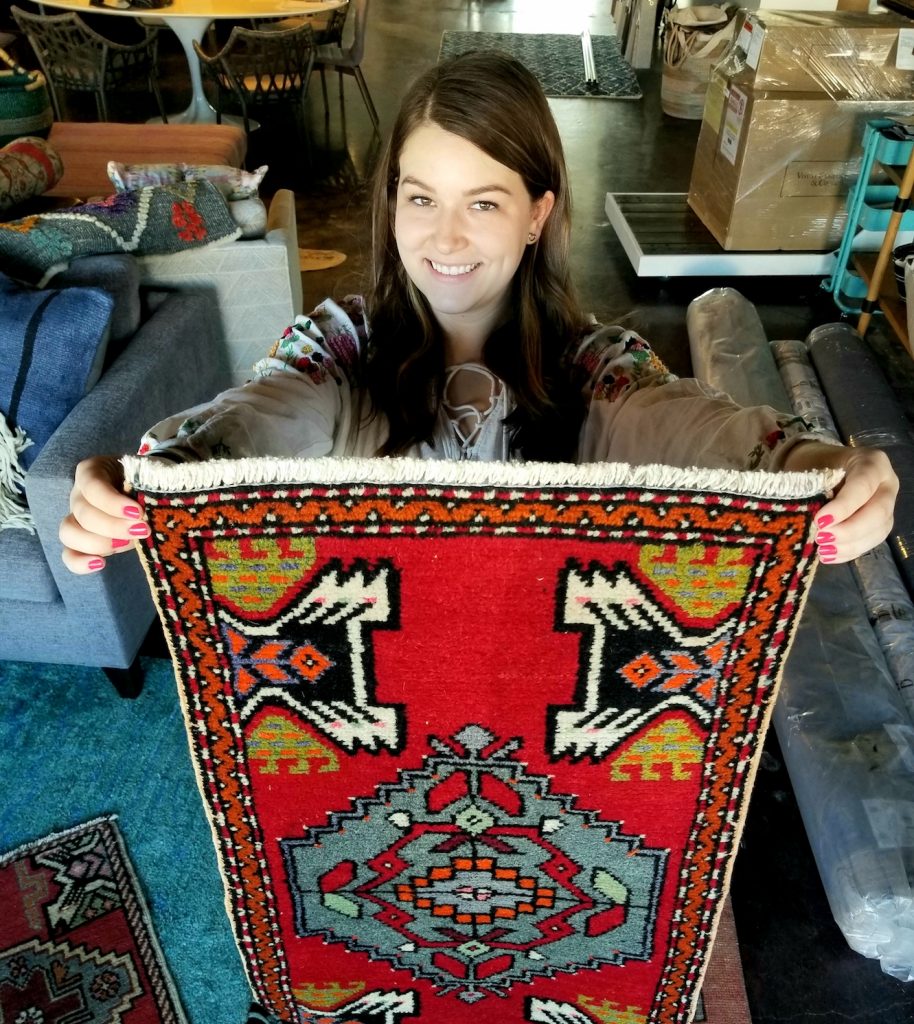 Warmer Colors To Warm You Up
That barren patch just beyond your front door needs something. "Even if it's just a small runner, add some warmer, cozier colors. Switch out your entry-way rug or what's in front of your kitchen sink," she says. It will help keep drafts to a minimum and ensures no bare feet on chilly tile.
Pillow Talk
'Tis the season—for seasonal pillows. "Pillows will instantly add different textures and colors, it's that easy," says Cassaw. "Plus, pillows are tactile—so many fuzzy fabrics and soft materials to choose from."
The Captain and Chenille
Nest designer Sydney Beasley is partial to the softness of chenille. "Chenille is more luxurious, not as casual as a linen," says Beasley. "It's plush, posh, and the feel—the touch—of that material is very soothing."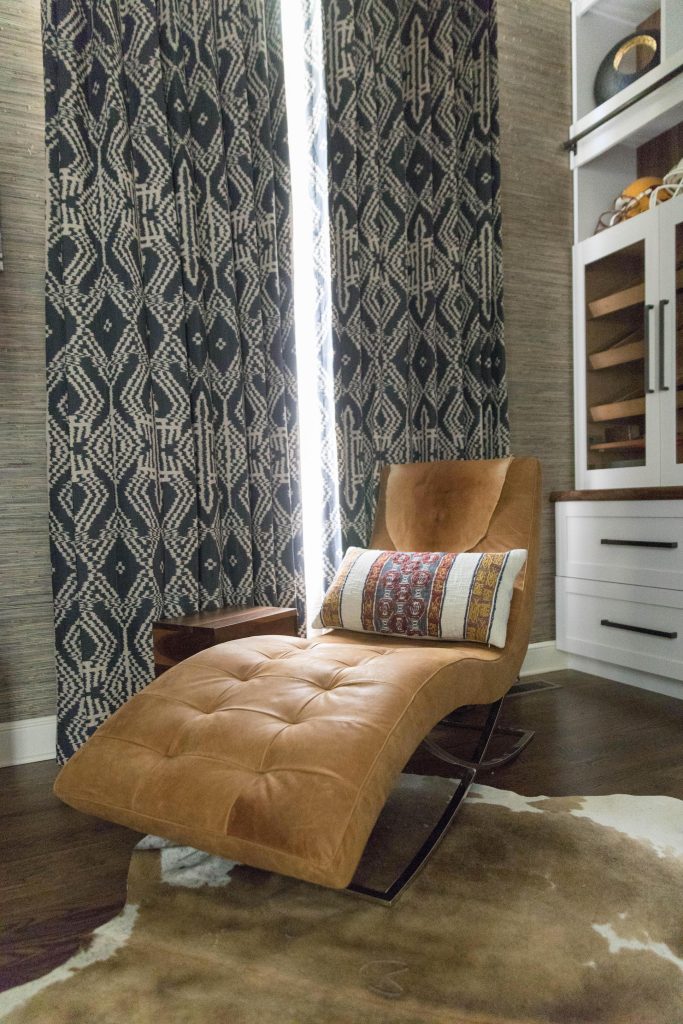 When In Doubt, Drape It Out
Desperate to warm up a room? Draperies are the way to go, says Cassaw. "Drapes are like jewelry—they're the finishing touch. We like a fun, strong print—maybe even a large print," she says. Check out the eye-catching chaise longue, which had a definitely "masculine touch," she says. "The drapes took it to the next level.  That chaise longue, meanwhile, is upholstered with cowhide. It's super durable. You could spill red wine and it'll be fine. We often use cowhide on chaise longues and ottomans. Some can be really soft—for what they are."
Lights, Lights, Baby
That harsh fluorescent lighting you've currently got isn't helping you decompress, says Cassaw. "Just switching out or updating your lighting—it's one of the most important things to us. Think warm lighting, a soft incandescent light. You can't nest with harsh light."
Fur'real!
Burt Reynolds was ahead of his time lounging around naked on a bearskin rug. Cassaw says a furry footstool or bench is instantly inviting. "Fur can wrap you—envelope you even. It'll will be cozy in winter, but can transition through all seasons," she says. "It's the perfect texture to add."
A Family Affair
It hadn't occurred to us, but Cassaw says to gather family photos together in fun frames. "We're all about family time and there's nothing better to show that off than family photos in an interesting frame!" she says.