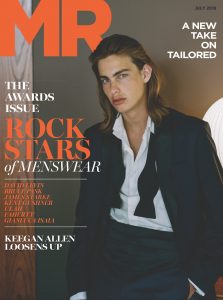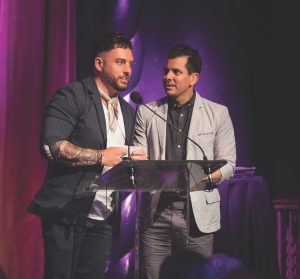 When Ulah owners Buck Wimberly and Joey Mendez got a call from MR Magazine, a well-respected menswear magazine, they were a little gobsmacked. When the magazine then informed the retailing duo they had won one of only a handful of the magazine's prestigious, annual awards, you could have knocked them over with a feather.
"The fashion editor for Men's Retailer Magazine called us. All he said was, 'Hey, we're giving out some awards this year and we unanimously picked Ulah to win the Rising Retailer Award,'" says co-owner Wimberly. "At first, we were, like, we weren't worthy of it because we're so new. But the magazine said, 'You guys have worked hard and earned it. It's called Rising Retailer for a reason.'"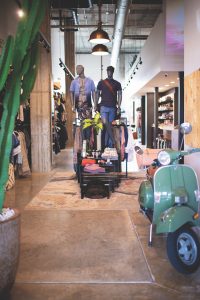 It's a huge pat on the back for the new-ish, hyper-local men's lifestyle and specialty gift store that opened in October of 2016 in Westwood Village. From humble beginnings, the store is paving its own path in the retail landscape—now along with props, kudos and some national attention. "It seemed so premature because we're still trying to get the mix right," says co-owner Mendez. "We still feel like we have so much work to do. But to be recognized this early is—awesome. It gave us a moment to catch our breath."
Not only was this the first year the magazine has doled out the new Rising Retailer award, the award's criteria meant Ulah had coast-to-coast competition. "They like that we're doing something unique—a complete lifestyle store—smaller, but curated," says Wimberly. "But that we also offer home decor, gifts, and custom-designed furniture makes us unique. We design some of our own products—like fragrance, candles, a bath and body line."
The awards were held on July 23 in Manhattan. "(I was) super nervous. We changed clothes probably ten times," says Mendez. "All the other recipients were big players. But everyone started somewhere—and we deserved to be there too. And then I pounded vodka which helped." Other winners included such well-known national retailers as Bergdorf Goodman, Neiman Marcus, JC Penney and DXL.
"An exciting part of the event is that a well-known, high-end designer Michael Bastian—a line we carry here—presented our award to us," said Wimberly. "We've had a (Bastian) trunk show, a fashion show and we got to know him personally through our visit. He's a genuine guy—and what a great person to present our award and talk about his experience in our store."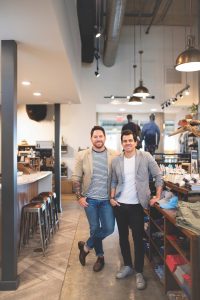 "Their customers love them with a sense of pride and trust and loyalty that you just don't see expressed towards internet giants or national chains. And that is their magic—they've created the perfect store for their market," clothier Michael Bastian said in his speech.
Looking for the ultimate men's outfit? Shopping for a unique locally made gift? Wimberly and Mendez want you to know Ulah is all about the experience. "We want to tear down walls. We wanted to make shopping social again," said Wimberly. "We're not high pressure at all. Our goal is to gain a customer for life than gain a quick sale. To cultivate a relationship."
Mendez agrees. "We want people to know it's a comfortable space to come in chat and shop, no pressure. Sure, it's a men's shops, but we have so much more. It's exploratory."
"Oh—and we also have good music," Mendez says with a laugh.