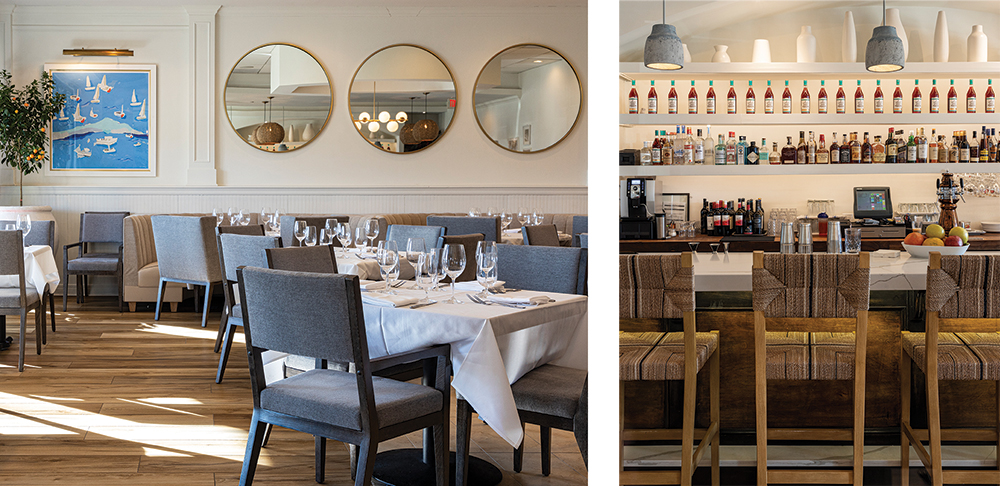 A Recipe for Relaxation
A friend who is an interior designer and I like to check out new places around town for the décor as much as the food and drink.
We met at Paros Estiatorio, a modern Greek restaurant in Mission Farms. We were delightfully surprised by its paradoxical environment.
The walls are white and the bar top is white marble, so why does the space feel so warm? The dining chairs are serious gray-flannel wingbacks and the tables are covered with white cloths, so how does it seem so laid-back and cozy?
Before I could say anything, my friend the designer deftly deconstructed the interior's secret sauce:
The roundness of the circular mirrors, the texture of the cornflower-blue velvet banquettes and the green leaves of citrus plants soften hard edges.
The brightly colored artwork, rattan counter stools, and woven ceiling fixtures lend a casual, coastal vibe.
And the unique cocktails, delicious appetizers and lovely company added just the right spice to the mix. Opa!
Key Ingredients:
Rattan counter stool. Serena & Lily helped popularize this coastal-chic seat style. Side note: Kansas City native Lily Kanter co-founded the home-design brand.
Round mirrors. Circular mirrors soften hard edges in a room. West Elm (Country Club Plaza)
Ocean art. Giclee prints by the artist Dana Gibson lend a laid-back vibe to a space. Nell Hill's (Briarcliff Village)