Sponsored content: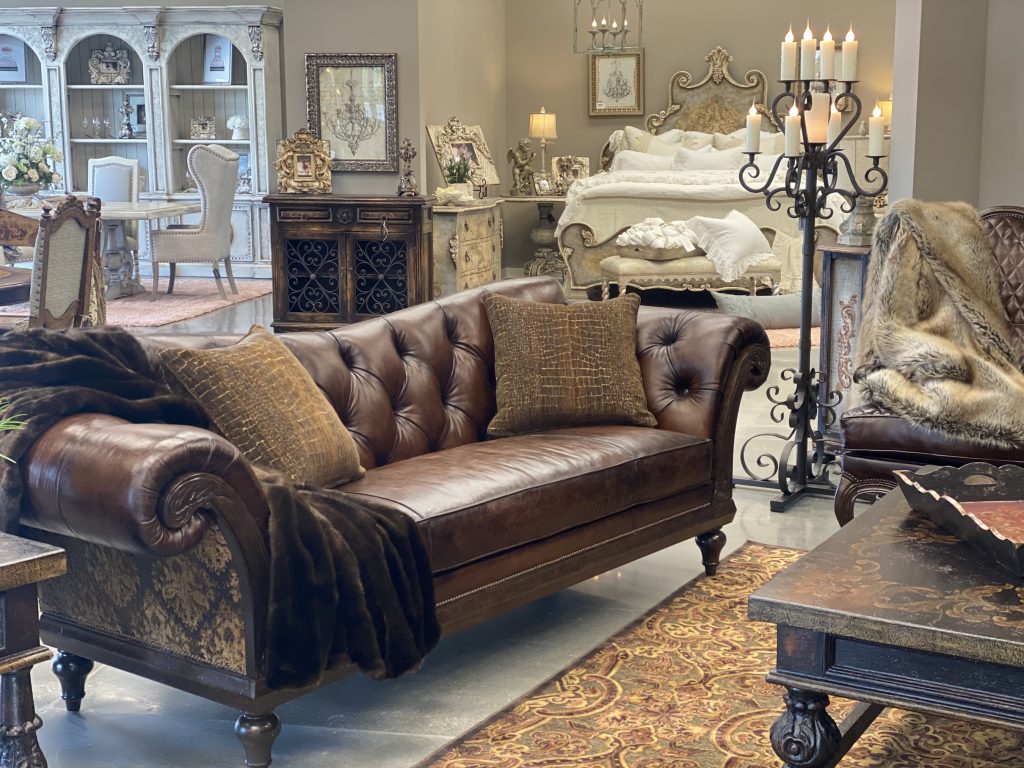 Early last year, Cindy Slatten was on a mission. "I was looking for showstopping, one-of-a-kind furniture with distinctive European flair," she says. "And I couldn't find it anywhere—anywhere!—in Kansas City. So, I opened my own furniture store—in the middle of a pandemic."
And that, dear furniture shoppers, is how Luxuria in Overland Park came to be. The high-end store, which is co-owned by Cindy and her husband, Brad Slatten, opened just four months ago with little fanfare.

Guests visiting Luxuria quickly realize it's, indeed, nothing like the metro has ever seen before. Every piece of furniture in the store is "hand-carved, hand-painted and unique," says Cindy. "That's what we want our clients to walk away with—that no two pieces are alike. Trust me, your neighbors will covet our furniture."
For Cindy, Luxuria reflects her bold taste in design, which she says she's honed over the years.  The mammoth shop, located just off West 135th St. in Corbin Park, features an array of large signature pieces—each more elegant and exclusive than the last. Brad says the store is more than just a passion project for Cindy. It's the perfect outlet for her to express her nuanced design aesthetic to appreciative clientele. Well, that—and it's helping Brad's bottom line. "This stuff is not cheap," he says. "I would come back from a trip and I'd see a big piece of new furniture in our home—and I'd ask, 'How much was that?' I thought, we've got to start our own store so I can save a few bucks here and there," he says with a smile.

A majority of the pieces are imported from Peru, with a few domestic manufactures sprinkled in for good measure. "We're always trying to find what people are after," says Brad. A smattering of the store's richly dark, heavily ornate furniture already has a sold sign on it. But, never fear, new furniture arrives every week. "Because of demand, we've continued to increase inventory," says Cindy. "Our showroom floor is ever-evolving, ever-changing—especially when it comes to bedding, accent pieces, and lamps. I love it."
Since opening in March, the couple says designers and real estate agents have flocked to their store, eager to help new homebuyers furnish their grand houses and mansions. Area country clubs have also started checking out the artisan showroom. "It makes sense," says Brad. "People see the merchandise we have in our windows and are compelled to come in. They always say the same thing, 'Finally, there's someone in KC who offers this type of upscale home furnishings.'"

Unlike other furniture retailers, the Slattens were undaunted by the COVID crisis. It gave them time to ramp up their inventory, test the proverbial retail waters and slowly rollout their luxe brands. "Now we're ready for clients to walk in, see something they like on the showroom floor and walk out with it," says Cindy. "When they say, 'I want that!', I say, 'It's yours!' There's a definite wow factor to everything we have."
She's not kidding.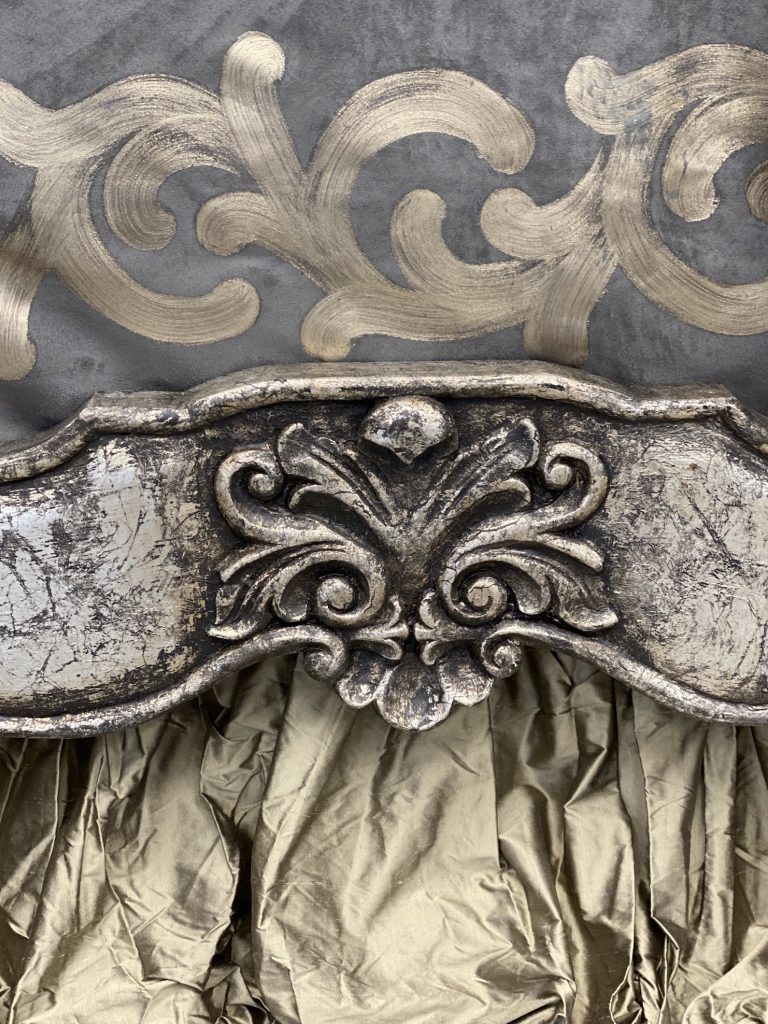 Cindy takes time picking out the finishes, the paint, even the scrolls on each piece. She laughs when she says she would definitely be her own best client. "We don't want anything cookie-cutter or mass produced," she says. "Each piece here is distinctive and that's by design."
Cindy and her team are adding splashes of color here and there. "With our first round of furniture, we tried to stay with neutral, warm tones, but we're starting to vary things here and there," she says. And if you're wondering where Cindy comes up with the eclectic hodgepodge of names for the pieces, she says that's a secret. "I kid," she says. "The furniture pieces are all named after family members and pets."
For now, the Slattens are working on building their brand and simply trying to get interior designers to bring in clients who think they've seen it all. "Trust me, everything here is memorable," says Cindy. "Plus, like I said, if you see it on the floor, you can take it with you. Customers love that. There's no waiting."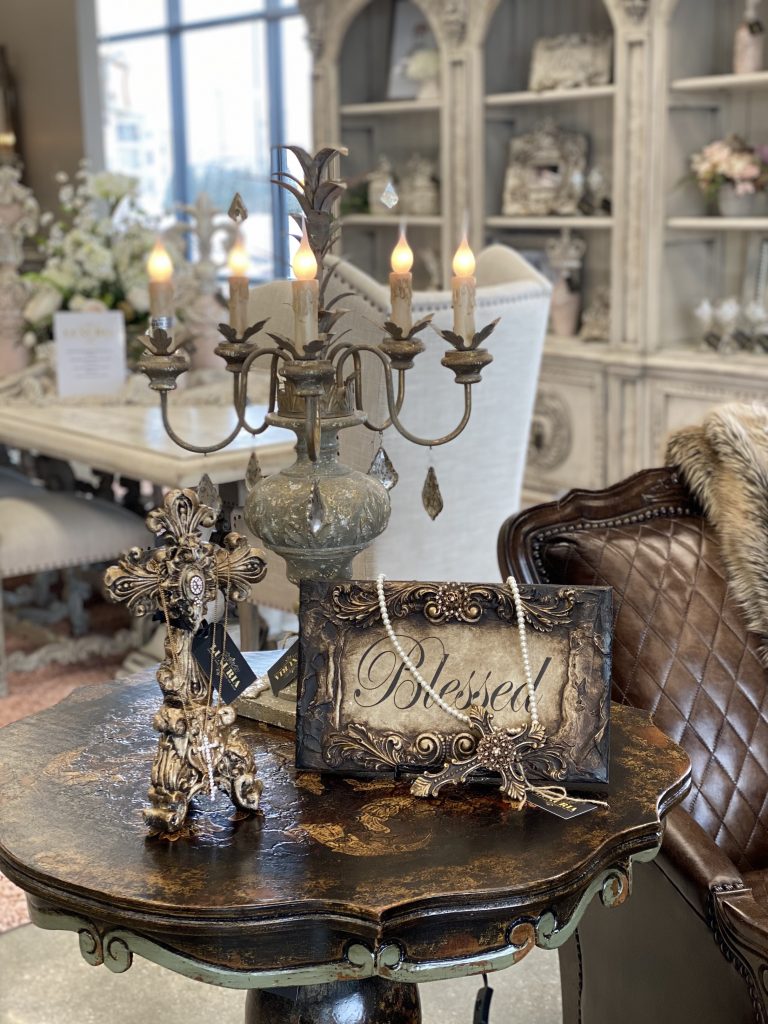 Cindy has also dedicated an entire wing of her furniture store to luxe seasonal fare because—as she says—the holidays were made to be celebrated. When a shipment of Halloween witches arrived, she mentions she was practically giddy. "Even our witches will have a glam factor," she quips. "I can't wait to put them in the window. In fact, that's what we want. We want people to peek in our windows, be amazed, come in and be even more amazed. So far, so good, right?"