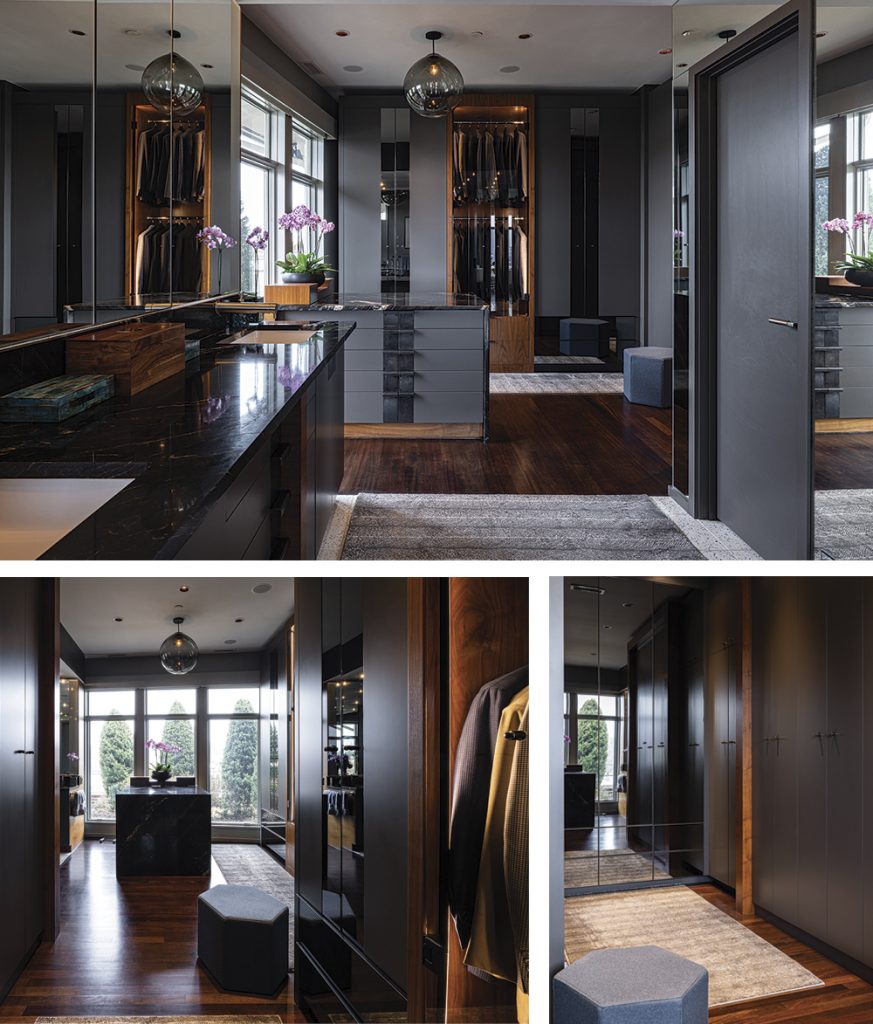 When David Brinkerhoff and Dan Meiners bought their current home, they had the space they needed but not exactly where they needed it. 
"The closet was functional," Meiners says. "It was a basic white box that had what the previous owners referred to as 'winter closet' in the back."
But the men felt that they could create a closet that would help them live better. Using the winter closet and half of the adjacent wine cellar—which was designed to hold 5,000 bottles—they reimagined the space to provide pleasing form and function. In addition, they had a clear idea of what they wanted from a design perspective.
"Dave and I drew what we wanted on a napkin. We had this idea of a dark '60s look," Meiners says.
Despite their sophisticated aesthetic, they approached the design process with some clear parameters.
"We both like beautiful spaces," he says. "But we're not the type of people to come home and put everything on matching wood hangers. So, enclosing the hanging and storage space made sense for us."
Ryan Comment, owner of Bootlace Design & Build, built the closets and cabinets and installed the custom glass. In addition to collaborating on the major design decisions, the couple asked him to build stylish boxes with outlets to put on the counter where they can charge their phones and iPads at night.
Did they ever wonder if all this attention to detail would matter if no one else saw it?
"Just like anyone else who renovates a house, when people come over, we end up giving a tour," Meiners says. "It's such a comfortable space. It's not strange for us to end up back there with our cocktails."
The couple has decided to embrace the room's appeal.
"During one party we set up the bar in the office, which is next to the closet. It ended up being a very popular space."
---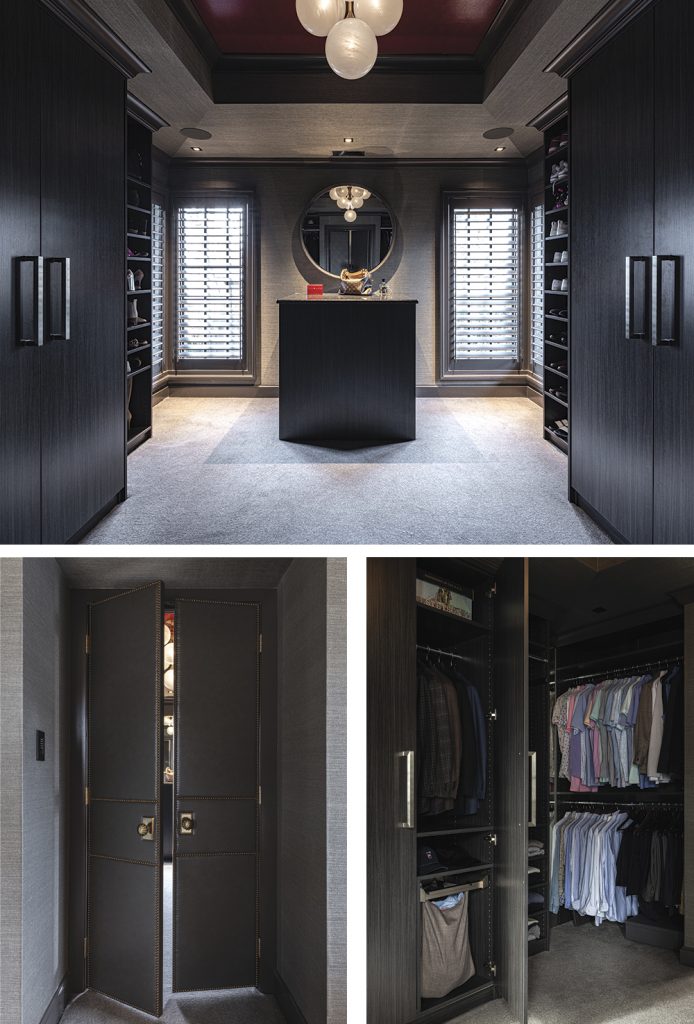 Designer Kurt Knapstein has a knack for seeing the potential in old houses that have been well-loved but have not had the advantage of a renovation. While he is respectful of the architecture, grounds, and neighborhood, he coaxes modern conveniences from classic forms. 
This is certainly true of his renovation of a classic Tudor in Brookside. His landscaping, while new, appears established. The original woodwork in the entry confirms the home's era, but Knapstein introduced new elements that are key to modern living.
Gone are the existing closets. Knapstein repurposed space to create a closet that holds generous wardrobes for two.
Cortney and Jimmy Edwards bought the lovingly renovated home from Knapstein in July of 2022. 
"We were drawn to the stunning workmanship, design, and attention to detail," Cortney Edwards says. "It was an old home, but new in every modern way. And it was tastefully done for a house that was built in 1935."
The primary closet was no exception. "Jimmy's first reaction was the best. When he saw it was, 'Am I in Tom Ford?'"
Upholstered doors with nailhead trim and brass melon-shaped knobs make coming home to shed the day a delight. Wall-to-wall carpet ensures that bare feet never touch cold floors and the wall of mirror between the closets provides a view from every angle. There's no question the couple was delighted with the storage space, but the light may be a favorite feature.
"Natural light makes it feel like a room, not a closet," Edwards says. "We feel comfortable spending time in there even when it's to work on the never-ending cycle of laundry!"
Speaking of light, the fixture on the ceiling set against red snakeskin wallpaper is her favorite detail.
"It's so unexpected and sexy," she says. 
---
Closet Essentials