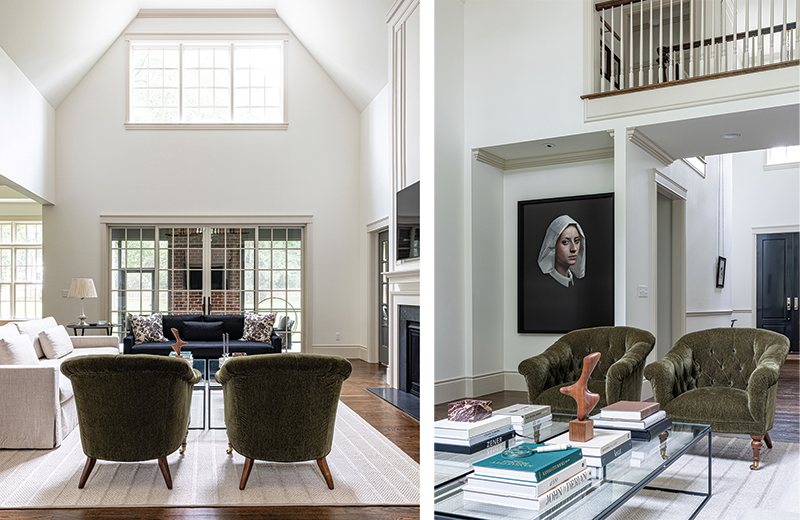 A Leawood couple decided to leave a house they loved, but are home again in a new build especially designed for extended family gatherings.
Erica and Mike Wren were happily ensconced in their classic stone house in Old Leawood. They loved the tight-knit community of neighbors, the mature trees, and the location. But when Erica's parents and grandparents decided to downsize, she wanted to be able to be home base for family gatherings. She and Mike considered that it might be time to make a change. "When Koenig acquired the lot on Meadow, we saw it as a great opportunity to have more space and stay in the neighborhood," Erica Wren says.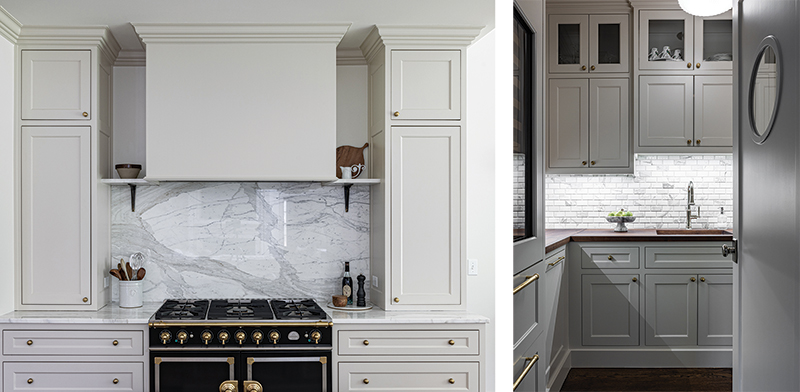 Koenig Building and Restoration specializes in developing underutilized lots in older neighborhoods, and the Wrens thought they would be good partners in designing their new home. "We wanted to approach our home with the history of the neighborhood in mind," Wren says. "Koenig has been a great steward for new builds in our area, and we wouldn't have worked with anyone else." 
The Wrens did make some modifications to Koenig's original plan, adding double-hung windows, handmade brick on the exterior, as well as gas lanterns.
"Mike and Erica came to all of our meetings with well-planned spreadsheets and a distinct vision on what they wanted their home to be," says Molly Koenigsdorf, the co-owner and designer at Koenig. "They saw the architect's plans that we had in place for the lot and knew they could make some minor tweaks to make it their own. They wanted a saltbox colonial feel but with modern touches."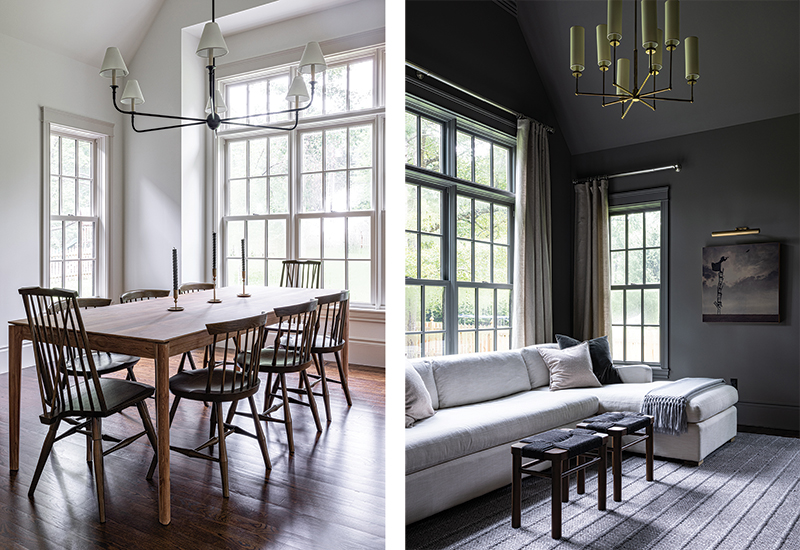 Erica Wren was undeterred that they would be building during the pandemic. She has had a passion for art and architecture her whole life, and once the plans were final, she began ordering and storing pieces to avoid backorders and shipping delays. "This was my first chance to flex that muscle on a large scale," Wren says. "I'm self-taught, but the team at Koenig—and especially Molly—were great partners and sounding boards.
The double-height living room is flooded with light. Chesterfield chairs clad in moss-hued velvet provide a classic juxtaposition to the streamlined sofas. Like a classic black sheath, the room is dressed for casual movie night with the family or a cocktail party with friends.
A Hendrik Kersten photograph is a stunning presence in the room. "I love the Dutch masters reference, but also the sardonic wink," Wren says. "The official name of the piece is Paper Lace, but I very affectionately refer to her as 'toilet paper head,'" she says.
It's the most-used room in the house. Initially, Wren considered using this room as a formal living room with a round table, but this more relaxed space has turned out to be a better use for the family. "I'm glad it ended up the way it did. We watch TV, read books, and play Monopoly here. I like to sit on the floor in front of the fireplace and talk to Mike most nights—although there's been no fire lately!"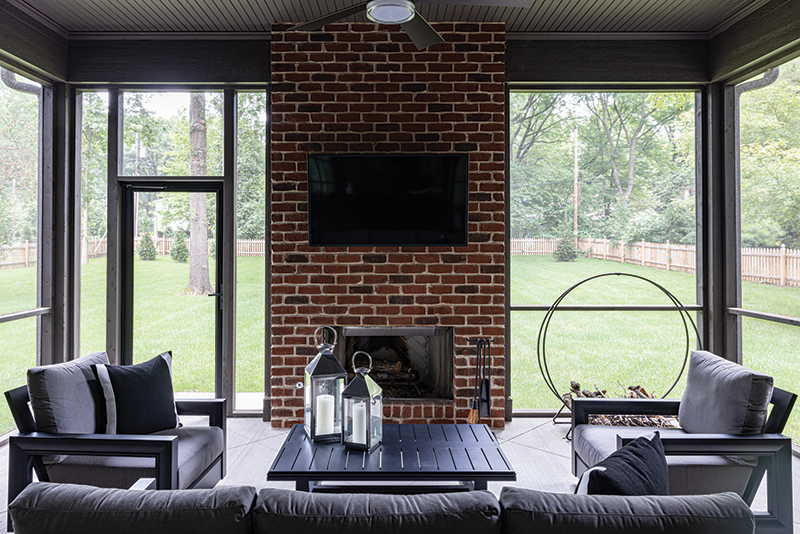 The screened porch just beyond the living allows a great view to the backyard, but also provides a place to relax or entertain. The ceiling fans, fireplace, and heaters allow the family a place to relax or entertain outdoors in all but the worst of winter. 
"We had friends out there with us when it was 40 degrees. We were watching March Madness, had the heaters and a fire going, and it was pretty comfy," Wren says.
The classic kitchen with its stunning La Cornue range was a must, but Wren steered away from white, instead choosing Edgecomb Gray by Benjamin Moore for the cabinets and the trim in the house. "I didn't want everything to be stark and flat. I'm always saying that when it comes to design, you must have an opinion. Even if you are using neutrals, you need to have a point of view."
While the Wrens often eat at the generous kitchen island—it became a habit before the dining room chairs arrived—it's being together as a family that matters more than location. "We rate recipes on a scale of one to five stars. I write the rating down on the recipe along with any comments," she confides. "But during volleyball season, it's a lot of Jimmy John's!"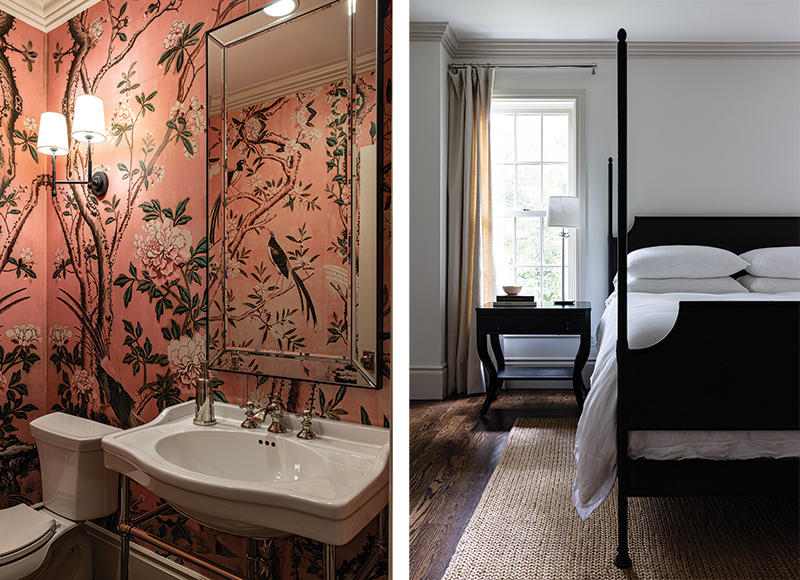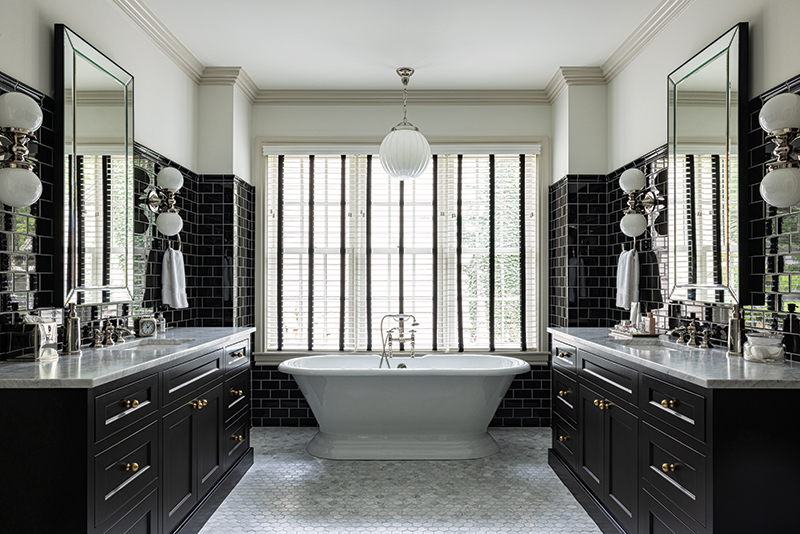 The primary bedroom is a continuation of the colonial saltbox that was Wren's inspiration, but the primary bath was an opportunity to stretch and try something new. "I was worried the black would be too severe, but I think the pairing with the fixtures leans classic."
Despite the pandemic headaches, the house is more than home—it's both refuge and a gathering spot for the extended family that the Wrens imagined. "I accepted deliveries months before we were able to move in," she remembers. "I wouldn't have been able to return anything that didn't work. It was intense—but fun."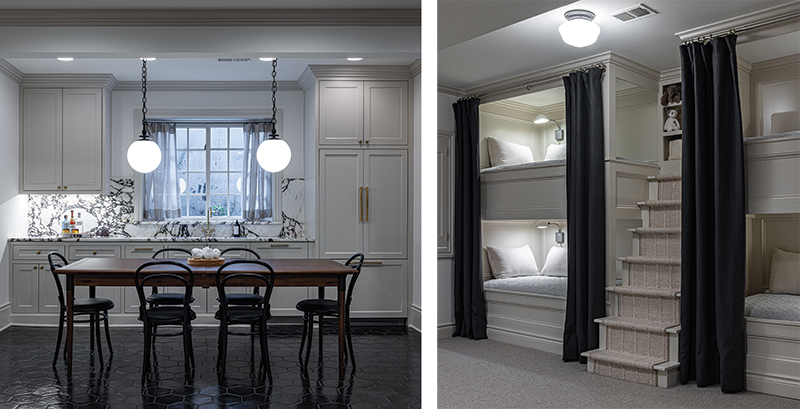 ---
The It List
Builder
Koenig Building + Restoration
Art
Blue Gallery
Lighting
Relative Lighting
Appliances
Ferguson
---

Renovation Sensation
You can see the Wren home up close and personal during the Renovation Sensation homes tour Wednesday, September 21, from 10 a.m. – 7 p.m. This year's chairs are Amy Prendiville and Sheryl Vickers. Guests will be inspired by each of the homes. 
Renovation Sensation is the primary fundraising event for the Shawnee Mission East High School SHARE program, which is a student-led organization that encourages students to volunteer through student-led projects. Besides the Wren home, the tour includes three other houses nearby.
Passes are available for purchase at HenHouse Markets, online, and at each house location the day of the event.