Reflecting Motion: An Evening of Visual Indulgence
Date: Saturday, May 18
Time: 7:00 p.m. – 11:00 p.m.
Location: Union Station
Address: 30 West Pershing Rd., Kansas City
Price: Prices vary
Attend the event that will define the entire Kansas City summer—the opening party of Reflecting Motion by Patrick Shearn ofPoetic Kinetics—at Union Station's Haverty Family Yards. Spend the night under Kansas City's largest outdoor art experience. The gala will feature a customized show by internationally renowned Quixotic, unlimited drinks, delicious bites, and more. Must be 21+ to attend. Order your tickets here.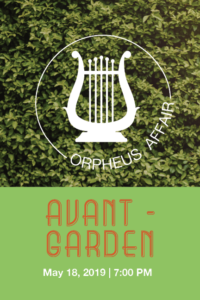 Lyric Opera's Orpheus Affair: Avant-Garden
Date: Saturday, May 18
Time: 7:00 p.m.
Location: Michael and Ginger Frost Production Arts Building
Address: 712 E. 18th St., Kansas City
Price: $50
The curtain is rising on an exciting new immersive event where you can experience opera and art as never before. Join Young Friends of the Lyric and art lovers from across Kansas City for a twilight garden party, where you'll mix and mingle, dine on delights (catered by Garozzo's), sip libations (open beer and wine bars), dance the night away in a performance space-turned-topiary oasis. Weave through a maze of pop-up opera performances and interactive art installations curated by local artists and inspired by Lyric Opera of Kansas City's 2019-2020 season.

Impressionist Master Paints KC
 Date: Friday, May 17
Time: 5:00 p.m. – 7:00 p.m.
Location: The National WWI Museum and Memorial
Address: 2 Memorial Dr., Kansas City
Price: Free with RSVP
Watch as Slava Korolenkov, a Russian master Impressionist artist, paints our city. Korolenkov will do a live painting demonstration at The National WWI Museum and Memorial. This is a free event and a wonderful opportunity for guests to watch as Korolenkov paints one of our beloved buildings. Everyone is welcome. At the end of the demo, the artist will auction off his painting of The National WWI Museum and Memorial to the highest bidder. Questions? Send an email to stacykrieg@stacykrieg.com. Or RSVP here.
 Date: Saturday, May 18
Time: 12:00 p.m. – 6:00 p.m.
Location: Valentine Neighborhood
Address: 3737 Jefferson St., Kansas City
Price: Free
Valentine Porchfest KC is a grassroots music festival that brings local musicians and bands together with the community to perform on the porches of neighbors in the Valentine neighborhood. It's located in the heart of midtown Kansas City between Broadway and Southwest Trafficway, 33rd St. to 39th St. People from all over the metro and beyond gather to enjoy local music, admire the historic architecture, eat delicious food-truck fare, and experience all that midtown has to offer.
Northland Symphony Orchestra Summer Pops Concert
Date: Sunday, May 19
Time: 7:00 p.m.
Location: Staley High School
Address: 2800 NE Shoal Creek Pkwy., North Kansas City
Price: Free
As the 52nd season comes to a close, the Northland Symphony Orchestra will perform a medley which highlights famous Hollywood film scores. Click here for details.