Marissa Gencarelli may not be a chef per se. Instead she thinks of herself as a "food explorer who owns a food business," she says. The Sonora, Mexico, native launched the well-received Yoli Tortilleria with her husband, Mark, in 2017 in the Westside neighborhood at 17th and Jefferson Streets.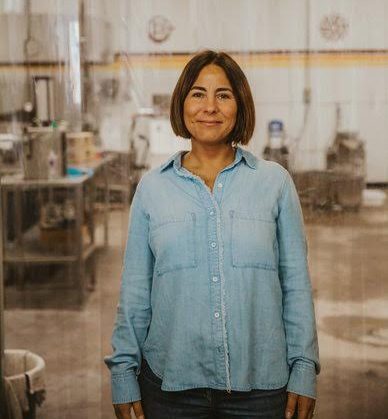 Given her penchant as a foodie with a fondness for dining out, we wanted to find out how she (and her family) adapted during the pandemic and, more importantly, we wanted a rundown of some of her favorite meals of 2020. "Sharing a meal gathered with friends is one of my favorite ways to spend time, but 2020 had a different plan for us," she says. "My favorite is to now order from places that I previously thought as a dine-in only experience and instead do carryout. There were several new places that opened and have become fast favorites."
Here are some of Gencarelli's most memorable meals:

Corvino
There are multiple ways to experience Corvino that perhaps you couldn't imagine prior to the pandemic. In person—take good friends, family, or even impress clients with all the social-distancing and Covid protocols they've put in place. (Great date place, too!) One of my favorites is to just walk to the bar, order oysters and maybe even splurge on the short rib steak.
During the pandemic, however, we ordered carryout for the first time. Watching my 3-year-old devour chef Corvino's seaweed donuts and house fries was pretty memorable. The menu is very sharable, and the big bonus is to order cocktails or wine to go. (I chose Field Recordings Pet Nat.) It made us feel as if we were having an amazing picnic somewhere remote.
My personal favorites right now are the steak tartare, which is beautifully executed, and the pumpernickel crackers, which dreams are made of. Their scallop aguachile with paw paw is so fresh and inventive. And, for the kids, seaweed donuts, fries, fried chicken and chocolate chip cookies are a must.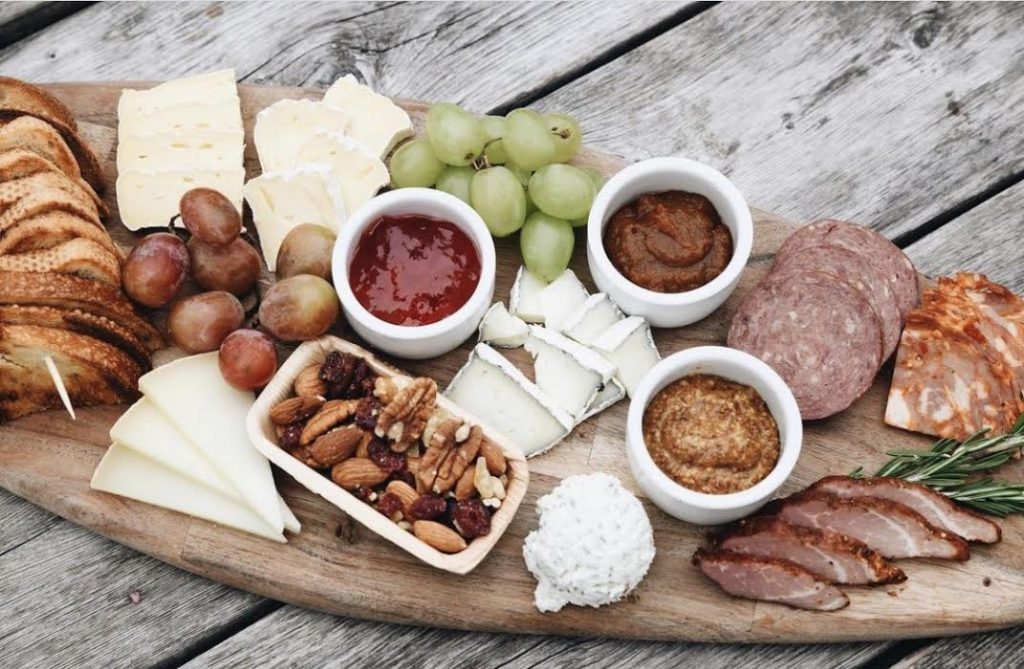 Green Dirt Farm Creamery
It was beautiful fall day when we went apple picking. Next stop? Green Dirt Farm Creamery. While lines can be long, they move really fast and there is plenty of outdoor seating. We get a cheese board, grilled cheese sandwiches and wine. It's not every day you experience pure enjoyment by doing nothing but eating cheese. The backdrop couldn't be any more charming. I highly recommend on a sunny day.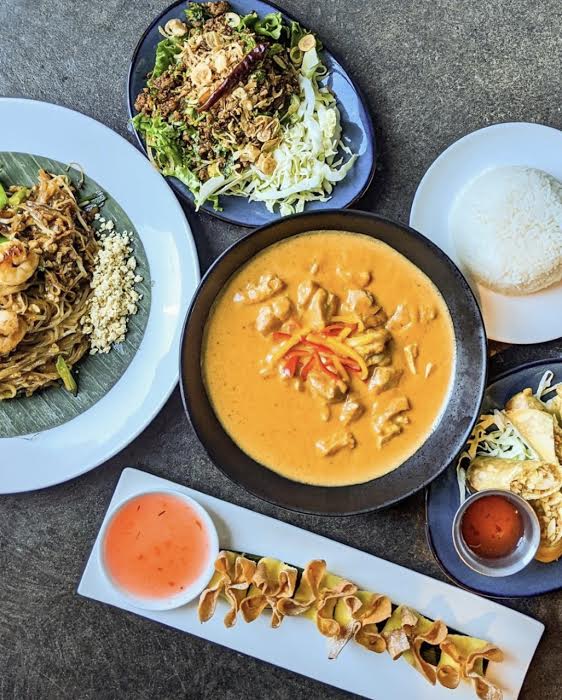 Waldo Thai
I'm the most boring food person when it comes to Thai food because I like Pad Thai (hot) with whatever protein. Then along came Pam Liberda, who shifted how we experience Thai food in KC. She doesn't know this, but I was already a big fan when she gave me (and my corporate colleagues) life when she was working at the Cerner Innovations Cafeteria. (I was based at another campus and I'd work from the café just so I could eat her food.)
The best way to get out of your comfort zone at Waldo Thai? Order a family meal, which has made me adventurous. All the family meals she offers are worth the risk. I was delighted with each of the options. Now my favorite is Panang Gai (coconut peanut panang curry with chicken and sweet pepper). It's like a warm hug you don't want to let go.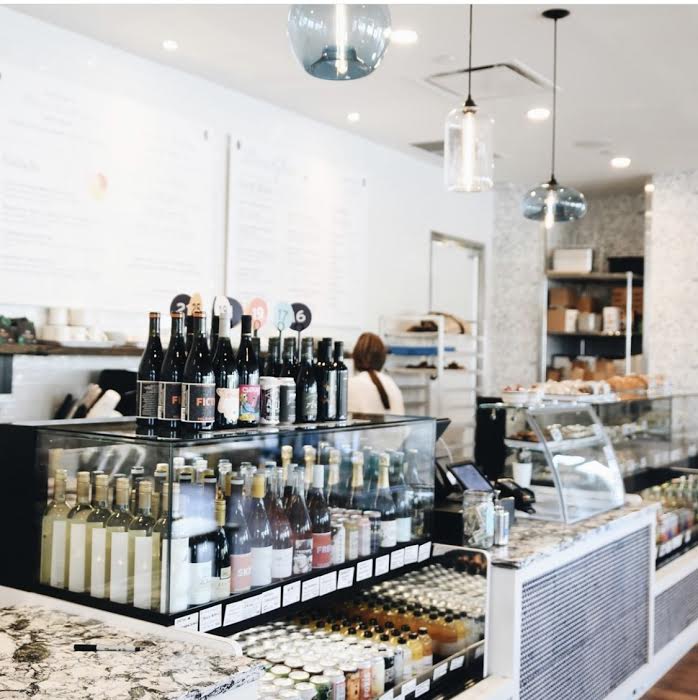 The Market at Meadowbrook
The Market at Meadowbrook is a casual spot where food is anything but ordinary. Seasonal ingredients make for amazing sandwiches, salads, and soups. (Oh, and incredible pastries.) My favorite part is all the local, gourmet products they carry.
My first time visiting was a mere accident while trying to bribe my daughter to leave the nearby playground by getting her a cookie. We came for the cookie and I stayed for the wine. Yes, did I omit that they sell wine and beer? Their sandwich Moonlight in Vermont—with layers of smoked turkey with apple butter and Vermont cheddar—is the perfect meal or late snack. Not sure if it's the beautiful, surrounding park or the fact it's part of the hotel, but when you enter, it's like you've gone on a mini-vacation.

Happy Gillis
One of my favorite places in KC to brunch! My only semi-day off is Sunday and comfort is the name of the game here. We don't mind waiting at all because we know we'll be rewarded. When we get to the counter, no family member is allowed to order what the other is having. (It's called the strategic food-sharing system). Also, for good measure, we order a full order of biscuits and gravy and cookies for dessert because it's brunch. My favorite remains the kale Caesar salad with a Bloody Mary.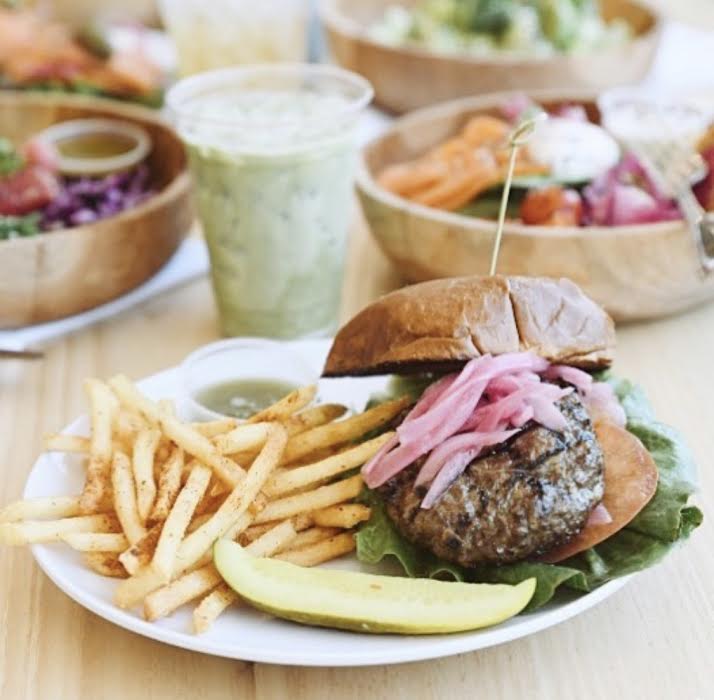 Billie's Grocery
2020 brought us some new places, and Billie's is my favorite lunch spot these days. You walk in and immediately forget the bustling midtown streets. Its airy design is calming. You'll have to go more than once to try everything, but there are days that I'm delighted with their sauteed Caesar. Other times I order their carnitas burrito or grass-fed burger while drinking Dram CBD sparkling water.