Ordering In Never Tasted So Good
This Thanksgiving is going to be one for the record books—likely only a small family get-together or maybe a meal with your quaran-team. Regardless, you can still enjoy a traditional (or not-so-traditional) dinner. Check out these local bistros, butcher shops, and bakeries eager to help you indulge on Turkey Day.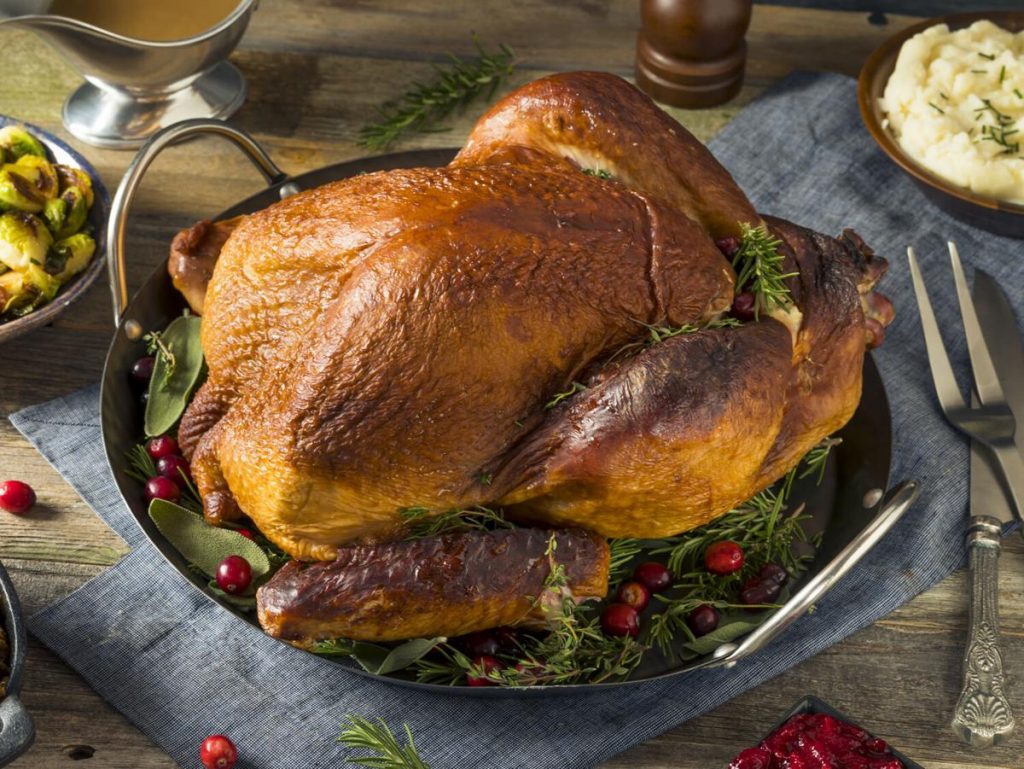 Succotash
Shout out to owner Beth Barden and her vegan, gluten-free, and paleo Thanksgiving options. In addition to Barden's fan favorites, such as slow-roasted herbed turkey breast, maple brown-sugar spiral ham, mashed potatoes with farm-fresh butter, traditional herb stuffing, and homemade green-bean casserole, you can sub out her keto-friendly cauliflower mash, mushroom-miso-kale stuffed seasonal squash, vegan mashed potatoes, gluten-free stuffing or vegan brown butter-pecan twice-baked sweet potatoes. (Plus, her desserts have desserts. Just ask.)
Affäre
Located in the Crossroads, the upscale German bistro is pulling out all the stops with their gourmet culinary offerings—including your choice of sage roasted farm turkey with apple-celery stuffing and velvet cream sauce, prime rib au jus, with squash-bread dumplings or grilled salmon filet with cranberry beurre blanc and vegetable wild rice. ($65 per person)
Dine-in or curbside, their side dishes that can't be beat—including cream sweet carrots with tarragon, Brussels sprouts with bacon or (mic drop!) their spinach and bleu cheese käsespätzle. (Think German mac and cheese.) And if you're a wine aficionado, Affäre's exclusive vino flight is a perfect addition. Open 12 – 8 p.m. on Thanksgiving Day.
The Town Company
They may be the newest players in town, but The Town Company is ready to help you wax nostalgic this Thanksgiving. Enjoy charcoal grilled turkey with confit leg and gravy or smoked king oyster mushroom with acorn squash. Share hearth roasted sausage and sage stuffing or buttermilk whipped potatoes. Don't miss chef Helen Jo's decadent apple cider custard pie or chocolate pecan praline pie. ($55 per person.)
hyatt.com/en-US/hotel/missouri/hotel-kansas-city/mcijd/dining
Third Street Social
Located in downtown Lee's Summit, the eatery is offering a special Thanksgiving Day dine-in menu and a Thanksgiving Family Meal Pack To-Go on Thanksgiving Day from 10 a.m.- 3 p.m.
The Thanksgiving Family Meal Pack to-go feed four to five people for $95 and includes ham, turkey, green beans, dressing, cranberry sauce, mashed potatoes, gravy, rolls, and a house salad with vinaigrette and ranch dressings. (You can add on everything from mac and cheese to Brussels sprouts to cheesy corn, plus a bevy of desserts.)
La Bodega
Oh, snap! La Bodega has some beautiful charcuterie boards, delicious take-and-bake side dishes, cocktails, and desserts will please the whole family this Thanksgiving. (Did we mention their charcuterie boards?) Pre-orders must be placed by November 24 and picked up on November 25 between 3 – 5 p.m.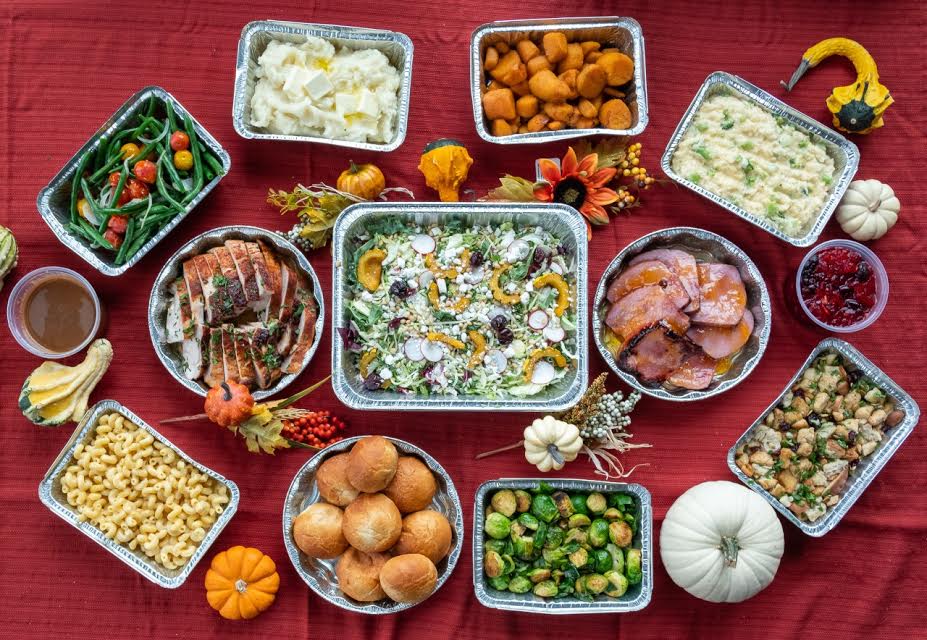 Kravin' It KC
Helmed by chef Bradley Gilmore, Kravin' It KC is the new kid on the catering block. Gilmore and crew are breaking out a gourmet Thanksgiving package for $135 (serves four – six) delivered free on November 25 straight to your door—complete with easy reheating instructions. (They had us at free delivery.)
Packages include herb roasted turkey breast, bourbon mustard glaze ham, salad, rolls, cranberry relish and your choice of three sides. Choose from brioche stuffing, mashed potatoes with gravy, mac & cheese, candied sweet potatoes, broccoli cheese & rice casserole, green beans, or roasted Brussels sprouts. All items are also available à la carte! Now that is something to be thankful for! Order by November 21st at 913-557-0300.
The Savoy
Just last week we featured the recipe for chef Joe West's famous sweet and sour roasted carrots, so clearly, we're fans of The Savoy.
This year, their meal includes organic herb-roasted turkey breast and confit leg meat, whipped potatoes with chive butter, turkey gravy, sweet and sour carrots (!!!), caramelized Brussels sprouts with pancetta and apple butter, herbed stuffing, cranberry sauce, and a field greens salad with honey-Dijon vinaigrette. (Plus, rolls!) Orders must be placed by November 23 with pickup November 25 from 4 to 10 p.m. only.
Avenues Bistro
Avenues Bistro says you better order early—as the restaurant typically sells out every year. Dinner includes eight pounds of sliced oven-roasted turkey, mashed potatoes and gravy, their yummy brioche stuffing soufflé, green-bean casserole, Mexican street corn and salad. (And, yes, a dozen dinner rolls and butter are included.)
We also counted five different desserts from which to choose. ($169) Reserve your order online by Nov. 22 (or before they're sold out). Orders can be picked up on Thanksgiving Day from 9:30 to 11 a.m.
Garozzo's Ristorante
Garozzo's is offering a full turkey dinner for $29.95 per person that includes roast turkey, stuffing, mashed potatoes and gravy, green-bean casserole, cranberry sauce, house salad, and apple or pumpkin pie. (And a whole lotta Italian bread.) Priced for two ($36) or four ($72), they'll feature the same Thanksgiving dine-in menu, except dessert.
Bristol Seafood Grill
Known for their surf and turf, Bristol's multiple locations are going traditional this year with both dine-in and family-style carryout kits (which feed four to six people) It includes roasted turkey, candied sweet potatoes, cornbread-sausage stuffing, mashed potatoes, turkey gravy, green beans with lemon-shallot butter, and pumpkin pie, plus your choice of soup and salad. (And, yes, dinner rolls are in there too!) ($175)
Your order must be placed and confirmed with a team member live; pickup is available November 25 (during regular business hours) or on Thanksgiving between 8 and 11 a.m.
Char Bar
Let's feast! Char Bar is unleashing a full Thanksgiving dinner with a smoked 12- to 13-pound turkey, pan gravy, mashed potatoes, traditional stuffing, a sweet-potato pie, cranberry chutney,  and Brussels sprouts casserole for $150 (They're also including something called dilly bread.) Orders are available for pickup at their Westport restaurant on November 25. (Heads-up, you must choose a time to pick up when ordering online.)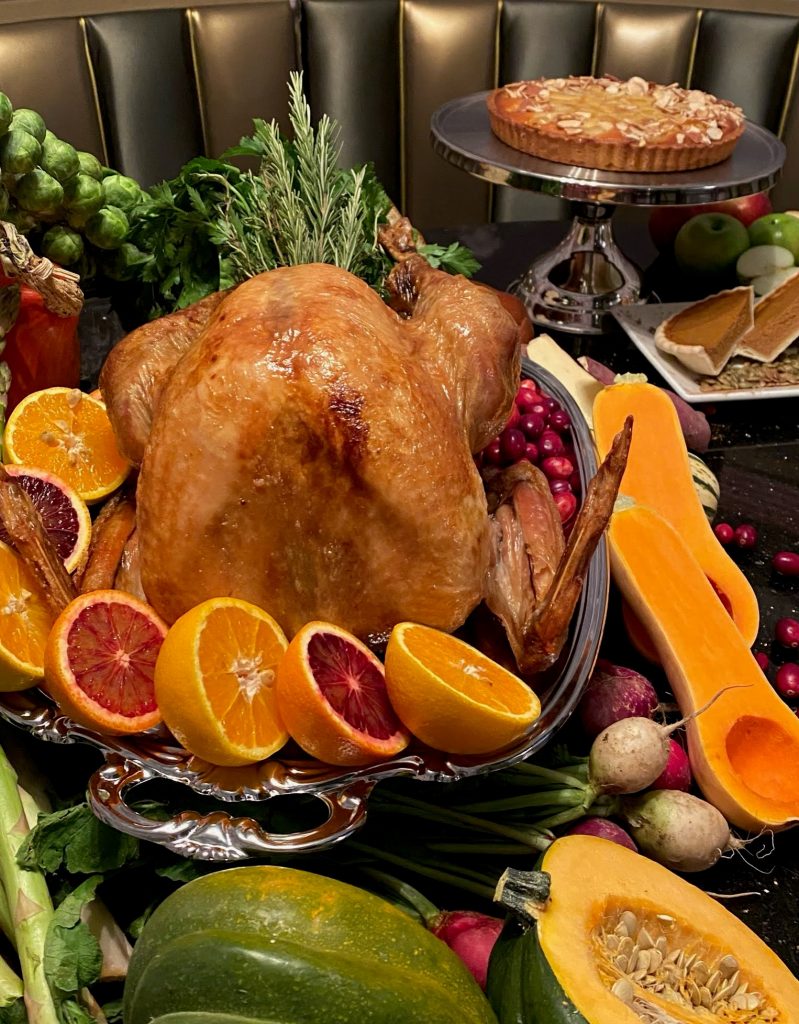 Chaz on the Plaza
Chaz on the Plaza has a full-tilt Thanksgiving feast available for however many people are at your dining table. The five-course meal is $50 per person and includes roasted butternut squash bisque, a citrus shrimp cocktail, stuffed turkey with classic holiday sides, and pumpkin pecan pie for dessert. (And rolls! All the rolls!) Place orders by phone at 816-802-2152 by November 20 for pickup on either November 24 or 25. (They're closed on Thanksgiving.)
Local Pig
Listen up, carnivores! Local Pig is making Thanksgiving a breeze with their heritage turkey ($6.35/lb) or a broad-breasted turkey ($4.35/lb) in varying sizes. Want it fuss and/or muss-free? Have it trussed, dry-rubbed, brined or hot smoked, or even order a kit to brine the bird yourself at home.
The butchery is also offering holiday hams, slow-smoked brisket, and beef Wellington. (And pie! Their homemade pieces—like cinnamon-apple-bourbon, pumpkin, and French silk—are to die for.) Order online and select a pickup day between November 21 and November 25th.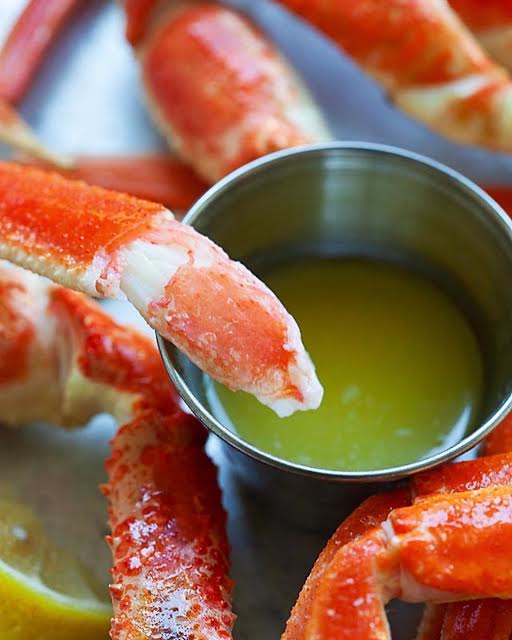 Mass St. Fish House
Reimagine 2020 Thanksgiving dinner and opt for fresh, sustainably sourced seafood packages to-go from Mass St. Fish House. Executive chef Michael Stornello's offerings include an old-fashioned crab boil ($65); crab lover's holiday ($155) including two pounds each of Alaskan golden king crab, Dungeness crab and snow crab or the famous "Cobble" shrimp cocktail ($25) with 1 pound of all-natural, certified fair-trade prawns. Plenty of other seafood-centric specials too! Order by 5 p.m. Friday, November 20 and pickup from 2 – 7 p.m. November 26.
French Market
Oui, oui! Prairie Village's French Market has prepared holiday meals to go. A full Thanksgiving dinner, featuring sliced Amish turkey breast, mashed potatoes, house gravy, honey-glazed roasted carrots, sage-celery stuffing, green beans, and cranberry-orange compote, is available for $25 per person. (And they have plenty of side dishes and desserts if you just need some accoutrements.) Orders must be placed before 6 p.m. on November 23. Pickup is available November 24 and 25th.
Hereford House
When in doubt, dine-in or out is Hereford House's motto this year. For $164, their curbside menu consists of turkey, prime rib, cranberry sauce, a house salad, gravy, au jus, creamy horseradish and your pick of a few desserts and sides.
Choose between classic pumpkin pie or carrot cake, and your choice of three quart-size sides of green bean casserole, cornbread stuffing, mashed potatoes, fire-roasted sweet corn or mashed sweet potatoes. (Yup, bread and butter included!) Place orders by 8 p.m. on November 24th with pickup on November 25 or Thanksgiving Day.
The Market at Meadowbrook
Prairie Village's newest eatery wants to give you a break this year. They're offering full-cooked meals ready to be reheated. Meals are $25 per person and include maple-brined turkey breast, whipped potatoes, pan gravy, cornbread stuffing, honey-glazed turnips, Brussels sprouts hash with shallot and garlic, and cranberry-pear compote. (More sides and desserts are available a la carte.)
Place your order in person or by phone placed by 6 p.m. on November 23rd. Pickup is available November 24th and 25th.
Rye
Let's face it, you might be full after dinner, but everybody expects a killer dessert. Good thing Rye is offering their handcrafted signature pies, such as Dutch apple pie with spiced brown-sugar streusel, pumpkin pie topped with whipped cream, banana cream pie with bittersweet-chocolate crust and the fan favorite, lemon meringue pie. (Our vote? Get the MoKan pie—featuring pecans and walnuts baked in butter, sugar and bourbon.) Order by November 22 and schedule a pickup through November 25.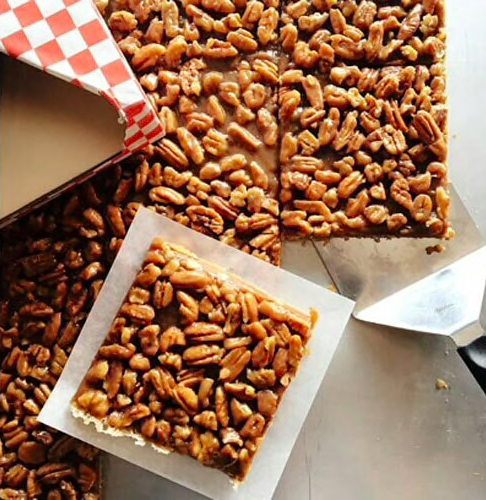 The Upper Crust Pie Bakery
Listen, you'll never find a pie as good as Upper Crust. Or cookies. Or their famous salted caramel-pecan bars. They're accepting orders now. Get on it! Pickup will be November 25 from 10 a.m. to 2 p.m.
MetropolitanKC
Since Thanksgiving is all about gluttony, MetropolitanKC is bringing back its popular Thanksgiving Day feast. Instead of its usual buffet-style dinner, this year MetropolitanKC is offering a bottomless three-course plated dinner on Thanksgiving Day from 11 a.m. – 3 p.m.
In addition, guests who wish to enjoy Thanksgiving dinner at home without the hassle of cooking can order a traditional turkey dinner package to-go and pick-up curbside on Thanksgiving Day from 9 a.m. – Noon. Guests can order the meal to-go in advance on the website.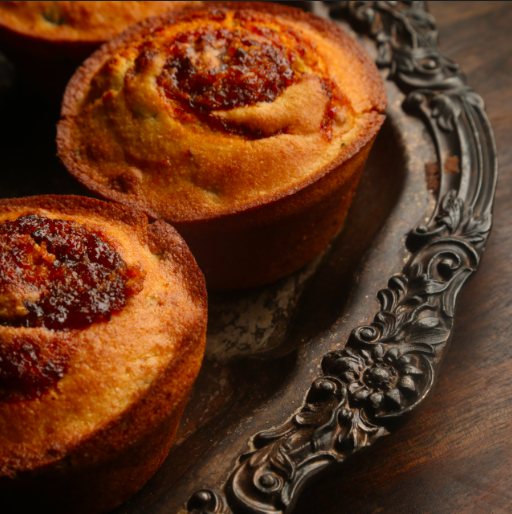 The Russell
This Thanksgiving, you set the table and The Russell will do the cooking. The well-known catering gurus have a wide assortment from which to choose on Thanksgiving including smoked turkey, fire table stuffing, sweet potatoes, bacon and Brussels—and the list goes on and on. (PS. Order. The. Jalapeno. Corn. Muffins.)
Don't miss their selection of delicious pies and wine flights too. Pre-orders only. Pick-up is available thru November 25th only.