If you still think of Champagne and sparkling wine like your grandmother's fine china, something only brought out once a year to celebrate a special occasion, then perhaps you need to rethink your position on what could be one of the most versatile wines we have at our fingertips.  
Sparkling wines today are being produced all over the globe, and yet you can also find domestic sparklers made right here at home that twinkle just as bright as any import. Bottles of bubbly are being produced for every preference and palate, from fruity and sweet to bone dry. They also come in a wide variety of colors, (white, yellow, orange, pink and yes, even red) and excellent bottles are available at a variety of price points. Perhaps the best secret factoid about Champagne and sparklers that every sommelier knows is that they are the perfect thing to pair with any food you put with it. Charcuterie and cheese? Yes. Caesar salad? Yes. Steak and frites? Yes. Crème brulee? Yes. By itself? Well, of course, sweetie darling. 
If these points aren't enough to convince you, then let's talk about the emotional lift you get from drinking sparkling wines. Just listening to the sound of a cork popping off the top of a bottle of Champagne or bubbles has the power to lift moods. (No, literally, it has been proven that drinking sparkling wine or Champagne will get you feeling good faster than non-sparkling wines.) It can make any random Monday suddenly feel much more meaningful. Sparkling wines are also incurably happy whether enjoyed alone or with friends and family.
From a tactile standpoint, drinking a glass of sparkling wine is a seduction of all your senses. You stare at your flute as the silver bubbles slide from the bottom to the top in an endlessly slow, even rhythm as they shoot up to the surface and spill out across your glass before they finally, gently, drift away like tiny shooting stars, here and then gone. As you lift the glass to your lips, the bubbles tickle your nose first, then your mouth, caressing your tongue and finally your throat. You savor every single flavor of the cool, crisp liquid in your mouth as it teases your palate before slipping away, and another sip is urgently needed. See? Told you. Sexy stuff.  
As you prepare to gather with your special someone, loved ones or friends here at the end of another year, why not meet them for a glass of Champagne or sparkling wine. These ten spots will allow you to  sparkle and shine with a glass of bubbly in hand.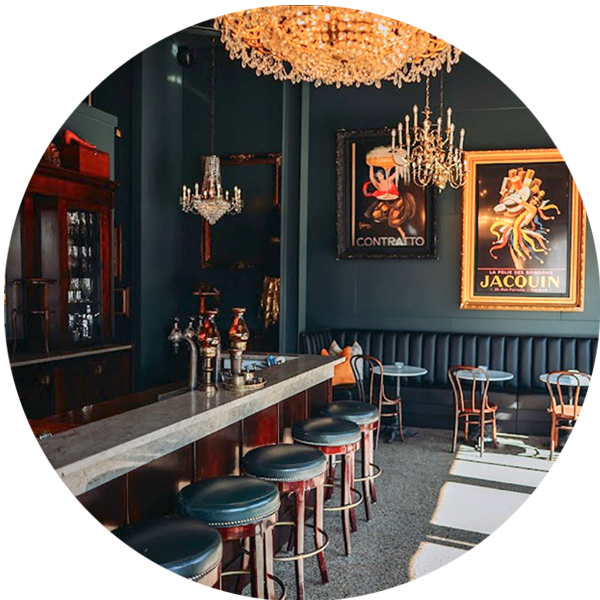 Where else would you grab a glass of tiny bubbles other than a tiny bar? Cheval on Main proudly fits that bill, with no more than 35 seats available and no reservations needed. Located on Main Street, across the street from owner Heather White's French-inspired café, Tailleur, this intimate and stylish cocktail lounge offers a few select sparklers to choose from on their list, but with a large colorful print of the wine label hanging on the wall, showing a woman holding a glass of sparkling wine over her head, a glass of the Italian Contratto Millesimato, Pas Dosé, 2016, is not only highly suggested, but highly recommended.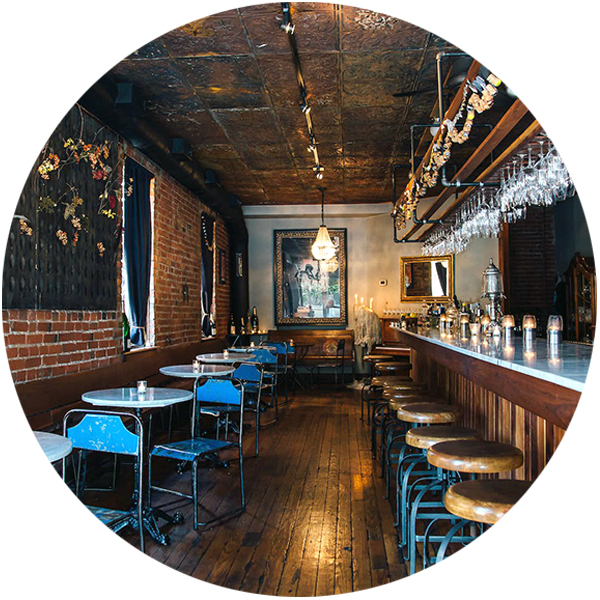 Ça Va 
With a champagne bar in your own backyard that was recognized this year as one of the top ten spots in the country to order a glass of bubbly, you now know where to go. The Champagne Bureau that bestowed the award noted that Ça Va "specializes in grower Champagne (meaning Champagnes produced by the estate that owns the vineyards where the grapes are grown), has rustic-chic décor, and delicious French cuisine." All true! With a motto like "Champagne for the People," Ça Va demonstrates that with a serious bottle and by-the-glass list from Champagne to sparkling wines to Pét Nat, this is the place to find your sparkle.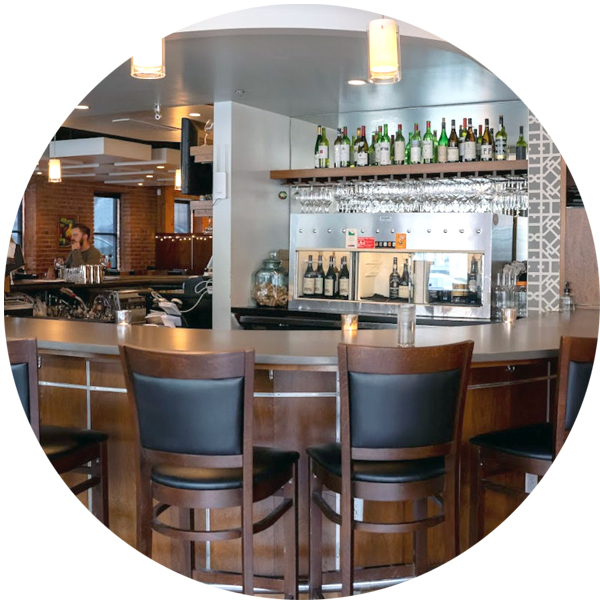 Tannin Wine Bar & Kitchen 
Approachable wine knowledge may sound like an oxymoron, but it perfectly describes the tableside manner that Barry Tunnell and his team have at Tannin. Their carefully curated wine list includes a fine list of bubbles to sip and sample. For the money, their sparkling wine flight is a great deal. You get four, two-ounce samples of each of their sparkling wines by the glass for only $24. A sparkling flight, one of their famous cheese plates, and a friend and you have all you need to celebrate the season.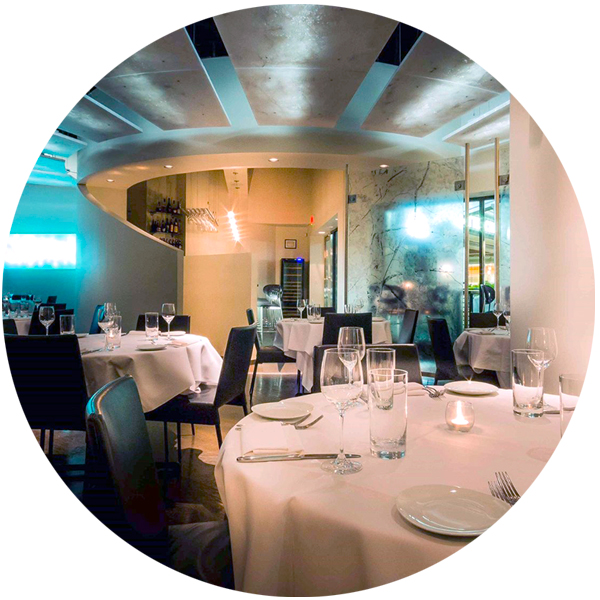 Story 
After being named a James Beard Award semifinalist for Best Chef: Midwest this year, chef Carl Thorne-Thomsen and his wife and business partner, Susan, are having a good year at their Prairie Village restaurant, Story. Their wine list also continues its own winning streak with Wine Spectator bestowing their Best of Award for Excellence for the eighth year in a row. With over 2,000 bottles of wine in inventory, their list of sparkling wines is clearly worth celebrating. There is no better place to enjoy dinner and a bottle of bubbles right now.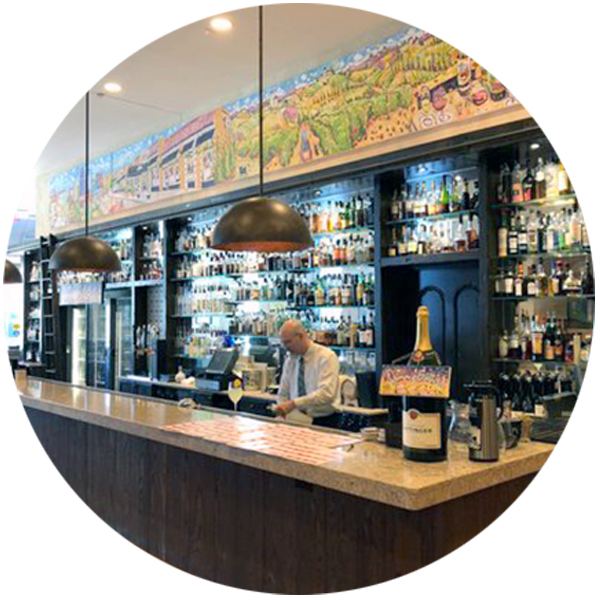 JJ's Restaurant 
For 33 years, JJ's Restaurant has enjoyed a fine reputation for having an excellent wine list, with a convivial wine bar where professionals gather after work or evening events for a glass of fine wine. With longtime GM and wine director, Matt Nichols, managing the wine list that now consists of 11,000 bottles and 1,200 labels with over 30 wines available by the glass, finding an excellent glass of Champagne or sparkling wine only takes a few quick questions to find the perfect bottle that will fit the bill. Toast the holidays together, then walk to the Country Club Plaza to see the lights before they are gone.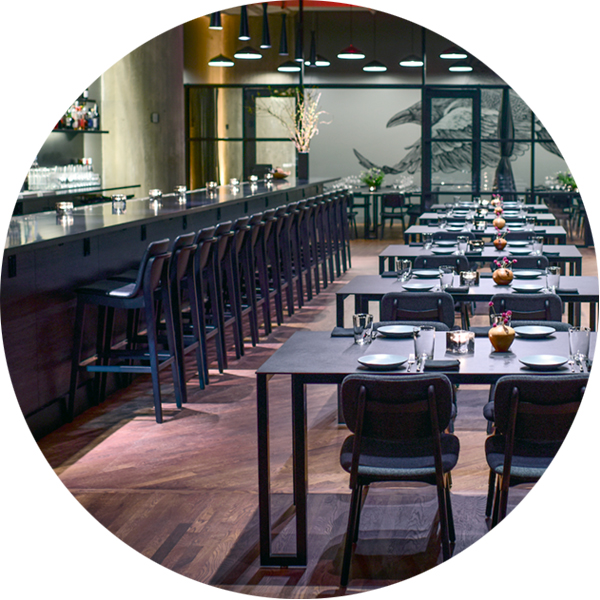 Corvino Supper Club & Tasting Room
With chef Michael Corvino managing the kitchen, and his business partner and wife, Christina, managing almost everything else, including their stellar wine program, you can see how this power couple divides and conquers at Corvino Supper Club & Tasting Room. As a certified sommelier, Christina is the wine director for the restaurant with a personal passion for sparkling wines, so who better to consult when you are ready to celebrate with a series of small plates from the Supper Club menu and a glass or two of bubbles? Her bottle list has an excellent selection of French Champagnes and a few Italian and Spanish sparklers for good measure.
The Antler Room
The Antler Room is the kind of restaurant that continually surprises and delights with a menu from chef Nick Goellner and his team that is always changing with inspiring and interesting seasonal dishes. It takes a nimble wine list to keep up with a menu that innovative, but it is a challenge that Leslie Newsam Goellner has taken head on, with a wine list featuring a mix of Old World and New World grape varietals. With 17 bottles of sparkling wine on the list, many from organic producers, and nine bottles of French Champagne to choose from, you might want to grab a seat at the bar and ask Leslie where you should start—both for dinner and to drink.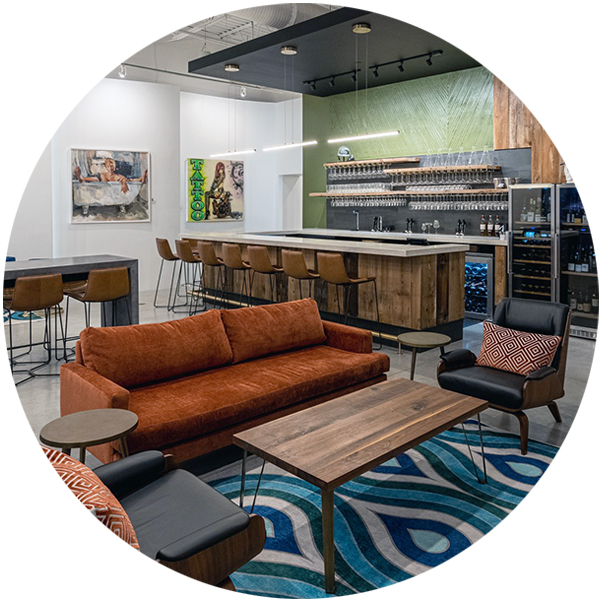 Wine Bunker
Travis Wallace and his wife, Kathy Richman Wallace, opened their casual wine lounge in the Prairiefire entertainment center in Leawood in 2020, after Covid accelerated their retirement plans. Wine Bunker, named after their own wine cellar in their basement at home, is a fun and interactive place to taste a lot of different wines in one spot. They have wines by the glass, flight, or bottle pulled from their selection of over 200 wines you can try. Stop in and explore their list of wine flights, taking a deep dive when you come to their sparkling wines and Champagne options. The wine and the conversation will keep you buzzing all night.
Westport Café
Westport Café has been in excellent hands since co-owners Kevin Mouhot, who manages the front of the house and bar, and Romain Monnoyeur, who serves as executive chef, bought into the business six years ago. With a menu of French bistro favorites, a central location in Westport and a kitchen that stays open later than most, you can always count on finding good food and drink inside their doors. Of course, you'll also find a glass of French bubbles to enjoy with your meal here, but if you are planning to share, why not order a bottle of bubbles from Monnoyeur's grandfather's winery, Domaine Desire Petit, Cremant du Jura Blanc, made from 100-percent Chardonnay grapes and produced at his home in Jura, France.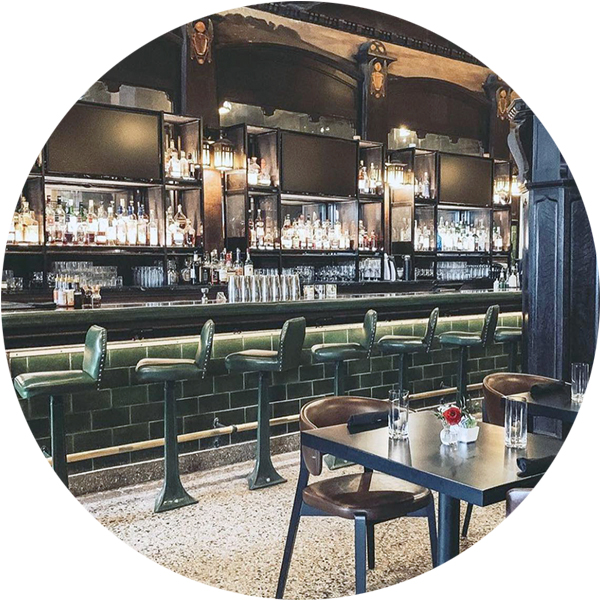 The Savoy at 21c Hotel
When you are ready to "drink pink," it is time to head over to the historic dining room at The Savoy restaurant inside the 21c Hotel and check out their impressive selection of sparkling rosé by the bottle curated by Taylor Tantillo, the director of food and beverage. With executive chef Brandon Brumback and team in the kitchen, you could start with chilled blue point oysters and then move to Maine lobster thermidor for dinner, or you could be a rebel and order the Savoy "smash" burger with your pink bubbles at the bar. With a lobby full of interesting art to explore, and hotel rooms at the ready, you could come for dinner or just make a weekend of it.