Each season in Kansas City ushers in fresh flavors that take the spotlight on local menus throughout the metro. While every new seasonal menu offers a nice change of pace, we're partial to the flavors featured on fall menus. Beyond pumpkin spice and apple cider, flavors of squash, rosemary, chai, sage, cinnamon, and salted caramel also prevail in seasonal dishes. 
We've scoured menus at Kansas City restaurants, bakeries, coffee shops, and bars and compiled a list of 12 fall menus and menu items to try before fall turns into winter. 
Café Corazon's Fall Drink Menu
Locations at 1721 Westport Rd. and 110 Southwest Blvd. in Kansas City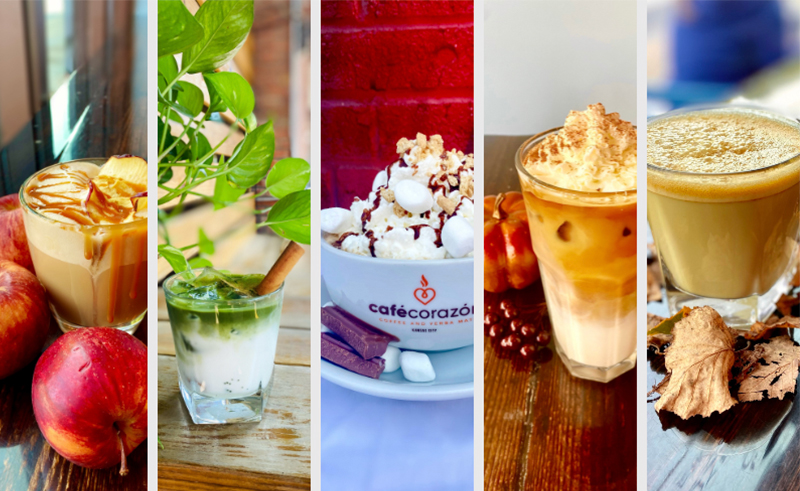 Get all your fall coffee cravings filled at Café Corazon. For apple flavors, try the dulce manzanita latte. For a fall twist on the matcha tea latte, try the matchata for a mix of horchata and matcha. Or, order the tailgate s'mores mocha for that campfire feeling. Meanwhile, the pumpkin mocha blanca gives the PSL the twist you didn't know you needed, and the turmeric maple yerba latte is all the spices of fall in one drink.
Coast to Coast Pub's Midwest Clam Chowder
500 E 135th St., Kansas City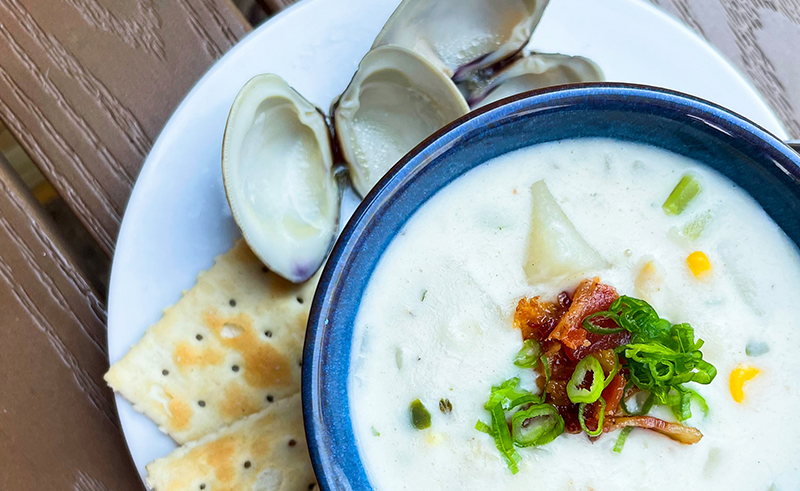 It's officially soup season, and their clam chowder won't disappoint. Made with fresh clams, this creamy clam chowder includes bacon, potatoes, roasted sweet corn, and jalapeños, offering a local flair.
Extra Virgin's French Onion Soup
1900 Main St., Kansas City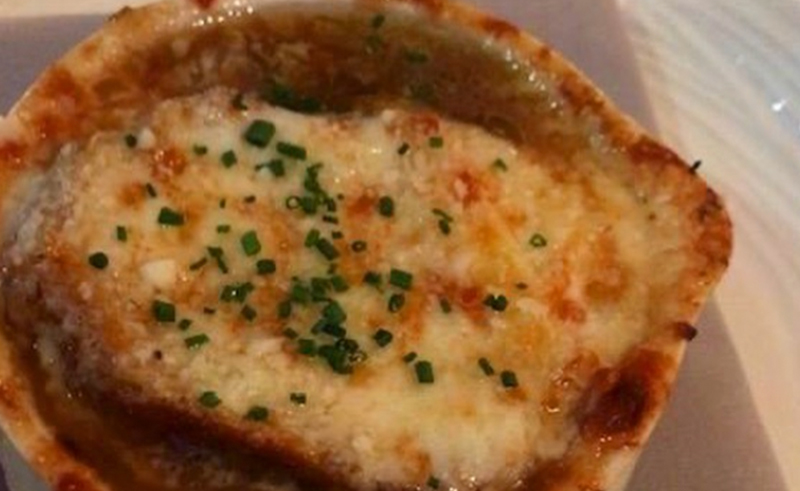 Extra Virgin's French onion soup is a lunchtime fall favorite at the IN Kansas City office. Served in a rich beef broth, with caramelized onions under a blanket of cheese and topped with fresh herbs, it's one of the best French onion soups in the city.
French Market's Spiced Date Biscuits, Apple Brioche, and Pumpkin Tea Cakes
6943 Tomahawk Rd., Prairie Village
Need fall-flavored baked goods to start your morning with? Try French Market's seasonal offerings. Made with the West Bottoms-based Marion Milling Company's spelt and all-purpose flour with chopped Medjool dates and a chai glaze, the spiced date biscuits are sweet and savory. The pumpkin tea cakes feature spiced pepitas (aka pumpkin seeds), and the apple brioche is made with in-house brioche, a vanilla pastry cream, and spiced apples and pears.
HomeGrown Kitchen's Sweet Potato Pancakes and Pumpkin French Toast
Locations at 338 W 63rd St., Kansas City and 201 S Steward Rd., Liberty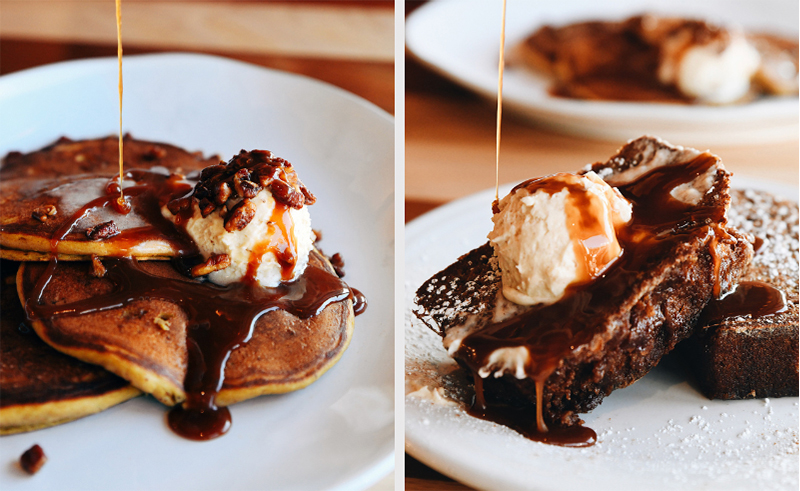 Get the perfect start to a fall morning with these seasonal breakfast favorites. HomeGrown's sweet potato pancakes were named one of the best pancakes in the U.S. by Food Network—and tennis star Serena Williams recently stopped in to try them. They come with a cream cheese glaze, candied pecans, and a buttermilk caramel sauce. If pumpkin is more your flavor, order the pumpkin French toast—a battered and griddled slice of pumpkin bread.
J. Rieger & Co.'s The Quick Hit and Back Beat Fizz Cocktails
2700 Guinotte Ave., Kansas City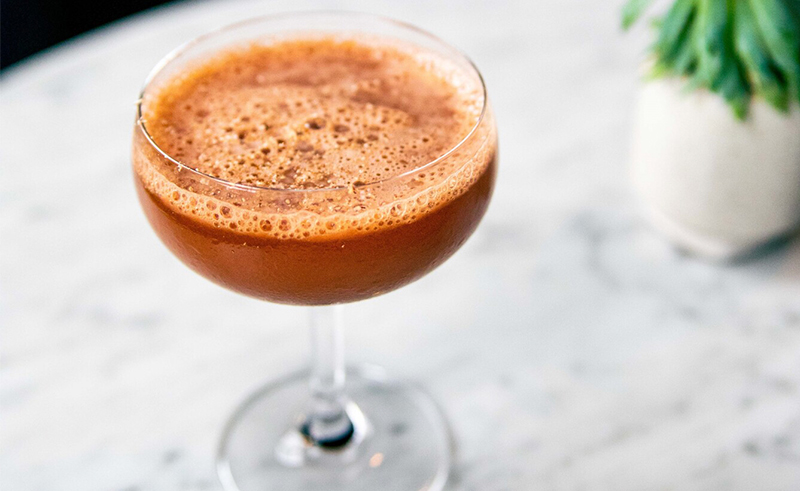 Looking to stay on theme with your next nightcap? J. Rieger has several fall cocktails to choose from. At their Monogram Lounge, order The Quick Hit, made with Kansas City Whiskey, Caffe Amaro, almond, cinnamon, and Thou Mayest cold brew. At J. Rieger's Hey! Hey! Club, order the Back Beat Fizz, featuring Bronson's Milk Punch, Madeira, French aperitif, sparkling rosé, and green apple. 
KC Bier Co.'s Festbier and Äpfel Cider
310 W 79th St., Kansas City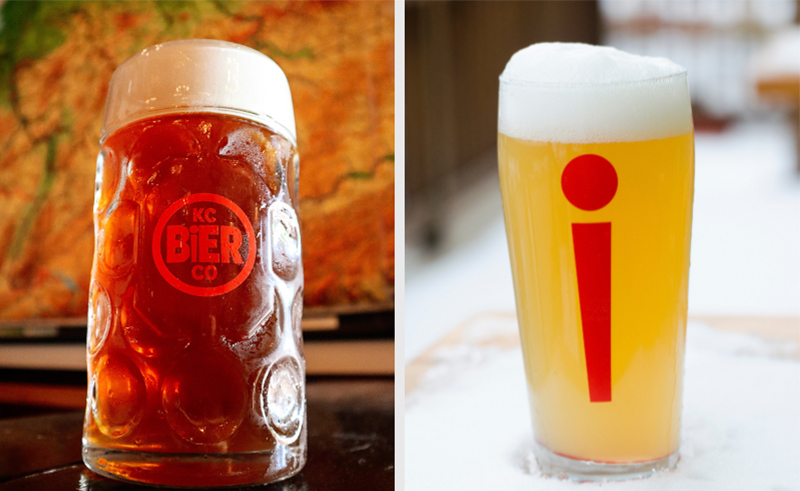 When it comes to beer, you can't get more fall than German-style Oktoberfest varieties. All the beers on tap at KC Bier Co. are brewed in the traditional German style, and the Festbier and Äpfel Cider particularly hit home this time of year. Festbier is a Vienna-style lager with notes of biscuits, caramel, and honey malt, and the Äpfel Cider is a semi-sweet hard apple cider.
Lidia's Zucca Ravioli
101 W 22nd St., Kansas City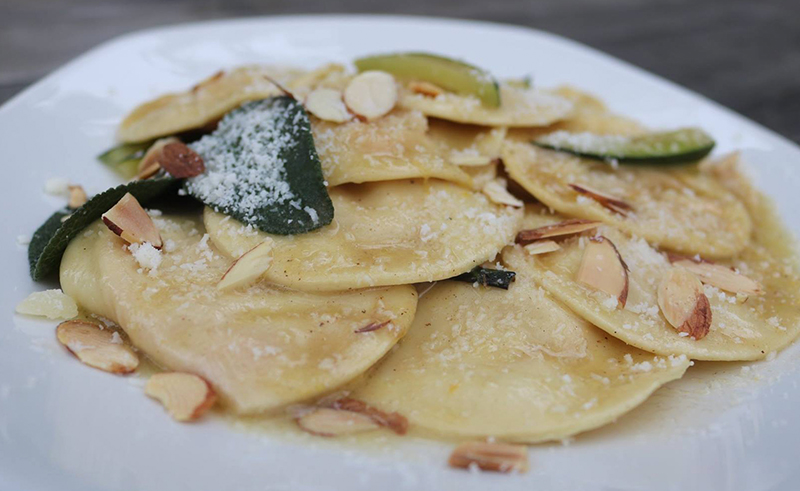 While the pasta menu changes daily at Lidia's, the Zucca Ravioli rotates in frequently during the fall months. Made with a delectable butternut squash filling and accented with sage brown butter and almonds, this fall menu item is to die for. Call ahead at 816-221-3722 to see if it's on the menu!
Seven Swan Creperie's Seasonal Crêpes
1746 Washington St., Kansas City
There are so many delicious options for sweet and savory fall crêpes at Seven Swans. If you're going the savory route we'd recommend the Vermonter, made with rosemary sausage, sharp white cheddar, and caramelized apples. Want something on the sweet side? Try the Earl Grey, made with a Hugo Earl Grey custard and topped with caramel, stroopwafel cookie, and whipped cream.
Story's Mushroom Bisque and Braised Beef Short Ribs
3921 W 69th Ter., Prairie Village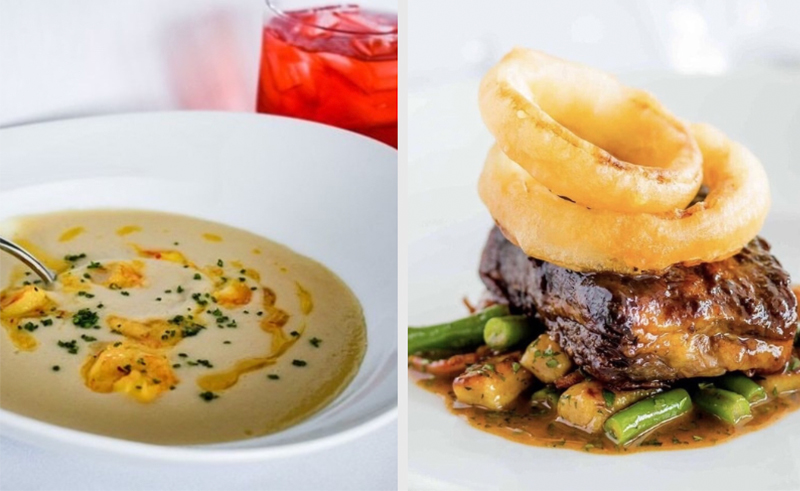 Comfort food season is here, and Story's new menu items do the trick. Start with the mushroom bisque made with oyster mushrooms, blue-cheese cream, and herbed bread crumbs. For your main meal, try the braised beef short ribs, which comes with gnocchi, green beans, bacon, and onion rings.
Summit Grill's Shrimp Campanelle Pasta
Locations at 520 W 75th St., Kansas City, 501 NE 70th St., Gladstone, and 4835 NE Lakewood Way, Lee's Summit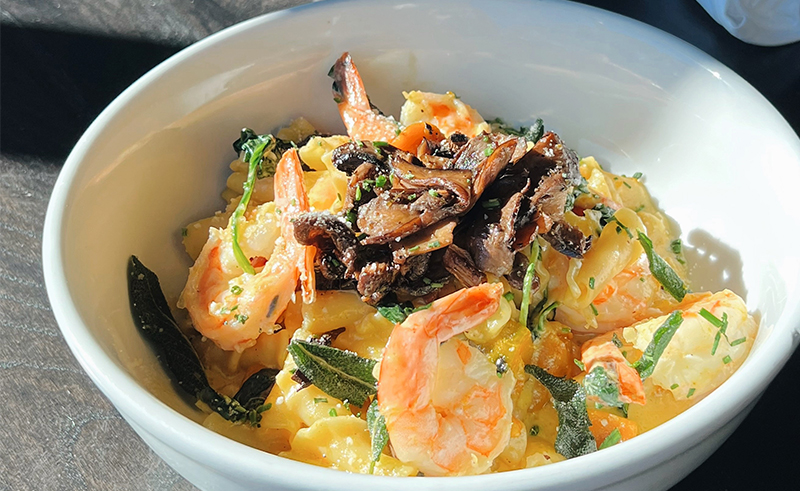 As the weather gets colder, pasta usually hits the spot. Filled with seasonal produce and flavors, the shrimp campanelle pasta features ‍kabocha squash, sherry roasted mushrooms, baby kale, brown-butter cream, and fried sage in a dish that screams autumn.
Waldo Thai's Gaeng Fuk Torng
8431 Wornall Rd., Kansas City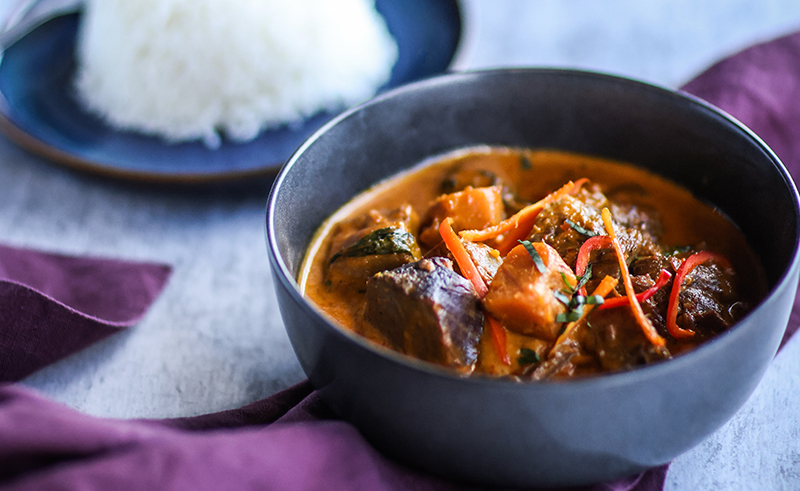 This traditional northern Thai coconut curry with a fall twist is a Kansas City favorite. It's perfect for a chilly fall night and is filled with ingredients such as braised brisket, pumpkin, Thai basil, and sweet pepper over jasmine rice.