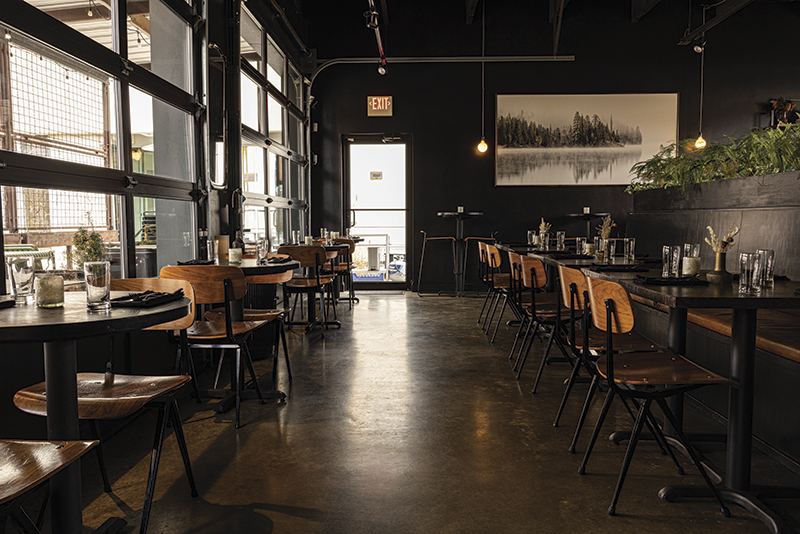 Think about stopping into a bar, and it is typically with the purpose of enjoying a drink. Whether it is a dive bar, a neighborhood watering hole, or a swanky craft cocktail establishment, we tend to go to bars to drink, and restaurants to eat. Yet, given the way liquor laws work, at least on the Missouri side of the state line, food is a necessary component for a bar to operate legally. It begs the question, what do we want and expect from bar food?
For craft cocktail bars like The Campground, their stellar drink menu has always offered a wide selection of cocktails prepared with thought and precision and a food menu that matched. Even their martini comes with a side of olives, cocktail onions, and salty potato chips for snacking. The accompaniments are meant to complement the martini, and you should take that as your hint to eat at The Campground while you drink. 
The Campground isn't so much a vibe, as it is a mood. Since 2018, when Christopher Ciesiel and Cristin Llewellyn officially opened their West Bottoms bar, which was loosely based on their stylish backyard bar, there has been a rotating list of talented chefs in the kitchen that the chef  Todd Schulte built when he first flipped the former gas station into the Genessee Royale restaurant. Years later Schulte would handpick the couple to take over his spot in the West Bottoms, and in the five years since, Ciesiel and Llewellyn have transformed their spot from just a bar into the creative interpretation of what going camping at a real campground embodies, complete with a stiff drink, and indoor and outdoor seating around communal firepits when the weather is nice.
Jeff Workman, the former executive sous chef at Corvino Supper Club & Tasting Room, is the next chef in a long line of talent who is currently placing his mark on the menu at The Campground. Craig Howard was the first chef to enter the kitchen at The Campground, and the double smash burger he created still lives on the menu to this day. He was followed by excellent talent, including chefs Zach Thompson, Dallas Conway, Sara Osborn, and Terra Rogers.
With an almost entirely new food menu on offer at The Campground, a waiter confessed that only the burger survived the latest round of menu changes. Workman and his crew of two talented chefs are turning out impressive fine-dining dishes that have all the finesse and eye-candy plating of Workman's former restaurant kitchen and should not be missed.
Although there is a curated list of natural wines and local and regional beers on the menu, when you go to The Campground, you should order a cocktail. Ciesiel started out as a self-taught barman working out of his own home bar, but he and his team of bartenders are on par with the best talent in this city. At our table we ordered the clever white negroni made with Chicago gin and The Campground's own rosé vermouth, the classic old fashioned made with overproof rye whiskey, wheat whiskey, and apple brandy, and the Electric Eel, a creative cocktail made with sesame-washed white whiskey, toasted rice and seaweed gin, grapefruit, lemon, and ginger topped with a guava-wasabi foam. The drink was delicious, perfectly balanced, light as air, bright with citrus and a little savory, too, with the seaweed and sesame.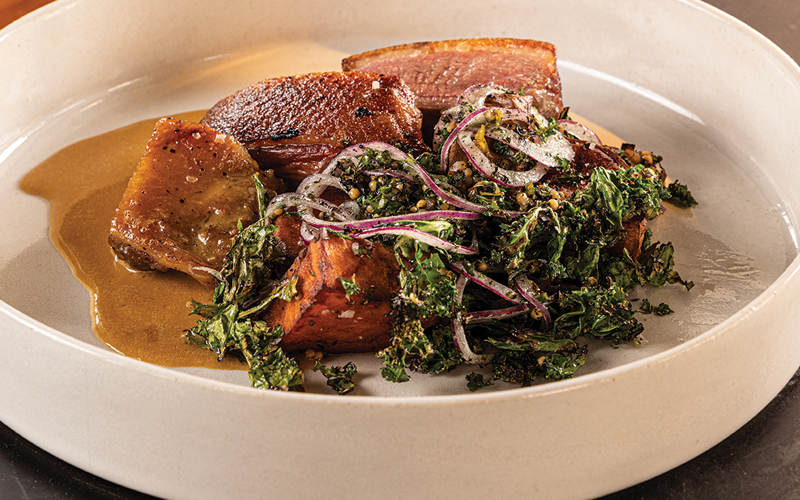 On the food menu, the venison tartare was the star of the evening's meal, chopped roughly and mixed with a creamy, smoky aioli, topped with pine nuts and bits of pickled mushrooms, and a generous handful of freshly chopped parsley. The spread was arranged in a flat-bottomed bowl and served with a crunchy rosemary cracker, and the pickled mushrooms and fresh parsley were a fresh punch of flavor that cut through the creamy chew of the raw meat. 
I sampled three different entrées including steelhead trout, the duck breast with sweet potato and kale, and the lamb cavatelli with house-made pasta tossed with a sauce made of ground lamb and sunflower seeds, decorated with dollops of creamy ricotta and a generous sprinkle of fresh mint. 
Each was delicious and unique, but the steelhead trout, which often gets confused with salmon because of the orange color and texture of its flesh, came plated crispy skin side up on paper-thin slices of potatoes and leeks swimming in a creamy butter-based sauce topped with a large spoonful of bright-orange trout roe. The silky slices of the potato and leeks served as the perfect base for the buttery sauce, and in the dark, candlelit room, a bite that included the trout roe was like a delicious pop of flavor that you couldn't see coming. 
We debated whether to end the meal with another cocktail or dessert, but ultimately, we threw caution to the wind and ordered all three desserts listed on the menu. The s'mores tart was a composed mini tart shell filled with fudgy chocolate ganache and topped with a disk of toasted marshmallow meringue. It delivered the sense memory of the beloved campground fireside tradition with each bite. I also thought the seasonal ice cream, a delicious citrus and lemongrass-y, lemon verbena-flavored sorbet, cleansed my palate with every icy, herbaceous bite that topped off my experience after delightfully consuming every bite of my incredibly rich and buttery fish dish. Such a good pairing, they should be served together. 
You may find yourself at The Campground ready for a cocktail, but with dishes that match the quality and creativity of the drinks you'll find yourself happily eating "bar food" for dinner.