When you tell people you write about food and restaurants the first question you get is: "So, what is your favorite restaurant?" I usually have two pat answers to sidestep that question, and both are 100 percent accurate. I either reply "All of them," or "The last one I ate at." I have learned that my favorite restaurant matters very little, as most people only want me to either validate their favorite restaurant or judge me for mine. As I never want to yuck someone's yum (and would like the same courtesy in return), I often find this question feels a bit loaded for me.
However, after writing about food for many years I will freely admit there are people and places I have written about that I unexpectedly end up feeling vested in their journey, they are the ones I take great pride and satisfaction seeing their continued growth and success. 
Sierra Grill in Lenexa, Kansas, is one of those places. 
I first wrote about the chef Ryan Edwards, his wife, Marichris Edwards, and his father, Kelly Edwards, in 2017 only a few months after they first opened their casual dining restaurant. With an American-made and Argentinian-inspired Grillworks wood-burning grill, Sierra Grill started out as a small restaurant serving big food—giant steaks, thick pork chops, and braised short ribs served on the bone—with sides included and a nice wine bottle list. At that time, what his restaurant delivered in terms of the quality (and quantity) of food more than made up for the lack of atmosphere at his tiny restaurant, located inside a former 50-seat Quizno's sandwich shop on the edge of an industrial park in Lenexa. 
Today, the new location for Sierra Grill is a 5,000-square-foot space located inside the Central Green Building in the new Lenexa City Center. They traded up, getting a much larger kitchen, bar, and dining room that is more than double the size of his former restaurant, and an outdoor patio that has room for another 50 seats.
Arriving at the restaurant on a Friday night, it was packed, and surprisingly loud. (You know what they say, if it's too loud, you're too old. All I can say is, point taken.) Ryan Edwards says he knows he needs to work on that. With the soaring ceilings and hard surfaces, it sounds like a playground at recess when the dining room is full. 
The restaurant was designed by Edwards and Yaeger Architecture and other than a few curtains, and a handful of local art on the wall near the host stand, the restaurant has few embellishments and is decorated quite simply. It almost looks like a larger version of his former Quizno's location with some red-brick accents against white walls and dark wood tables and chairs.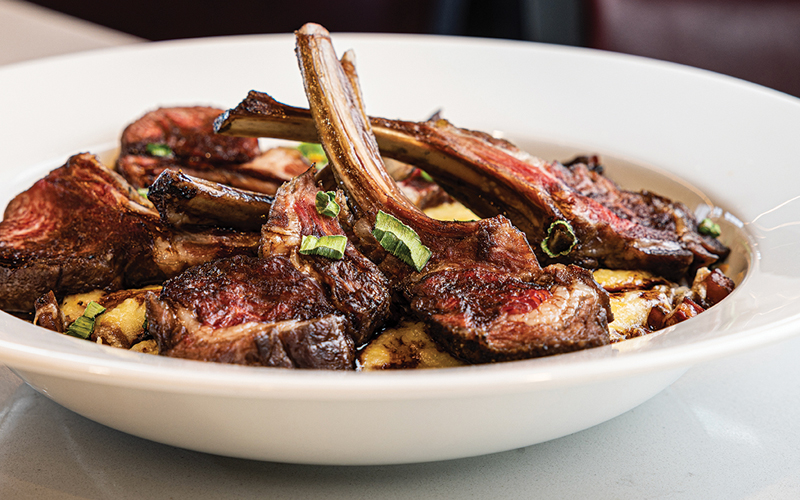 We strategically ordered seafood and fish as our appetizers, and beef for dinner. The scallop ceviche was served chopped, speckled with diced fresh green jalapeños and red peppers with bits of green onion, a citrus marinade, and an abundant amount of hot sauce on top. A spoonful of the chilled scallop ceviche on a warm, salty corn tortilla chip was that combination of soft and hard, cold and hot, that I find almost irresistible. The "fish bites" were not bites at all, but strips of cod, beer-battered and fried until crisp and golden brown, then placed in a pool of mustard aioli along with fresh lemon to squeeze on top, and truly could have served as an entrée portion for me, they were that delicious. 
Onion velouté soup arrived at the table presented in a generous shallow bowl sprinkled with green parsley for color. The silky-smooth soup had a rich, buttery onion flavor with texture and body bolstered by just a bit of potato cooked in broth and puréed into the soup. This is a signature dish from the original menu that really shouldn't be missed. 
The 16-ounce wood-fire grilled rib eye made its appearance in a cast-iron dish alongside buttermilk smashed potatoes that ate more like a chunky potato soup than smashed potatoes. The plate held a perfectly grilled mid-rare steak bathed in demi-glace and sautéed mushrooms, along with a few florets of oven-roasted broccoli. It was an impressive meal for $50 and was the most expensive entrée on the menu.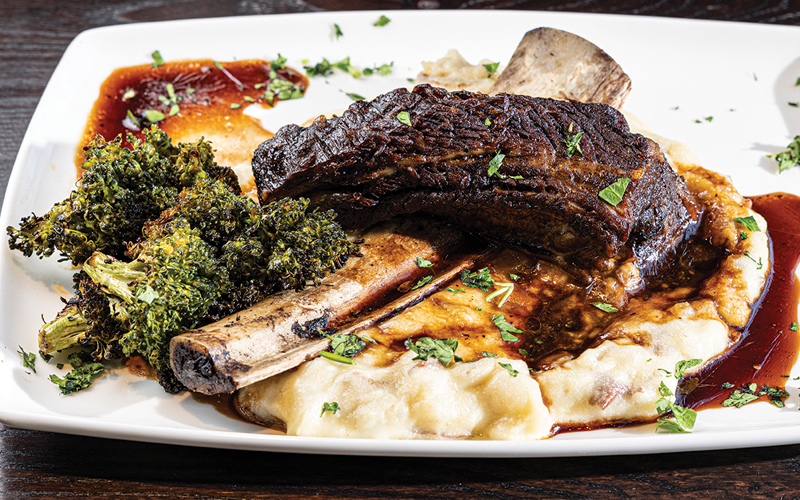 The hefty, braised-beef short rib was plated almost identically to the rib eye, the exception was the short rib came with the large bone and was presented on top of the smashed potatoes. The rich, tender meat pulled easily away from the bone with my fork. 
At the bar is a full cocktail menu with beer and wines by the glass or bottle. The wine list has a lot of California influence but offers a quality selection of bottles. We chose a big-bodied, bold red to go with our beef—Killer Drop, a nice red blend from Napa Valley that had plenty of ripe, red fruit up front and a hint of dried leather at the end. 
When Ryan Edwards came to the table for a long overdue chat at the end of our meal, he gave us a sip of the Yellowstone Barrel Select, a barrel-aged bourbon whiskey, a barrel of which he has reserved for the restaurant. The Kentucky straight bourbon whiskey was all toasted maple sweetness and smooth but was still just a little hot going down. 
We talked about the old days, the challenges and limitations of the former space, and how they were navigating the new space and still working on some of the kinks. I thought about how Sierra Grill and his barrel-aged whiskey were similar. All the ingredients are there, and it tastes fine now, it is just going to take a little time to make it perfect.