Plate has a new sister location to match its modern Italian restaurant in East Brookside, one that offers a similar classy, yet casual vibe.
Located in the Park Place shopping center in Leawood, the restaurant operates out of a former California Pizza Kitchen that has made an impressive transformation both inside and out. The restaurant has been outfitted in shades of gray, with black-and-white accents and pops of natural wood that give it an urban feel (even in the middle of the suburbs) complete with neon sign, a private dining room, and sheer curtains separating the seating areas. The only traces left of its former life is the robust pizza oven that is still in use and a nice outdoor patio.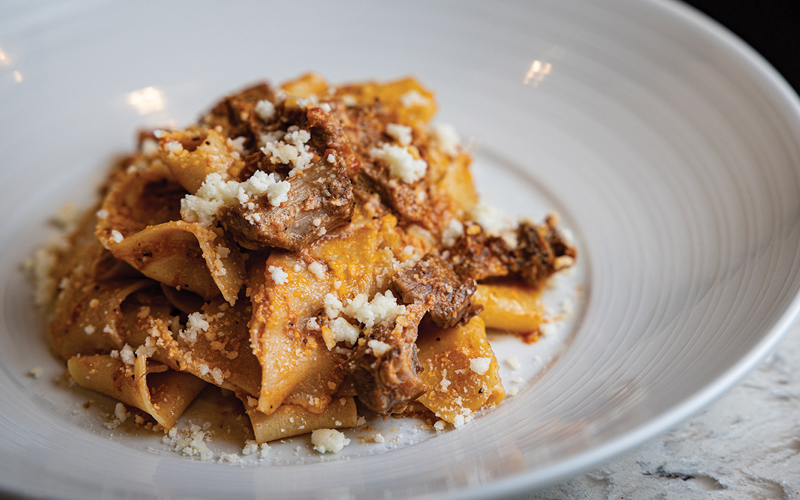 From its inception, Plate has continued to evolve with each version morphing more completely into the sleek upscale restaurant with professional service, consistent dishes, and a solid wine list that owner Christian Joseph always envisioned for his restaurant. His original location opened in 2015, a charming Brookside spot, before it closed in 2017 due to fire. The new version of the East Brookside restaurant came a few years later, opening right before the pandemic, when Joseph moved Plate into a much bigger space with a more sophisticated look and menu located only a few blocks away from the original on 63rd Street. It was a bold move at the time, as the restaurant seemed to suddenly go from an everyday option to special-occasion dining. 
Now, with the new Leawood location, designed by two local companies, Icon Architecture + Fabrication and Odimo, it feels like the right space, in the right place for this level of food and service on a night out.
Chef Jeffery Thomas, who came over from Sullivan's Steakhouse, is leading the kitchen at the Leawood location, while Bryan Wigger, a chef who has worked at several boutique hotels, is now heading up the kitchen in Brookside. With this kind of talent in both kitchens executing the same menu, the focus is not on new, novel dishes, but on getting every dish consistently delicious every time, the hallmark of any successful restaurant.
While there may be few surprises on the menu, when it comes to defining modern Italian food, Plate has a point of view—consisting of perfectly executed seasonal dishes that focus on fresh flavor, such as caprese salad, carpaccio, and an arugula salad with lemon, EVOO, and a sprinkle of Parmesan and Romano cheeses. For entrées, you can find everything from a heritage pork chop to half a roasted chicken, along with a tender filet and K.C. strip that this Cowtown hangs its hat on. There is also a nice list of vegetable sides that would also make a lovely meal all on their own. 
Then there are the comforting pasta dishes that dominate the center of the menu, such as the satisfying pappardelle pasta ribbons tossed in a rich pork shoulder ragout that is cooked low and slow with plenty of tender shredded pork throughout in a rich meaty tomato sauce spiked with wine.
In addition to the ubiquitous salmon and scallops found on many menus, there was a barramundi, or Asian sea bass, a firm white fish with a moist texture that was the real hero on the seafaring side of the menu. The fish fillet was sautéed in butter until golden brown and served on a bed of a sautéed olive and giardiniera mix. A delicious and perfectly seasoned piece of white fish that had enough fat to benefit from the pickled tang of the cured olives and other vegetables. 
As someone who loves pizza, especially in a restaurant with a good pizza oven, it was hard to not order any of the pizzettes on the menu, but with dessert still in my sights I decided to plan another trip to try their popular lunch and happy-hour pies.
Returning to Plate after a recent stint as the executive pastry chef at Verbena is the talented Nikki Vavra, who has been put in charge of training the pastry teams at both locations on how to make both the signature breads and desserts on offer at Plate.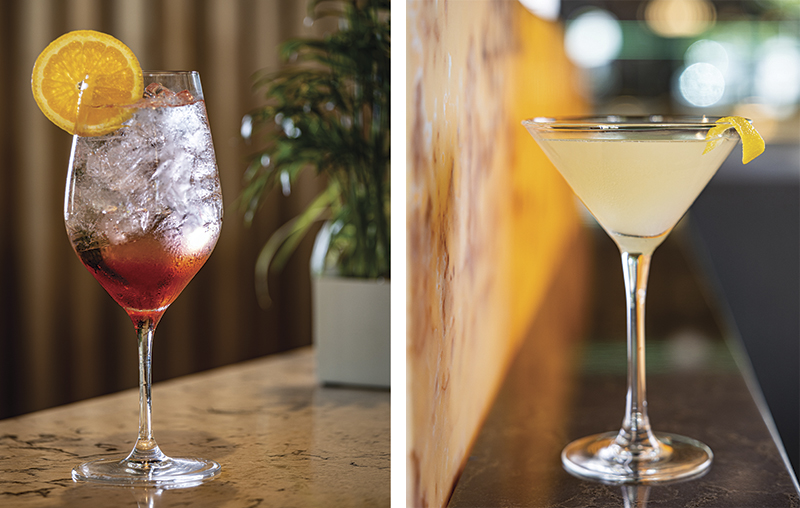 Having enjoyed her desserts at Plate in Brookside before, almost to the exclusion of everything else I ate, I was delighted when her signature chocolate bomb and lemon ice cream sandwich both hit the table. The rich chocolate bomb had a hard chocolate shell filled with whipped chocolate mousse, a dollop of raspberry jam, and dense chocolate flourless cake ball sitting on chocolate "dirt" and a lacy chocolate brittle. In contrast, the light and bright lemon ice cream with a chewy lemon cookie that had the texture of a French macaron was like my palate cleanser for the chocolate bomb. My spoon kept going from one dish to the other. With an excellent pastry chef in the house this is not a place to skip dessert. 
The beverage program at Plate is built for happy hour, with a large horseshoe-shaped bar made for friendly conversations over small plates and an Aperol Spritz or any of the cocktails on the curated menu. The wine list is clearly a passion for Joseph, who has worked for years to build it up to where he wants it with Italy, France, and California wines dominating the menu. Available by the glass or bottle, you can celebrate with a nearly $360 bottle of Billecart-Salmon bottle of Champagne from France or a $32 bottle of La Cacciatora Lambursco from Italy, and everything in-between. 
With this second helping, it finally seems like all the ingredients have come together to make for a truly memorable meal at Plate.