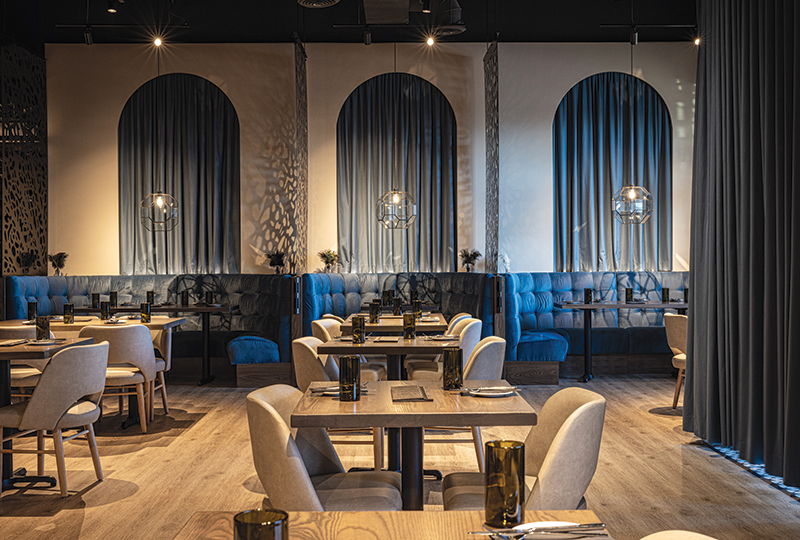 Opinions vary greatly on small plates in a restaurant setting, particularly here in the Midwest, where quantity not quality is still the measuring stick of value when dining out regardless of the price point. 
Family-style shared plates (or platters) usually work best when the people eating them are, well, family. When strangers or mere acquaintances try sharing plates things can get complicated and strangely competitive. You try cutting two croquettes into six equal pieces to share with everyone at your table while they watch. There are also those who don't like to share their plates in a restaurant. Period. They often get labeled as not being team players. 
A restaurant that serves only small plates must be rendered like an appropriate tool in your entertaining toolbox. It needs to occur with a tight number of people looking for a social evening out where connecting and sharing is the goal, not sustenance. It also matters where a place like this opens, and The Village at Briarcliff shopping center is home to the newest snazzy small-plates spot, Ombra Small Plates + Libations.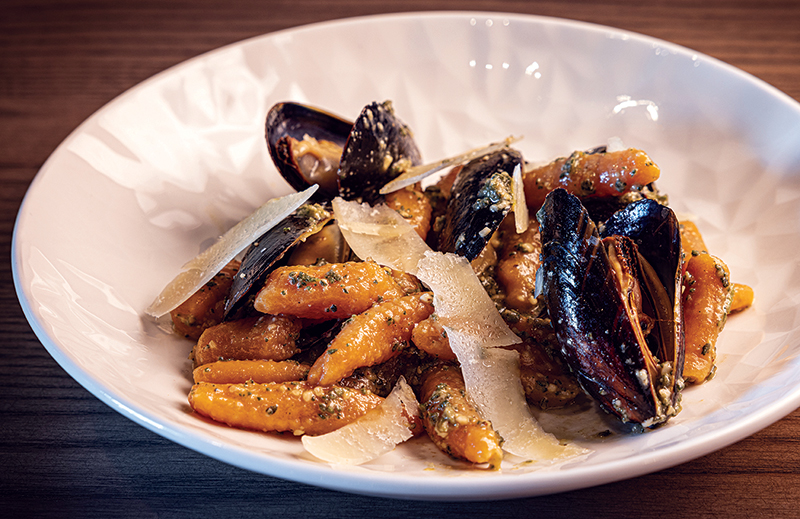 Named after the cool afternoon shadows where the wine merchants of Venice, Italy, used to sit and enjoy a glass of wine, Ombra's executive chef and owner, Sarah Nelson, is originally from north of Kansas City. That's where she and her husband, the chef Louis Guerrieri, landed when they moved back to town in 2018, after years spent honing their collective culinary skills in Denver, Colorado. He worked in sushi restaurants, and she trained as a pastry chef but worked as a line cook. Together they opened SushiMO!, a local sushi concept they launched inside Parlor and moved to the Iron District during the pandemic. Eventually, they closed that concept to focus on finding the right spot for Ombra.
The restaurant is surrounded by well-developed neighborhoods with restaurant stalwarts, including Piropos and Trezo Mare, that have now been operating in the same shopping center for almost 15 years. Nelson's intention was that a small-plates wine bar might add some variety to the big entrée energy of those familiar players. To that end, Ombra has succeeded in bringing a fresh new perspective to this clubby shopping center. 
Nelson chose small plates for the creativity it offers her, but also the flexibility to price her dishes affordably (all her dishes are priced with tax included). She focuses on vegetable-forward dishes and chooses to save her meatier dishes for nightly specials. The only exception to that rule is the comprehensive in-house charcuterie program, which allows her to have a butcher board on the menu nightly. It is the most expensive item on the entire menu at $20, but it showcases a rotating selection of made-in-house sausages, patés, and terrines served with mustards and jams. 
With a large wrap-around bar framing the kitchen, her bar program, run by her charming bar manager, Josh Melgoza, features organic, biodynamic natural wines, and a cocktail list that comes either full-leaded or with no-to-low alcohol options. Melgoza can be seen both behind the bar and running wine bottles to the table and seems comfortable in both the wine world and talking about spirits.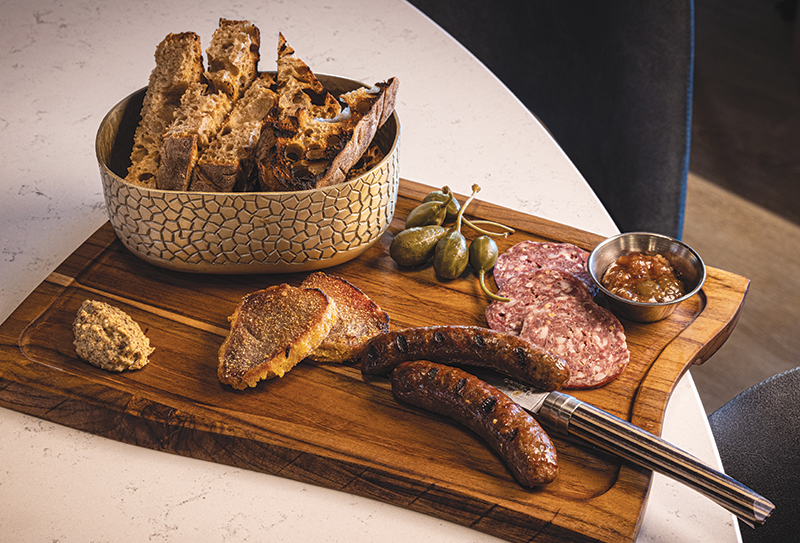 The restaurant itself is spacious, with seating mostly for parties of two and four, with an intentionally unspecific global feeling in the décor. When you are in the space you feel you could be anywhere in the world because of the icy-blue velvet banquette seating and modern, warm, wood tables and chairs. Long, dramatic sheer curtains keep the focus inside the restaurant. Clockwork Architecture + Development designed metal booth dividers to play with the light that streams in through the front door and windows, creating moody shadows no matter what time of day you are dining.
The menu changes monthly and begins with a variety of sharable starters for the table. There are also two boards—a bread-and-butter board and the butcher board. We ordered both and found the bread-and-butter board redundant, as most of the small plates came with generous baskets of a variety of sliced Ibis Bakery bread. In fact, the only leftovers we took home were three full boxes of sliced bread.
There are eight to ten small plates on the menu, and I was able to sample almost the entire menu on two visits. The beet-cured salmon gravlax was visually appealing, cut into thicker pieces served with caper berries (and more bread). The casserole arancini brought a hot dish to the mix of cold or room temperature ones already on our table. It came as three crispy fried fritters filled with a gooey mixture of broccoli, cheddar cheese, and rice—familiar and comforting to eat.
We enjoyed two pastas on two visits that really showed Nelson's commitment to a vegetable-forward menu. The Pasta Gorgo featured mandili sheet pasta dressed with a sauce made from roasted butternut squash and topped with gorgonzola and pepitas. The second stuffed-pasta dish was filled with Lion's Mane mushrooms tossed in pesto and finished with freshly grated Parmesan cheese. 
We capped our meal off with a Spanish coffee, a cocktail made with overproof rum, coffee, orange, and whipped cream. The drink was an absolute delight. I also sampled the butternut-squash trifle, composed of a peanut-squash cake, crumbled up and layered in a large glass filled with rum pudding topped with whipped cream and pepitas, and interestingly, it's the single sweet-leaning dessert on the menu.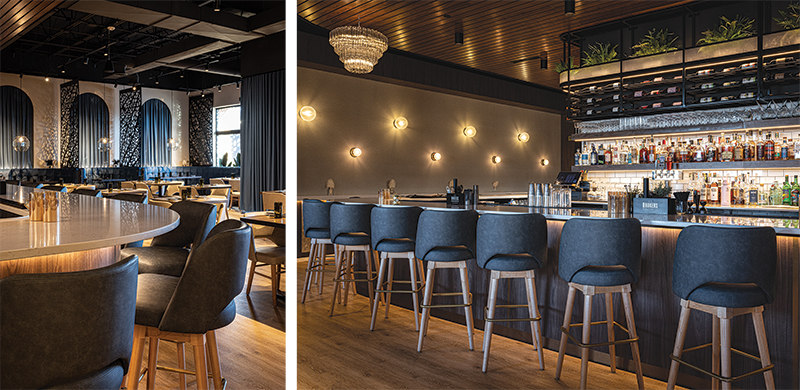 Ombra is a whole vibe, with ambience that really transports you. The beverage program is also a highlight, with its small selection of curated natural wines coupled with a cocktail list that is creative and well-crafted. 
The menu may just need a little time to find its groove. The first menu at Ombra is a collection of unrelated items, with some dishes leaning on Japanese flavors, others focused on bowls of roasted vegetables and handmade pasta dishes, which are almost Mediterranean-inspired. Then there was the charcuterie board, a meal in itself. 
But that's the thing about a small-plate restaurant, you must be open to trying a variety of different dishes and flavors all at once. Did I order poorly—a mish-mash of all different cultures and kinds of dishes smashed together? Or did I order exactly the right way to experience everything they have to offer? With a globally inspired menu and a small-plates format, they have an opportunity to experiment and discover what the right mix of choices will be. I look forward to tasting all their delicious results along the way.