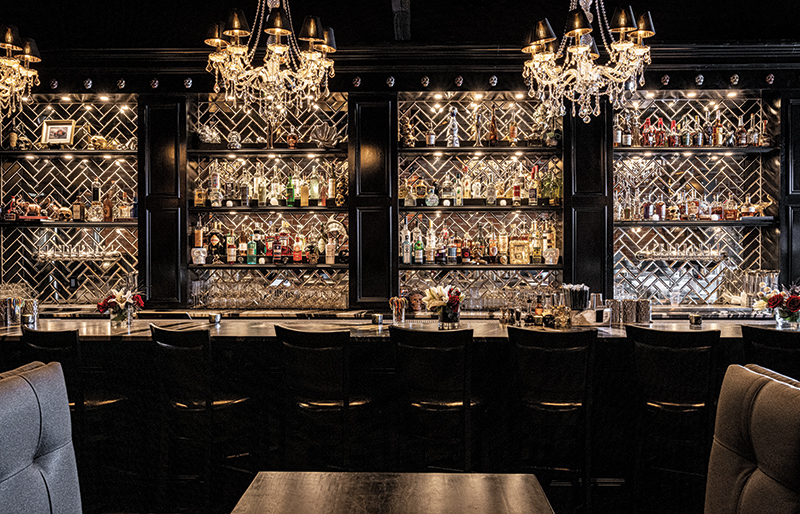 If you asked Lanni Edwards what her goal was for Calaveras, the Mexican restaurant she opened with her husband, Josh, and her father-in-law, Jeff Edwards, she would say she wanted to create something sexy. A lively and luxurious date-night spot where guests could enjoy upscale, yet approachable, cocktails and cuisine—a vibe she felt was missing from historic downtown Lee's Summit. 
A tall order for the once sleepy historic downtown area that is today surrounded by new apartment complexes that contrast beautifully with the historic red brick buildings that are now home to an impressive collection of locally owned retail shops, restaurants, and bars that started popping up around 2015, and haven't stopped.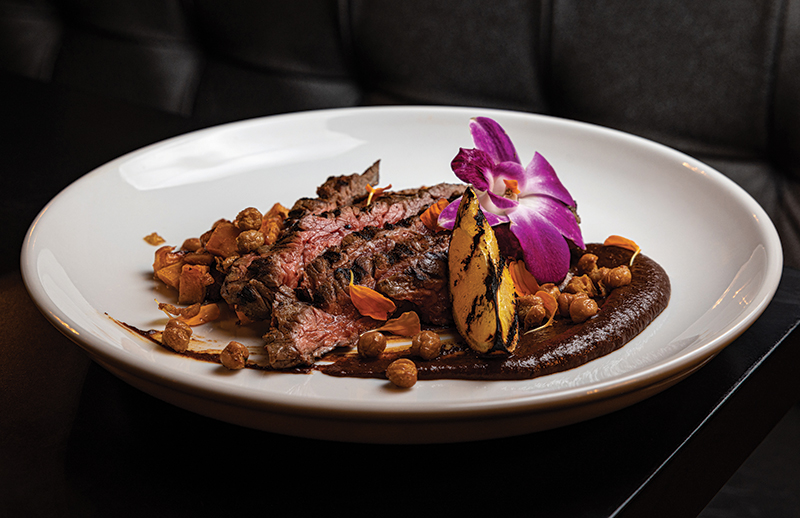 The Edwards family was just one of many early pioneers who decided to make the initial investment in the area, opening their first restaurant, Smoke Brewing Company, in 2016 selling freshly brewed beer and smoky barbecue. By the end of last year, they welcomed their sleek second concept, Calaveras, just a few doors down from Smoke Brewing in space where The Peanut used to operate. 
The 100-year-old building still has its original red brick walls and vaulted wood-barrel ceilings that hint of the automobile dealership that once called this building home. It was purchased by the Edwards in early 2020, and when the pandemic hit, they realized they now had the time to make the space into a 5,000-square-foot showstopper. Spending the last two years taking it from a sports bar and grill to an elegant and, arguably, splashy Mexican restaurant and bar, was clearly not easy, but the results were worth it.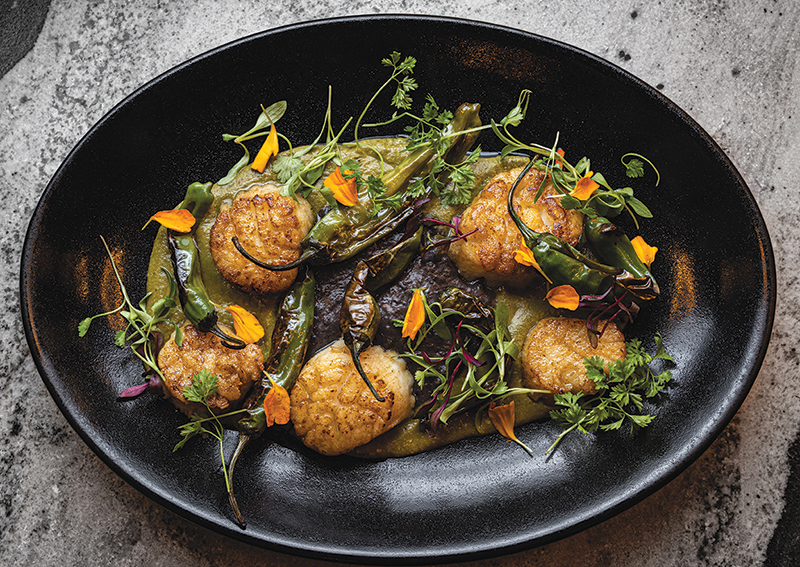 The sprawling restaurant now seats 200 people and features a sultry black, white, and silver color palette. There is a large cocktail lounge area inside the front door next to the host stand and a bar that seats 45 down one side of the dining room. Dramatic black-and-white marble covers the bar top, while mirrored subway tile set in a herringbone pattern behind the bar highlights the collection of agave-based spirits they carry. Then there's the dreamy sparkle from a dozen large glass chandeliers hanging from the rafters overhead. 
With all the glitz and glamour that Calaveras most certainly delivers with its décor, there is equally impressive Kansas City talent running both the bar and kitchen. The bar director for Calaveras is local bartending talent Bryan Arri, who has worked at Manifesto, The Monarch Bar, Corvino Supper Club & Tasting Room, and Rye, while the executive chef is Josh Laufketter, whose resume includes a stint as sous chef at Bluestem, and who has since the pandemic been running the kitchen at Smoke Brewing Company. Reed Plumb serves as director of operations and helps keep the entire train on the tracks.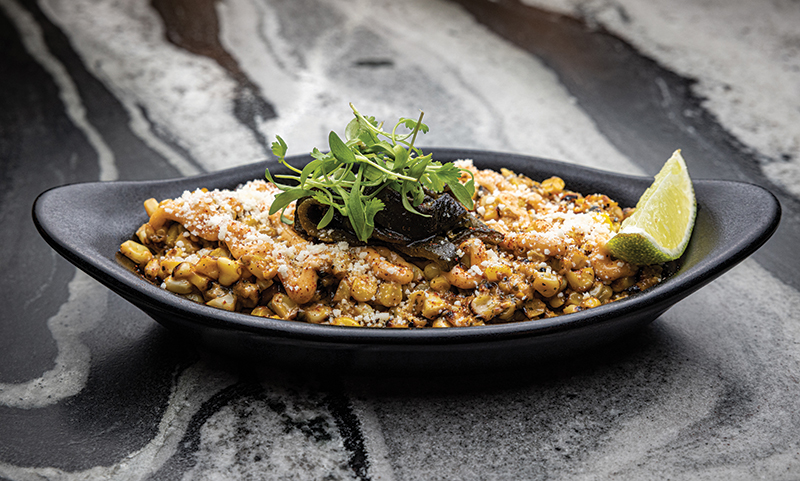 In a "go big or go home" mood, I ordered the $25 Cadillac margarita that features Pasote Resposado, Grand Mariner, agave syrup, and lime juice served over a single rock with real gold flecks swimming in it. Although it was perfectly refreshing, the regular margarita didn't strike me as all that much different in flavor for the $14 dollar price difference. The frozen margarita, however, was clearly different as a heavy blue pea flower foam on top hid the "frozen" margarita underneath. The rest of the drink menu offers 16 different cocktails, most of them featuring either rum or tequila, along with a small wine list and a select beer list made up of popular Mexican cervezas. 
As for the food, the menu read like most any other Mexican restaurant in town, with chips, queso, nachos, tacos, tostadas, enchiladas, burritos, and chimichangas all on the list. It was only when the dishes came to the table you could see the effort being made to elevate them in unexpected ways.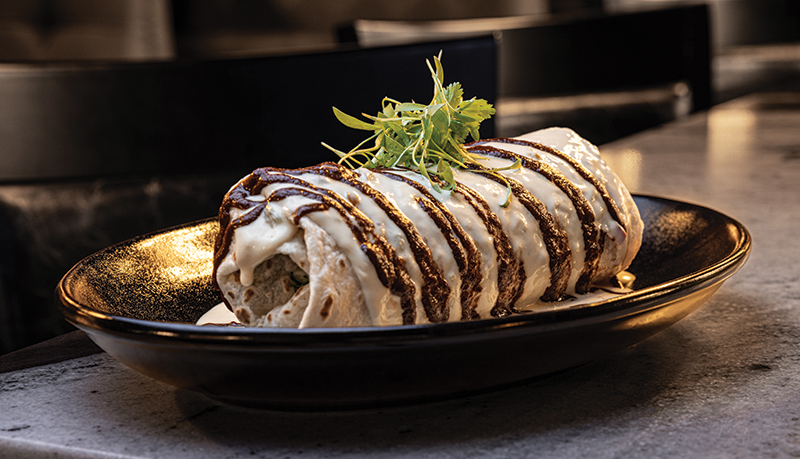 Laufketter told me he and his team had been making street tacos and borracho beans at Smoke Brewing Company throughout the pandemic, and I suspect that's why they were my two favorite dishes, because of the sheer amount of time and experience his team has spent cooking them at their sister concept. With 11 tacos on the menu, they were the only dishes that came to the table with zero plate presentation but were delicious. Same for the borracho beans, seasoned beautifully with a rich and creamy texture and flavor. 
We started with queso fondito, which was chorizo in a queso blanco sauce served with crispy triangles of house-made flour tortilla chips. Although I longed for a good corn chip about five bites into the dish, all was revealed when Lanni came to the table and explained the flour chips were at her request because she loved them. That's when I understood there was plenty of input on the food menu coming from inside the house.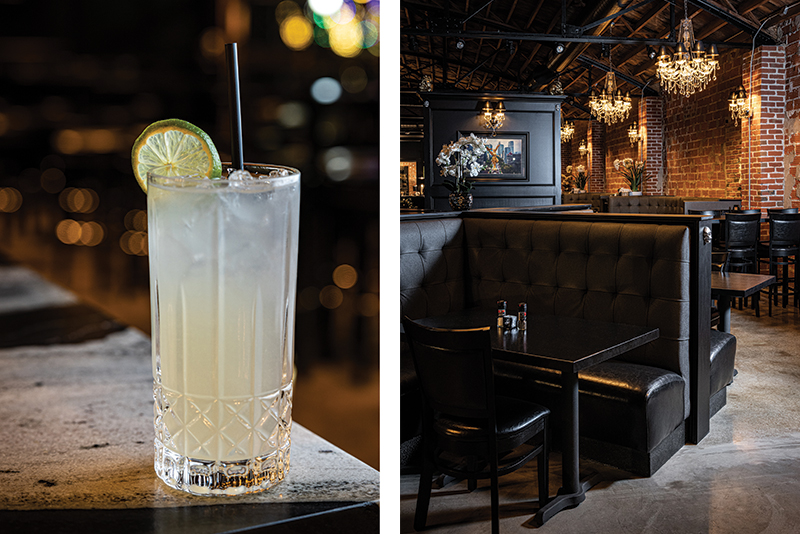 The Vuela a la Vida was described as a shrimp ceviche in tomato consommé, pico de gallo, serrano peppers, cilantro, and basil, but when it came to the table it was plated like classic shrimp cocktail with five perfectly cooked naked shrimp hanging from a bowl of the ceviche liquid. The shrimp wasn't marinated or served in the sauce, which I found disappointing as I wanted all those flavors melded together.
The scallop with mole verde started out as a good idea that somewhere along the way seemed to lose a little of its nerve. Three perfectly seared scallops sat on top of a ladleful of the mole verde that lacked the traditional heat and tart flavor that should come from the tomatillo, onion, garlic, and jalapeño pepper ingredients. The whole dish was a little bland, but then it was topped with Japanese shishito peppers and a sprinkling of pepitas. 
Laufketter clearly knows what he is doing, but it feels like there might be a throttle on the heat and intensity of the flavors the kitchen has been asked to present in each dish. I would like to see the kitchen worry less about reinventing the wheel with plate presentation and focus more on the consistent execution, seasoning, and the bright flavors found naturally in each of the dishes served. Reminds me of the old saying, "If it isn't broke, make it delicious."