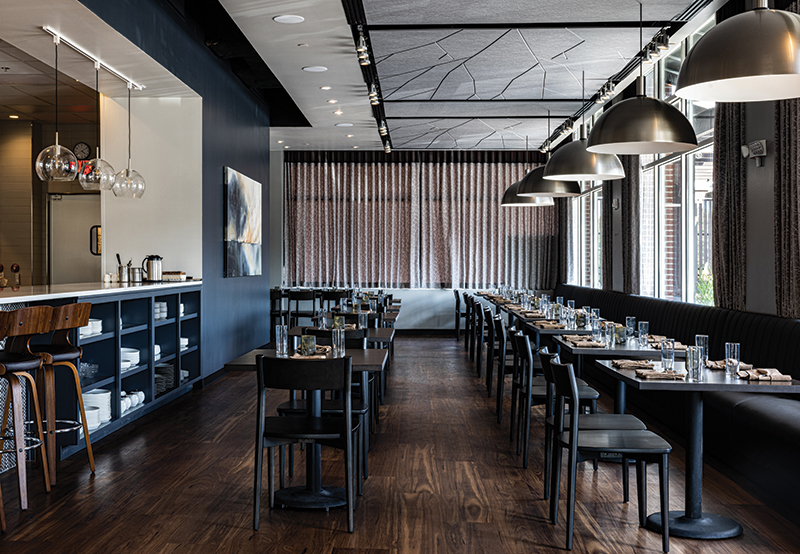 When considering the driving distance between two points in Kansas City, we often perceive places to be much further away than they are in reality. That's why I'd like to remind you of the old adage; no matter where you live in Kansas City, you are generally no more than 30 minutes away by car from anywhere else you want to be, and with food as good as what is being presented at Acre, Andrew Longres's new Parkville restaurant, it would be a shame if you didn't make the scenic 30-minute drive to check it out for yourself. 
After cooking at acclaimed fine-dining restaurants including the now-shuttered Bluestem and The American in Kansas City and The French Laundry in Yountville, California, Longres's resume as a chef needs no further review. Although he has notably worked with a wide variety of fresh ingredients shipped in from all over the world, for Acre, he decided to keep it close to home, cooking in a more sustainable way, with a menu that supports local farmers and showcases all the beef, pork, chicken, duck, fish, and game we have in this region. 
Inside, Acre unfolds with contemporary, clean lines and a neutral color palette inspired by nature. In the dining room, the walls are charcoal gray, sheer gray curtains cover the windows, blue banquettes with dark wood tables line the room, and a deliciously moody abstract painting by local artist Jennifer Janesko dominates one wall. In contrast, the kitchen is a bright white box with overhead lighting that shines down like a spotlight on those in the kitchen cooking in front of the live-fire hearth.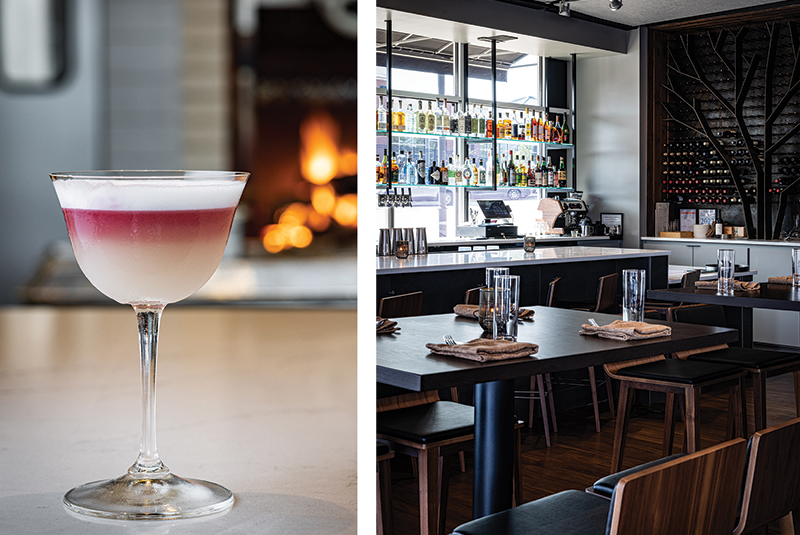 If you squint your eyes, Acre will remind you of a larger, more spacious version of the former Bluestem restaurant in Westport, with its similar color palette, long banquette seating, smaller two-top tables, and shiny white kitchen. That's because both restaurants used the same local architectural firm, Herron + Partners, for their final build-out. It feels intentional, like a full-circle moment for Longres, that these two restaurants will forever share a similar aesthetic. 
You will get a glimpse of what's for dinner when you walk past the dry-aging machine that holds 220 pounds of meat. Inside there are several racks of Black Angus, bone-in rib eye and a sizable Duroc pork rack from Creekstone Farms in Kansas, in addition to strip loins from Cedar River Farms in Colorado that will dry-age anywhere between 21 and 40 days before they cut them to order and grill over the hearth with Missouri oak, walnut, and hickory wood. 
On the menu, the focus is squarely on the dry-aged beef program. Guests have three steaks to choose from including a 12-ounce strip loin for $65, a 14-ounce rib eye for $70, and a 40-ounce bone-in rib eye for two for $120. You get your choice of sauce to go with any steak, such as smoked crème fraiche, hay béarnaise, and a chimichurri that packs a big bite of vinegar and bright green herbs as the medium-rare meat melts in your mouth. 
The rest of entrées should not be overlooked and deliver perhaps more visual pizzazz on the plate than a steak and sides. A great example is the current pasta dish that was almost too pretty to eat, but also too rich to finish. It comes to the table in a large bowl filled with house-made, ricotta-filled cappelletti nestled next to a scoop of tender, shredded, braised Iowa rabbit. Around the pasta bowl are alternating dollops of creamy white Parmesan mousseline and bright green piles of crunchy parsley breadcrumbs. The color and texture of this dish had me trying to make my perfect bite from every element in the bowl.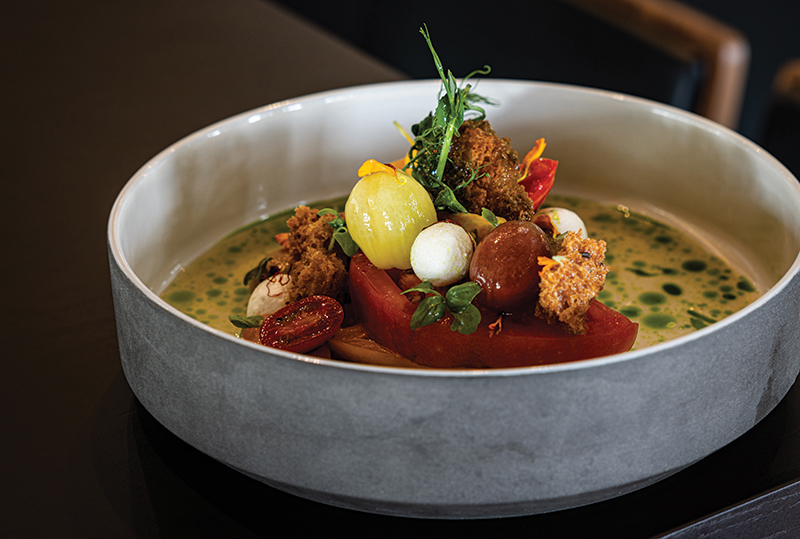 There is also a hot smoked sturgeon, Idaho trout, beef tenderloin with butterball potatoes, and an eight-ounce dry-aged Black Angus beef burger with red onion marmalade and spicy aioli that is served with garlic fries and was spotted on almost every table in my immediate sight line.
The salads served are impressive enough to be entrées instead of starters or sides. I highly recommend the visually arresting fresh heirloom-tomato salad created from multicolored tomato wedges dotted with goat cheese and fresh basil that sits on top of a broken tomato-water and basil-oil vinaigrette resembling artwork on the bottom of the plate. The crunchy fried saltines and creamy smoked Caesar salad dressing are the reasons to get the baby romaine and pickled red onion salad that you won't be able to stop eating to the ruin of the rest of your meal.
Although there are plenty of appetizers to choose from at Acre, the one that goes beautifully with anything else on the menu will be the from-scratch Parker house rolls served with sorghum smoked-chili butter.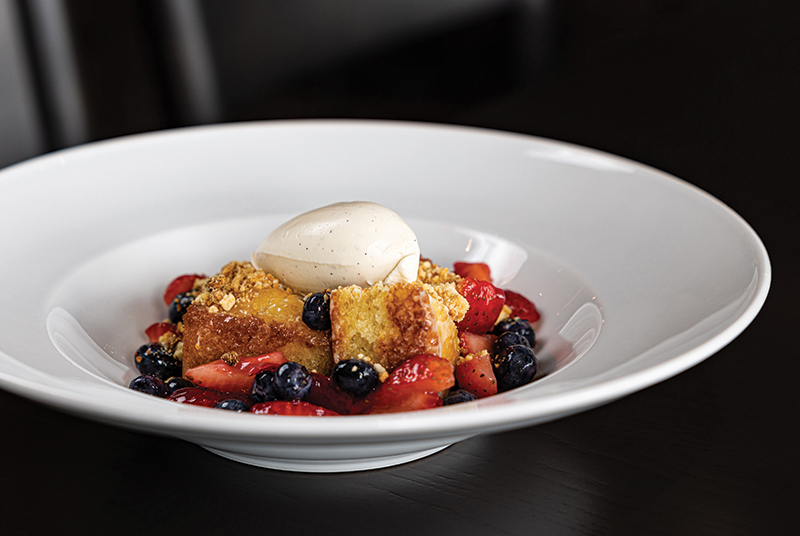 There are three desserts on the menu at Acre created by former Bluestem alumnus, pastry chef Brooke Davis, but there was only one my server so enthusiastically recommended, and that was the decadent and deconstructed s'more-inspired plate with smooth squares of dark chocolate creméaux, a quenelle of graham cracker ice cream, bourbon caramel, smoked Chantilly cream, and a toasted meringue that's served as the marshmallow component. Although it was not typically a fit for my own personal flavor profile, it was so tantalizing to look at and not nearly as sweet as I had suspected that I ate my fair share of it and then some.
The drink menu at Acre has just enough of everything. The specialty cocktail menu had about ten drinks listed and was set firmly in the summer season with light and fruity selections driven by the warm weather. The small and mostly local beer selection had some interesting choices, such as Crane Brewing's Tea Weiss and the Rye on Rye from Boulevard. Finally, the wine list offered a right-size selection of sparkling, rose/orange, white, and reds from Italy, France, and Spain, as well as California and Oregon, with bottles priced attractively to move.