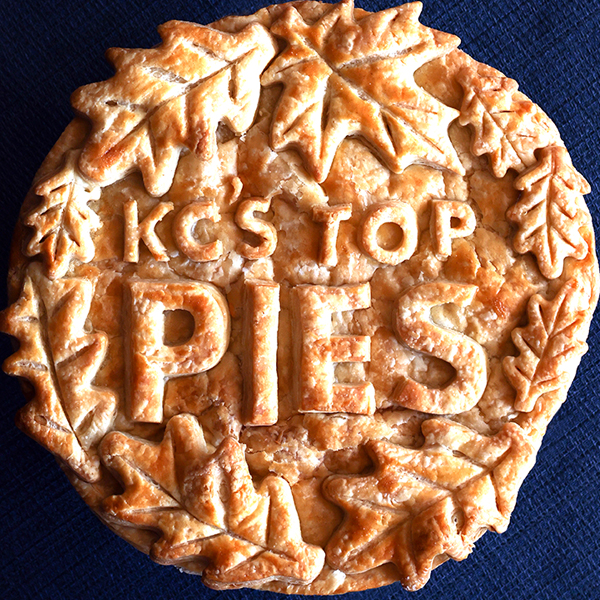 Pie, pie, me oh my,
Nothing tastes better, wet, salty, and dry,
all at once—oh, well it's pie.
Apple and pumpkin and mince and black bottom,
I'll come to your place every day if you've got 'em.
Pie, me oh my, I love pie.
–Pie Song written by Randy Newman
In Nora Ephron's 1996 movie, Michael, actress Andie MacDowell's character, Dorothy, sings the "pie song," at the request of Michael the Archangel, played by John Travolta, and just like that, one of the most popular earworms about pie was born.
Pie deserves its own theme song. It isn't finicky like cake, which can be either too dry or too dense and easily overwhelmed by frosting. Pie by comparison is light, with the crust being the sweet and salty delivery vehicle that holds the delicious filling until you can get a bite into your mouth.
There is something that feels simultaneously limitless and extremely grounded about pie. A humble crust made from simple ingredients can be filled with a meaty, savory filling just as successfully as it can be filled with sweet fruit or custardy filling. The crust is equally versatile, made from cookies, crackers, or flaky pastry made from whatever flour and animal fat you have on hand.   
It also helps us identify who we are, where we live and what we grow. Atlantic beach pie with its saltine crust and creamy lemon filling is popular in the summer on the East Coast where it was invented, but here in our neck of the woods, you'd be more apt to find a gooseberry, pawpaw, persimmon, or a black-walnut Karo pie. A seasonal food class could be taught simply based on what we fill our pie crust with throughout the year.
Pie can also help us mark the passing of time. January's chill may call for a savory chicken pot pie but come Valentine's Day we may want to treat ourselves and loved ones to a decadent chocolate pie. In the summer, we welcome fresh fruit pies like berry and peach, or we may crave cool, creamy icebox pies, including lemon, Key lime, banana, or coconut cream, to beat the summer heat.
However, toward the end of the year, many people look forward to seeing the abundant selection of pies on the table. That is when pecan, apple, pumpkin, and sweet potato pies are all proudly put on display.
Pie is both abundant, as it shows up at all our favorite holiday harvest feasts in the fall, and frugal, when a chess (formerly known as vinegar) pie can be made from four ingredients any home cook would have on hand. Pie has taught us that it isn't fancy. Pie is for everyone.
There is a limitless number of bakeries and cottage bakers that you can order your pie from this year. Here are the ten we are craving as pie's high season approaches.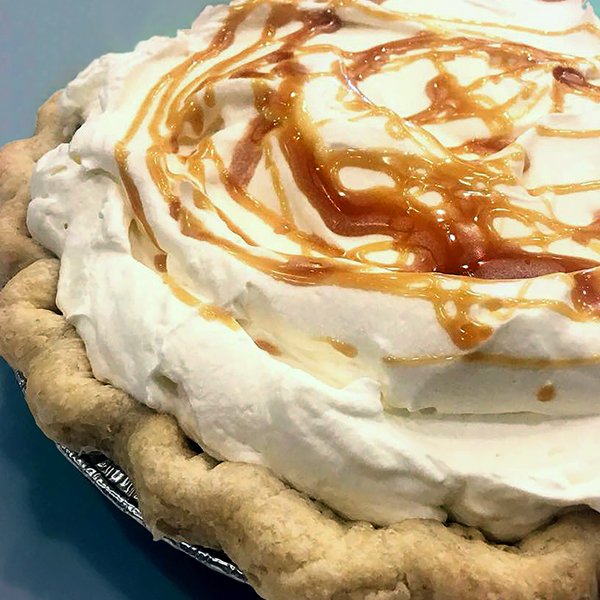 Butterscotch
Ashleigh's Bake Shop
As a one-woman show, Ashleigh Luna will start taking holiday pie orders beginning November 2 at 10 a.m., but once she fills her coveted pie placeholders, (which happens in only a few hours) she and her dad, who is her baking buddy, are done. This time of year, it is first come, first served at Ashleigh's Bake Shop. There is a long list of favorite fruit-filled pies on Ashleigh's Bake Shop menu, but don't sleep on her cream pies, especially her butterscotch topped with real whipped cream. Pick up is conveniently located inside Pryde's in Westport. ashleighsbakeshop.com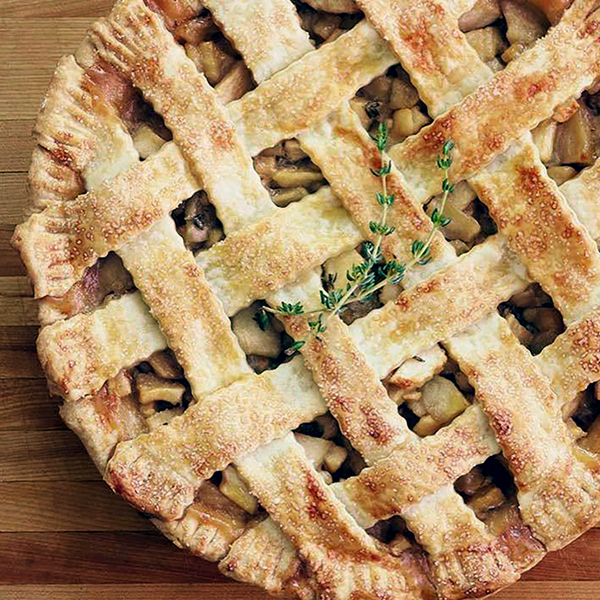 Apple Thyme
Heirloom Bakery & Hearth
As owners of the enchanting East Brookside neighborhood bakery, Heirloom, Scott and Kate Meinke always offer a nice roster of holiday pies to choose from, each with their signature sweet and savory twist. In addition to ordering pastries, cookies, quick breads, and dinner rolls for your holiday dinner table here, try adding one of their homey apple thyme pies with a traditional buttery lattice crust to your shopping cart and leave the baking in the hands of professionals this year. heirloomkc.com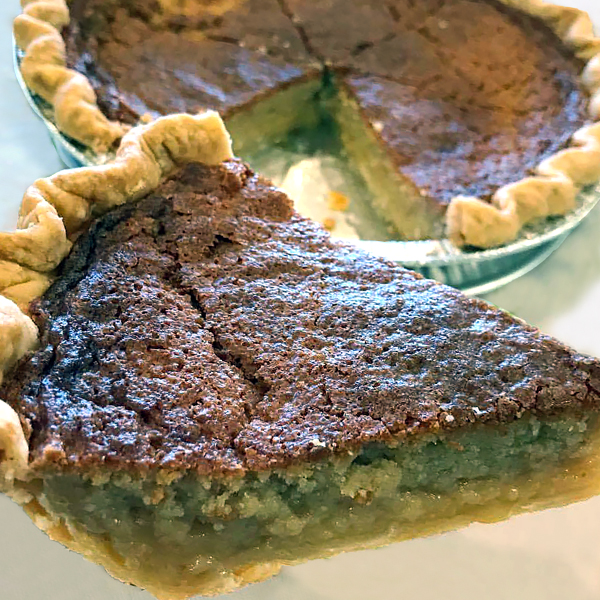 Brown Sugar Buttermilk Pie
The Upper Crust Pie Bakery
After 16 years making pies, and only pies, at The Upper Crust Pie Bakery, sisters Jan Knobel and Elaine Van Buskirk have earned a stellar reputation for delivering delicious pies, made by hand, every year at the holidays. They will start taking orders on November 1 at their cute downtown Overland Park storefront, with a long list of favorites, such as pumpkin, apple, and pecan, in addition to unique Southern specialties, including brown-sugar buttermilk pie. So simple, yet so rich. Treat yourself. uppercrustpiebakery.com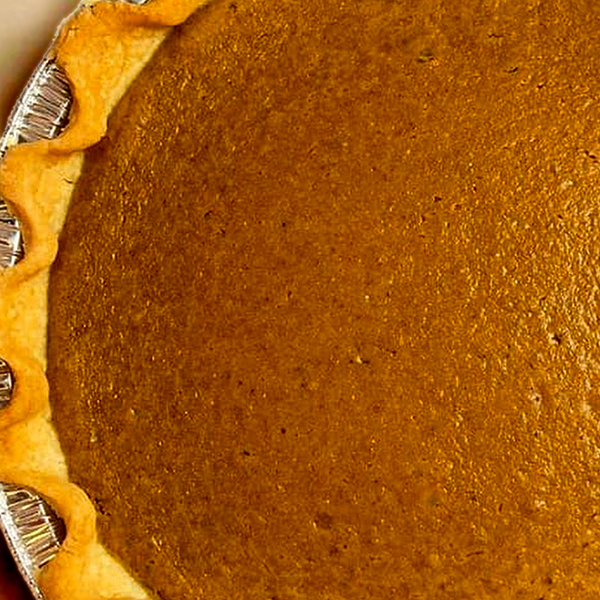 Pumpkin
The Littlest Bake Shop
From her colorful storefront with a walk-up window located just a few doors down from Earl's Premier in Brookside, Littlest Bakeshop owner and baker, Iris Green, makes tender and flavorful vegan and gluten-free baked goods that look delicious and taste incredible, while also allowing every single member of your family the opportunity to enjoy a seasonal slice of pie regardless of how or what they choose to eat. Known for her decadent decorated cupcakes, seasonal cakes, and cookies, her traditional pumpkin pie has just the right amount of warming spices and is big on pumpkin flavor. If you are a pumpkin-spice person, this pie is for you.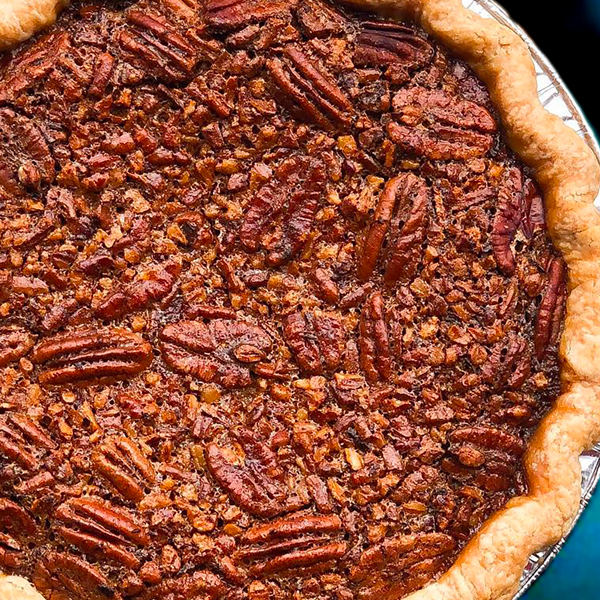 Bourbon Pecan
Dolce Bakery
Not only can Erin Brown and her team supply you with your favorite pastries and baked goods for your next party, they can host it too. The Space by Dolce Bakery has opened in the retail spot next door to this popular Prairie Village bakery. It is a private-party room you can rent to host any occasion—professional or personal. For the holidays, now is the time to order cookies for your office party, cinnamon rolls for your visiting family, and her popular bourbon pecan pie—made with local pecans and Tom's Town bourbon—for your holiday meal.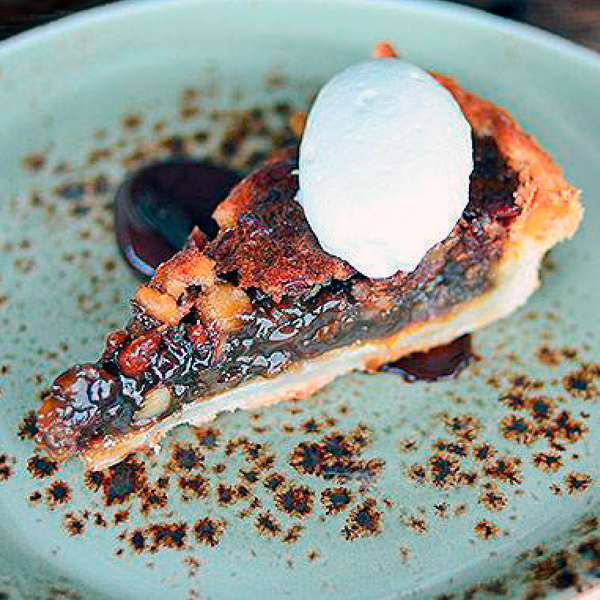 MoKan Pie
Rye
Megan Garrelts and her talented pastry team at Rye know that the holidays mean pie, and they stand ready to take your pie preorders online from their website right up until November 19. Choose from pumpkin, apple, and banana cream, or for pecan pie lovers, there is her MoKan pie—a combination of pecans and walnuts that bake on top of a comforting sweet, sticky filling made from real butter and sugar. It is like a traditional pecan pie evolved to another, more complex and compelling level. It's time to level up.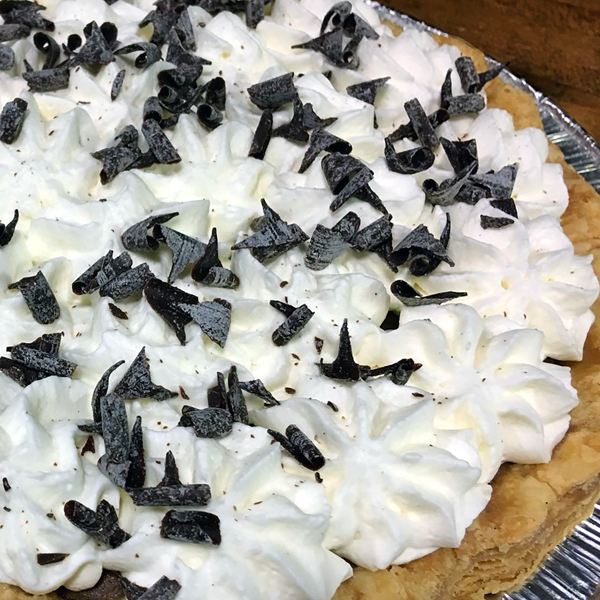 French Silk
Bloom Baking Company
Located in the heart of the City Market, Bloom Baking Co. is offering pies, cakes, and hot rolls to make your holiday meal picture-perfect. Choose from traditional pecan or pumpkin pies or mix it up and order a pumpkin roll with cream-cheese filling. For those looking for something a little less traditional, go with a beloved classic, the French silk pie. Neither a product of France, nor made of silk, this chocolate pie still charms with its signature creamy chocolate mousse filling that's as light as air. Chocolate lovers, this is your pie to try.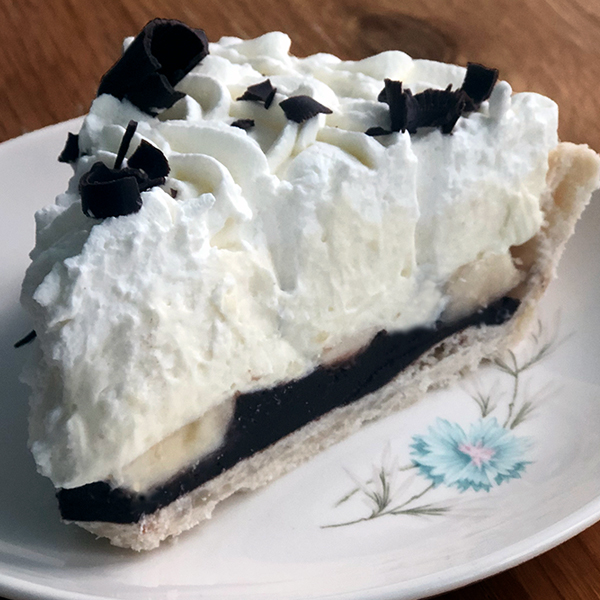 Black Bottom Banana Cream
YUM, a Boutique Bakery
An Zebley's pastel-hued pastry spot is located only a few blocks off Main Street, in the strip of storefronts known as the Walnut Place Shops, right next to the H&R Block Artspace at the Kansas City Art Institute. Her woman-owned bakery has been serving slices of pie for months, in addition to a host of other delicious cookies, cakes, and bars. Now she is taking whole pie orders, made "small batch, from scratch." Choose from pumpkin, peanut butter, chocolate cream, or her black bottom banana cream that features a thick layer of dark chocolate she pours on the crust before the banana cream filling is added. It adds a touch of chocolate to every bite.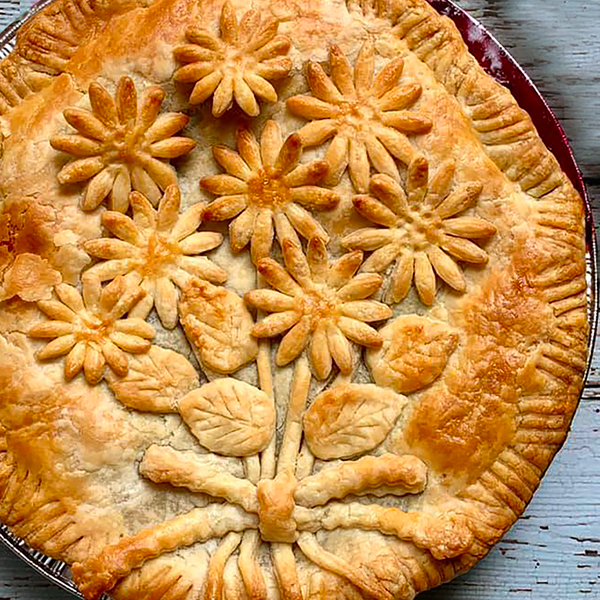 Cherry Amaretto
Pie Goddess
She had always loved baking, but during the pandemic Kristin Brumm started making pies with very detailed, ornate crust designs that go far beyond a few slits in a top crust or a classic basket weave. Her visual pie art began garnering a lot of online attention, and soon she was selling her creations under the name Pie Goddess, made in her home as part of her cottage baking business. She sells her creations as special orders right from her website, with new and exciting flavors this time of year. Look for her cherry amaretto pie that highlights the classic pairing of cherry with almond flavoring.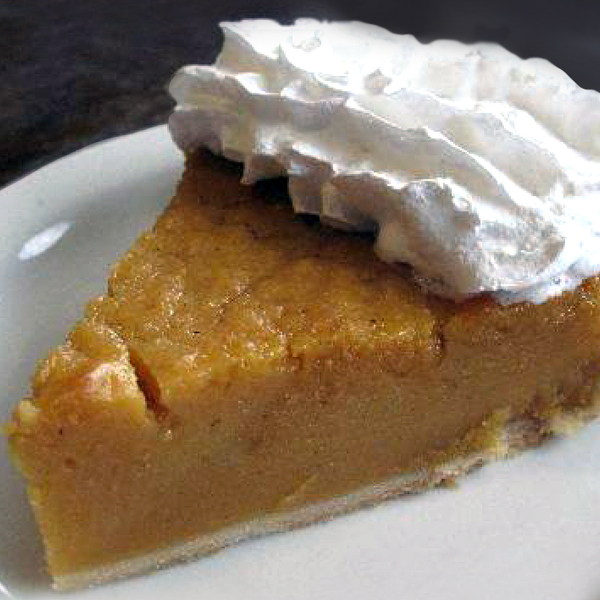 Sweet Potato Pie
Niecie's Restaurant
You don't have to wait until the holidays roll around to enjoy a slice of sweet potato pie at Denise Ward's neighborhood soul-food spot, Niecie's Restaurant, because it is available all year round on her menu. For 37 years, Ward has been cooking up comforting classics, such as fried chicken, channel catfish, meatloaf, beef oxtail, and pork neck bones, along with sides, including greens, macaroni and cheese, black-eyed peas, and green beans. For those who need something sweet to end their meal, her signature sweet potato pie keeps fans coming back for another food hug from home.