Sponsored content: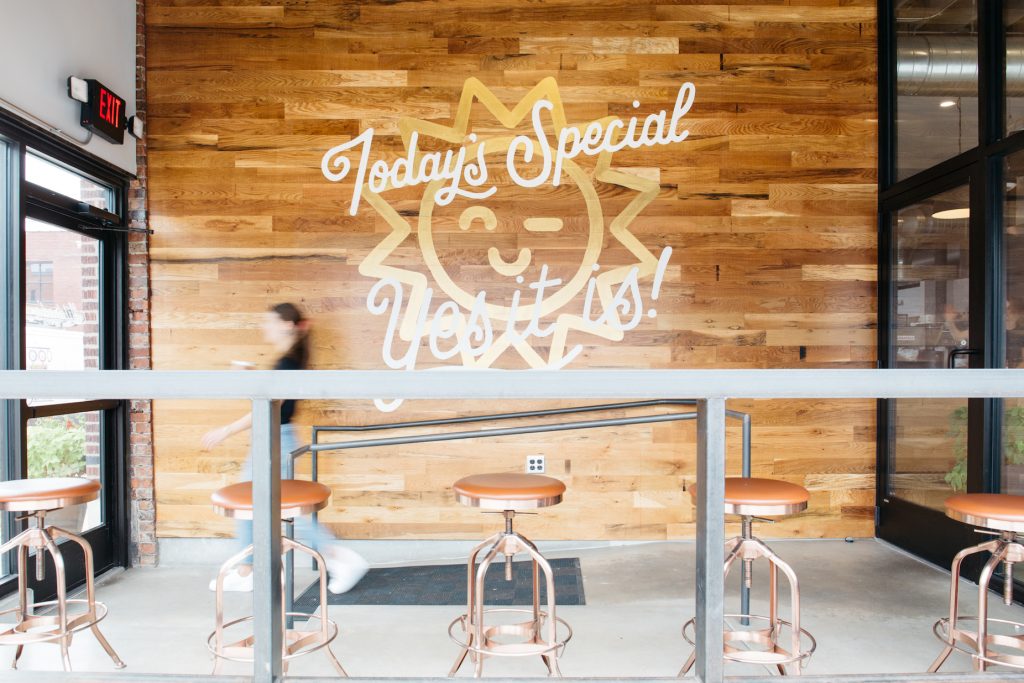 Keep it simple, approachable and interesting. Oh, and serve really killer breakfast sandwiches.
That's the philosophy that guides Mildred's, the beloved coffee shop and cafe with locations in the Crossroads and Downtown. And it's working: A couple years ago, the Food Network named their Standard the best breakfast sandwich in the state.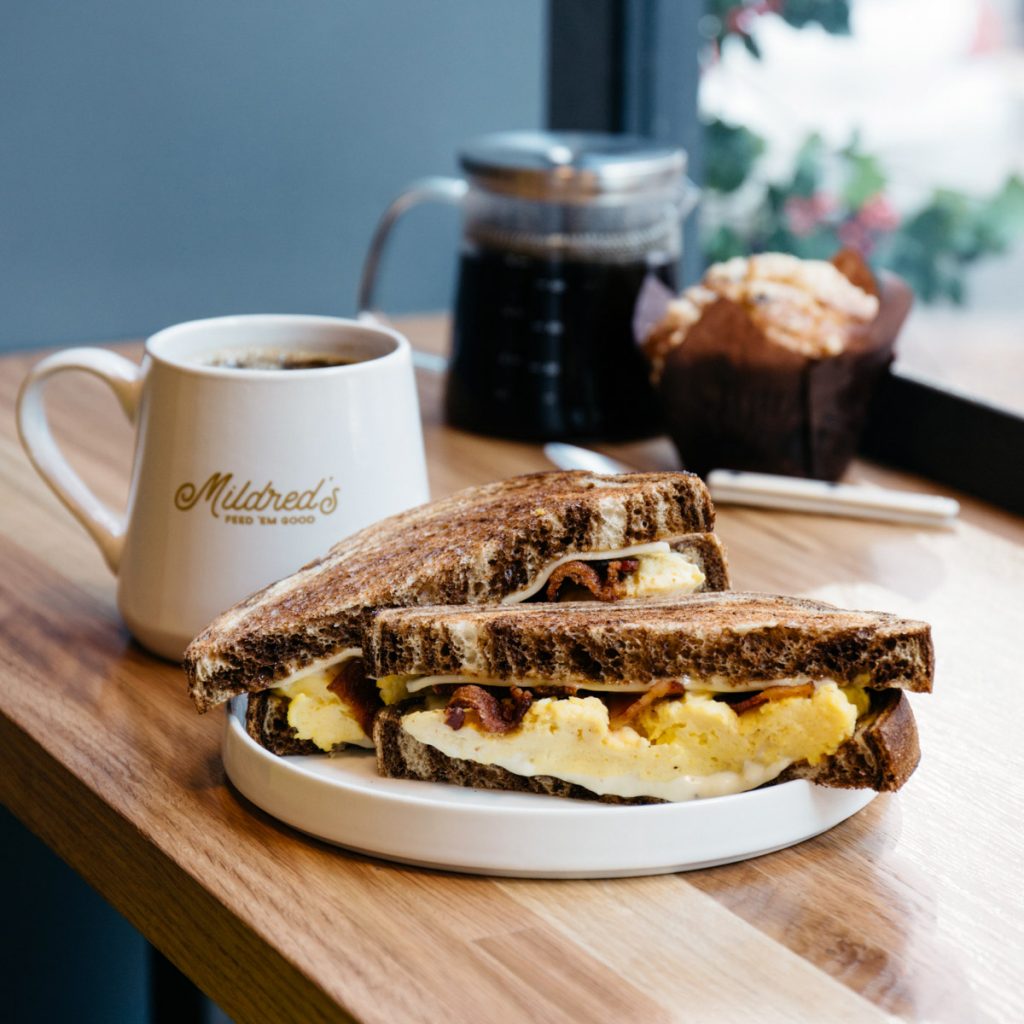 "There's a great story behind how our Standard breakfast sandwich came to be," says Evan Ashby, Mildred's co-manager. "Mildred's started out in Downtown Overland Park in the late '90s, run by my mom, Debbie." At the time, specialty coffee hadn't blown up like we know it today, and selling just coffee and pastries wasn't enough to make ends meet—but with no kitchen, how could they serve food? Enter Debbie's great innovation: She cooked eggs using a spare milk-steaming wand, and toasted bread on a panini press. And Mildred's prized breakfast sandwich was born.
"We still do it the same way today: We flash-steam our eggs using an espresso machine steaming wand using no oil or grease, which makes light, fluffy eggs that are easy to digest," Ashby says. The eggs are served between bread with bacon, American swiss and pepper-dijon mayo—perfectly proportioned flavors and textures. The sandwich is their top-seller, hands down.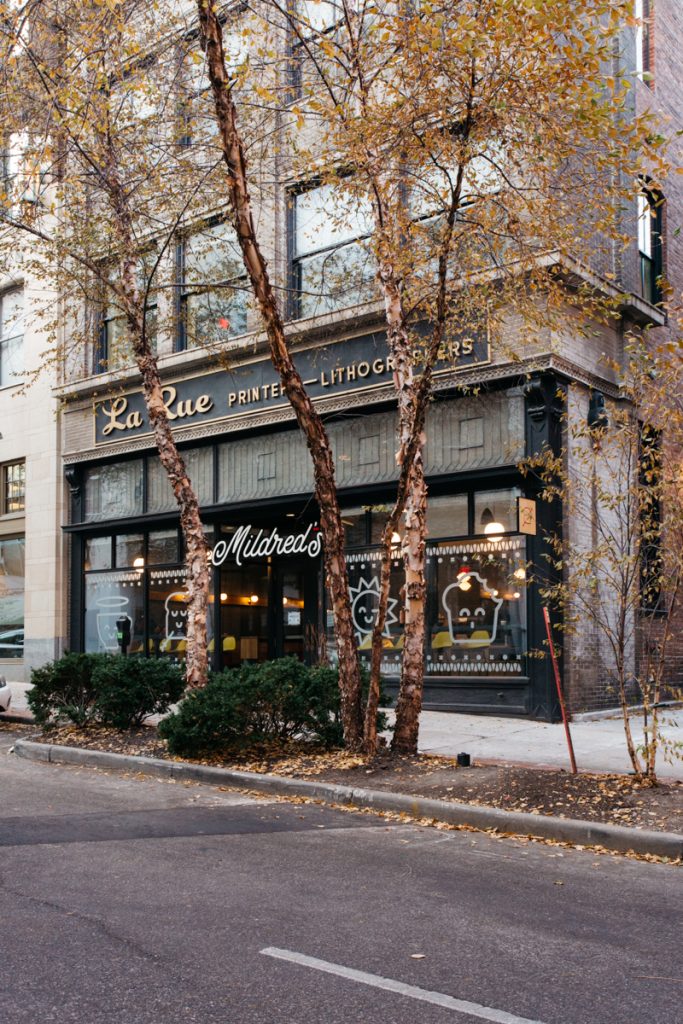 By the late '90s, Mildred's expanded to downtown Kansas City inside a busy office building, and in 2004 they opened in the Crossroads. Fast forward to 2018, the Crossroads spot quadrupled its square footage and moved across the street into the 1901 Wyandotte location we all know and love today. Then the same thing happened downtown, as the off-street location moved across the street into the beautiful historic building it inhabits now at 908 Baltimore.

"We're really proud of our newest location," Ashby says. "It was built in 1905—and we kept a lot of its historic aspects, like the original tin ceiling, ornate doors and leaded windows. It's been fun to bring some life back to a space that for so many decades was underutilized or vacant. We always wondered why no one had ever done anything with that space—and now we have! And we hope to be here for decades to come."
Mildred's growth has been a testament to the family behind it. When Debbie Ashby started Mildred's, her sons were just kids—but today, Evan and Clayton Ashby work alongside her, along with her nephew, Jeremy Luce. "We love each other, and we love serving our city together, and I think people can sense that," Evan says.
Beyond the breakfast sandwich origin story, we love how Mildred's continues to innovate in all areas. Their latest upgrade? Offering delivery and carryout ordered online or via the new Mildred's app. (We'll definitely be putting that to good use!)
And Mildred's mad-crazy bakery skills have continued to impress us. "We're getting more elaborate—like our kouign amann, for instance. It's a type of French pastry—from northwestern France—and it's sort of like croissant-style dough," says Evan. "Instead of rolling them, you put them in a muffin pan and, in our case, add a light simple custard in the middle made with lemon zest and rosemary. As it bakes off, it caramelizes and creates this semi-sweet, semi-savory biscuit-style pastry that's amazing." (Did that create a Pavlovian response with anyone else or was it just us?)

Evan says business has been positively bonkers over the last few weeks thanks to the Chiefs. It's very reminiscent of when the Royals won the World Series. "It's that same type of uptick in revenue from people in the mood to celebrate by indulging in great food. We sold an incredible number of breakfast sandwiches after the Super Bowl win," laughs Evan. "People were starting their day off right—and then they'd come back at lunch and order a sandwich."
Not to brag, but Evan says that at one point during the Chiefs parade, there was a line of people down the street and wrapped around the block. "They wanted to make Mildred's part of their historic day. It became part of their celebration and it was really wonderful. I mean, it was insanity at both locations," he says. "When people are excited, they can overindulge. Good thing Mildred's breakfast sandwich is a great remedy for those who have overindulged."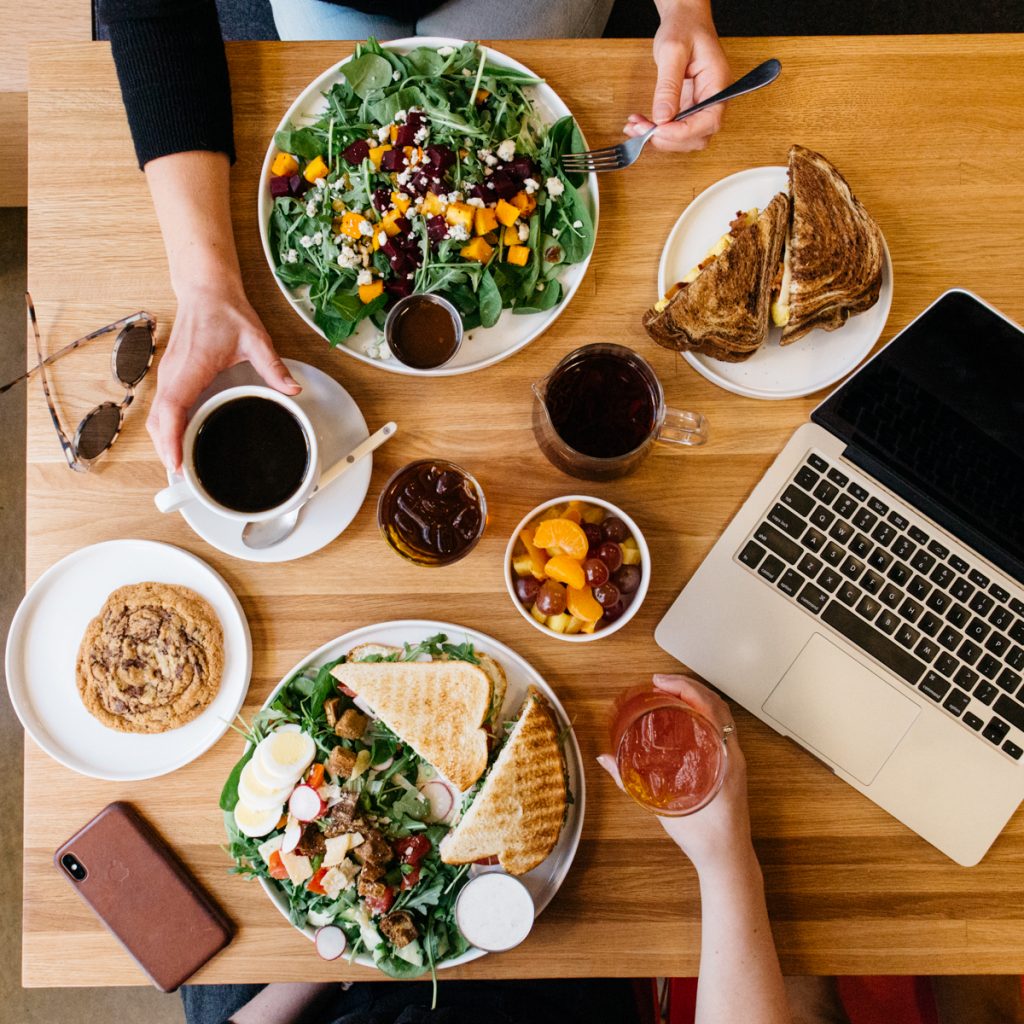 Besides the family members that run the business, much of Mildred's staff has been around for years—and that's by design. Guests enjoy seeing the same friendly, familiar faces. "Our employees enjoy coming to work and that translates to our incredible customer base. Our customers feel that joy from behind the counter," says Evan. "Everybody here is optimistic and having a good day. And if you're not having a good day, hopefully Mildred's will help give it a turn for the better."
And—trust us—if optimism doesn't work, we'd suggest trying the Gooey Butter Cake. It's a little slice of heaven that's bound to revolutionize your mood in just a few bites.