Even if you wouldn't deign to roast a turkey breast any other time of year, there's something comforting and nostalgic about Thanksgiving dinner—warm, yeasty rolls glistening with butter, something that resembles a sweet potato canoodling with melted marshmallows, and something green to make you feel virtuous. (Let's be honest—this is the Midwest, and the green could involve Jello.)
But this is also 2021, and we've been cooking for ourselves for what feels like at least a decade, reaching the end of the New York Times cooking subscription and falling into a catatonic stupor while Tasty videos run in the background. This Thanksgiving, don't clean the house. It's totally okay to phone it in, and by that, I mean make reservations somewhere fabulous. 
Our four top picks all feature the traditional dishes done extraordinarily well, plus a surprise or two. And more importantly, they have reservations available, so book fast! 
The Town Company
Downtown's most stylish new eatery offers a prix fixe menu of traditional classics with their signature flair for $55 per person. Although the courses haven't been released online, their takeout menu teases family-style sides like hearth-roasted sausage and sage stuffing, wild rice casserole, and buttermilk whipped potatoes. Of course, turkey is on offer, in this case, charcoal grilled with confit leg and gravy, but for those looking for something different, opt for the smoked king oyster mushroom with chickpeas and dates. And don't forget the pie—chocolate pecan praline pie, no less. 
Make reservations on exploretock.com. 
Affäre
Leave it to the most stylish German restaurant in town to elevate the family feast. For $70 per person, enjoy acorn squash soup or an autumnal salad, a choice of three mains, your choice of käsespätzle, and two family-style vegetables. Add wine pairings for $30 and a choice of desserts for $12. 
Is it a lot of food? Absolutely. But those mains caught our eye. The adventurous diner could choose Great Lakes walleye with potato leek confit or roasted elk with squash-bread dumplings instead of just turkey. 
Make reservations at affarekc.com.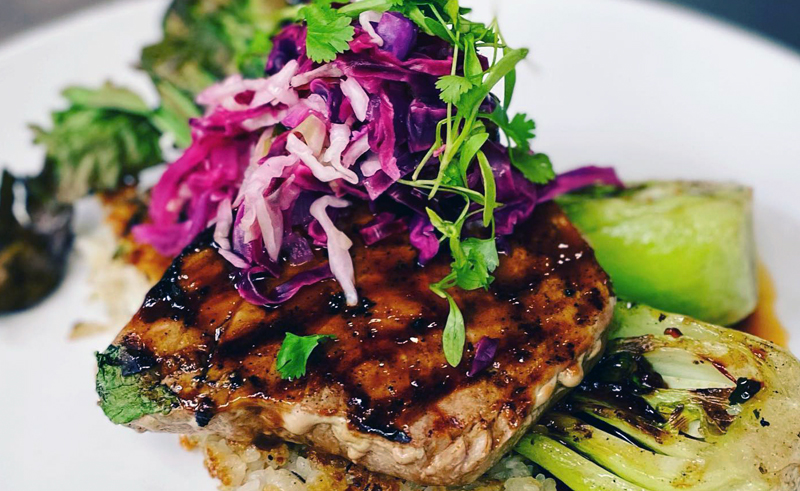 Gram and Dunn
Want to get a jump on the Plaza lights? There's no better place in town than Gram and Dunn. The Plaza favorite offers a special Thanksgiving menu to please everyone in the family. Enjoy the traditional roasted turkey with all the trimmings ($23), or diverge with grilled swordfish and green bean casserole topped with tobacco onions ($29). Feeling like beef? Prime rib with goat cheese and chive smashed potatoes ($31) never disappoints. Finish it all off with a slice of pumpkin ($9) or apple pie ($10). Then sit back and watch the crowds roll by. 
Make reservations at gramanddun.com. 
Stock Hill Kansas City Steakhouse
Find the fanciest pair of stretchy pants you own because Stock Hill Kansas City Steakhouse offers a buffet. That's right—from 11 a.m. to 4 p.m., guests can help themselves to Thanksgiving classics buffet-style for $55 per person. If you prefer a la carte dining, reservations for dinner are available from 5 p.m. to 8:30 p.m., which promises their regular menu as well as Thanksgiving specials. 
Make reservations at stockhillkc.com.